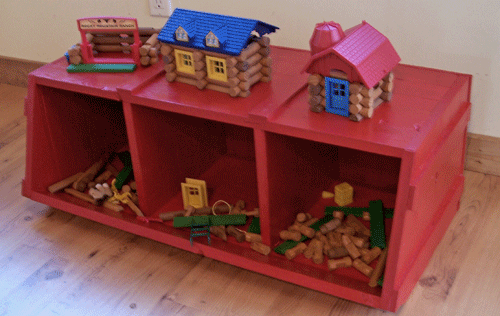 Simple vegetable bins that can store all your child's needs. A lip on the front keeps items in the bins.
Before I start this post, I want to let you know that I was NOT paid to write this post, and am giving my honest opinions in an effort to help you be more successful with your projects.
One of the very first plan requests I had as the author of Knock-Off Wood was for simple toy bins, like these from Pottery Barn Kids.  And while simple in appearance and in nature, I could not figure out how to design a Knock-Off Wood plan that met my criteria for posting a plan.  And I just could not subject you to cutting out little pentagon shaped pieces from plywood (four of them per toy bin) and then finishing edges with edge banding.  Time and tediousness removed, cutting pieces from plywood was wasteful.  By cutting out the pentagon shapes, a great amount of wood would become unusable scraps.  And I just couldn't do that to you.
But how to add that front lip to the piece, without wasting material?  I thought about this all winter.  Of course, if you had a fancy tool, it would be super simple.  But I don't expect you to have fancy tools.
_______________________________________________________________
And when I got my Kreg Jig (special thanks to one of our readers for taking her time to write The Kreg Tool Company about Knock-Off Wood), I knew that with the Kreg Jig, I could easily add the lip to the toy bin.
But one problem.  At $99, the Kreg Jig that I received was a little expensive.  And although I highly recommend buying the Kreg Jig if you are doing lots of woodworking, for those of us just needing the Kreg Jig here and there, the Kreg Jig JR was much more economical.
For just over $44, which isn't much if you've bought (and broke) countersink bits trying to drill at an angle), just by building this one project once, you would make back your investment. The first thing I noticed was how nicely the entire jig fit into the included case.  Because when you've got kid's helping and husbands borrowing your tools, it's nice to keep all the parts together.
It works with a standard clamp and you simply clamp the jig to your wood and drill a pocket hole.   The bit that is included is the same as the full size Kreg Jig and it's sharp - I even caught my husband using it when he was siding our house!
As I've said before, the Kreg Jig solves a couple of problems your standard power tools don't
You Can Join Boards Together, Edge-to-Edge
Think building tabletops or just getting your boards to be a little wider, the Kreg Jig can join boards up to 1x6 widths edge to edge.  Just make sure you alternate the grain of the wood as you join your boards to keep the panel from warping to one side.
You can join boards when there's another board in the way
Been there, building cubbies and suddenly realize you can't screw the divider down on one edge?   With the Kreg Jig or Kreg Jig JR, you can simply drill a pocket hole and fasten the divider in place.
And some other common problems that I would use the Kreg Jig for:
Attaching Tabletops from Underneath
Building Picture Frames (joining the corners)
Build Cabinet Doors with Rails and Stiles (joining the corners)
I'm not ready to give up my nailer, but I am ready to add a Kreg Jig to my projects.  I see the Kreg Jig as not a replacement for screws and nails, but a compliment, an addition to your tool arsenal.  And because I see us using the Kreg Jig as a compliment, I believe that the Kreg Jig JR will fit your needs perfectly.  If however you see yourself creating lots of pocket holes, I would highly recommend spending the extra fifty bucks for the Kreg Jig.
This video show the full size Kreg Jig, but the Kreg Jig JR uses the same technology, it just takes a little more time to set up the jig and drill your pocket holes.  You can get the same results with the Kreg Jig JR, but it's going to take more time.  The full size Kreg Jig will let you drill pocket hole after pocket hole, I was able to drill pocket holes as fast as two per minute.  But with the Kreg Jig JR, it takes me closer to 2 minutes to clamp the jig, drill, and unclamp the Kreg Jig JR per pocket hole.
______________________________________________________
I choose to build this entire project using the Kreg Jig JR.   If you look closely, that means using 1x3 boards for the sides, joining 5 rows of 1x3 to build the box.
That's about
100 Pocket Holes
drilled with the Kreg Jig JR.
I built it before breakfast, made a noon hair appointment (sorry about the sawdust in my hair)
and in between painting the front of our house, I put two coats of High Gloss Red Valspar paint on.
Total Project Cost
was less than $20,
Time Investment
about 4 hours start to finish.  I used bundled 1x3 at about $1.25 each for the box, and 1x4s for the lip, and 1/4" beadboard on the back and as decorative strips along the tops and sides (you can buy beadboard wainscoating in small size that would work perfect for this project for about $10 for a 4' x 30" piece).  I'm all about using rustic lumber for kid's projects - I'll give Grace a head start on the distressing, because we know she's not going to be worrying about the finish scratching.  She's already moved in (and this was supposed to be a gift!).
Overall Dimensions are shown above. Be aware that this piece seems smaller than I thought it would be, but is very close dimensionally to the Pottery Barn Kids one. Composition is the same as the Pottery Barn Kids storage bin, pine boards with paint.
Preparation
Shopping List
5 – 1×4, 8′ length
1 1/4″ Self Tapping Pocket Hole Screws
2" nails
1 1/4″ nails
Wood Glue
Wood Filler
Sandpaper
Paint
Common Materials
120 grit sandpaper
primer
wood conditioner
paint
paint brush
Cut List
6 – 1×4 @ 31 1/2″ (Top and Bottom Panel Boards)
6 – 1×4 @ 12″ (Side Panel Boards)
6 – 1×4 @ 10 1/2″ (Divider Panel Boards)
2 – 1×4 @ 12″ (Lip Sides)
1 – 1×4 @ 31 1/2″ (Lip)
General Instructions
Remember you can click on any image for a larger view. Always read comments before begining a project and use the plans from the blog to get the most current plans. Work on a clean level surface and use straight boards. Use glue. Predrill any screw holes. Take a square after each step. Be safe, have fun.
Instructions
Preparation Instructions
I cut strips leftover from the back plywood int 1 1/2″ wide strips and used 1″ nails and glue to attach to the sides, but this is purely decorative. If you plan on stacking, do not add the "banding" to the tops or bottoms. Fill any holes with wood filler (or you can use the pocket hole plugs that come with your Kreg Jig) and sand and finish as desired.

If you are stacking, I recommend attaching the bins to each other (drilling pocket holes in the underside of the bottom bin and screwing into the bottom of the top bin would be very effective) and also attaching to the wall.