Make your own wood magazine files with bookplates and decorative faces for $2.50 each! These quick and easy magazine files will create order and style in your home!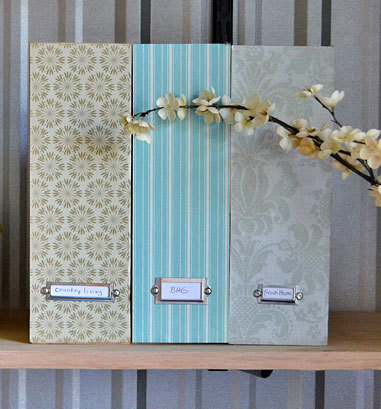 UPDATE: When I figured the 18 magazine files per sheet of 1/4" plywood, this was assuming a 45 degree angle on the sides. But I choose a 30 degree angle because it is easier to cut with a standard sliding 10" mitersaw. With a 30 degree angle, you will only be able to make 15 magazine files from a sheet of 1/4" plywood. If you would like to maximize the number of magazine files you can make, cut the ends at a 45 degree angle, longest point 12".
Dimensions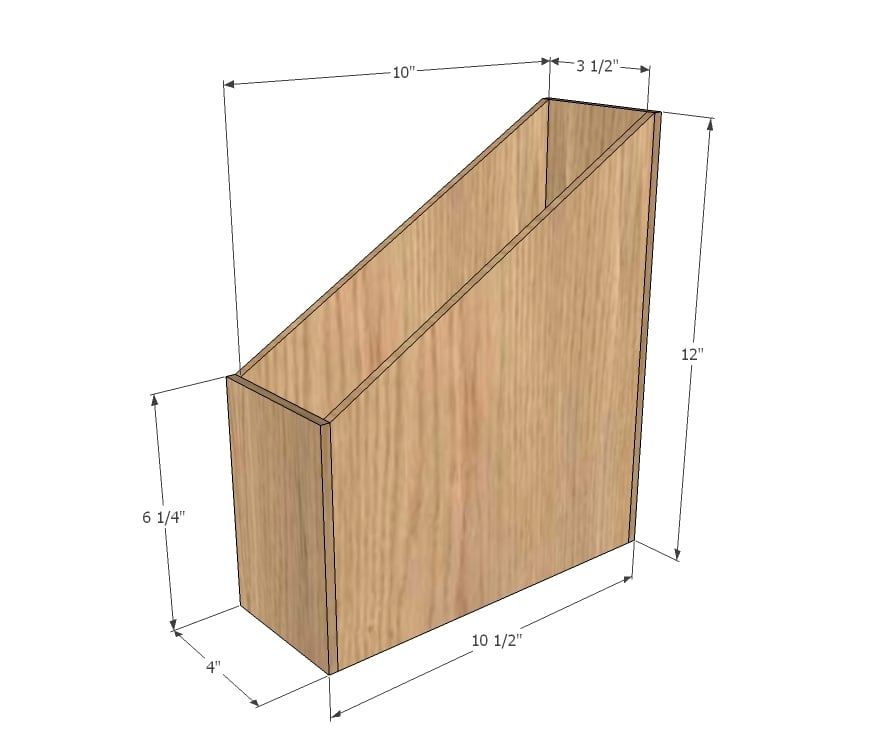 Dimensions are shown above. Sized to fit standard letter size with room.
Preparation
Shopping List
1/4" plywood (for 9, use 1/2 sheet - for 18, use full sheet)
1x4 @ 8 feet long - 1 for 9, 2 for 18
Glue (Gorilla glue would be great here)
1 1/4" finish nails
Painter's Tape
Book Plates and fasteners
Modge Podge
Scrapbooking Paper (3 sheets for 9, 6 sheets for 18)
Cut List
Per File:
2 - 10" strips @ 12" long, one end cut at 30 degrees off square, longest point measurement (see diagrams in step 2)
1 - 1x4 @ 10" (bottom)
1 - 4" strip @ 12"
1 - 4" strip @ 6 1/4"
General Instructions
Please read through the entire plan and all comments before beginning this project. It is also advisable to review the Getting Started Section. Take all necessary precautions to build safely and smartly. Work on a clean level surface, free of imperfections or debris. Always use straight boards. Check for square after each step. Always predrill holes before attaching with screws. Use glue with finish nails for a stronger hold. Wipe excess glue off bare wood for stained projects, as dried glue will not take stain. Be safe, have fun, and ask for help if you need it. Good luck!
Instructions
Step 1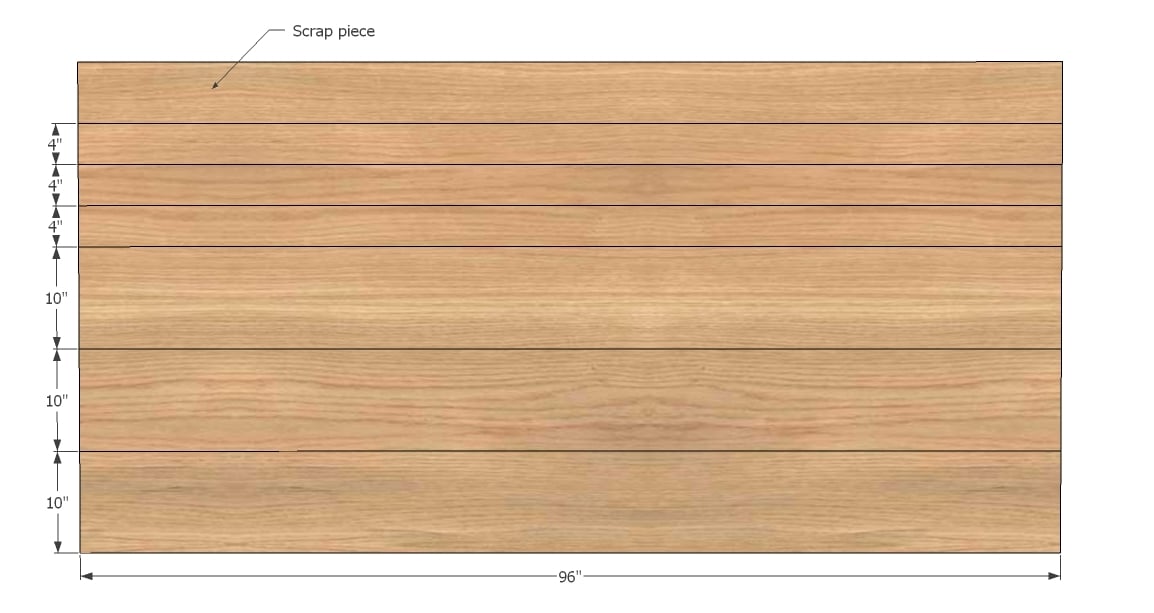 Have your hardware store cut your plywood into strips as shown in the diagram. Otherwise cut your plywood with a tablesaw into strips as shown in the diagram.
By cutting into strips, you can be sure that the plywood grain is all in the right direction, and your wood pieces are consistently the same width.
Step 2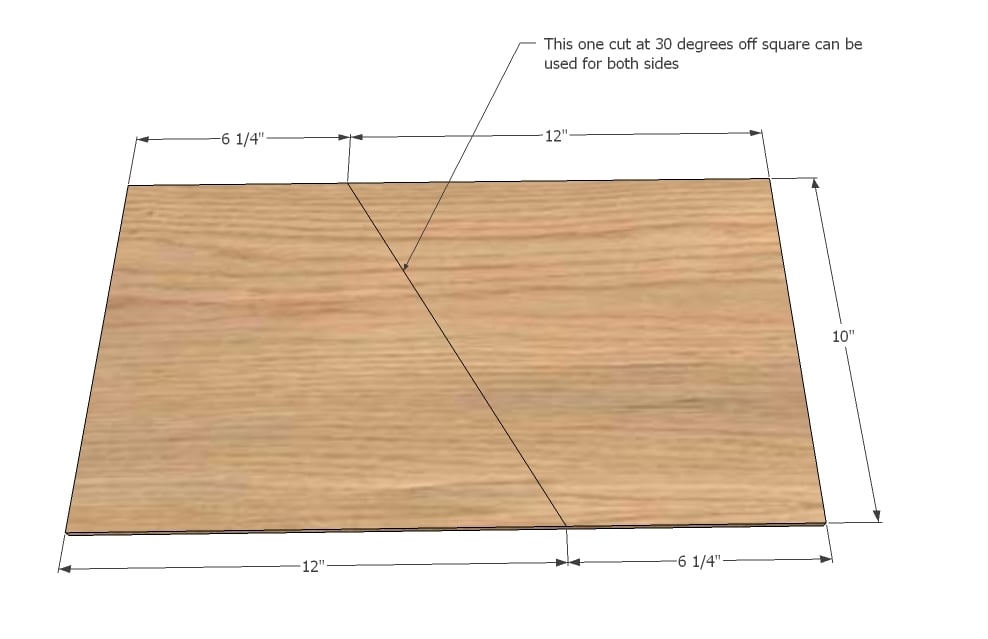 When you cut your sides, you will be able to use the same cut for both sides as shown in diagram. I used one side as a pattern to cut all of my sides from.
Step 3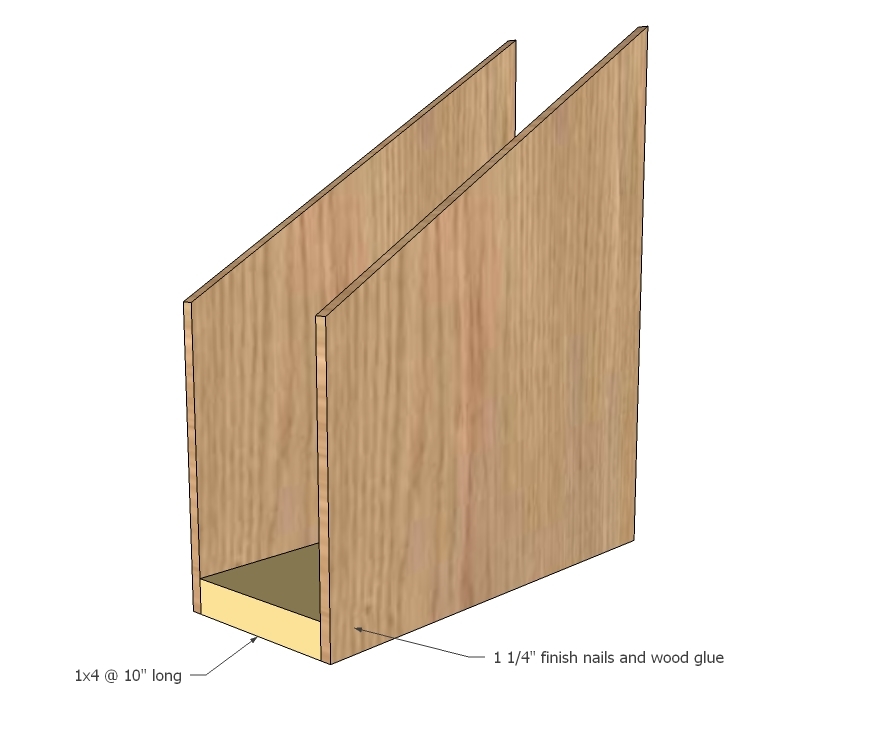 When you are finished cutting the pieces, nail the sides to the bottom as shown above with glue and 1 1/4" nails.
Here is a trick I do quite a bit when I'm working in the garage alone.  Since the 1x4 and 2x4 are the same height, I just put a scrap 2x4 under the unsupported half of the side I'm fastening, and then can dedicate my attention to nailing the side to the bottom.
Step 4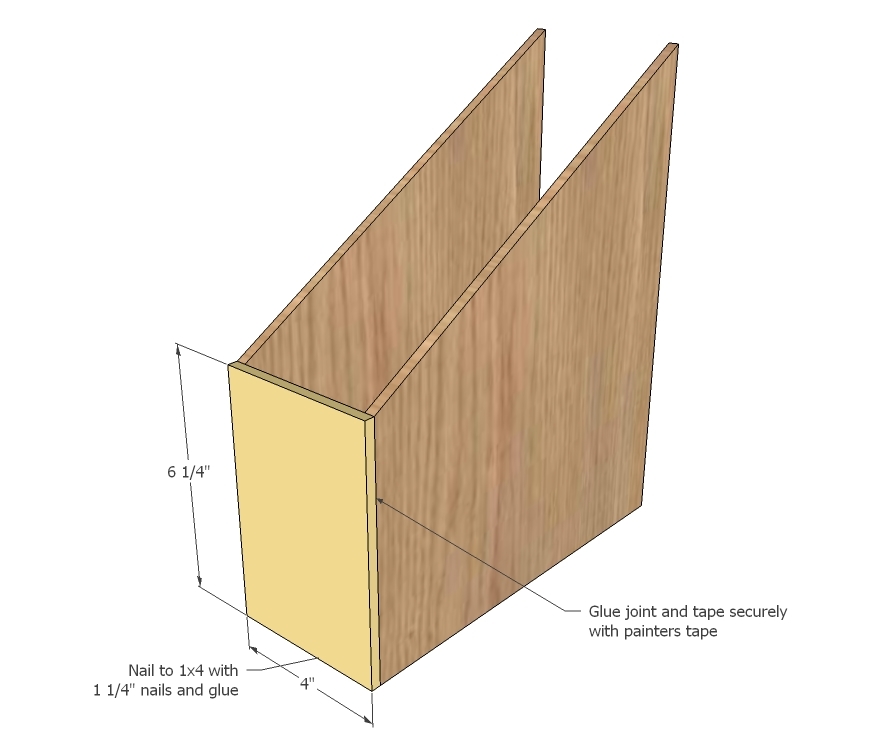 Once both sides are on, attach the front. You can only nail to the 1x bottom board. Glue the sides and tape with the painter's tape, getting the tightest possible joint.
This is actually the back shown, but you get the idea.
If you would like your magazine files to have a lower front, certainly, just cut the sides at a steeper angle and make the front lower.  No biggie!
Step 5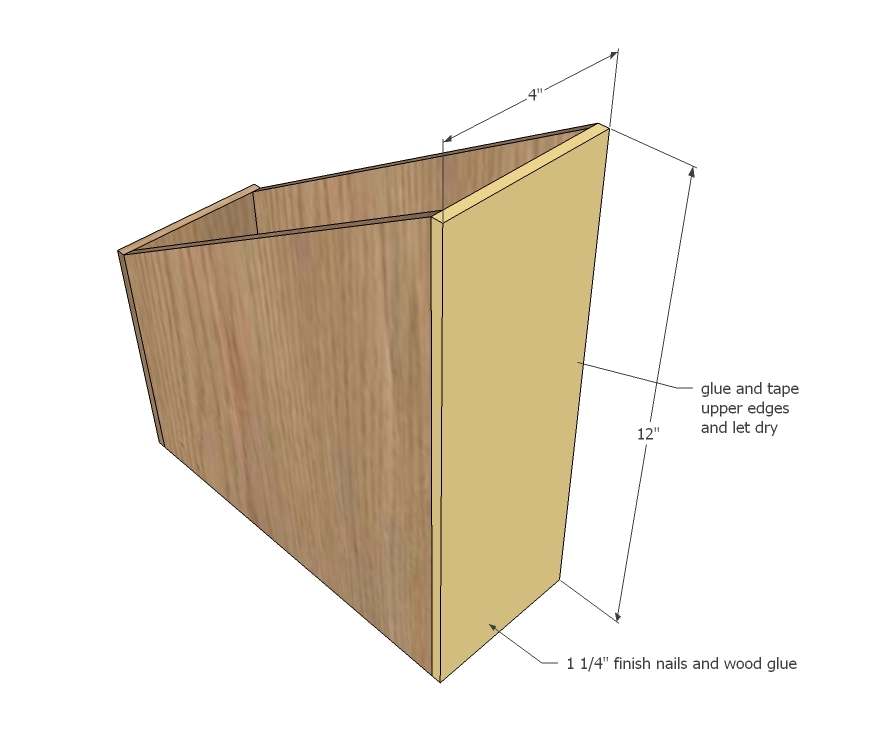 Step 6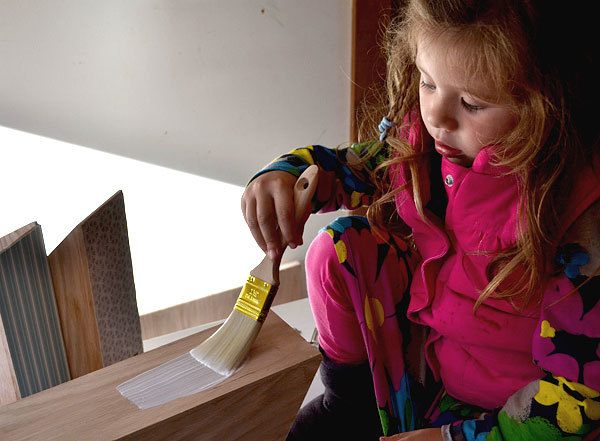 For the decorative fronts, cut pieces of the scrapbooking paper to the size of the fronts (should be exactly 1/3 sheet of scrapbooking paper). Apply a coat of modge podge, apply the paper, followed with another coat of modge podge. Let dry.
Step 7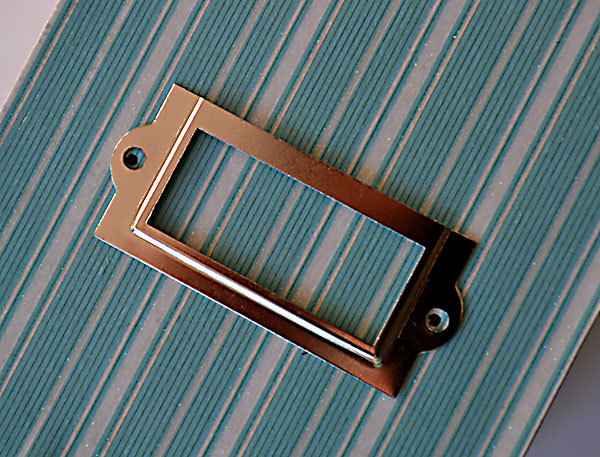 Mark the desired location of the bookplate holes.
Step 8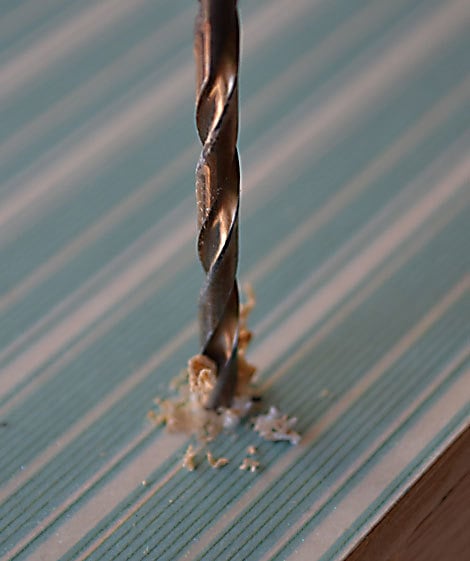 Drill holes with a bit matching the holes in the bookplates at the marked location.
Step 9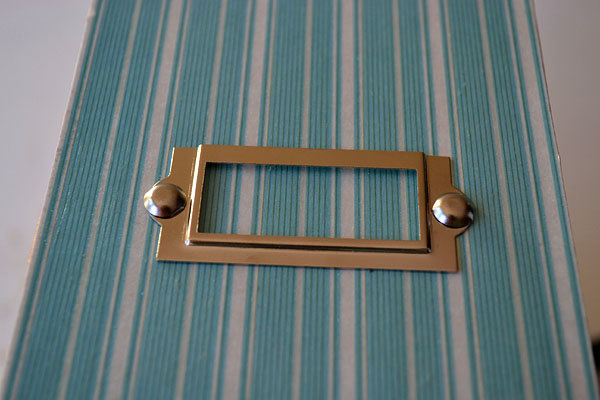 Attach bookplates to magazine files with the brads or screws if using screws. If using brads, use a hammer to flatten the brads inside the magazine file.
Step 10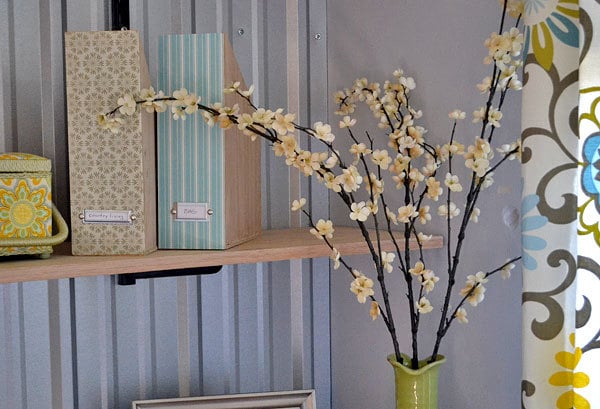 Fill with magazines and enjoy!
Step 11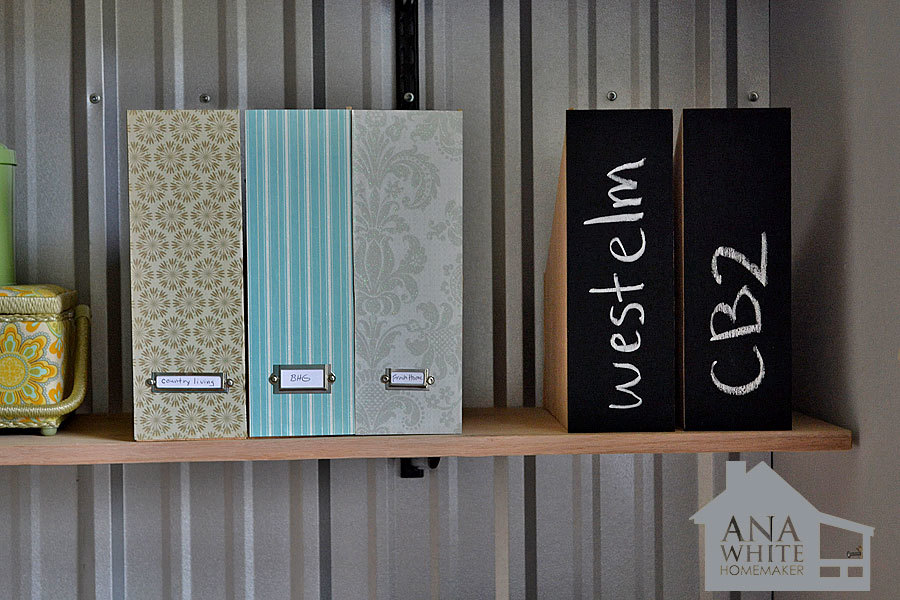 And for a more contemporary look (not to mention cheaper and easier) simply paint the faces with chalkboard paint!
Preparation Instructions
Fill all holes with wood filler and let dry. Apply additional coats of wood filler as needed. When wood filler is completely dry, sand the project in the direction of the wood grain with 120 grit sandpaper. Vacuum sanded project to remove sanding residue. Remove all sanding residue on work surfaces as well. Wipe project clean with damp cloth.

It is always recommended to apply a test coat on a hidden area or scrap piece to ensure color evenness and adhesion. Use primer or wood conditioner as needed.
We apologize if there was an error in this plan. Please help us out and report any errors here.