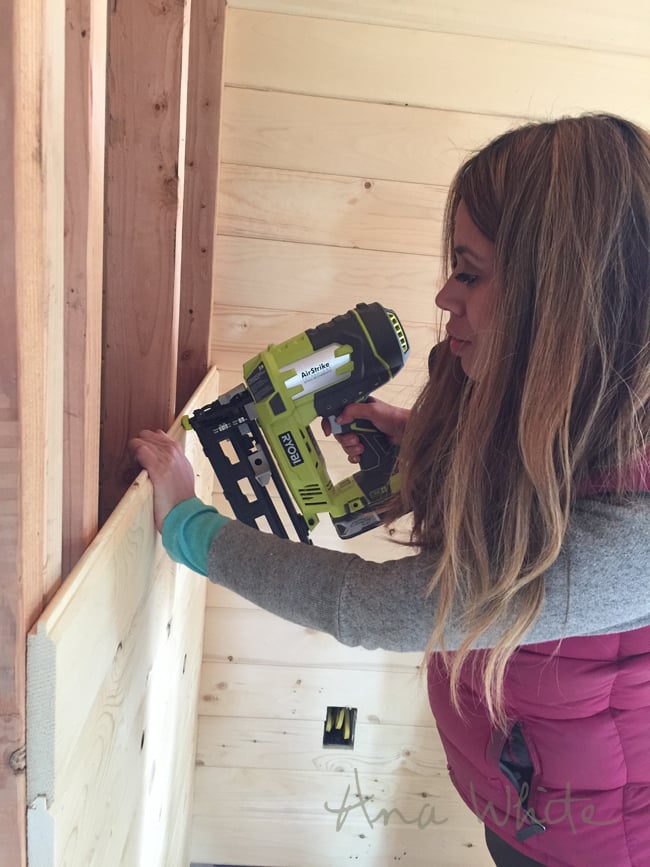 Hi everyone, Happy Monday!!!
We got a chance to sneak down to our cabin this weekend and pick some blueberries, and grab a few images for our DIY Network show that will air sometime this fall (will let you know as soon as we know on an air date!).
I still can't believe we built that cabin in just a couple of months!  Of course, everything was so rushed and under a tighter schedule because of the filming, but still!  So it's fun to get to go back through the photos and put together these posts to show you the steps that we took to build our cabin.
In the last post, we put clear coat on the wood tongue and groove ceiling by spraying it on.
We've held off on adding the wall finish material so that we could spray while everything is taped off with the vapor barrier.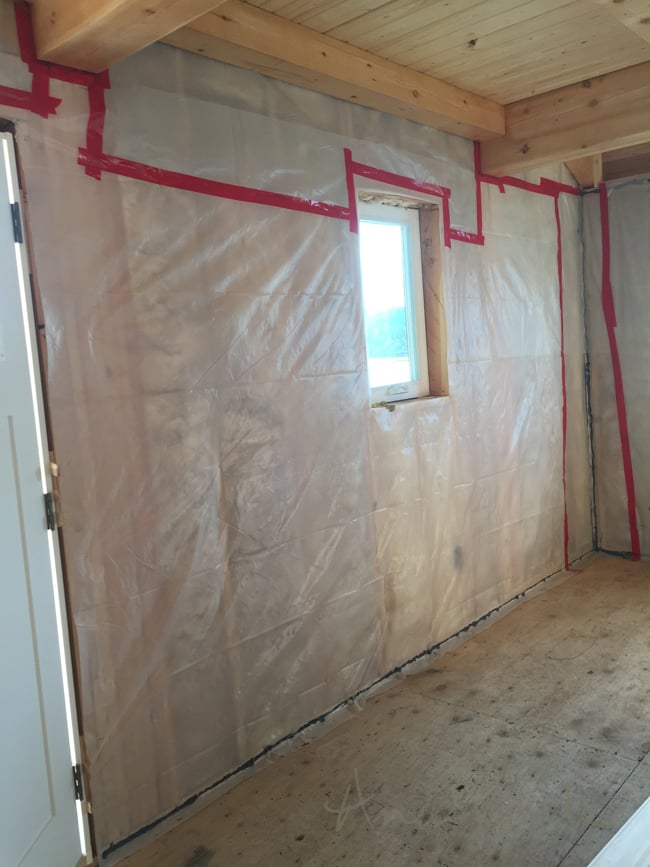 So what to put on the walls?
Of course, the first thing you think of for a wall finish material is drywall.  It's just the standard, and in most places - you have to do it because it's code.  I really wanted drywall because I wanted a material that would show off the wood ceilings (as opposed to competing with it), and even though we don't have to follow codes where this cabin is built in remote Alaska, I always try to since codes are generally put in place for your own good.  
But there's a few big problems with drywall.  Since our cabin is on a floating foundation that will need to be adjusted as the ground freezes and thaws, this means the cabin will shift through the seasons.  The movement would crack the drywall seams.  Another issue is our cabin won't be heated all the time.  It will freeze up, and then be heated up when we come visit, then freeze up again when we leave.  The freezing and thawing isn't good for drywall seams and could cause them to crack.  And then there's the weight of the drywall adding to the foundation concerns.  And we won't even talk about how difficult it would be to get drywall out to the cabin site, having to either boat it in, snow machine it in, or somehow fit it on an atv trailer and get it to the remote cabin site.  Drywall wasn't going to work on our cabin.  We would need to think of something else.
The next thing we thought of was to buy wall paneling.  You know the stuff - it's used in prefab homes and comes in 4x8 sheets, usually in a wood veneer or beadboard.  It's cheap, it's light, it goes up fast.  And the new wall paneling comes in modern designs that I could work with.  But there were two big issues with wall paneling.  The first is we have tall ceilings, so we'd have to butt panels up vertically and then go back with a trim strip at this butt joint.  The second issue is there's no backing behind the paneling, so it could look wavy over the bare studs.  We felt that after all the work and time we'd put into the timberframe and beamed ceiling, going cheap on the walls would be something we'd regret.
So I knew we'd need to do some sort of wall planking, where the boards are run long and are staggered on the wall.  We thought about cutting plywood into strips, and putting up on the walls with a tiny gap between the planks to look like a shiplap wall, but ultimately decided that would require two layers of plywood so you wouldn't see the vapor barrier through the gaps.  And that would entail an extra step of ripping plywood into pieces too.  
Why not just tongue and groove the walls?  This would add the structure of a solid wall, enable us to continuously cover the walls without weird trimming out, and it's easy (or at least easier) to transport and finish out.
Up to this point, we've been using 2x6 tongue and groove for the ceilings and floors.  
This is mainly done because we are spanning up to 4 feet between beams.
But for the walls, we can get away with 1x6 tongue and groove since there isn't the stuctural need.  This means we will have half as much material to transport, and 1x material is so much easier to work with than 2x - it is much easier to snap the joints together because the wood will flex easier.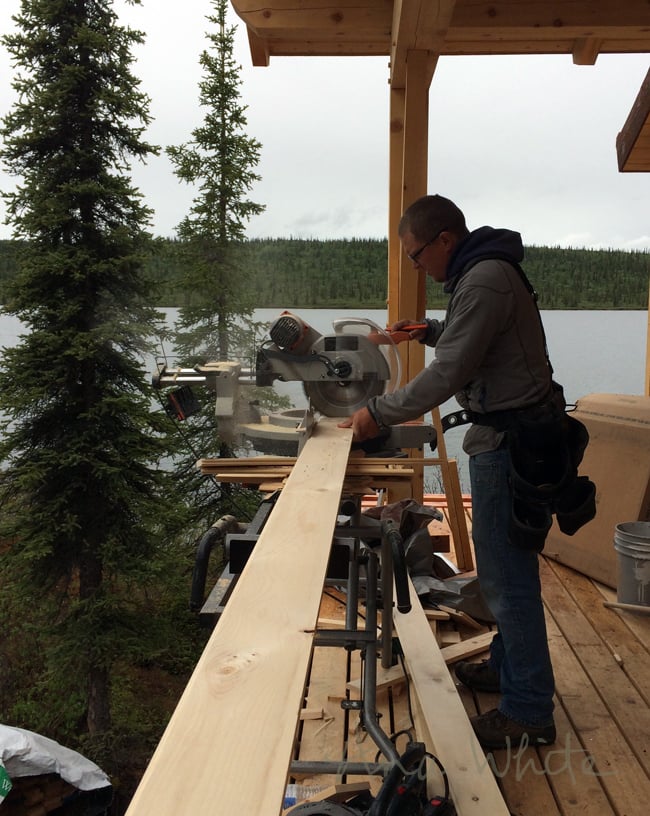 So we start at the saw.  The boards are outside, and brought up to the deck, and cut to fit.  We try to keep the boards as long as possible, minimizing the butt joints, and if we do have to have a butt joint, we make sure it is split over a stud in the wall.
For smaller walls, like the one I'm working on below - we precut all of the boards first.  You don't have to be exact with cuts - a little short is better - as we will have to go back and trim all ends and corners.  A little long means you have to cut the boards again (doubling the work) so we cut all of our boards about 1/4" short.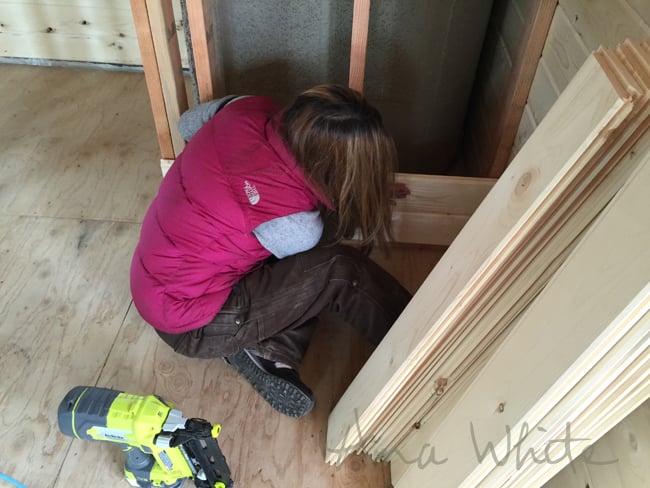 Since there's no guarantee that the floor is level consistently, we start all of the tongue and groove up from the subfloor on 2x blocks.  The finished floor and baseboard will cover this gap later on.  The first board is nailed on where the nails will be hidden by the baseboard.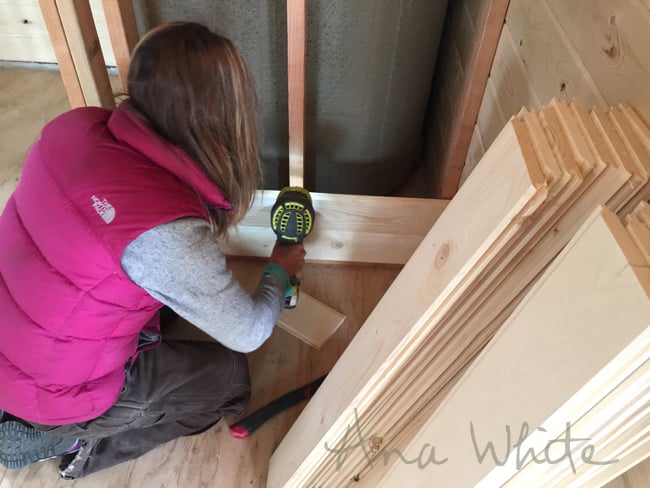 After the first board is up, we put nails at an angle into the studs, on the tongue of the board.  This will hide the nail head.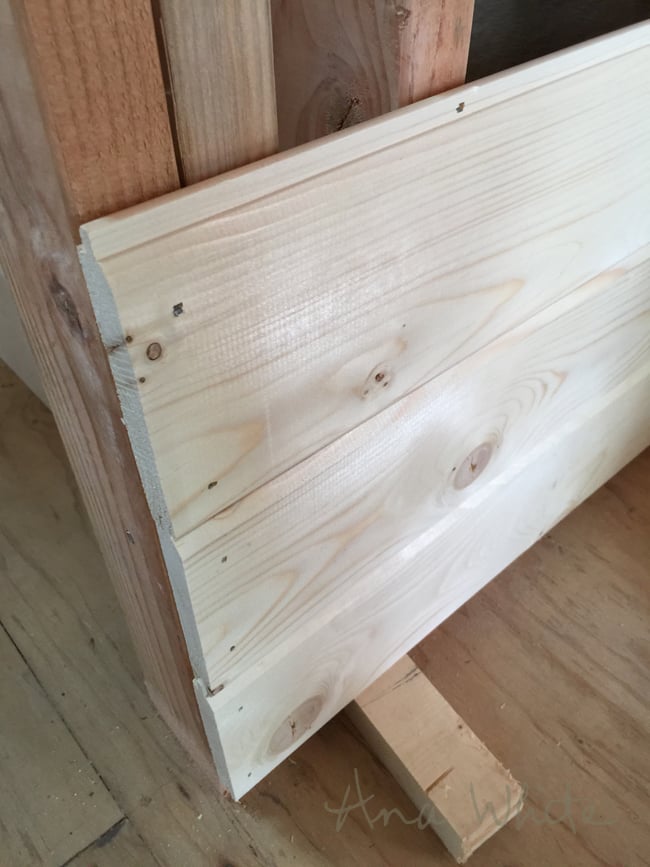 On the ends that will get covered by door trim, I just nailed right through the face.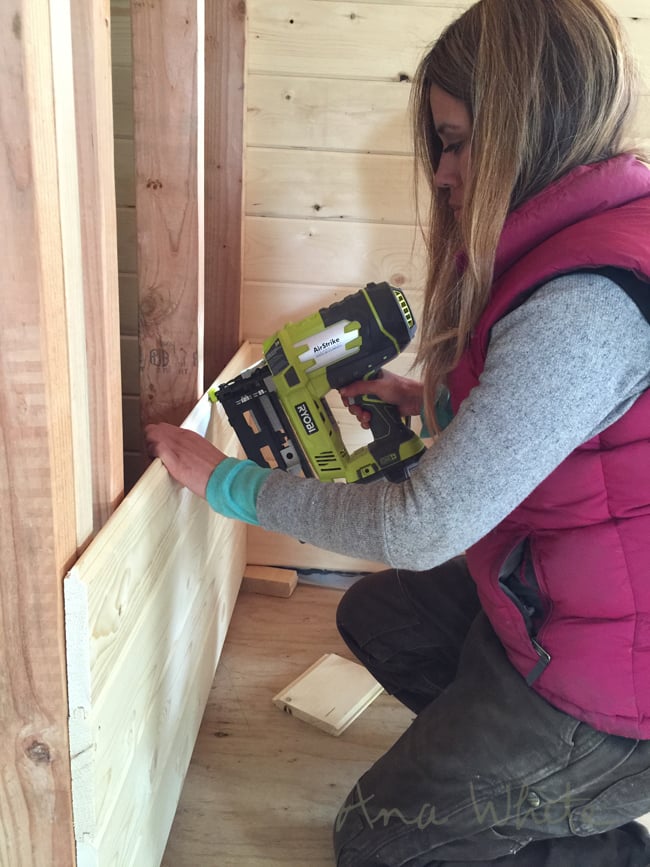 And then back to nailing at an angle where the nails would not be covered.
If you do have to nail into the face of the board where there is no trim, you can use wood filler to cover, but that adds and extra step, so I tried to avoid that whenever I could.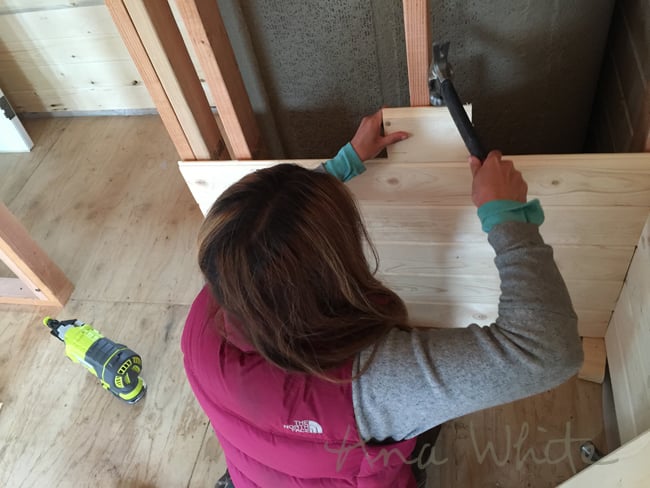 The 1x6 tongue and groove boards were much easier to install than the 2x6, but in some spots, I did have to pound the boards together.  I kept a "beater block" on hand so to not damage the tongue on the finished board.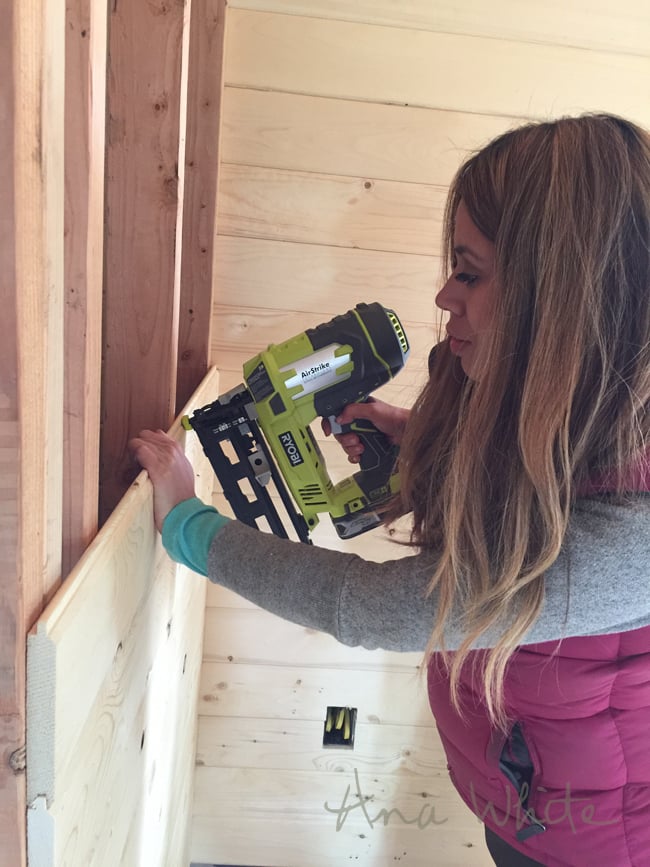 Putting up the tongue and groove went really fast.  We had a few nailers going, the pneumatic ones were preferred, but since we only had one air compressor, I used my 16 gauge AirStrike Ryobi finish nailer.  It wasn't as fast, but I didn't have to deal with a hose or fight with the boys over it.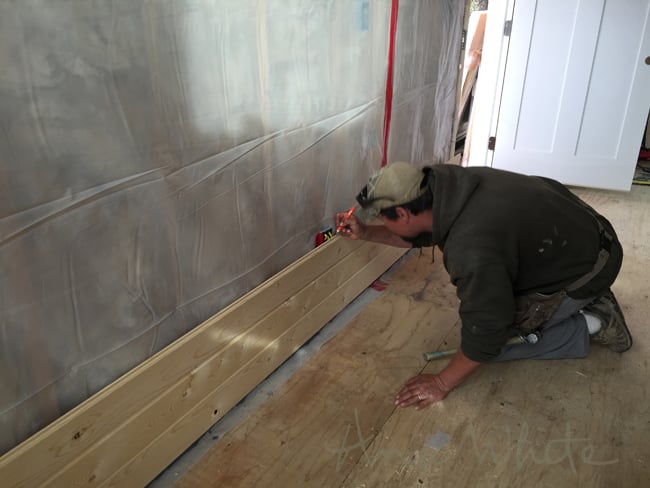 For electrical boxes, we just carefully marked around them, and then cut out with a jigsaw.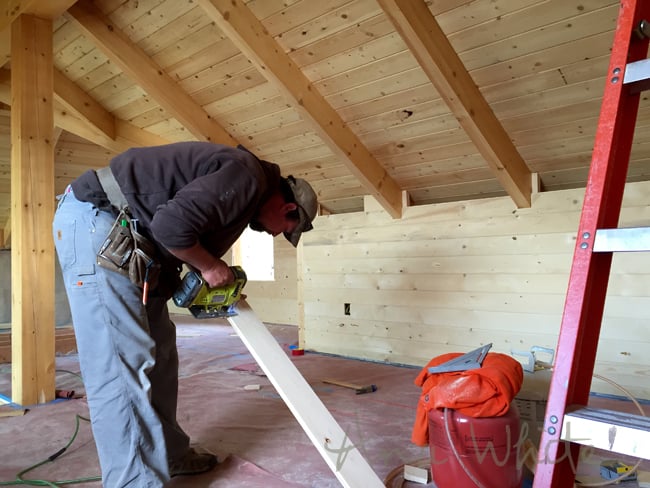 Upstairs, where the roof meets the walls, things did get a little more interesting.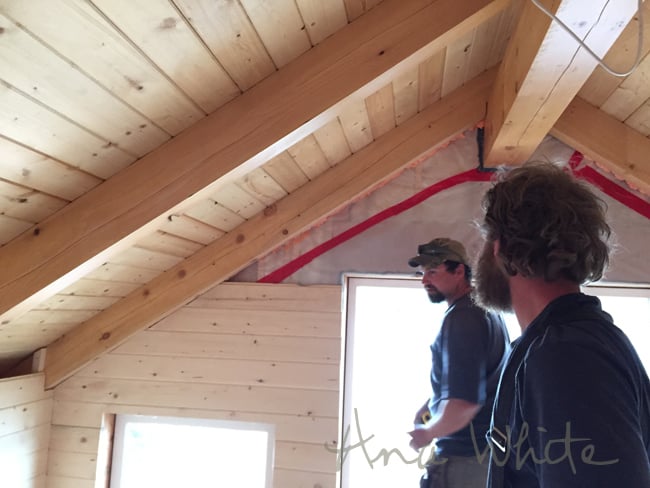 Here, we are starting to deal with long angles.  Normally this wouldn't be an issue, but I had requested the smallest possible trim piece around the beam so the beam stands out (and not the trim piece).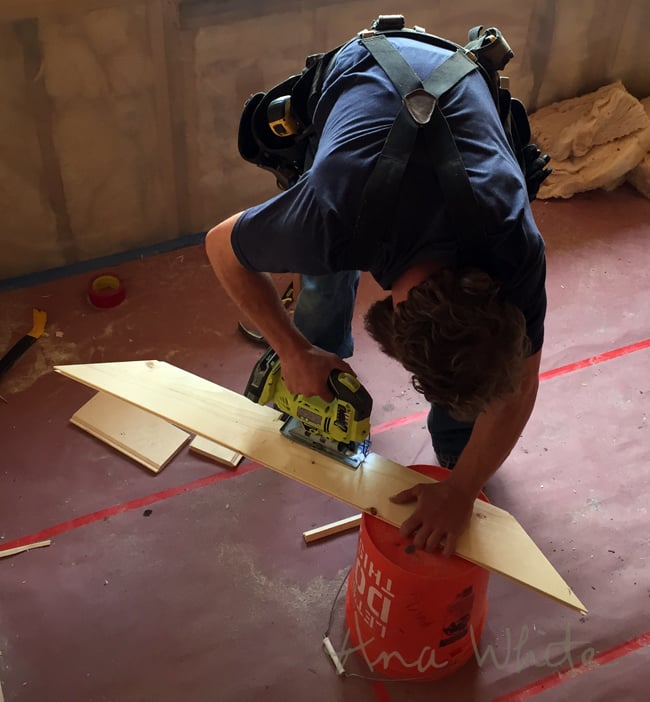 We did have to do quite a bit of custom cutting to get everything to fit.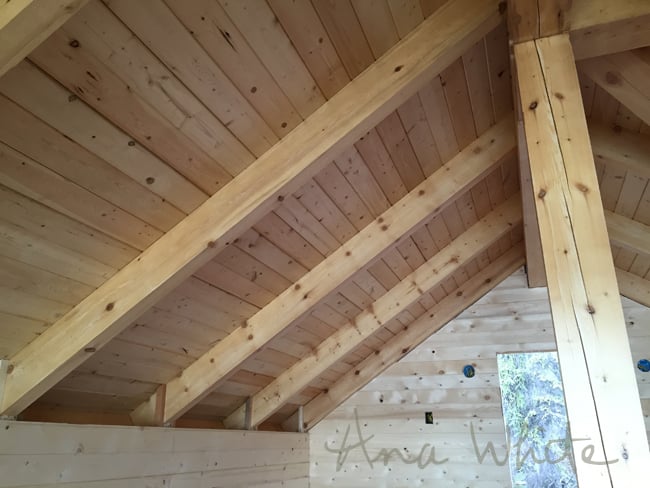 At the top of the eave walls, we have to fill the cavitiy with insulation.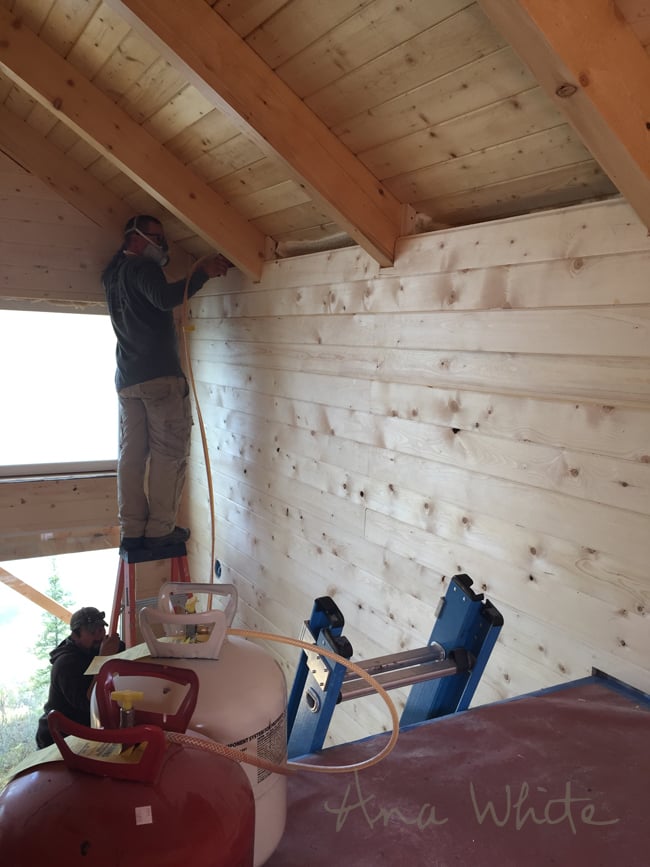 To keep the vapor barrier and adequately insulate, we purchased a spray foam kit.  It was not cheap.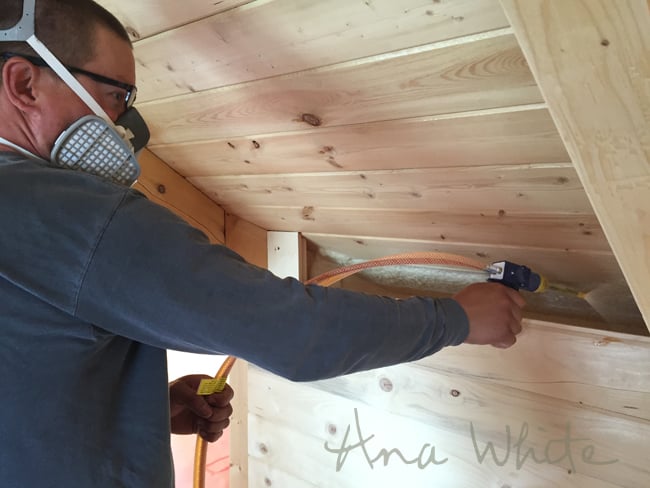 But it was the only sure way to both seal the cavity and insulate it.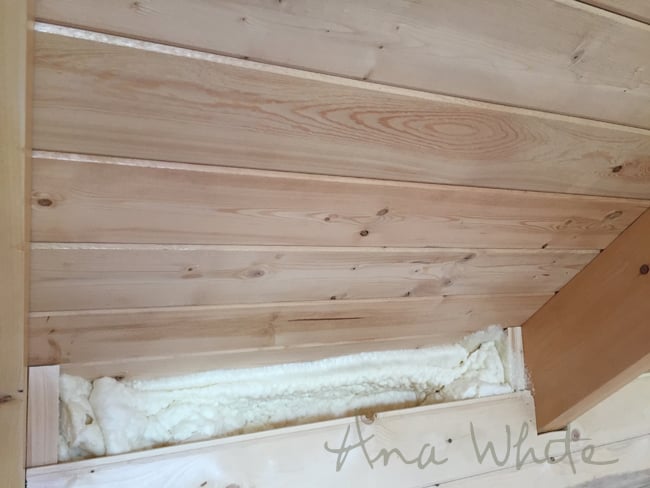 A little goes a long ways with this stuff too!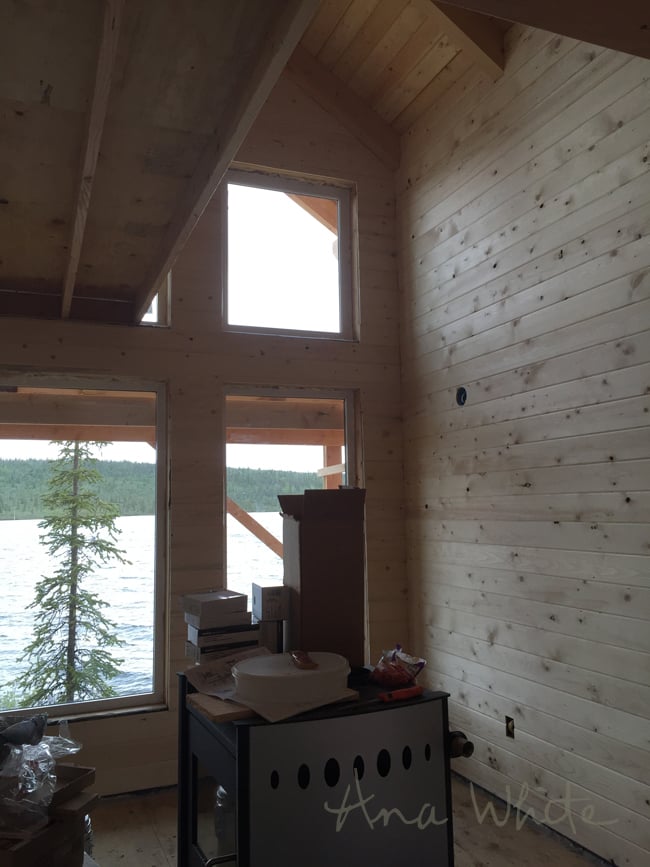 It tooks us about two days, with five us us (and no babysitter so really four of us), to cover all of the walls with tongue and groove.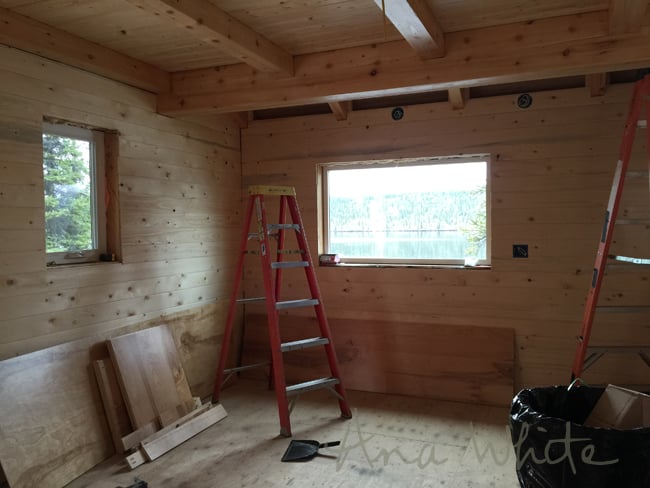 Now comes the big decision - to paint or not to paint?
What do you think?
XO Ana + Crew