So I commited the great sin of painting all the walls white.
Well, off white ... and in the natural light, it really looks more like the intentionally blah color of primer, shouting, repaint me!!!
Or in this case, either start the biggest sanding job of your life or learn how to do a faux wood painting technique.
But I gotta keep my poker face on and pretend I love it and be strong.  As soon as I show any doubt in my decisions, the crew will start doubting me, and then every decision I make will be debateable - so I just keep on acting like I'm loving those primer colored white walls.
But the show must go on - as in literally the tv show, because we've got a film crew on site, on a tight schedule (I'll let you know the very second I can when the show will air on DIY Network sometime this fall).
So today's project, the loft stairs.
Or maybe the ladder.  I'm not sure yet.
We've decided the best place to land the loft stairs is in the middle of the image above.  This gives access to the two "rooms" upstairs without having to walk through either of the areas (wasting space that now becomes a hallway).  This is also the best spot for upstairs headroom.  I also wanted the loft stairs to come up either in the living area or entryway.  I couldn't find a good way to make it work in the entryway area, so this is where the stairs are going.
We've got two options -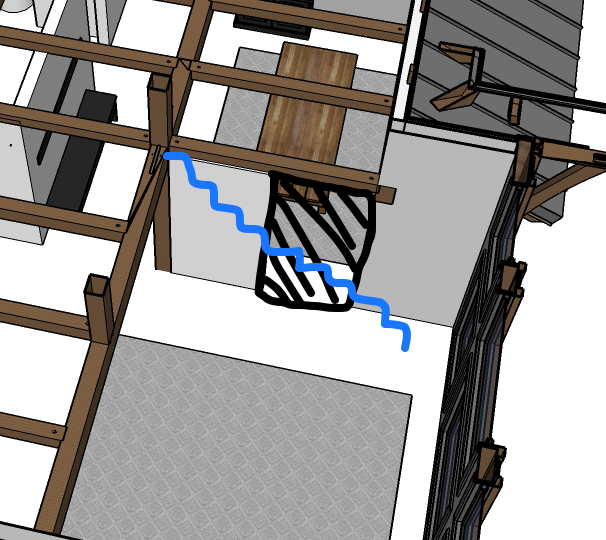 Option 1 - Take out the opening between the living room and kitchen and build tradditional stairs along the wall.
Pros - easy climbing
Cons - takes up a ton of space, blocks off the kitchen, stairs would need to not only be longer but wider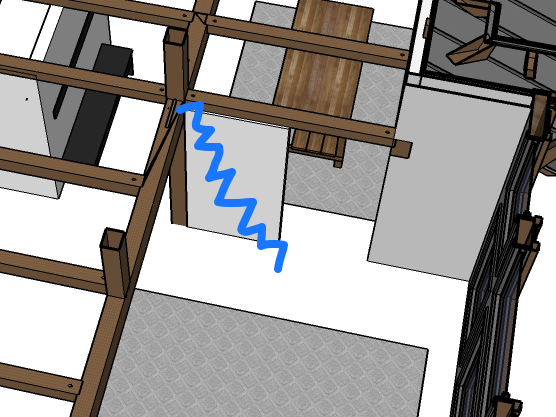 Option 2 - Keep the opening to the kitchen from the living room and build an ladder or alternative loft stairs system along the small wall
Pros - Saves space, can be narrow, keeps opening between kitchen and living room
Cons - Upstairs is difficult to access (upstairs area almost doubles square footage of cabin)
After much debate, we decided to go with option 2. We decided that as we age, we could always go back to option 1.  Because I'm definitely going to that grandma that can whip out new loft stairs on a long weekend at the cabin.
But there was one big BUT - the stairs had to be built in such a way that I could walk forward carrying a baby down without having to hold on to anything else.
I've done alternating tread stairs before (also called ship ladders).  The idea behind them is your foot only uses half of the stair, so you can cut the other half out to allow more step up room between treads that would otherwise overlap -
The space savings of a ladder but will full treads and a reasonable rise. I personally love them, but some people find them confusing.  The trick is to start right, and only step on the wider tread area, with the correct foot - left foot, right foot, left foot ... you get the idea.
Here's how I designed my stairs -
1. I took measurements of the overall rise and run that I could work with.  The rise was right at 9 feet finished floor to finished floor, and the run about 4 feet - you'd need more than double that run for a tradditional set of stairs.
2. I took the overall rise and divided that number by 8.  Normally, you would divide by 7, but since I'm in a tight space, I went an inch bigger for the average stair height.  I got 13.5 - so this means I need 13 steps.
3. So now to figure out the exact rise.  I took the overall rise (108 inches or 9 feet) and divided that by the number of treads - 13 to get 8.3 inches.  That means the distance from top of tread to top of tread will be 8.3 inches.
4. Now to figure my overlap so I can cut out my treads.  I took the overall run (4 feet) and divided that by 12 (the 13th tread is the upstairs loft floor) to get 4".  Yes, 4".  So I set my carpenter's square to 8.3/4 - I know, it looks funny - and marked out and figured my stairs.
2. I used an online stair calculator (in manual or unrestricted mode for non code comforming stairs, I'm such a rebel, eh?) and it spit out this -
So there's the stringers!  I layed out the stringers and cut them (I used 2x10 because that's what I had leftover).
The treads were a little more work.
For this rise and run, I've only got a 4" tread, meaning the loft stairs overlap (using again a 2x10 tread because that's what I have on hand) a full 5-1/4".
So I cut 5 -1/4" off of half of the stairs with a jigsaw (leaving 4").
I jigsawed for days.  Gave me time to justify the primer colored walls.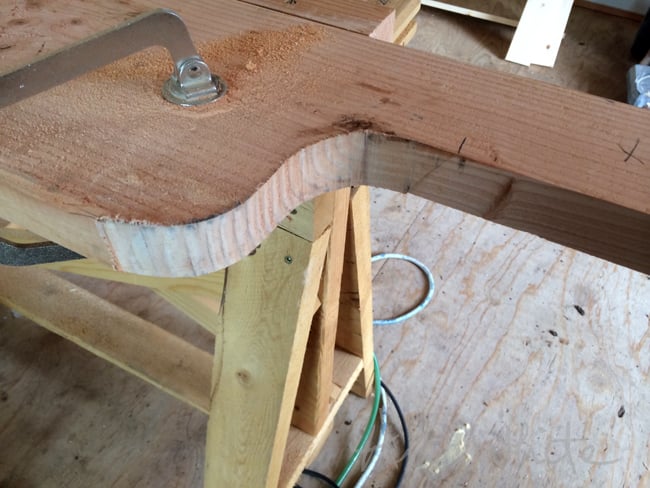 The jigsaw will work but it's not the ideal tool for cuting through 1-1/2" thick douglas fir.  A scroll saw or band saw would have been nice.  But when you are out in the woods, you can't be picky.  You gotta just work with what you have and be thankful you aren't holding a handsaw.
So I then sanded for days.  It was actually more like a few hours, but it felt like days.
Now to see if it all fits.
I decided to not notch into my stringers, and instead just marked on the insides where the stairs would be placed.  This leaves a skirt on the sides of the treads, hopefully helping to keep feet on the treads (and will give me something to add a railing handle to later on).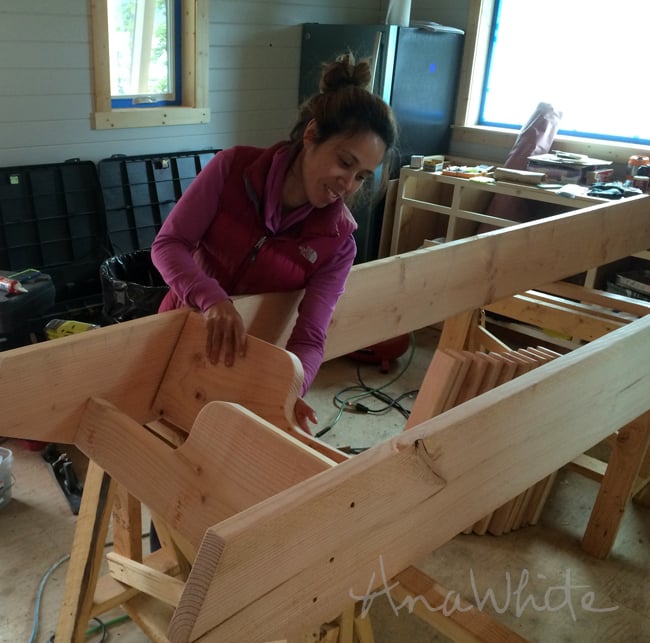 That moment when you realize your crazy project just might work.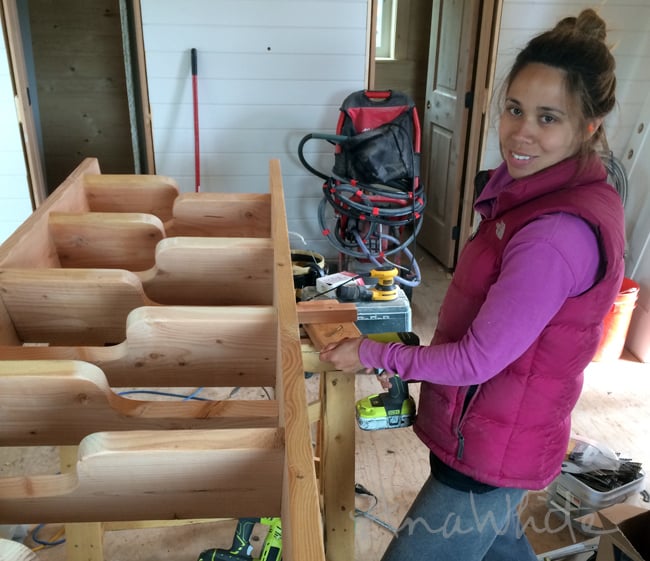 I screwed the treads to the stringers.  I decided I'd wait and see if I needed to add blocking underneath the treads for additional support.  The best way to do this would have been to notch out for each tread, but we just didn't have the time at this point. 
To protect the loft stairs, we brushed on several coats of Varathane Crystal Clear, an an additional coat on top of the stair treads for added durability.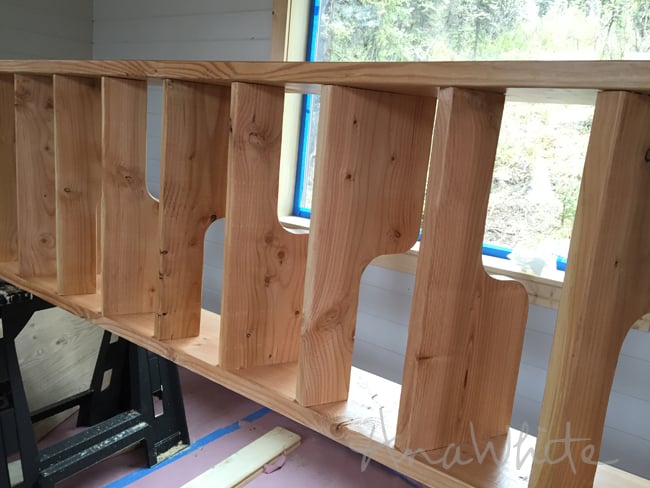 Waiting for clear coat dry is even worse than waiting for water to boil.  You just have to go do something else because it will not dry, not ever, if you sit there and watch it.
So the next day, we put the loft stairs in place,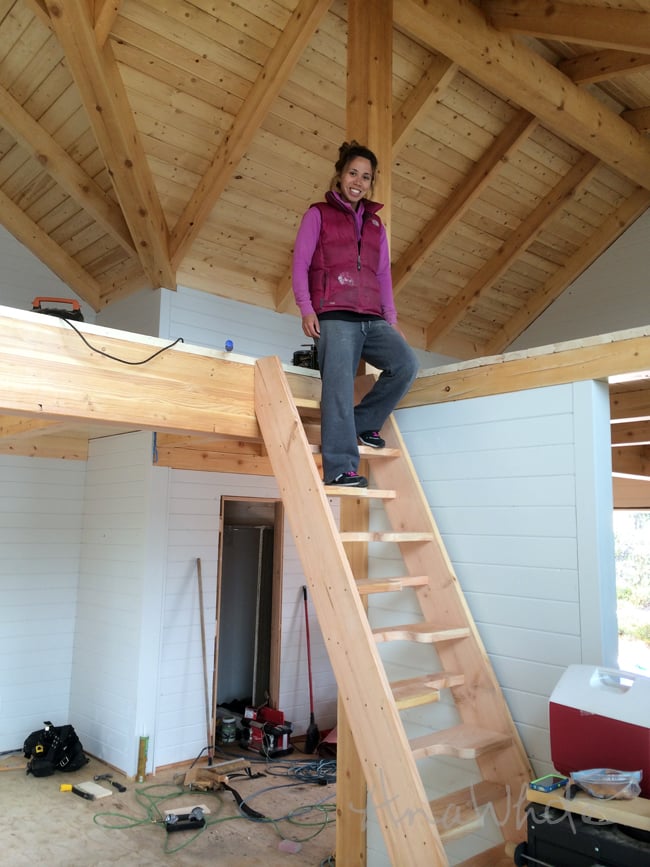 And the moment of truth -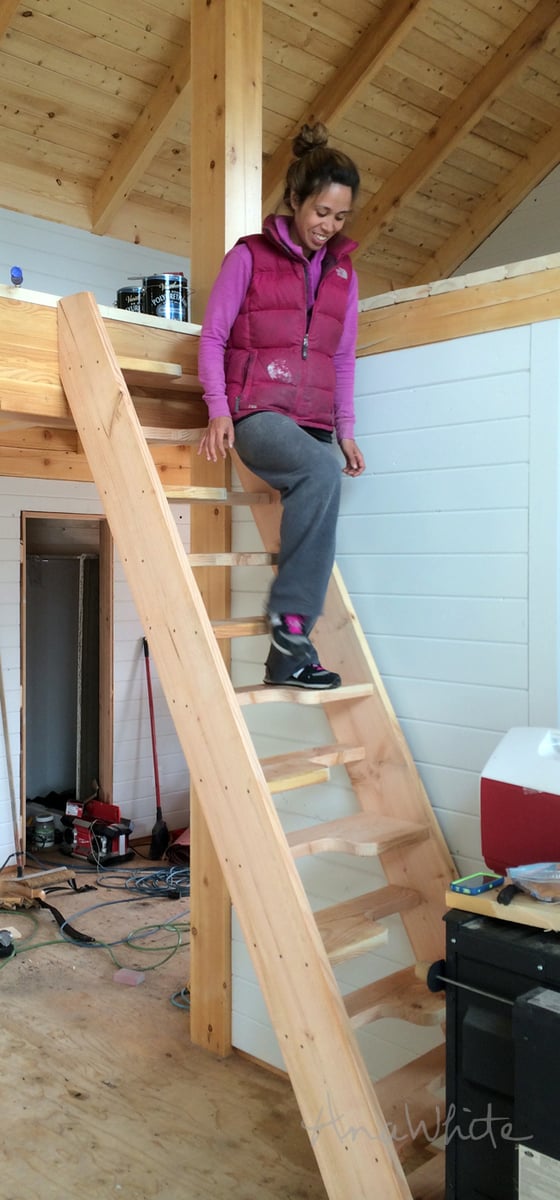 What the heck???  They actually work!!!  
I'd do a happy dance, but the rules are, right foot, left foot, right foot - no dancing aloud on these stairs.
These loft stairs ended up being the perfect solution for our needs at our cabin.  I wouldn't use this design for a standard set of stairs in a home, but for this application, they work perfect.
Have an awesome day!
XO Ana