Build your own low loft bed with free plans from Ana-White.com  This is a very simple build, no pocket holes required!  The bed is sturdy and solid, and you can add storage underneath.  We love it with totes for inexpensive, easy storage! Cost about $50 in lumber.  Plan includes step by step diagrams, build video, cut lists and shopping lists.
Related: Low Bunk Bed Plans
Pin For Later!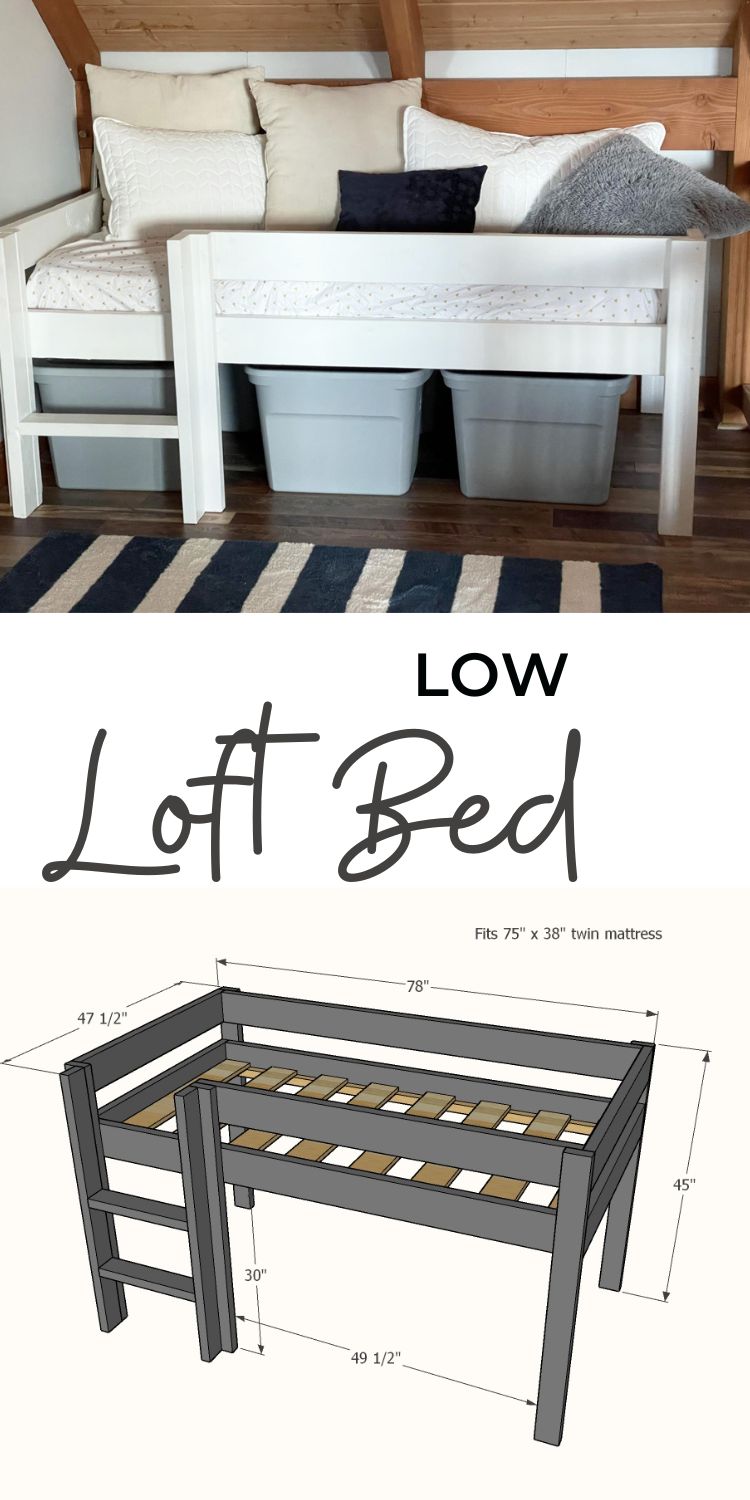 Dimensions
Can be built in different heights, shown in diagrams at 45" height (for a desk or bookshelf underneath). Shown in photographs with 32" height for totes underneath.
Preparation
Shopping List
4 - 2x4 @ 8 feet long for 45" tall bed OR 3 - 2x4 @ 8 feet long for 32" tall bed
4 - 2x6 @ 10 feet long
2 - 2x2 @ 8 feet long
5 - 1x4 @ 8 feet long (for bed slats)
About 70 - 2-1/2" long self tapping wood screws (star bit #8 recommended) - for main construction, can be as long as 3"
40 - 1-5/8" long self tapping wood screws (star bit #7 or #8 recommended) - for screwing slats down only
Cut List
TIP: Prefinish all 2x4 and 2x6 boards before cutting. 
3 - 2x6 @ 75" - cut first 
4 - 2x6 @ 41" - cut from leftovers after cutting the 75" pieces
1 - 2x6 @ about 55" measure and cut to fit - cut from leftovers after cutting the 75" pieces
7 - 2x4 @ 45" - legs / ladder sides OR 31-3/4" for shorter loft bed*
2 - 2x4 @ 18" - ladder rungs
2 - 2x2 @ 75" - cleats for slat system
10 - 1x4 @ 38" - slats
*32" legs are cut at 31-3/4" to fit three cuts on one 8 foot long 2x4 board
Cutting Instructions
Cut boards according to cut list using a chop saw or miter saw. 
A circular saw can be used instead, but straight cuts are very important to the overall success of this project, and it is hard to get straight cuts with a circular saw.  If you have to use a circular saw, a square cutting guide is highly recommended.

General Instructions
Once this bed is finished it will be too large to fit through standard doorways.  You can either assemble in the room and paint in the room, or assemble in a workshop/outdoors and paint, and then partially disassemble to bring into the room.
Another option is to prefinish all the 2x4s and 2x6s before cutting, and then cut and bring the pieces into the room and build in the room.  A final touch up coat of paint will be needed, but it will be minimal.
Instructions
Preparation Instructions
I recommend sanding all the boards before assembly with 120 grit sandpaper. Follow up with 150 grit sandpaper. A good sanding will make a huge difference in the finished product.

You can also pre-paint or stain.