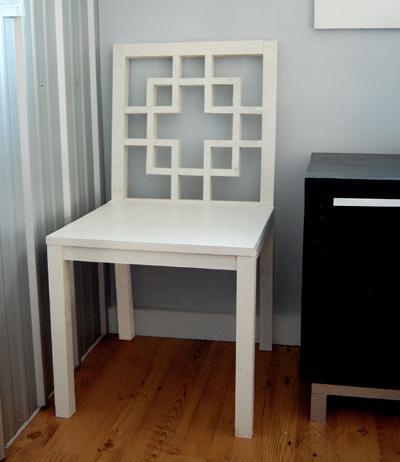 A stylish modern chair. Large seat, low back.
So what happens when you build one as a proof of concept . . . and you fall in love and want three more?
But in the fast paced world of building and blogging daily that I live in (intended for a giggle at my expense, being that I am still wearing the same comfy sweats I swore I would change out of at 4:34PM, exactly 10 minutes before the Ram gets home) how can I possibly build three more?
Or should this lone beauty be destined for my somewhat modern office?  As perhaps a guest chair for my most frequent visitor (who prefers a pink high chair) or as the coolest printer stand I could ever imagine?
What do you think?  A perfect fit in the printer's spot?  Or enlist the Ram's help to build 3 more?
In orange?
Or in blue?
Now I have a confession.  I made a great mistake of bookmarking PBSkids.org (pronounced peebee eskids dotorg in my household) a while back.  Sometime while I was out in the garage building this chair, my daughter hopped on my computer and started playing peebee eskids dotorg and crashed all my windows.  So you'll have to bear with me - there are a few modifications I would suggest to make your chair both easier to build and stronger.
Warning: As much as I know you are capable, chairs are so easy to mess up.  Two major issues - chairs need to be stronger and chairs are easy to get "off" square.  Don't build this chair (or any chair for the matter) as your first project.
Dimensions
Standard chair seat height. Chair seat is 19" x 19"
Preparation
Shopping List
1 – 2×2 Board, 8′ Long
1 – 1×2 Board, 8′ Long
1 – 1×4 Board, 10′ Long OR 19″x19″x3/4″ Plywood Panel for seat
1 – 2×4, stud length or 8′ long ( pick one that is straight with minimal knots and lightweight – means it's drier)
2″ Pocket hole screws
1 1/4″ Pocket hole screws
Cut List
2 – 2×4@36″ (Back Legs)
6 – 2×2 @ 16″ (Seat Back and Aprons)
2 – 2×2 @ 17 1/4″ (Front Legs)
1 – 1×2 @ 16″ (Seat Back Seat Top)
2 – 1×2 @ 6 1/2″
4 – 1×2 @ 5 3/4″
2 – 1×2 @ 6 7/8″
6 – 1×2 @ 3 1/4″
2 – 1×2 @ 3″
4 – 1×2 @ 2 1/2″
5 – 1×4 @ 19″ OR 19″x19″ Plywood seat top
Instructions