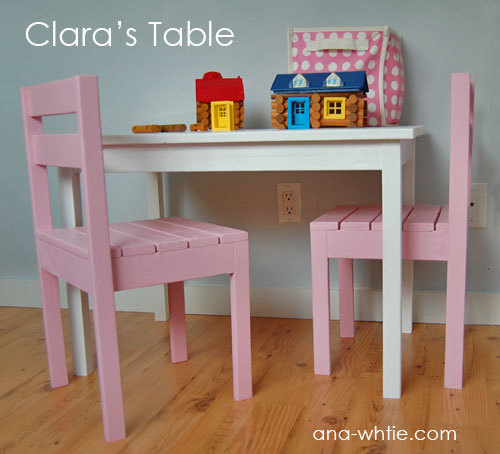 This simple children's play table is easy and economical to build, at the perfect height for toddlers and preschoolers.
But then, you already knew there had to be a table to match those stackable four dollar chairs from yesterday.
Clara might be just 18 months old, but the table is plenty big enough for her almost four year old cousin, Grace (who yes, depends on hand-me-downs and refuses to brush her hair).  And I won't make you look at the photo, but I in fact can sit at this table with my legs under the apron, on those chairs, comfortably.  So don't be intimidated about making this table for your preschooler, or even grade schooler.
BUT the table is small, perfect for small spaces.  You could put up to four chairs around it, but it would be tight.
The girls were playing library with their pretend library.  You can get those plans (and more pretend play plans) right here.
And of course, Clara's table plans are right here.  Oh, did I mention that my sister and I put this table together in literally minutes?
Pin For Later!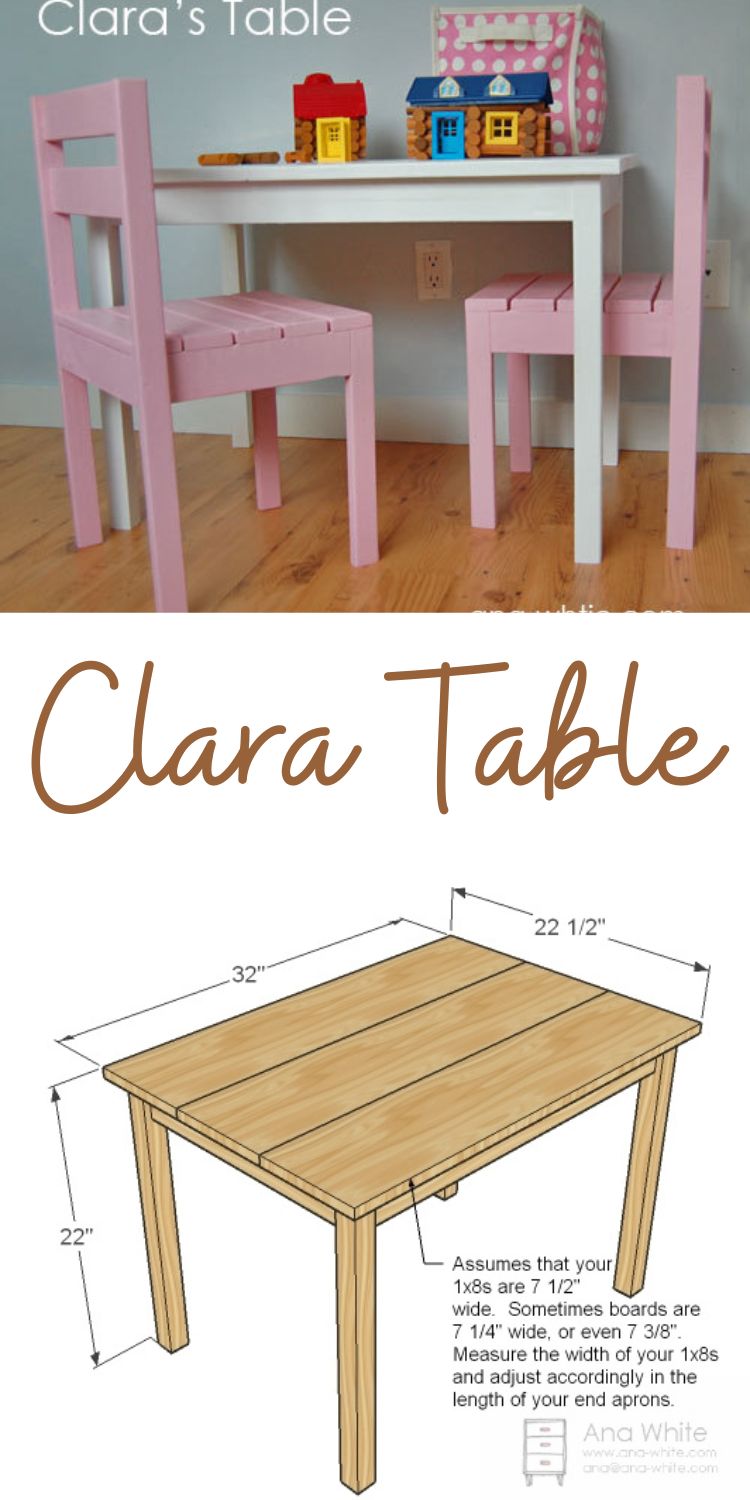 Dimensions
Dimensions shown above.
Preparation
Shopping List
1 – 1×8, 8 feet long 1 – 2×2, 8 feet long 1 – 1×3, 8 feet long 1 1/4″ Pocket Hole Screws Wood Glue
Common Materials
120 grit sandpaper
primer
wood conditioner
paint
paint brush
Cut List
3 – 1×8 @ 32″ (if your 1×8 is EXACTLY 96″ long, cut these boards at 31 7/8″ to account for the saw blade) 4 – 2×2 @ 21 1/4″ (legs) 2 – 1×3 @ 17 1/2″ (End Aprons) 2 – 1×3 @ 27″ (Side Aprons)
Instructions
Finish Used
My table was filled with wood filler, two coats. Then I sanded with 120 grit sandpaper. Finally, I primed and added two coats of Valspar High Gloss White trim paint. For more general building instructions, see Get Started Section.

Please excuse my typos. Today's post was put together with the help of an 18 month old, a three year old, and a six year old. Keyboards must be fun if Mom spends so much time using one