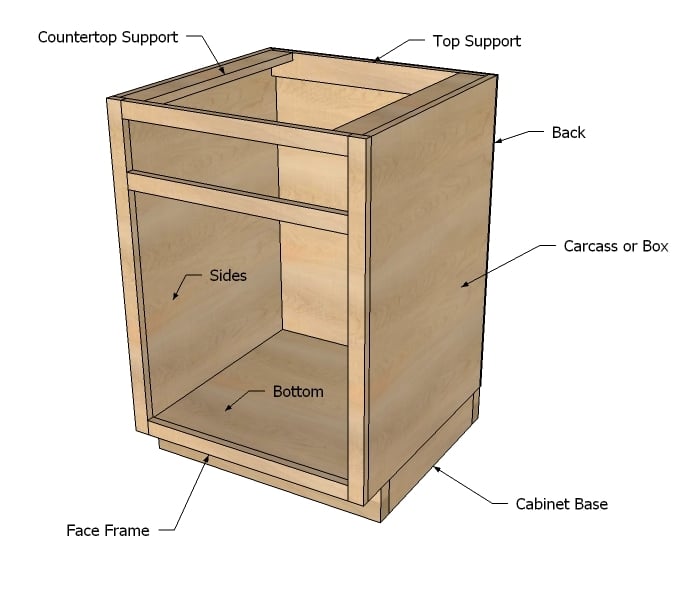 There's been quite a few awkward moments of me peeking inside kitchen cabinets to get to this point. And I'm not interested in what type of peanut butter my friends like, or how they store their canned goods.  
I've been on a quest to find a way to build strong, high quality kitchen cabinets for less than flat pack - that mind you, you still have to "build" anyways - with
simple tools
and standard off the shelf materials and basic techniques.  Techniques that I can do, that most anyone can do.
I hope when you read through this post, you feel like, Man, Ana, these kitchen cabinet plans are so simple, how on earth could it take you a year to publish these plans? Because if you feel that way, I've done my job: Making kitchen cabinets buildable, simplifying the process without compromising the quality.  
Now certainly, plans could have been published sooner.  But understanding the permanence and great investment, time and moneywise, I could not in good faith publish plans for kitchen cabinets until I tried them out myself.  I'd rather me be stuck with cabinets I wish I could do over than you.  
But this will not be the case.
We at this point have built all the base cabinets, and are confident that the cabinets are strong and sturdy, good enough for my Mom's kitchen, and good enough for yours too.
Step 1 Diagram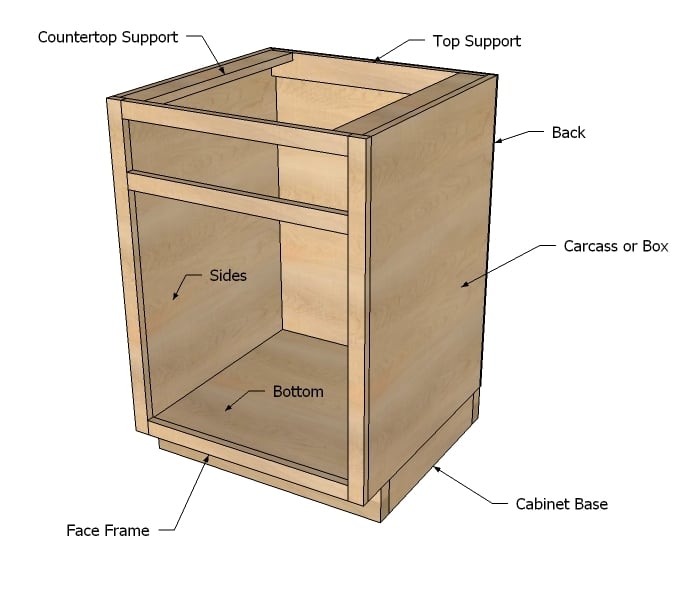 Step 1
Terminology
First I thought we'd go through some common terminology for cabinets.  Wall cabinets are very similar, just don't have a base and of course have a top and possibly crown. We'll go into more details later in this post. 
Cabinet Base - raises the cabinet up for a toekick and elevates bottom shelf.  On our cabinets, the base is separate and can be swapped out for store bought leg levelers.  Once all cabinets are installed, a toekick is installed over all the bases.
Carcass or Box - the carcass or box is simply the plywood structure of the cabinet.  
Supports - the supports are made from scrap plywood from the carcasses and are used for supporting and attaching the top and back.
Face Frame - Face frames add support and finish front plywood edges. 
Back - for these cabinet plans, we just use 1/4" plywood on the back.  You can also use 1/2", or even 1/2" inset, but the 1/4" is more than enough support on these cabinets.
Step 2 Diagram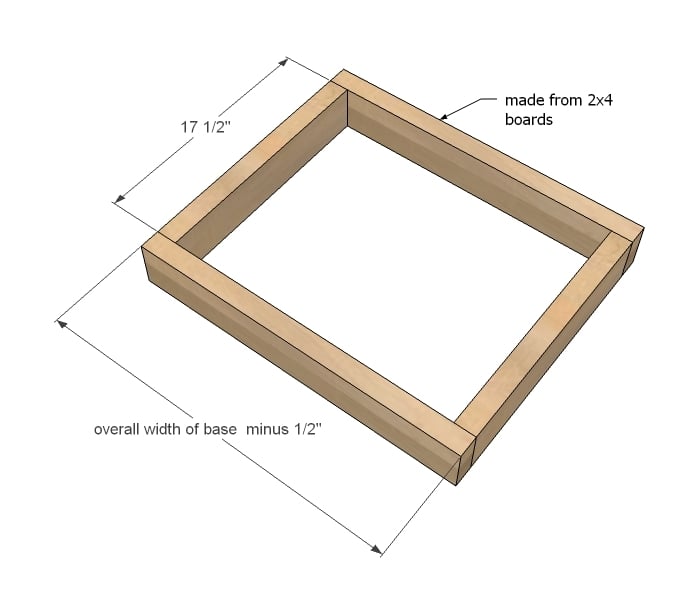 Step 2 Instructions
Bases
Let's start with the base. This is the foundation of your cabinets.  Using a base means you don't have to cut out a toekick, mark and square up your bottom placement on the sides.  You can also use what is called leg levelers instead of the base.
I use a 2x4 base - at about $2 a base, you can't beat the price.
Step 3 Diagram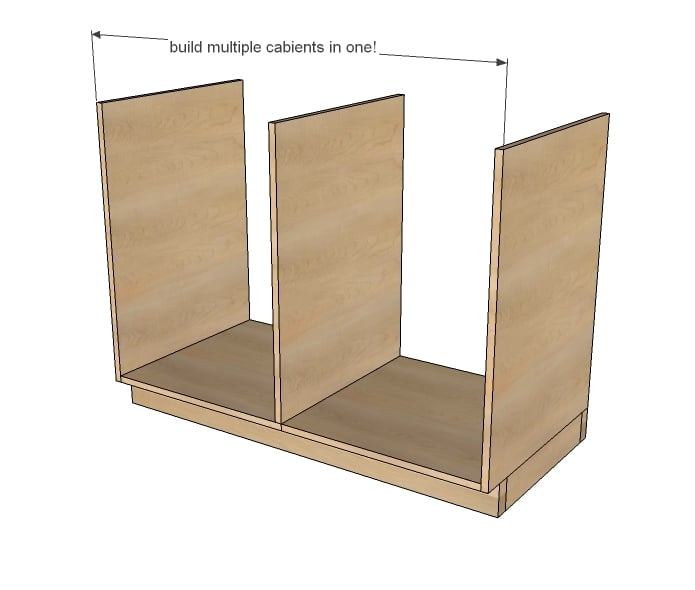 Step 3 Instructions
<h1>Townhouse Style</h1><div>If you had to build a row of houses, all side by side, would you build ten houses and stack them next to each other? &nbsp;Or would they share walls like townhouses do? &nbsp;And foundations? &nbsp;</div><div><br></div>Having a base allows you to fully support the cabinets, and enables you to easily build multiple cabinets in one. Let's say you have a row of cabinets, with no appliance interruptions. You could build just one long cabinet, with dividers, and place on the same base.<div><br></div><div>Reason why you can't just build two ends with a toekick notched out, and divide up? &nbsp;there's no support in the center. &nbsp;Sorry, we don't build saggy cabinets. &nbsp;Keep the cabinets less than 36" between dividers to minimize sagging.<br><div><br></div><div>Saves time, saves materials.
Note of caution - if you are using full overlay doors, you'll need to do some figuring on how the doors overlay face frames, most likely using 1 1/4" overlay hinges on ends and 1/2" overlay hinges on center cabinets.</div></div>
Step 4 Diagram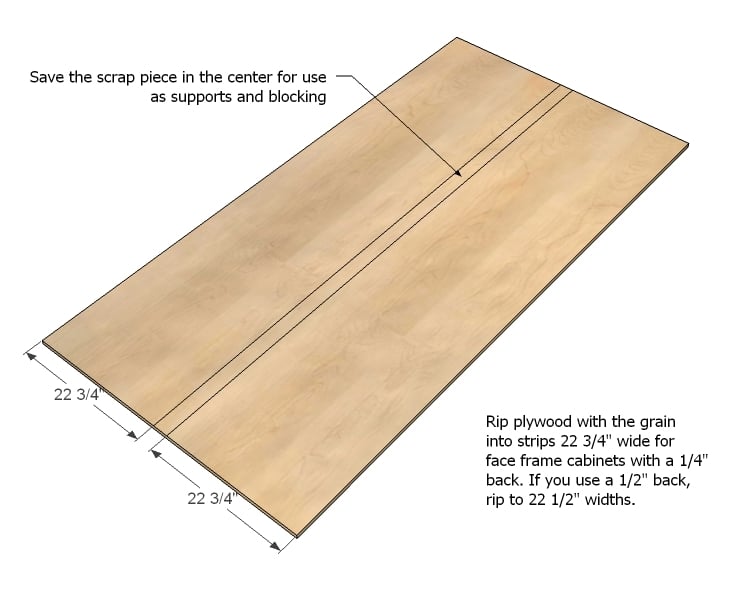 Step 4 Instructions
<h1>Plywood Cutting
</h1><div>We've really given a ton of thought on how to easily and precisely cut your plywood pieces. &nbsp;You will want to rip your plywood into strips 22 3/4" wide for face frames with 1/4" backs. &nbsp;This way, your plywood grain is always in the right direction and the widths are always the same. &nbsp;Save the center scrap piece to use for supports. &nbsp;It's not waste.</div><div><br></div><div>Also, using this method, you can rent a tablesaw and make all your cuts in just a few hours. &nbsp;Or even ask the home improvement store to make cuts if you can trust their track saw.</div>
Step 5 Diagram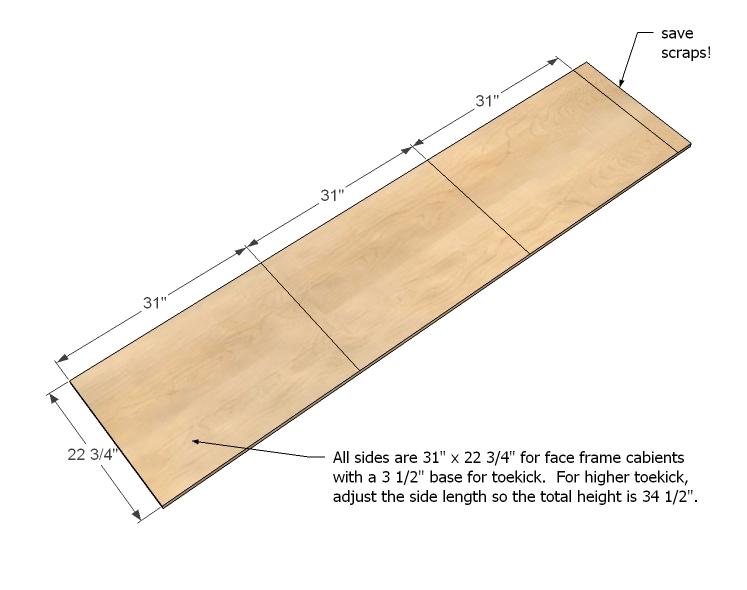 Step 5 Instructions
<h1>Cutting Sides</h1><div>Then with your strips, cut all your sides. These will be just simple cross cuts. You will be able to get 6 sides per piece of plywood.&nbsp;</div><div><br></div><div>Remember, the overall cabinet height is 34 1/2". &nbsp;With a 3 1/2" toekick, your sides are 31" tall.</div>
Step 6 Diagram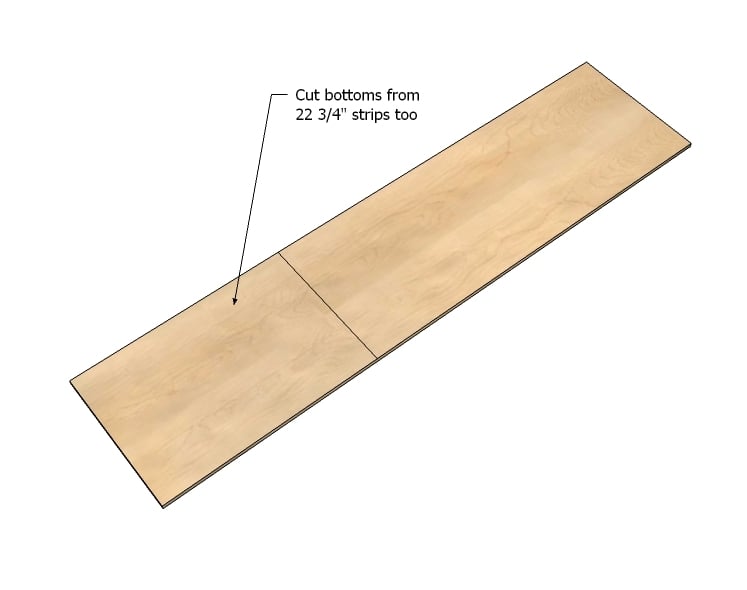 Step 6 Instructions
<h1>Cutting Bottoms
</h1><div>Bottoms are cut from the 22 3/4" wide strips as well. &nbsp;Bottoms should be 2" less in width than your overall cabinet width. &nbsp;1 1/2" for the sides, and then another 1/2" for your face frame to overextend your carcass. &nbsp;We'll talk more about the face frame/carcass sizing in a bit.</div>
Step 7 Diagram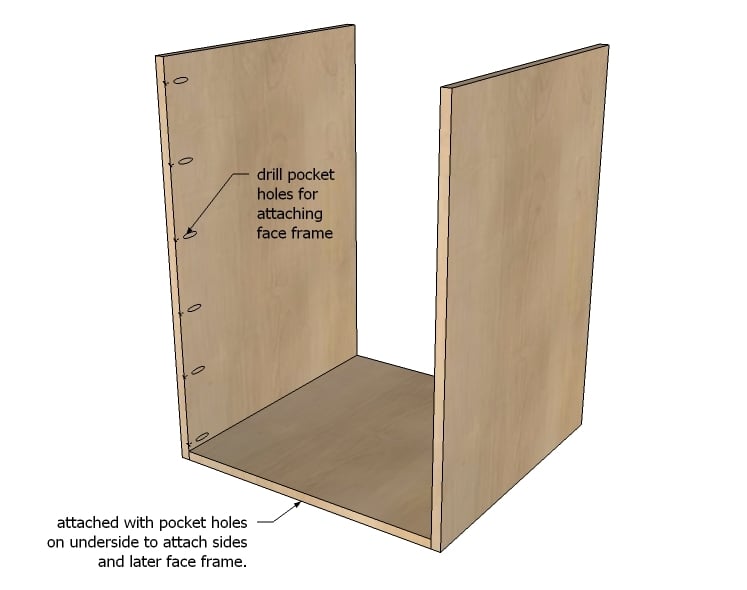 Step 7 Instructions
<h1>Box Construction</h1><div>Once your pieces are cut for the box, you drill 3/4" pocket holes along inside front edges of sides, and on bottom, front and side edges. &nbsp;</div><div><br></div><div>Alternatively, you can nail the face frames on, but you will have to hide nail holes. &nbsp;This is up to you.</div>
Step 8 Diagram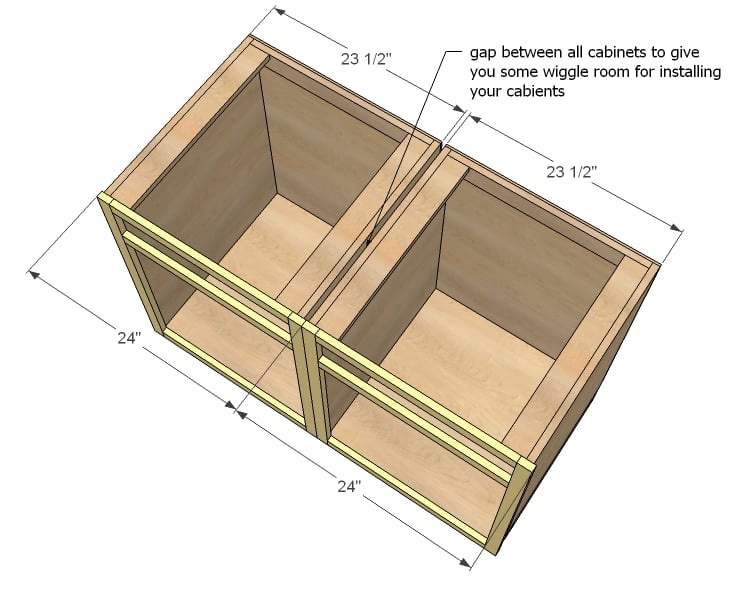 Step 8 Instructions
<h1>Face Frames</h1><div>Face frames are just simple 1x2 frames, built with 3/4" pocket holes and attached to the face. &nbsp;BUT there is a catch ... the face frames are the full width of the cabinet, and over extend the box by 1/4" on each side.</div><div><br></div><div>This is done for four main reasons.</div><div><br></div><div>1. &nbsp;<b>Crooked Walls </b>- if your walls are crooked, the space between the cabinets allows you to "fudge" a little with the cabinets, resulting in the face frames lining up perfectly, even if the boxes are a little off.</div><div><br></div><div>2. &nbsp;<b>Imperfect Boxes</b> - Let's say your plywood bulges out just a tiny bit in the centers. &nbsp;When you go to line cabinets up, you will have trouble pulling the cabinets together so your face frames are completely seamless. &nbsp;With the gap in the center, you have some room to account for wood being less than perfect.</div><div><br></div><div><b>3. &nbsp;Finishing Ends</b> - And finally, on the ends, you can cover up the 2x4 bases by cutting 1/4" plywood and gluing over the end. &nbsp;It will be hidden behind the face frame, so no edges exposed, and you'll be left with a beautiful finished end! &nbsp;NOTE: You may wish to extend your face frame a tiny bit more on ends to allow a little more room for the 1/4" plywood.</div><div><br></div><div><b>4. &nbsp;Appliances Abuse</b> - It's a good thing to have a little space between your cabinets and say, your oven. &nbsp;Having the extra space will also allow a little wiggle room when installing your dishwasher too.</div><div><br></div><div>So remember, your face frames are the&nbsp;cabinet's&nbsp;true width, and your boxes are 1/2" less in width.</div><div><br></div>
Step 9 Diagram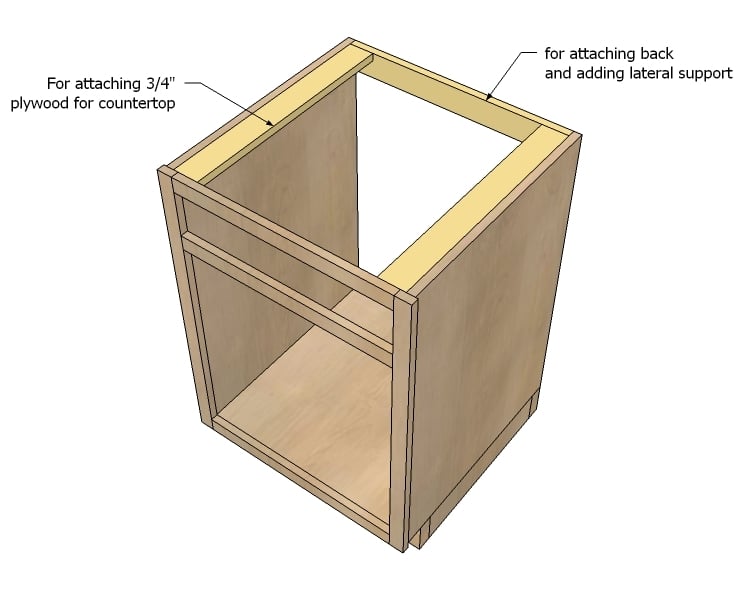 Step 9 Instructions
<h1>Supports</h1><div>Use up your plywood scraps to save money for the supports. </div>
Step 10 Diagram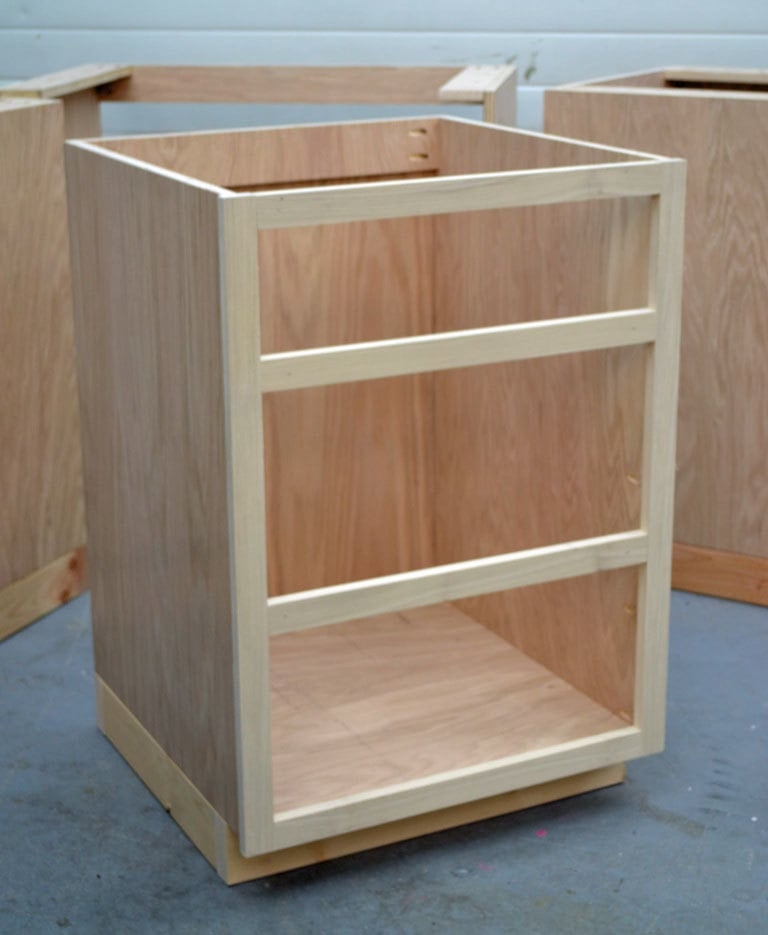 Step 10 Instructions
<h1>Results</h1><div>Once the plywood is cut, each cabinet takes about half an hour to make. &nbsp;We were able to make both 24" wide drawer bases that flank the range from a single sheet of plywood. &nbsp;Add some boards for a face frame, a 2x4 for the base, and 1/4" plywood for the back, and we are into each base for about $50. &nbsp;The drawers of course are going to double that number, if not more depending on the slide quality, but comparing apples to apples, 3/4" plywood cabinets glued together and fully assembled with a hardwood face frame, I'm saying building your own&nbsp;cabinets&nbsp;is the way to go!</div><div><br></div><div><br></div>
Step 11
<h1>Special Thanks to PureBond
</h1>
Special thanks to <a href="http://cfpwood.com/ana-white/&quot; title="" target="_blank">PureBond </a>for providing the Formaldehyde Free Plywood for these cabinets. Not only is Mom getting&nbsp;beautiful&nbsp;cabinets, but also healthy green ones! For the month of January 2012, PureBond is giving away a $100 Home Depot gift card EVERY SINGLE DAY of the workweek to help you get started on your projects! &nbsp;It's easy to enter -<a href="http://ana-white.com/2012/01/huge-giveaway-purebond-plywood&quot; title="" target=""> all the details are here</a>.