I added length by adding another "cubby" and increased the height a few inches. There were no instructions for the door, so I made a square like a picture frame the size of the door opening from 1x4's and routed the inner portion of the square with my dremel so I could lay in wainscoting to the inner door. I made the top differently and made it more farmhouse style by attaching four 1x4's together and adding breadboards at the ends. The shelves are movable instead of being attached to give more flexibility in storage. I used 1/4 inch MDF board for the back because it was cheaper than plywood, looked better when painted and was easier to cut in any holes if needed for media equipment without the splinters of plywood.
The top is made of top grade pine (no knots) and stained in Early American with glossy polyurethane. The bottom is cheaper pine boards (with knots) and painted Caffeine Nation from Valspar (my kid picks out all paint color because I will spend hours choosing paint and he takes 30 seconds and his color selections are always perfect for us).
If I had to do it all over, I would have attached five 1x4's for the top instead of four because there just isn't much "lip" to the top. I would definitely change the doors from inset to overlay. Inset doors are more of a farmhouse style but are not forgiving if you are just slightly off. Also, the doors do not shut all the way...they stay open just ever-so-slightly, I think it is due to the hinges, I am not sure. It is not a big deal but it bugs me. I have never had this problem with overlay doors.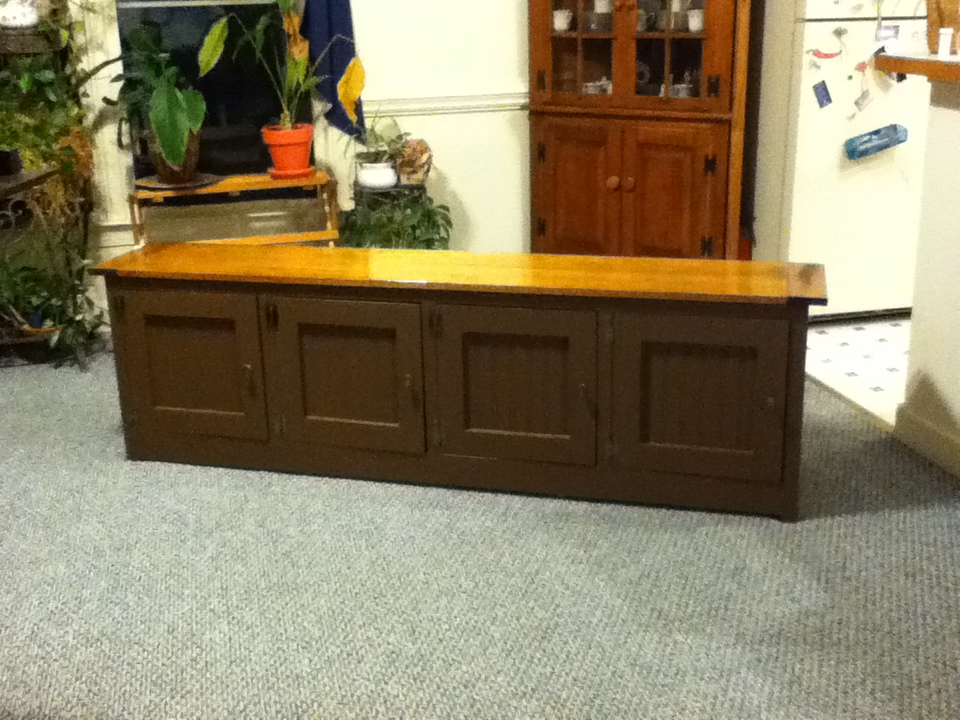 Estimated Time Investment
Week Long Project (20 Hours or More)
Finish Used
top: Early American by Minwax, Glossy polyurethane, bought at Lowe's
base: Caffeine Nation by Valspar, bought at Lowe's
Recommended Skill Level
Intermediate