About six months ago I got my first router. I tore up a few boards with it experimenting but mainly used it for basic round-overs. I wanted to learn more so at Christmas Santa brought me the router table. My first real project was to build a project that would be a learning experience as well as produce something useful so I chose the Drill Bit Cabinet. You can see the plans at
http://ct-web2.unh.edu/lee/drill-bit-cabinet.pdf
This project requires cutting rabbet and dado joints. Basic joints but also requiring accurate cutting. There are no nails or screws holding the box together. I countersunk screws into the shelves for stability. The final result is what you see in the pictures. I learned a lot. A great starter project for novice router users. I took two days to complete the project but a knowledgeable worker could do it in a day.
I also deviated from the plans somewhat out of a desire to make the build easier and less expensive:
1. The plans called for cutting boards from a 1x8 but I chose to stay with the full size 1x8s I had in the garage. So the final dimensions became: Height 19-1/2 inches, Width 10-1/8 inch (closed or 20-1/2 inches open), and Depth 3-1/2 inches (open or 7-inches closed).
2. I could only find 30 inch and 12 inch piano hinges so I went with the 12 inch. Works fine. I must say I really need practice installing hinges. Took me two tries to get this one right.
3. The instructions call for cutting the box in half with a table saw but I don't own a table saw. So I cut the box in two pieces using a straight bit on the router table advancing about 1/8 inch at a time until I was within about a 1/16 inch from breaking through. I used a regular saw to finish the job and the sander to remove the little bit that was left. Worked fine.
4. The plans call for screws to act as the pivot for the two tiltable bit carriers. Instead I just inserted 1/4" dowel. Works fine.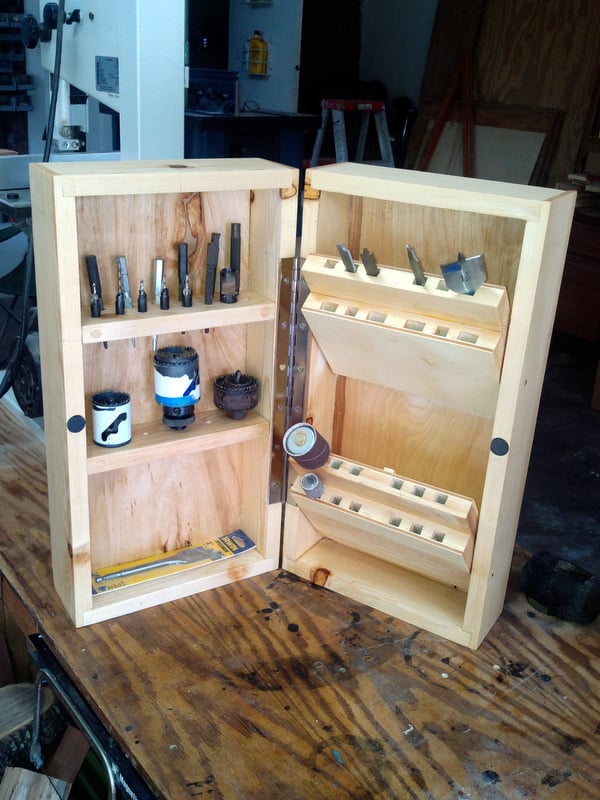 Estimated Cost
Fairly inexpensive. The hinge cost about $8. Magnets about $1. Birch plywood about $6. The remainder I had sitting in the garage and I would put the cost at about $10. So the total cost was about $25
Estimated Time Investment
Weekend Project (10-20 Hours)
Type of Wood
SPF (probably pine) and 1/2-inch birch plywood
Finish Used
Sanding to 120 grit and then one coat of Cabot Natural Wood Stain.
Recommended Skill Level
Intermediate