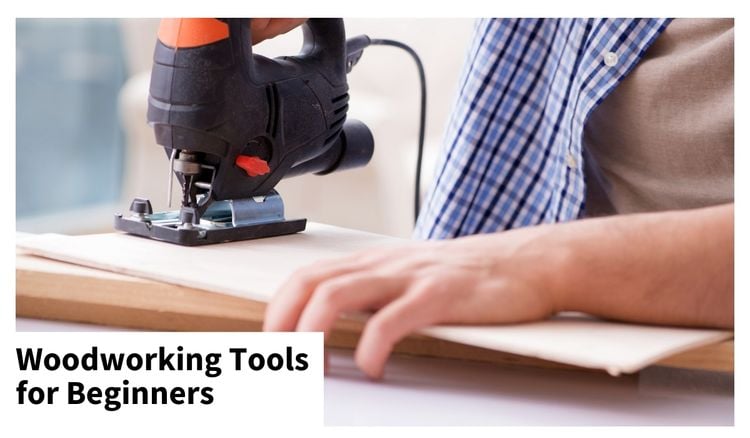 Do you want to start building your own projects?  It's an amazing feeling to take lumber and plywood and turn it into something useful and beautiful - all while saving a ton of money!
The good news is you don't need a ton of tools to start tackling projects, and the tools can be inexpensive.  I use the same basic set of tools (listed below) for the great majority of the projects I build (and the plans on this website).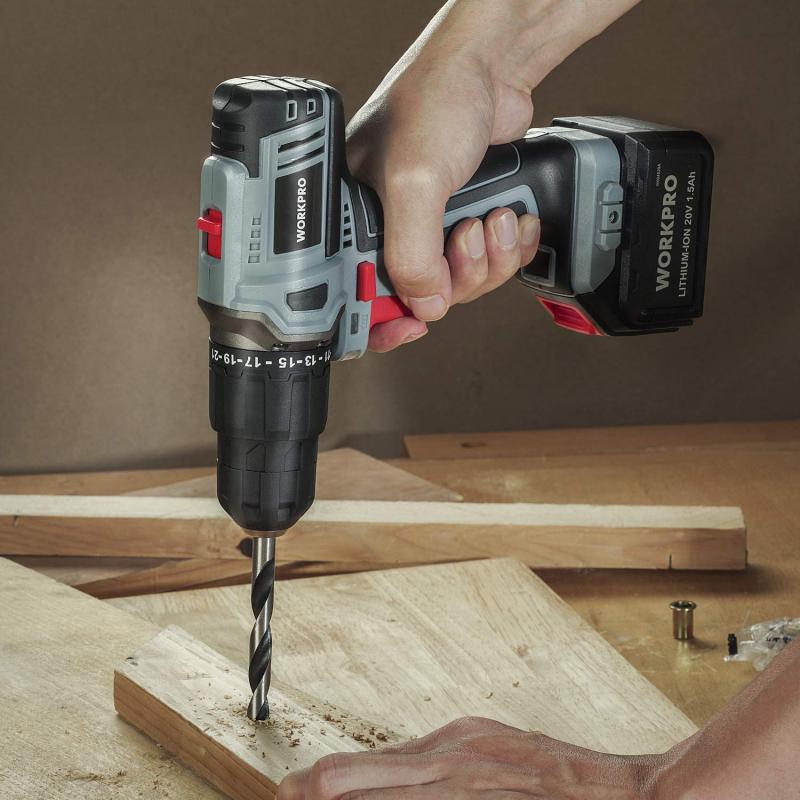 Price: $40-$100
I use my cordless drill almost everyday - everything including assembling projects, changing batteries on toys, hanging things on the wall, and general home repair and maintenance.  A drill is a household tool that everyone should own - even if you never build a project.
A cordless drill is simply a power tool that rotates a bit. You can do a variety of tasks with a cordless drill depending on what bit you are using.  The most common functions are drilling and driving:
Drilling - Use the cordless drill to drill holes, including pocket holes, pilot holes for screws, holes for cutouts and more.
Driving - Change to a driving bit to drive screws.  Match the screw head to the driving bit.
Here's what to look for in a drill for household use:
18 or 20 volt lithium ion battery
3/8" Keyless Chuck
Variable Speed
Quick charge or two batteries (so you can charge one battery while using the other battery)
If it makes sense, choose a drill with a battery that can be shared among other power tools, as often the battery is the most expensive part of the tool
If you are just doing a few projects, most any drill will work.  If you are planning on building many projects over a lifetime, consider investing in a higher end tool.  But do consider that technology changes fast, and the top of line drill today may be obsolete in 10 years.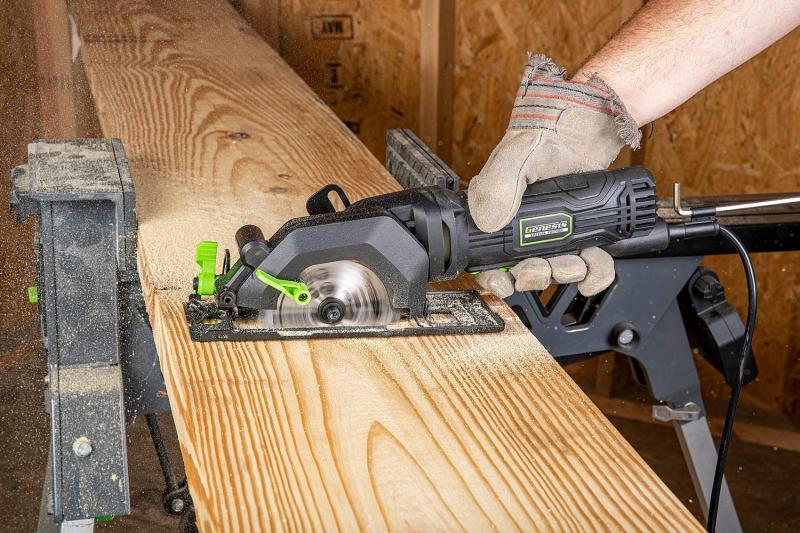 Price: $60 and Up
A circular saw is a handheld power tool that rotates a blade, and can be used to cut a variety of materials.
It's essential for cutting plywood, and can also be used for cutting boards for projects.
I recommend a compact or mini circular saw, with a blade at least 4-1/2" diameter.  The compact circular saw can weight as light as 3-1/2 pounds, can be used with one hand, and is less blade to push through material, so generally easier to cut with.  The 4-1/2" blade will cut anything from 1/4" plywood to 2x4s - pretty much everything we build projects with on this website.
Cordless is more convenient, but a corded circular saw will have more power and never need a charge.
Many combo kits will come with a 7-1/4" circular saw.  The full size circular saw is great, but will be a little heavier and require two hands to hold.
TIP: Make sure you hold the saw and pretend to use it before you purchase it, especially if you are left handed as most saws (but not all) are designed for right handed users.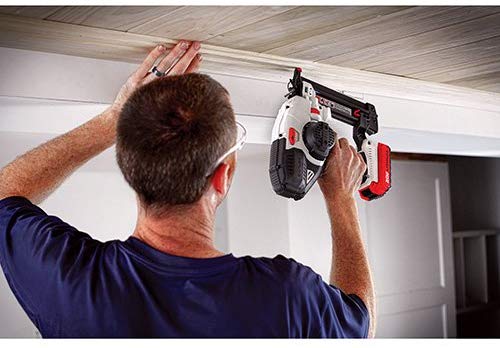 Price: $120 and Up
A brad nailer is preferred over screws when possible, because nails are cheaper, easier to drive, and easier to hide. I like to use a mixture of screws for assembly, and nails for trim and adding backs to projects.
A brad nailer is also super useful for things like adding crown moulding, creating planked wood walls, or fixing baseboards.
There are many different size nailers, but I seem to use the 18 gauge size almost all the time, since it shoots nails from 5/8" to 2".  I rarely need a shorter nail, and any longer nails than 2" seem to stray.  The 18 gauge is the sweet spot.
Cordless is a little more expensive, but you won't need an air compressor.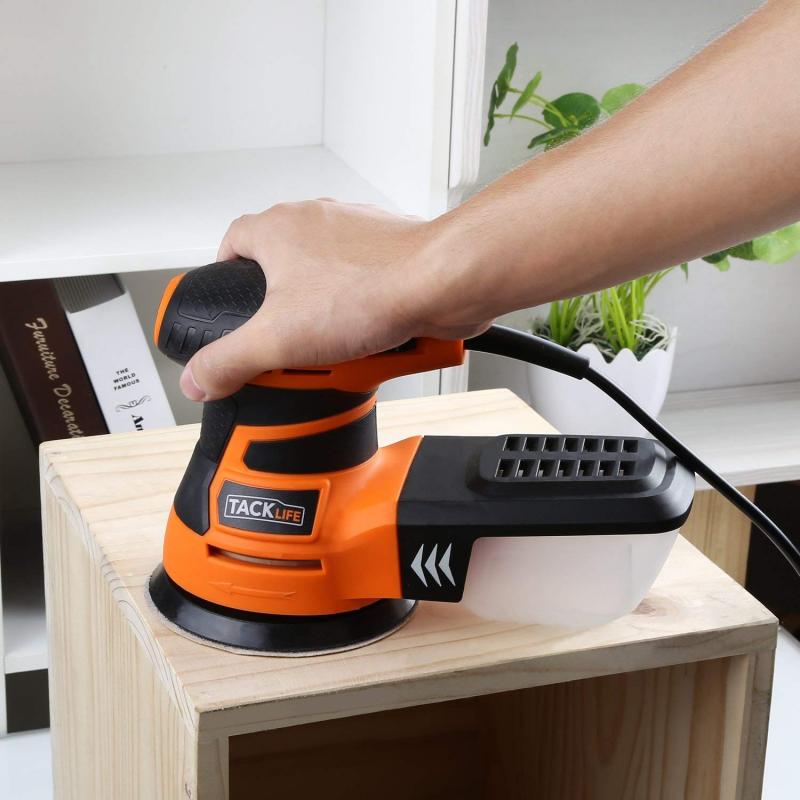 Price: $25 and Up
Sanding has a huge impact on how professional your final project appears.
If you can only have one sander, the random orbital sander is the most versatile and easiest to use. I love that changing sandpaper is super easy (so you can go between grits without missing a beat), and the sandpaper evenly wears so it lasts longer than sheet sanders.
Cordless is much more convenient, but corded offers unending power and is less expensive.
For many projects, you'll need to cut plywood with a circular saw.  The plywood needs to be fully supported, but you can't just cut on a workbench - your saw blade will cut into the workbench top.
I keep a piece of foam board in my workshop, and lay it on the garage floor to cut with.  A 4x4 sheet, 1" thick is plenty sufficient - you can also use 2x2 project panels, just buy four of them and spread them out under your plywood when you cut.
The same piece of foam can last years and years - I'm still using the same piece from seven years ago.
Foam is inexpensive and available at local home improvement stores.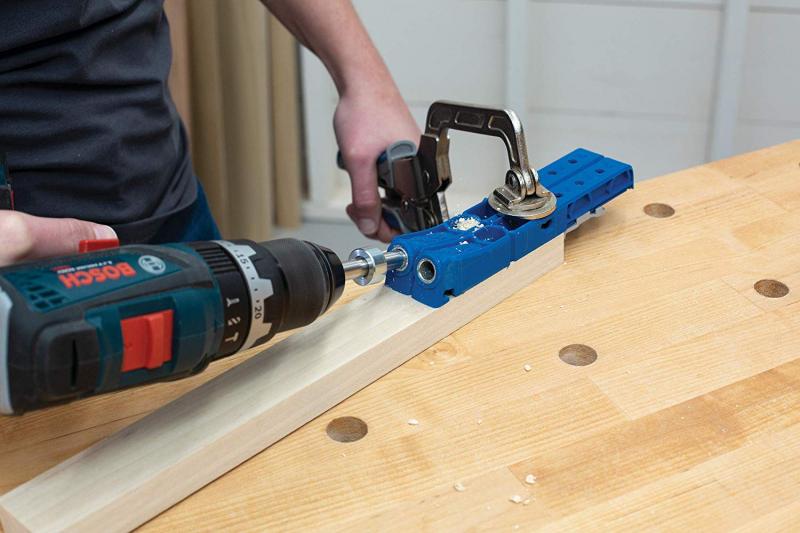 Price: $40 and Up
You can built alot of projects without a Kreg Jig, but the Kreg Jig opens up so many possibilities and can help you create better furniture projects.
The Kreg Jig is a system for joining wood that is hidden on the underside and can attach boards together edge to edge.  This is very important for building tabletops.
The Kreg Jig also allows you to attach big boards together, for example, attaching thick bed posts to the headboard panel, without having to drive 6" screws through the bed posts.
If you are just planning on doing projects here and there for your own home, the Kreg 320 is an amazing tool with everything you need for under $40. We love how compact it is, and the easy to store case - so your Kreg Jig is always accessible, but easy to put away.
If you are planning on building alot of projects, perhaps even for resale, the Kreg K5 and Kreg Foreman are nice steps up.
In addition to power tools, you'll need a few hand tools to begin working on projects.  
Tape Measure, at least 16 feet long
7" Speed Square
Drill Bit set with basic drilling and driving bits, and a few spade bits and hole saws 
Clamps - my favorite clamp in the Kreg Automaxx, but there are many options at all different price points
Safety glasses, hearing protection and work gloves
Tools to Add On
If you find you want to build more projects faster, easier, and with better results, you'll want to start investing in the following tools:
Sliding Compound Miter saw (10" minimum)

Jigsaw for making curved cuts 

Tablesaw

Dedicated workbench for project assembly

Paint Sprayer

Level, string line, more clamps, tool belt