This plan was perfect for our second bedroom. We are adopting soon and are not sure what ages, genders, or sibling combinations we will be accomidating. We wanted to make the most of the space we had with the option for an additional bed if needed. This loft bed is the perfect solution. I like the stairs (instead of the usual ladder rungs) and it was pretty easy to build. Now the kids can play under it...or we can add a bed (in the photo we have a box spring set up on a bed frame, but no mattress yet) if we need to. THANK YOU, ANA!
We made a few alterations to Ana's plan:
1. We moved the staircase to the right side to better fit our bedroom set up
2. We narrowed down the platform and staircase by 4 inches....still plenty wide!
3. We brought the staircase platform in about 7 inches, so the stairs don't stick out so far.
4. We added an additional 2x4 at the base for stability (attached to the back two vertical legs).
5. We added 4 corner braces (just left over 2x6's cut at 45 degree angles to make little triangle brackets.
It's very sturdy. My husband even got up there to test it out. We haven't finished it yet, but we plan to stain and seal it.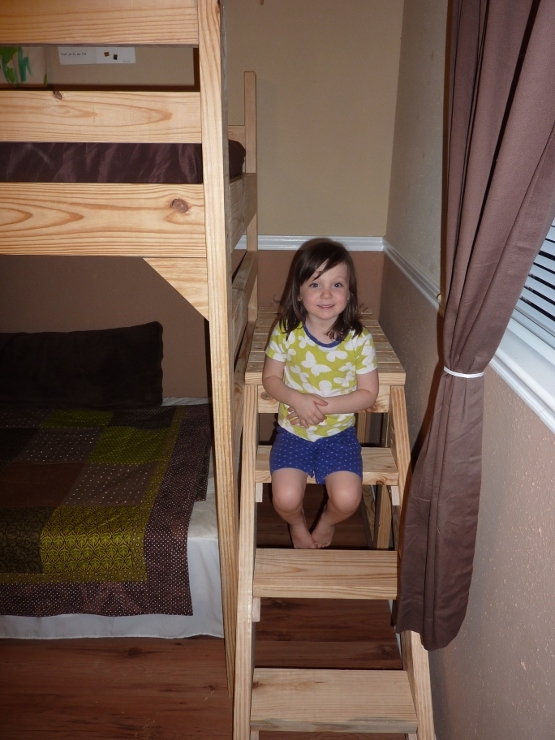 Estimated Cost
$75 plus a Kreg Jig kit (totally worth it!)
Estimated Time Investment
Day Project (6-9 Hours)
Finish Used
We haven't done a finish on it yet.
Recommended Skill Level
Beginner