This is the first project my husband and I tackled since we were in middle school, (when you built things like clocks and puzzles). We had virtually no tools, a limited workspace, and a compact car to transport lumber in. Believe me when I say - if we can do this, anyone can!!!! 
We bought a circular saw and sander, and had a power drill on hand. We were working on a very tight budget, so we bought a Kreg Jig mini instead of a full  sized jig. I also borrowed a few hand clamps from our parents. I thought the Kreg Jig mini would be a MASSIVE pain, but it actually worked really well (as long as you have hand clamps).
We used regular SPF lumber for the planks and aprons and cedar posts for the legs, all purchased at HD. Best advice - take your time looking for boards that aren't warped. Even in the end, we had a couple of imperfect boards, but it didn't inhibit our construction at all like some previous posters experienced. We did all the cuts at home EXCEPT the cedar posts (We got the people at HD to do this for us. They did it for free).
The build was straight forward. We had to do a few modifications (as our table is just over 5ft in length), but if anything I think the smaller size made things easier. We measured twice and cut once. As long as you take your time, it's easy. We even modified the plans so we can add an extension leaf should we need more room in the future.
We sanded every inch of the table. No joke - this step played a HUGE roll in making our table look and feel good. Some of the planks on the table top were a little uneven, so at the last minute we invested in a cheap hand planer - it still isn't perfect, but it definitely helped a lot.
To finish, we used Wood Conditioner. I'm glad we did. I've stained other things in the house without it, but the wood conditioner definitely gives the finish a richer, more professional look. We used Minwax dark walnut, and we topped it off with Waterbased poly (just what we already had hand). 
For our first project, we are very satisfied. It took us about 3 days (off and on). We will be making a bench for our table soon. I look forward to doing more projects in the future! Thank you :)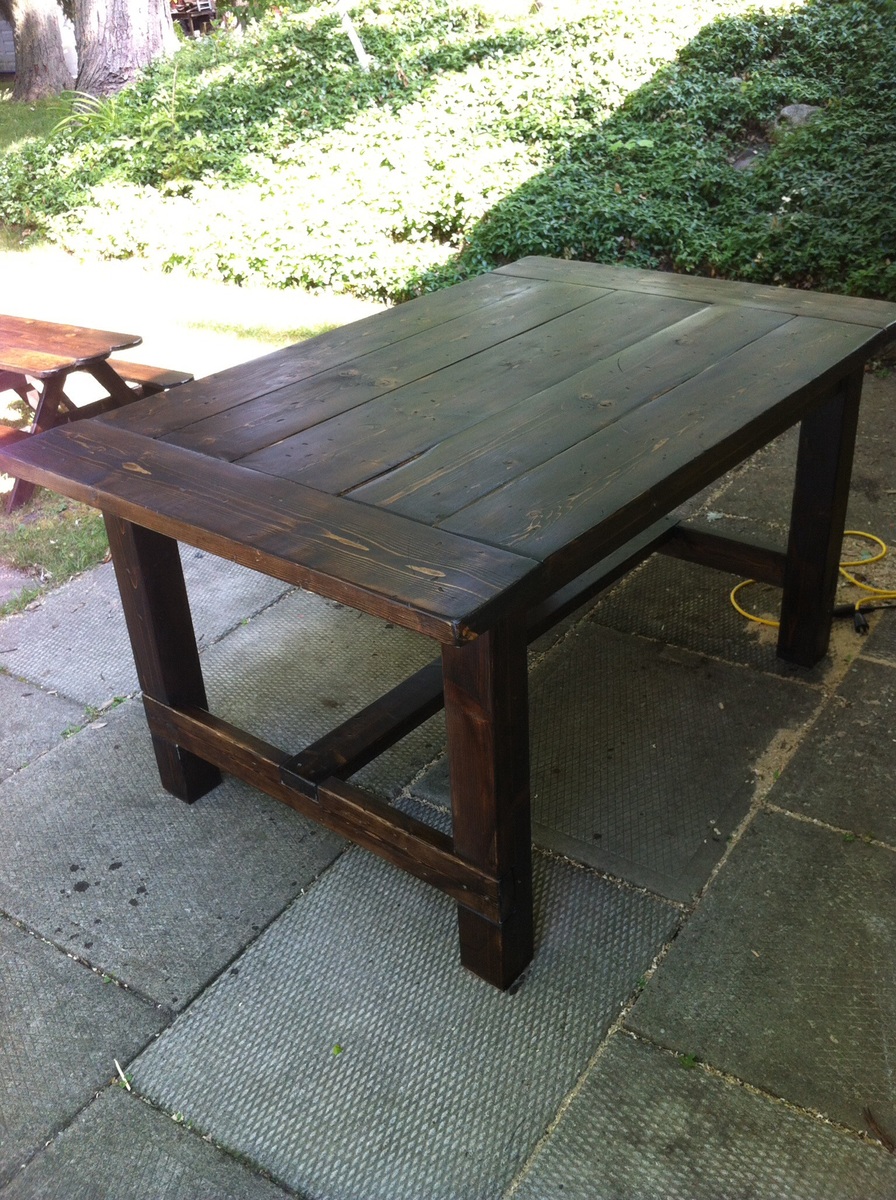 Estimated Cost
$300 (including most tools)
Estimated Time Investment
Weekend Project (10-20 Hours)
Type of Wood
SPF lumber, cedar
Finish Used
minwax Wood conditioner
Minwax dark walnut
Semi-gloss poly
Recommended Skill Level
Starter Project