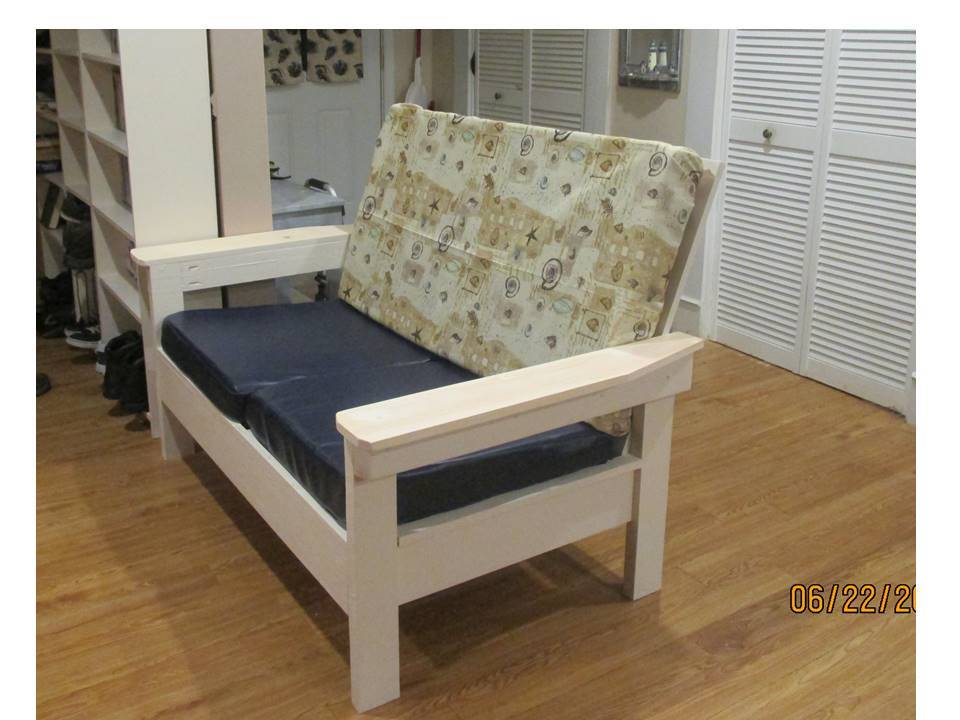 Couldn't wait to share this one. I'll post the finished pics on here once the painting is finished and the cushion is sewed.
This build is a reclaimed wood version of Ana's Simple White Outdoor Loveseat. We'll be using this inside. This started as a way to repurpose those blue vinyl cushions (which I made 11 years ago for a hot tub bench – these had been stored in the garage for a few years). Using reclaimed wood on hand – reclaimed 2x4 studs, an oak 1x12 shelf and some pine 1x12 scrap ripped to 1x6 for the aprons, plywood from an old entertainment center ripped to 1x4 size, some 1x4 that used to be trim, a left-over 1x2 and S4S, and some left-over 1x6, constructed the frame and back. After I got that together, Hubby suggested we add some wide arms so it wouldn't need to have a side table. That was the only wood I had to purchase on this one – a 1x6x6 for the arms, and a 2x4 for bracing the arms.
So far this has been a weekend project, including re-sizing the plan to fit my 24" x 24" x 4" cushions, doing the math to use 1x4 size instead of 1x3 size for slats and rails, and sizing to use the 2x4 frame on their ends rather than flat, to save a tiny bit of space in the footprint. Originally there were going to be 8 1x4 rails for the back, but I was 1 piece short, so instead of having 8 rails in 1x4, I have 6 1x4's plus the 1x6 in the center (now I have 1 piece of the 1x4 left over). And it's very comfortable for sitting!
Still left to do: sand the filled screw holes on the arms and paint the arms, and sew the cushion. I got that high density foam with a 60% off coupon at JoAnn Fabrics. Also the fabric was 30% off (right now it's just draped around the cushion for the photo). The fabric and foam was only $90, and I'll have enough fabric left over for a few accents. Hopefully I'll get to that during the week, if not, on the weekend.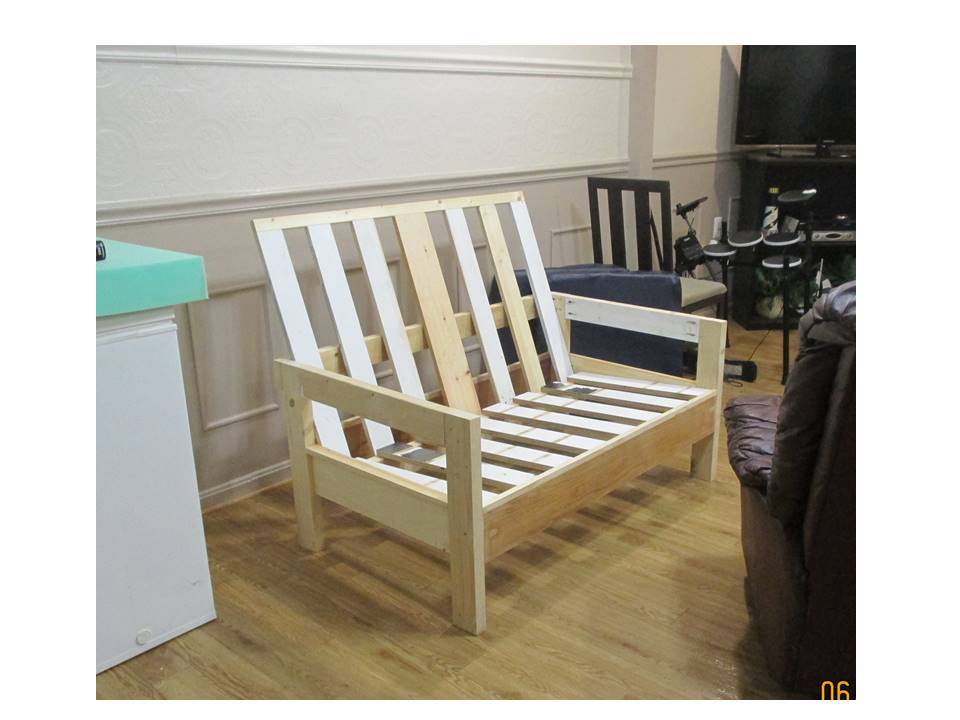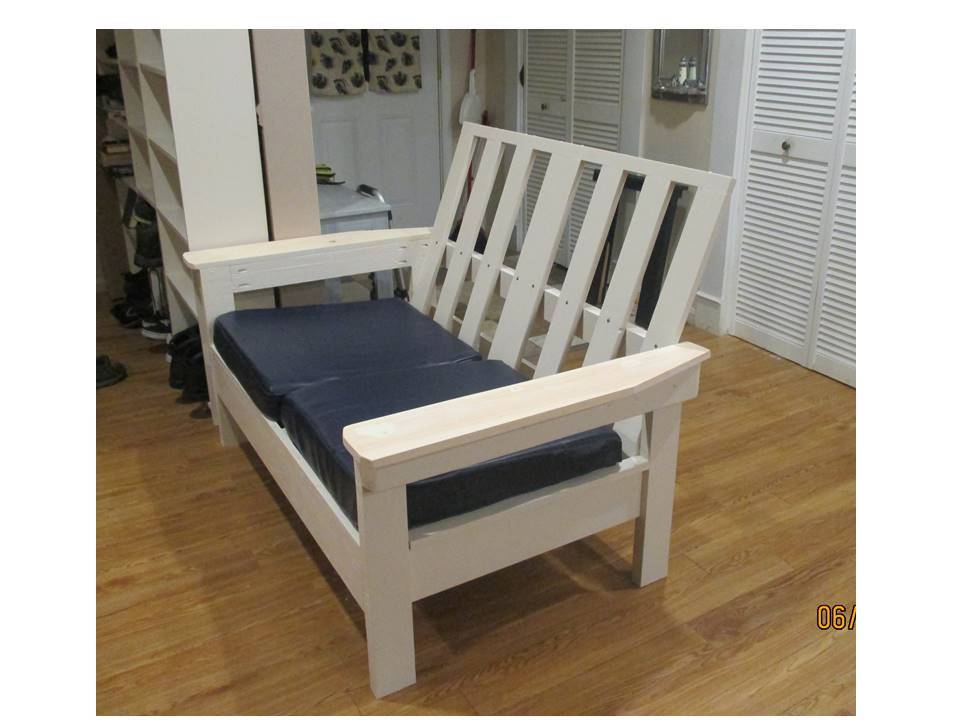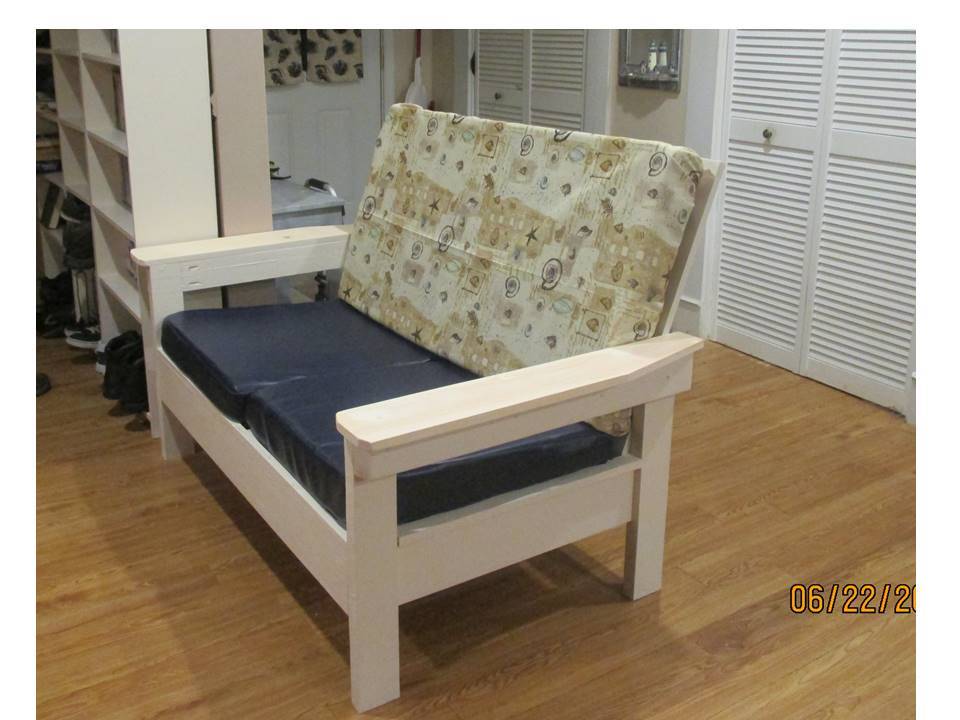 Estimated Cost
Total spent: about $100 for foam, fabric, and 2 boards.
Estimated Time Investment
Weekend Project (10-20 Hours)
Type of Wood
Whitewood boards/studs, oak board, plywood
Finish Used
The bottom and back frame is painted with 2 coats of semi-gloss Clark & Kensington Paint + Primer in Crushed Peanut (my absolute favorite cream color). Once I get those filled screw holes sanded, the arms will be painted with that as well. Paint was already on hand.
Recommended Skill Level
Beginner