Two little girls we know recently celebrated their 1st birthdays, 4 months apart. I thought chairs would make perfect gifts. I finally got around to finishing both chairs around the time of the second girl's birthday. The other one was rather belated. The parents didn't know I was making it so it was still a nice surprise. My own 1 year old rather enjoyed testing them out.
I've previously made one of these full size chairs for my 8yo. but for these I changed the measurements to be smaller and easier for a one year old to sit on. I made the seat 28cm high and adjusted all the other measurements to suit. I enjoy using Sketchup so resizing the plan was a good excuse to use it again (I used an old ikea chair we had on hand as a guide for the sizing.)
I primed and painted the wood used for the slats before I cut it to size. This was so much easier than trying to paint in between them. Filling the screw holes was a bit of a chore and I'm not totally happy how some of them were still rather visible under the paint. A bit more practice needed I guess. Finishing took quite a while because of all the drying time. Chose to distress them to help disguise any bumps and marks they're likely to sustain. I discovered there is a fine line between distressing and distressing too much.
Really happy with how they turned out. Thanks for the fantastic plans!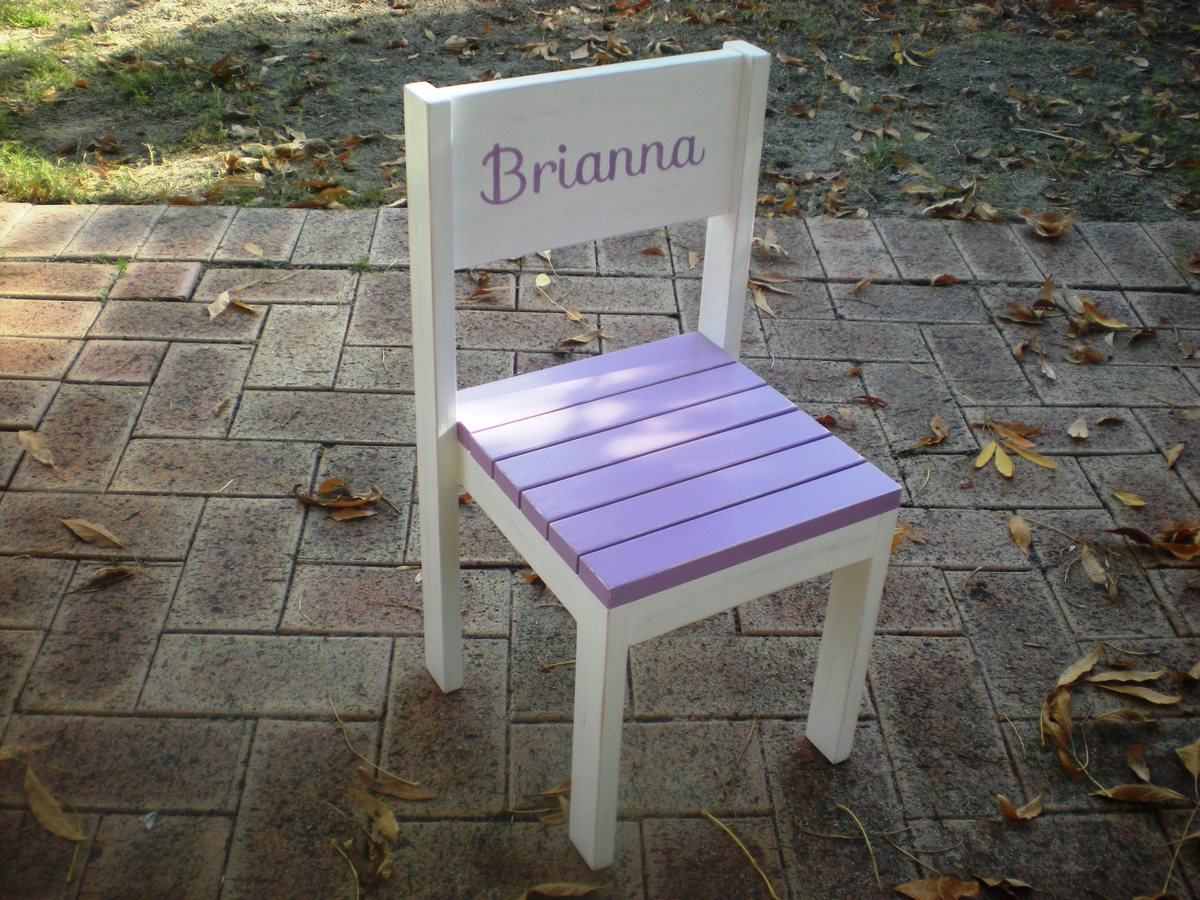 Estimated Cost
$5 (not including leftover timber, I already had paint, screws etc.
Estimated Time Investment
Weekend Project (10-20 Hours)
Type of Wood
pine 19x42 (1x2), 19x140 (1x6)
Finish Used
1 coat primer, 2-3 coats semi-gloss white for the frame, 2 coats Dulux low sheen paint for the slats (it was a mixture of two purple shades I had on hand), lightly distressed it and then a couple of coats of Cabots Cabothane water-based poly.
Recommended Skill Level
Beginner