Bookcase that is designed to fit standard fabric cubes. Thank you Hillary for sharing your photos.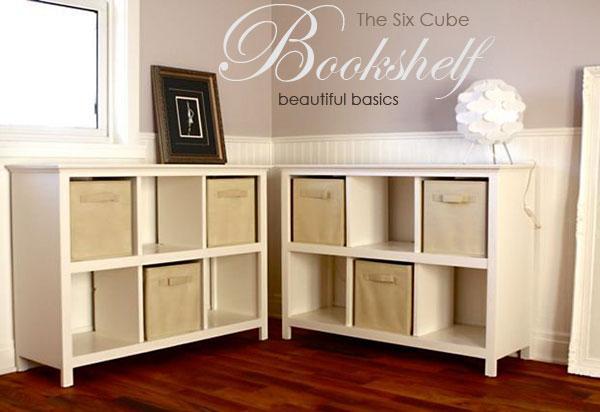 Well, I did promise you I would work on this collection.
It's modeled after Land of Nod's Cube Collection, and yes, those bins are also modeled after Land of Nod's bins, measuring 11" x 11" x 11".  I believe you can also buy these at Target, but the Land of Nod price is very reasonable and the colors are fantastic.  Or the pink dots like Grace's room are from Pottery Barn Kids
You can find the plans for these bookcases here from Grace's room.  Also wanted to note that this cube collection is designed very similar to Graces's bookshelves, so expect the look to be quite similar.  I used Antique White Paint from Valspar for the finish.
Dimensions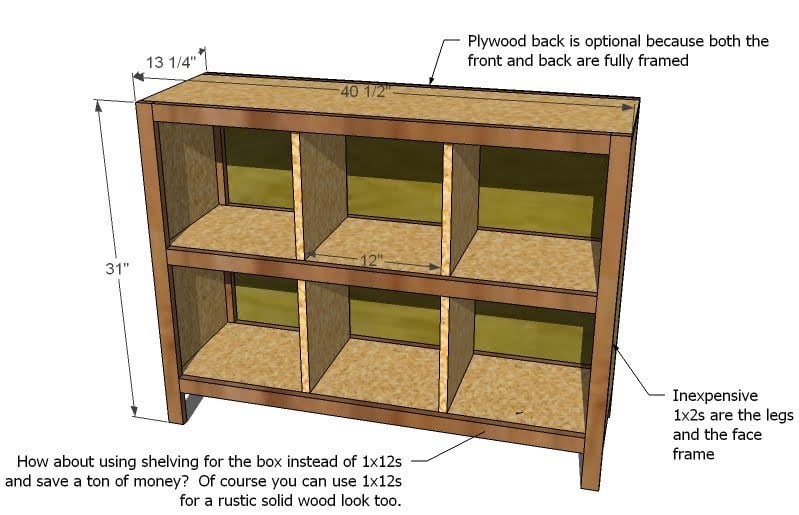 Dimensions are shown above
Preparation
Shopping List
1 1x12, 12' Long 1 1x12, 8' Long 5 1x2s, 8' Length 2" Screws
1 1/4" Finish Nails
2" Finish Nails
1 Small Tube Wood Glue
Sandpaper
Finishing Supplies including wood filler
Cut List
1- 1x12 40 1/2" Top
2- 1x12 26 3/4 " Sides
2- 1x12 39" Shelves
4- 1x12 12 1/4" Cubby Dividers
4- 1x2 31" Legs
6- 1x2 37 1/2" Side Shelf trim