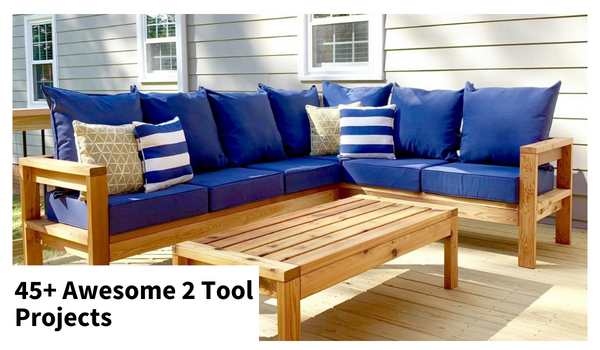 2 Tool Projects Anybody Can Build.
1. Farmhouse Potting Bench
Build a Farmhouse Potting Bench using a drill a saw and off the shelf lumber!
This farmhouse style potting bench features a slatted bottom shelf, upper shelf with hook bar, and X detailing on the ends. 
2. Outdoor 2 x 4 Sofa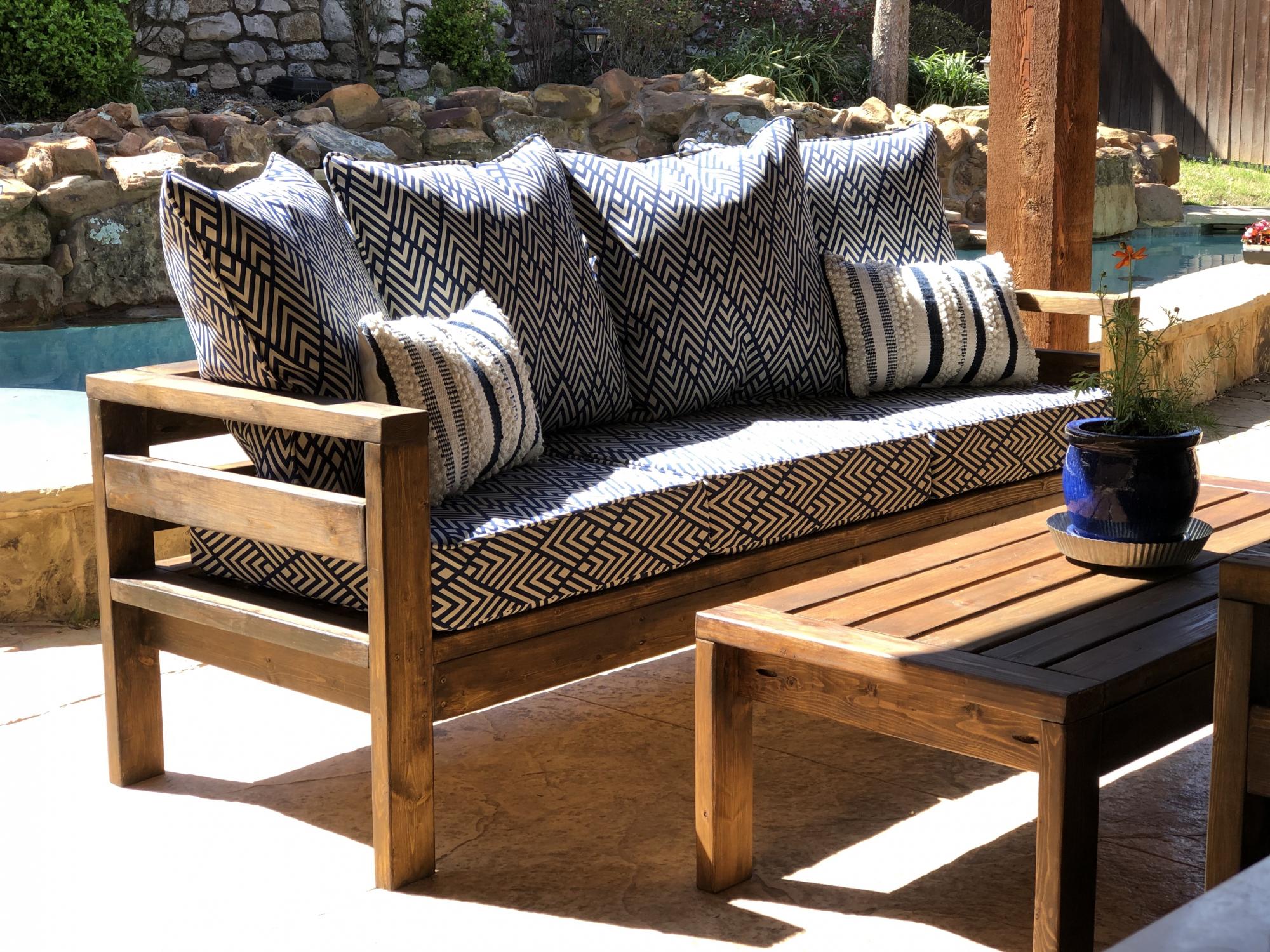 Grab some 2x4's and build an Outdoor Sofa!
Built by "14ermom" 
We've made it easy to add comfortable seating to an outdoor space. Check out our sectional plans that go along with this collection too!
3. 2 x 4 Outdoor Coffee Table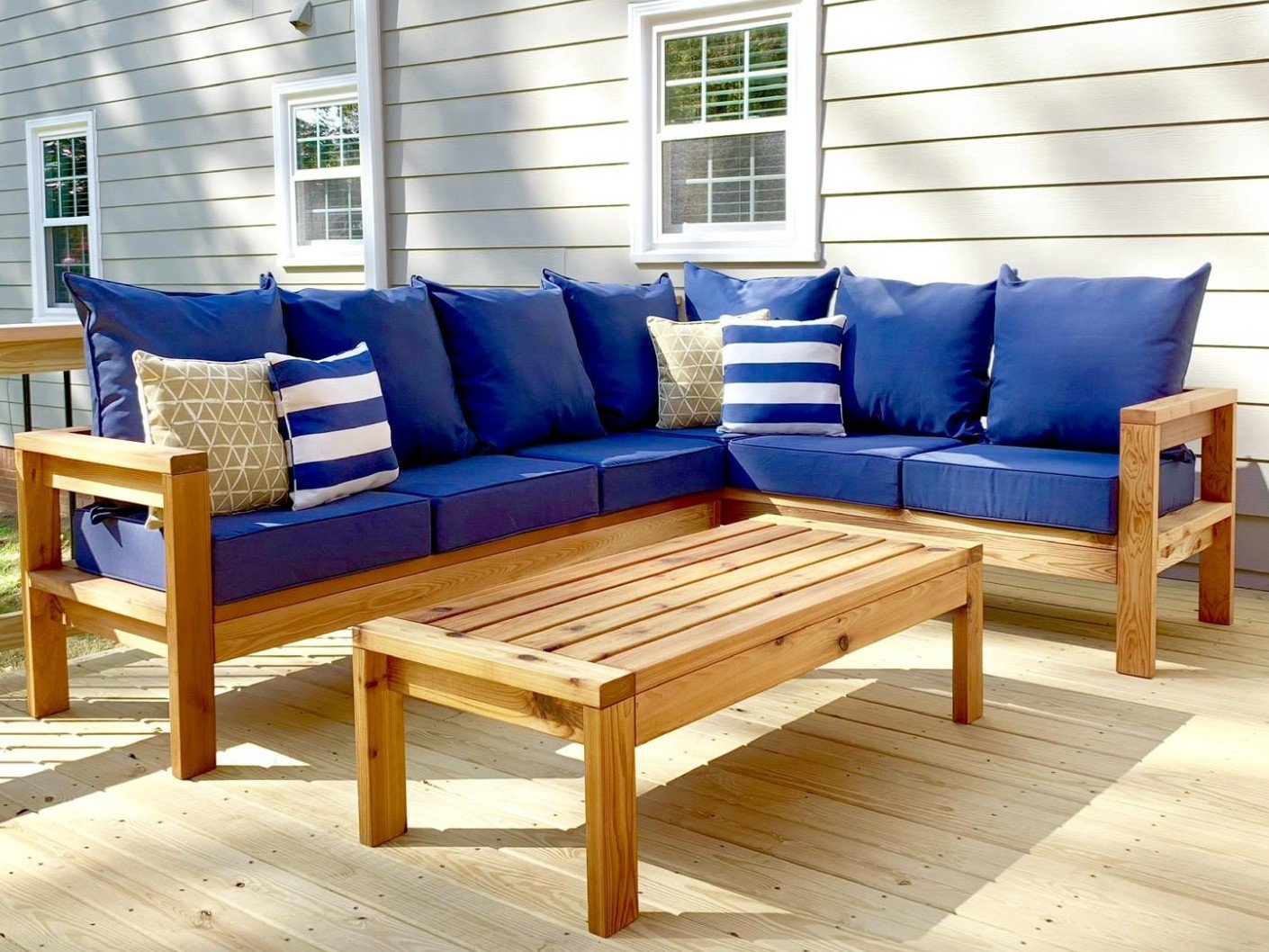 You're going to need an Outdoor Coffee Table after you build your seating arrangement!
Using those same 2 tools a drill and a saw, build a table to set your drinks, books, and decor items on. All you have to do is purchase some extra 2 x 4's. If you want to add an Outdoor Side Table to your seating arrangement, we have plans for that too! Built by a reader of the site.
4. Modern Outdoor Chair 

A cool modern spin for outdoor furniture.
This Modern Outdoor Chair is build using some 2x6 and 2x4 lumber create a comfy deep seat for outdoor entertainment and relaxation. We also have the free plans for a Loveseat Version.
5. Freestanding Garage Shelves
Garage Shelving that can store tons of STUFF! 
These sturdy and functional Freestanding Garage Shelves are super easy to build and can be modified for any space, with standard 2x4 lumber, a drill and a saw!
6. Garden Tool Organizer
A Garden Tool Organizer that can be built in about an hour and completely clean up yard tools laying around.
If you're looking for a quick, easy and inexpensive storage solution for yard tools, here it is!
GO TO PLAN
7. Easy Planter Box 
Building a Wood Planter Box has never been so easy!
This is our easiest to build DIY planter box.  It is made primarily with cedar fence pickets, so the cost is between $10 and $20 per planter.  You'll just need a few basic tools to construct.
8. Simple Raised Box Planter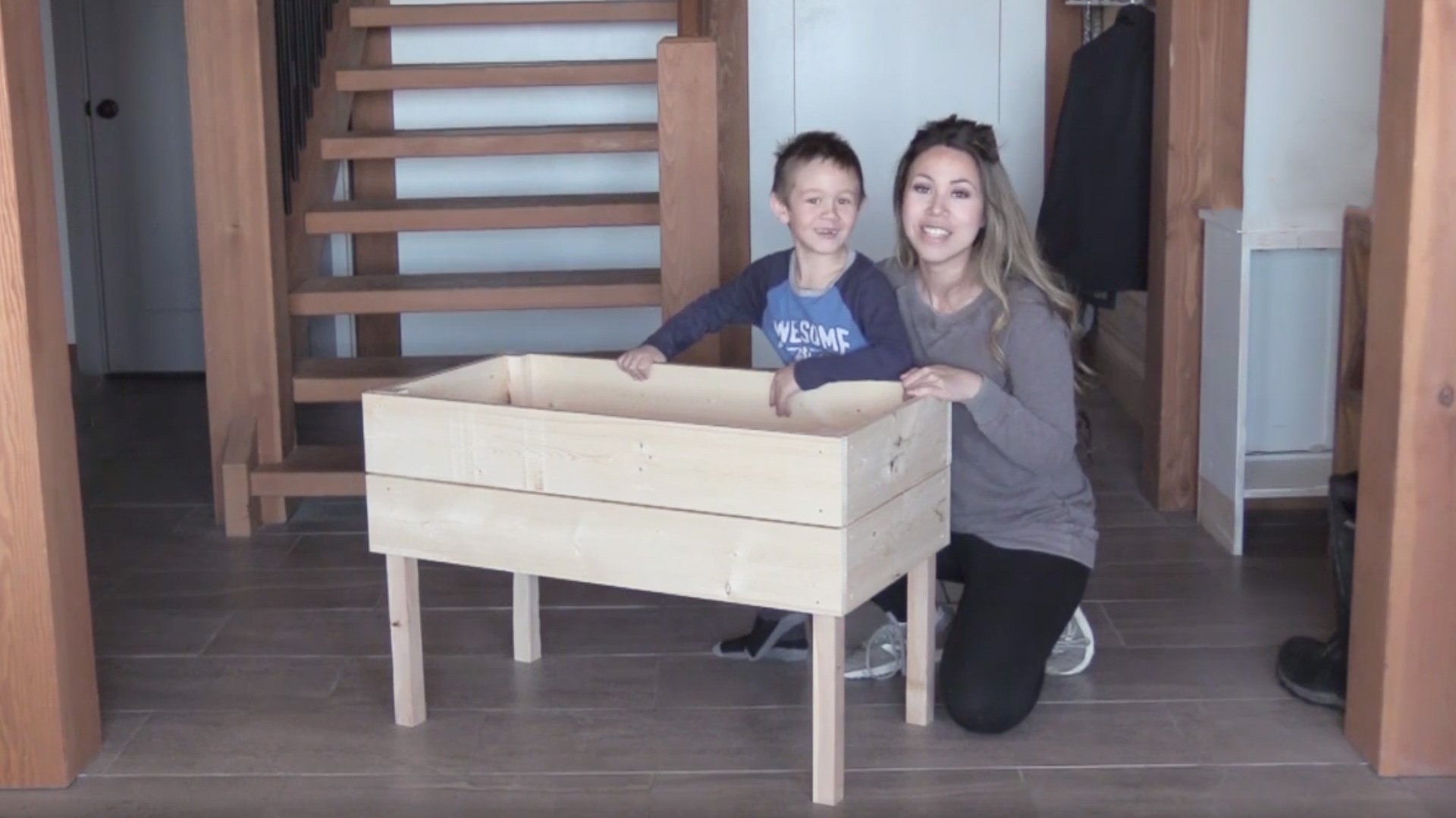 Okay, maybe building a planter box does get easier...
This Raised Planter is a great first project, or project for a young woodworker. Have the kids build it and then plant their own garden! 
9. Raised Garden Bed Planter
Build as many boxes as you need, they can be made taller, longer, and wider to fit your space. Cedar pickets are inexpensive and easy to work with. Built by CHEFWARD
10. Modern Park Bench
Add extra outdoor seating, build a Modern Park Bench.
This plan makes it easy to customize to any size. Using 2 tools and off the shelf lumber, anybody can build this park bench!
11. Cedar Outdoor Storage Bench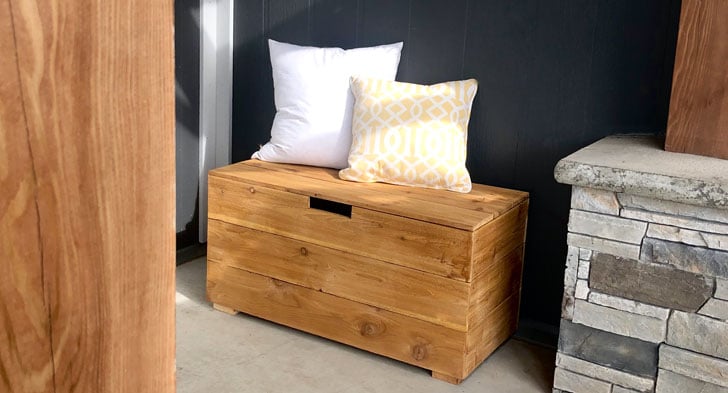 Perfect to add a little extra outdoor seating. Plus there's a good amount of storage inside for hiding everything from packages to boots and shoes, or sporting equipment and toys.
12. Simple Porch Swing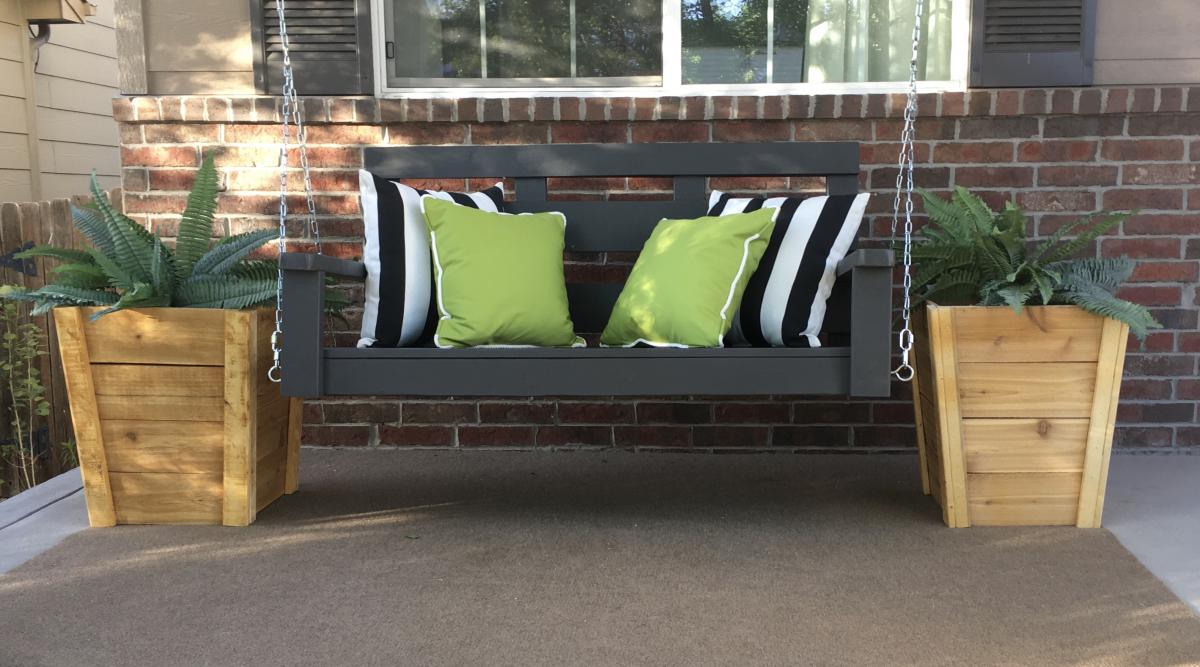 Much like the constuction of the park bench, build a front porch swing, using 2x4 framing with 1x material to plank it. 
Build a Simple Porch Swing to enjoy year round, perfect project for a beginner woodworker. As seen here, built as a first woodworking project by DIYISFUN.
13. Simple Outdoor Table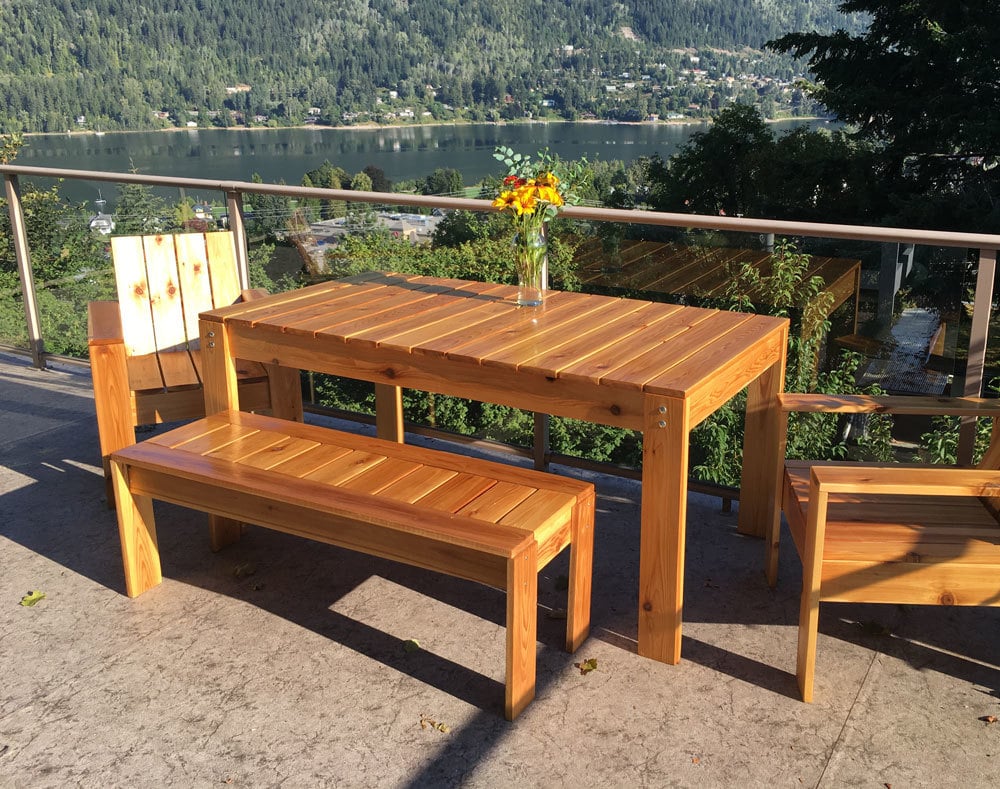 Outdoor dining? 
This Simple Outdoor Dining Table plan is the perfect way to add an outdoor option for mealtimes! We have the free Bench PLANS to! Built by Mr. Thompson
14. Square Picnic Table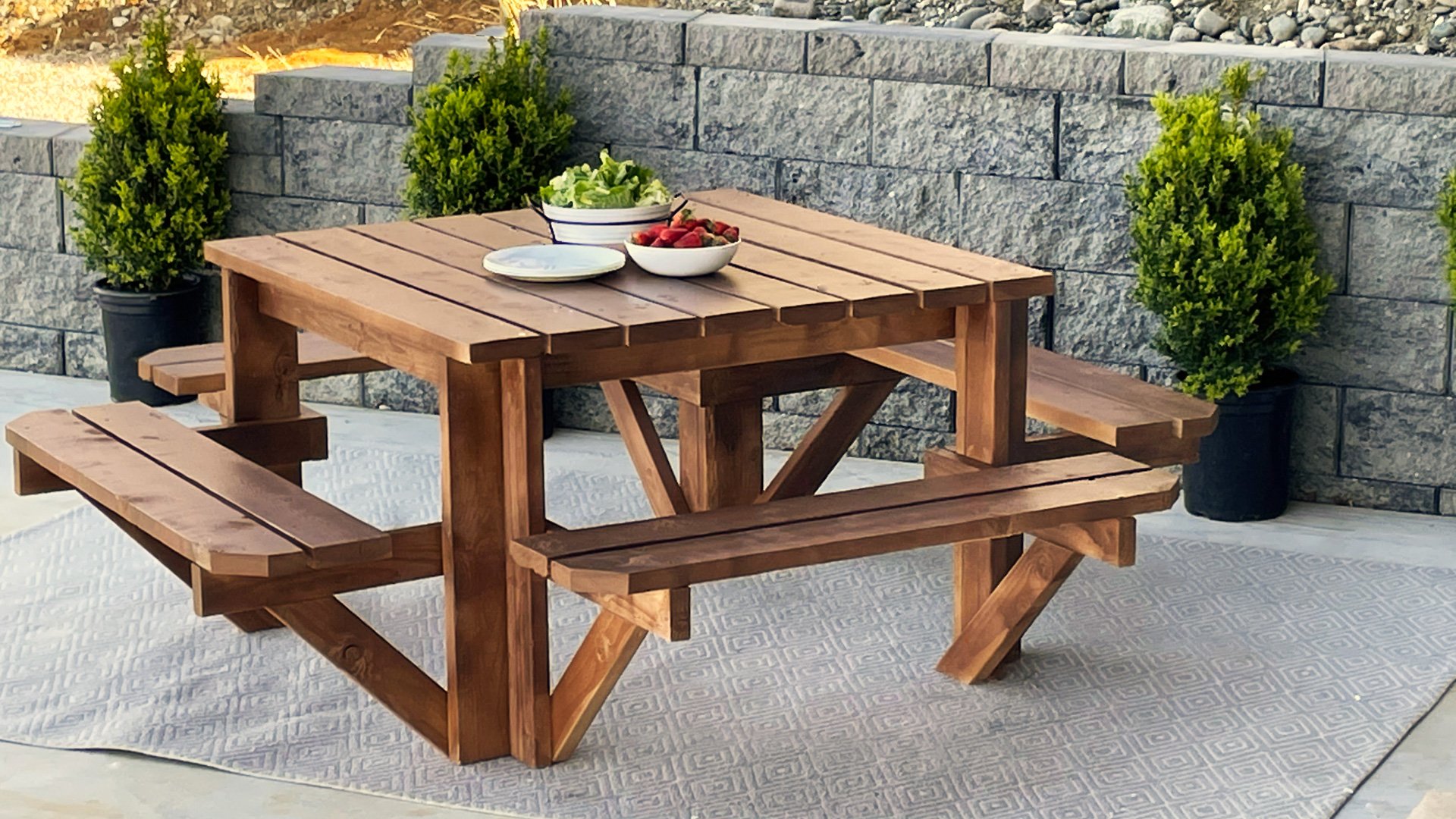 Grab a drill, a saw and a copy of our free plans and build your own square picnic table. 
Everything you love about the classic picnic table, but in a cozier, updated design! 
15. Lemonade Stand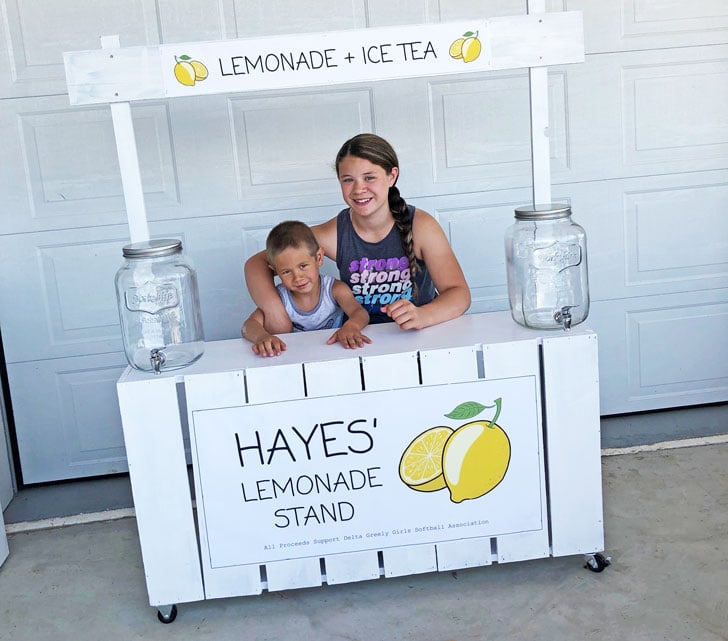 This DIY Lemonade Stand can be built using nails or screws. I recommend screws so it can be broken down easily if desired.
Easy to build and refinish from season to season, or kid to kid. The kids are sure to have fun with this one. Build it using fence pickets and have fun customizing a sign!
16. Birdhouse from One Cedar Fence Picket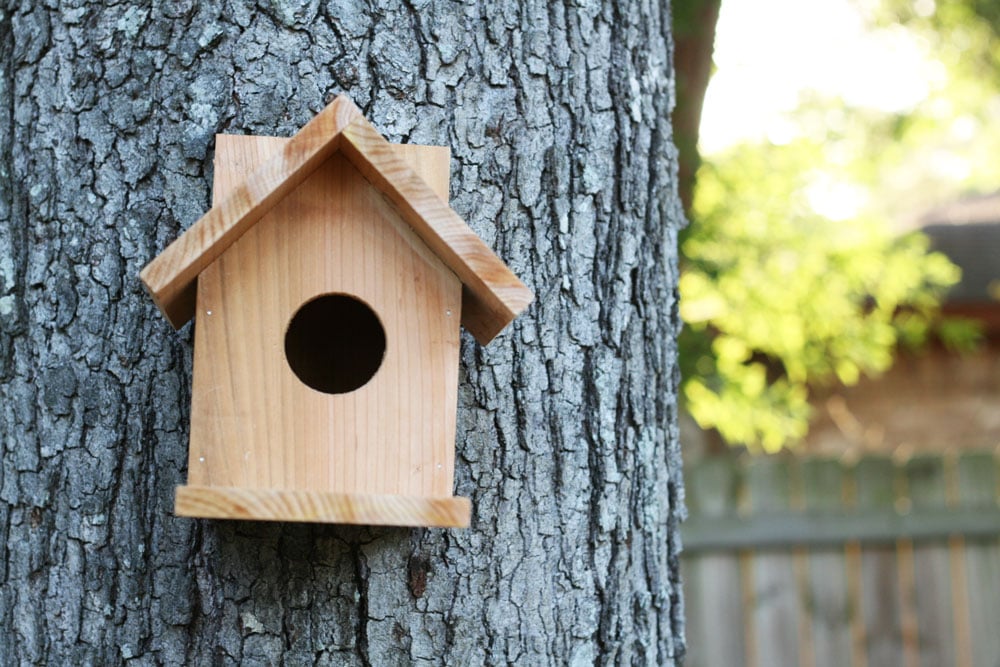 Build a little bird house using one cedar fence picket.
A quick, easy fun and inexpensive tutorial. This DIY Birdhouse is a great project as a  kids kit and also great for beginner woodworkers! A Bird feeder is the perfect gift or addition for any yard, balcony, porch, tree branch or garden.
17. 2x4 Leaning Hall Tree
Build a Leaning Hall Tree. Perfect for narrow halls or a small entryway. 
It's a great way to add hooks to the wall - without having to screw into your walls!  It's a lightweight but sturdy project, so if you are renting, you can take it with you!  Built by Family DIYnamic
18. Wall Boot Rack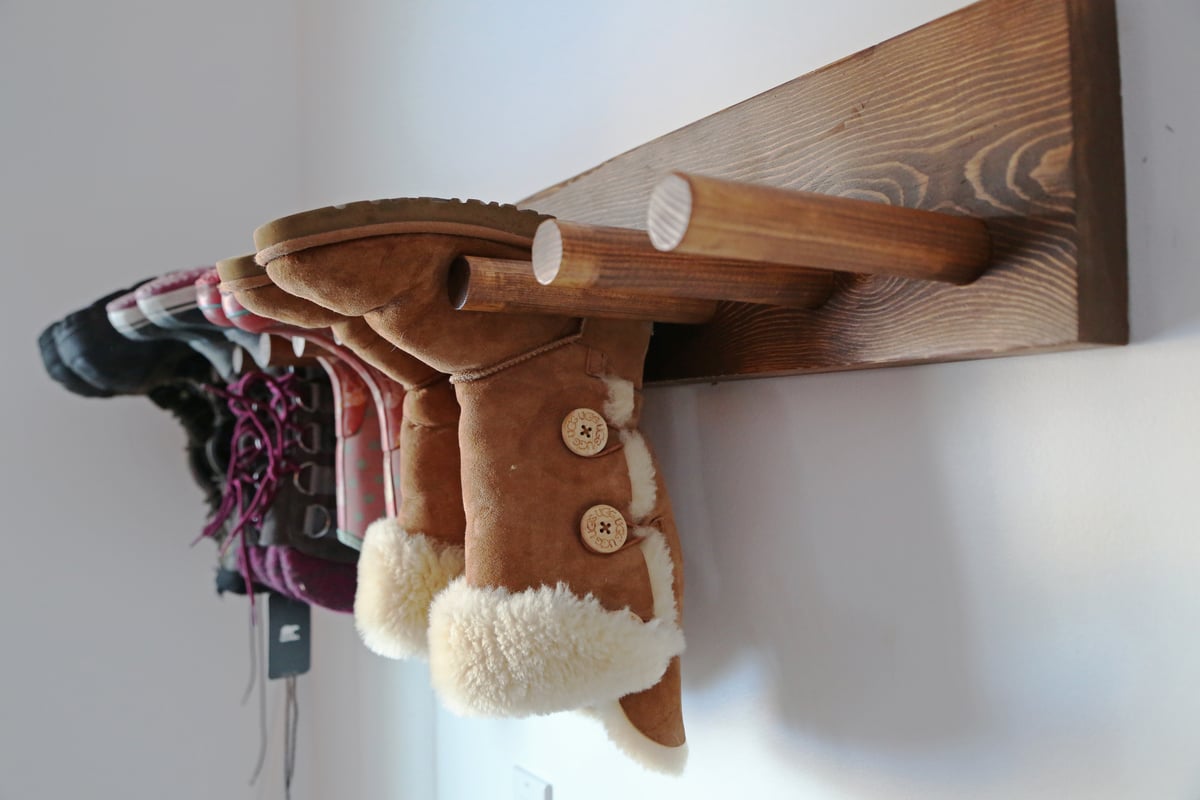 This simple plan can be used on it's own or incorporated into a mudroom system. 
19. Farmhouse Coffee Table
We updared our Farmhouse Coffee Table plan so it can be built with just 2 tools!
This solid wood design is easy to build, and is a nice size. The large bottom shelf will hold baskets or blankets. Stain or paint to your liking!
20. Super Simple Side Table or Nightstand
As part of our super simple collection, this is a great plan if you just need some extra storage and a surface to set things in a bedroom or living room.
21. Narrow Console Table or Side Table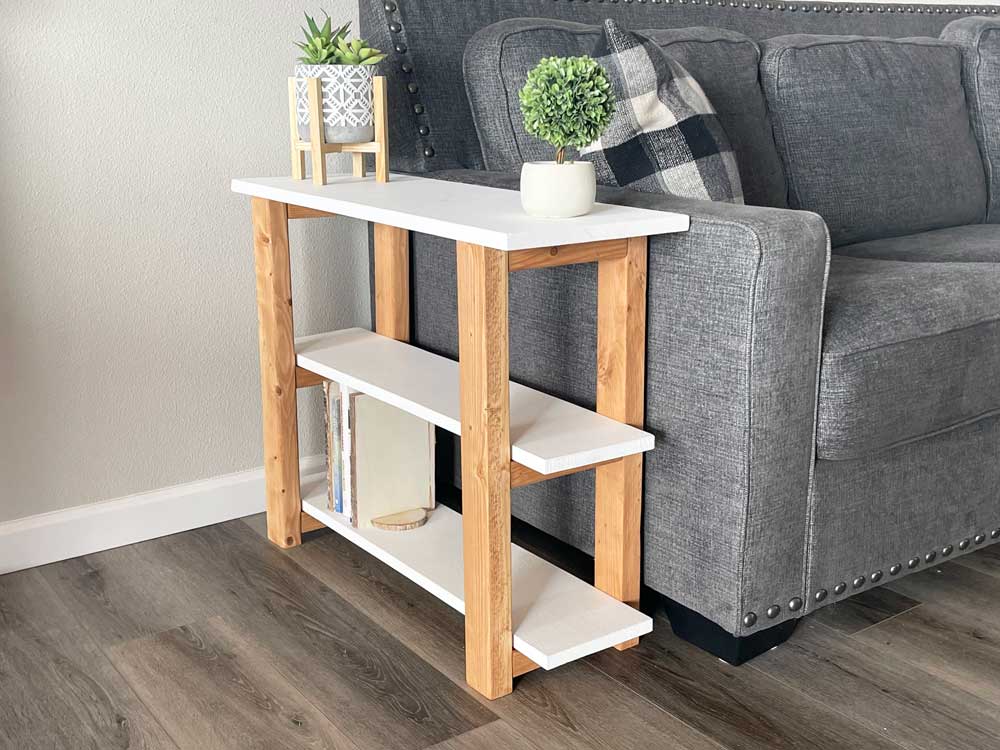 Build a Narrow Console Table any height and length to fit your space. 
This narrow console is also part of our super simple collection. It is great for a beginner and very inexpensive to DIY. Built by Family DIYnamic
22. Modern Console Table
This gorgeous narrow console table fits anywhere! It's simple design works with most styles, and it's easy to build!  Uses all whitewood 1x boards, and nailed together.  No plywood, no pocket holes, no screws.  
23. Modern Writing Desk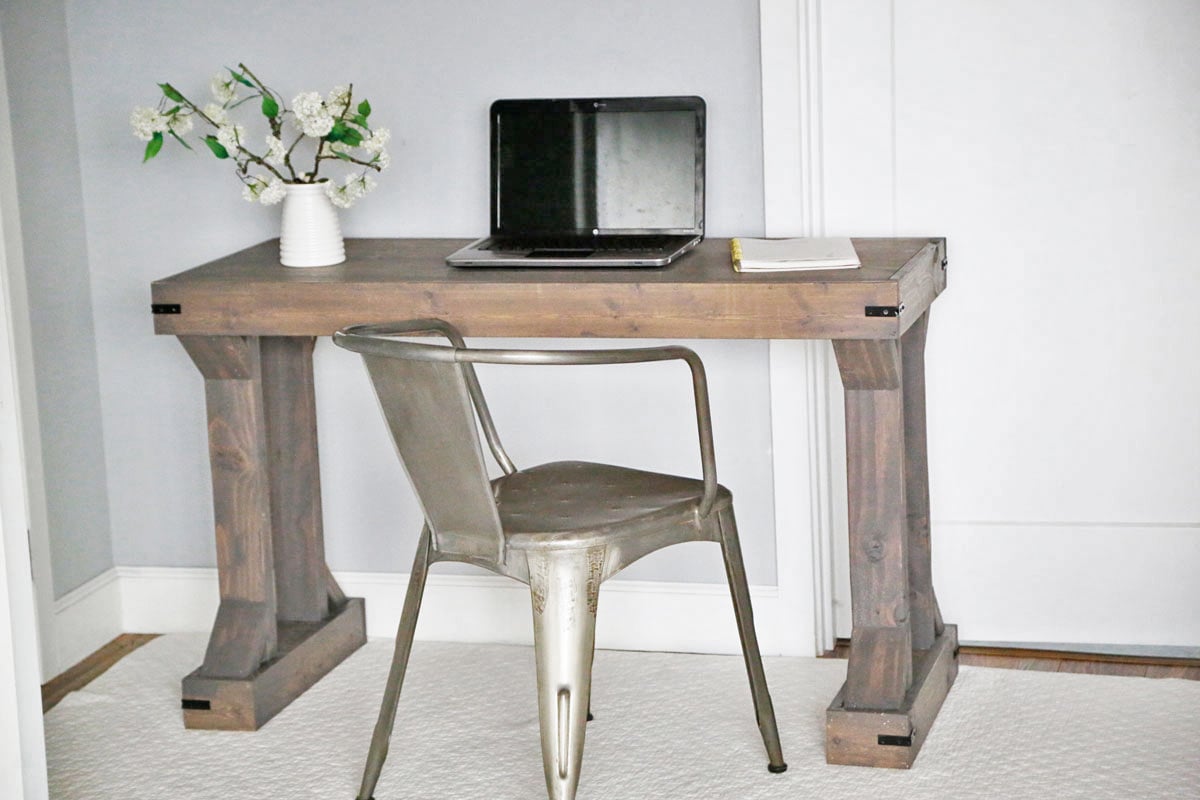 Constructed very similar to the narrow console, be sure to check out the entire collection!
24. Picture Ledges
A Picture Ledge can be used in so many rooms in the house for so many things!
Another quick and easy project with a big impact. Built by KELLI224
GO TO PLAN
25. Simple Crate Toybox
If you have small children a Toybox is essential to keeping the house tidy. 
This 2 tool build is great for beginners just starting on thier woodworking journey! The open design makes it easy to teach little ones how to pick up after themselves. Built by A House 2 Home
26. DIY Crate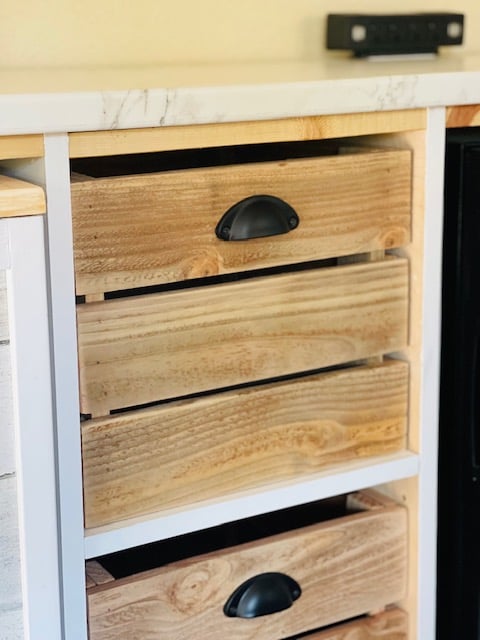 DIY Crates, can be used in just about every room of the house for some extra storage!
This plan makes it easy to modify for any size to use in kitchens, closets, consoles, pantries or anywhere you need some extra storage. Built by Family DIYnamic
27. Easy Pantry Shelving
Update your pantry easy and affordably with our Easy Pantry Shelving plan.
Grab a circular saw and a drill and get going on building pantry shelving. This plan makes it easy to modify for any space! Built and shared by a reader of the site. 
28. Under Sink Storage - H Shelf
Do you need a little help finding things under your kitchen sink. This H shelf works well by adding a top layer of storage so things don't get lost in the back!
29. In Drawer Knife Block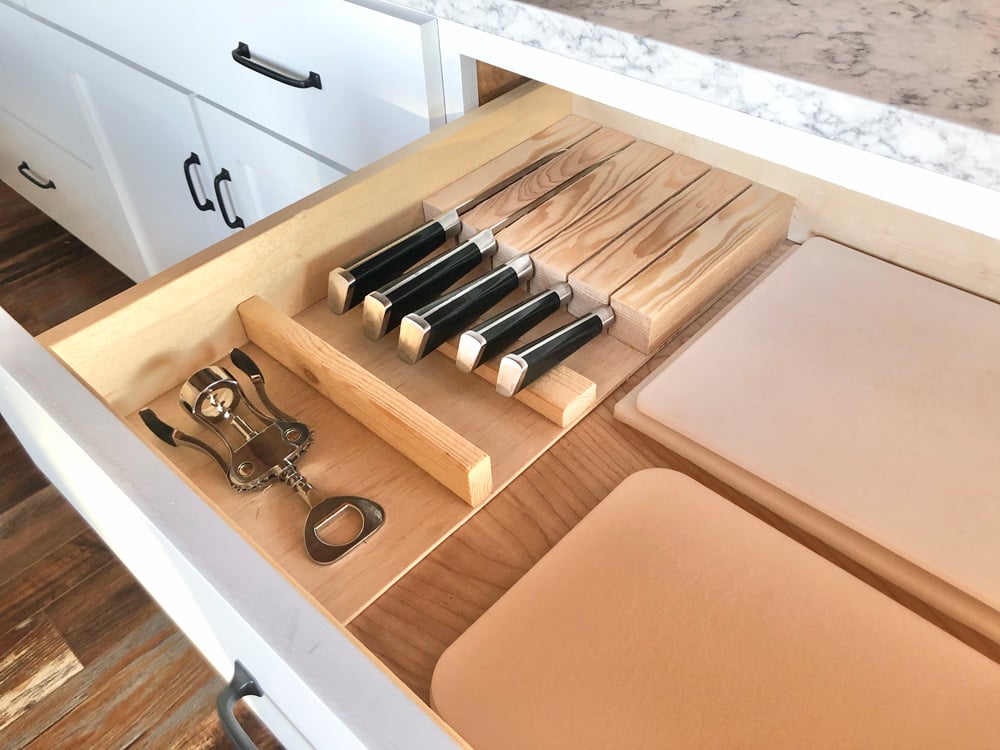 You may have enough scraps laying around to build this knife block for free! Using nails and glue, cut and customize to fit your drawer and your knives.
30. Spice Drawer Insert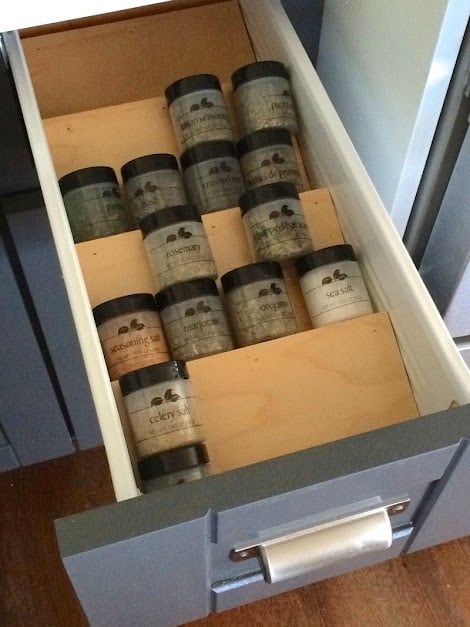 A ridiculously easy diy! This will help you get your spices organized. It could also work in the bathroom for make-up or vitamins, or whatever you want.
31. Tiered Can Organizer
Organized your canned goods for even more storage and organization!
This 3 Tier Can Organizer is quick and easy to add to a pantry or cabinet and can be built and modified for any size. Built by Family DIYnamic
32. Grazing or Charcuterie Board
Check your scrap pile for this one, all you need is a nailer some scraps and a saw! Have fun with this one. 
33. Pallet Laundry Basket Dresser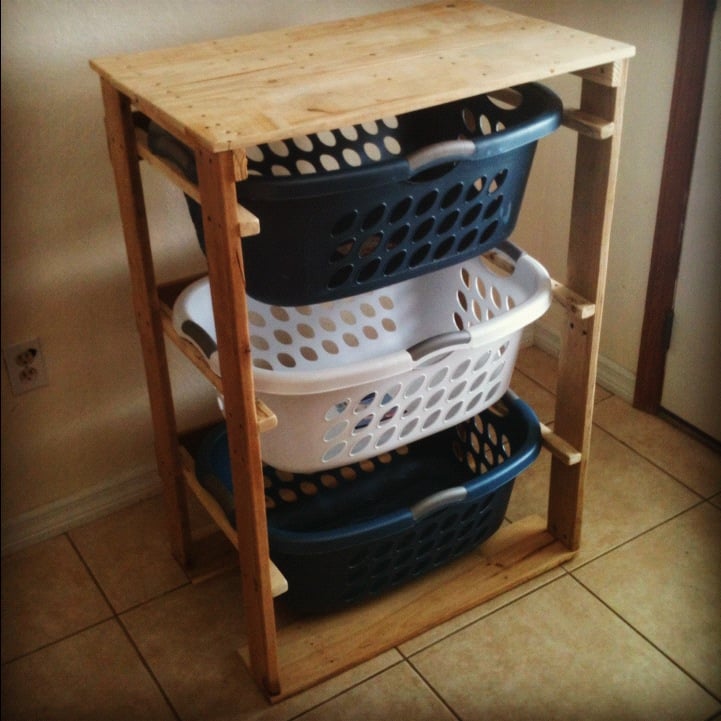 Build a laundry organizer out of pallets.
A great reclaimed wood or pallet project, this Pallet Laundry Basket Dresser can be built for free if you have some old wood or a pallet laying around! Built and shared by Pallirondack
34. Laundry Basktet Dresser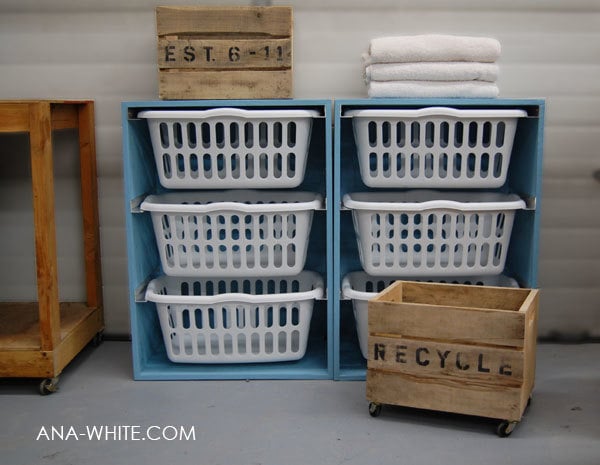 More laundry organization.
A lot like the pallet laundry basket dresser, this Laundry Organizer is extremely versatile. Include in the laundry room as built-ins with a top on it for folding. Build multiple pieces and stack them or push them together, even use in a closet or bedroom. 
35. Hidden Closet
A floating shelf with a secret. 
This Floating Shelf Hidden Closet brings so much function and beauty to a space. Perfect for an entryway, guest room, mudroom, closet or bedroom. It's low profile design makes it sleek and sophisticated. We love that it is easy to modify for any wall. 
36. Wood Closet Shelving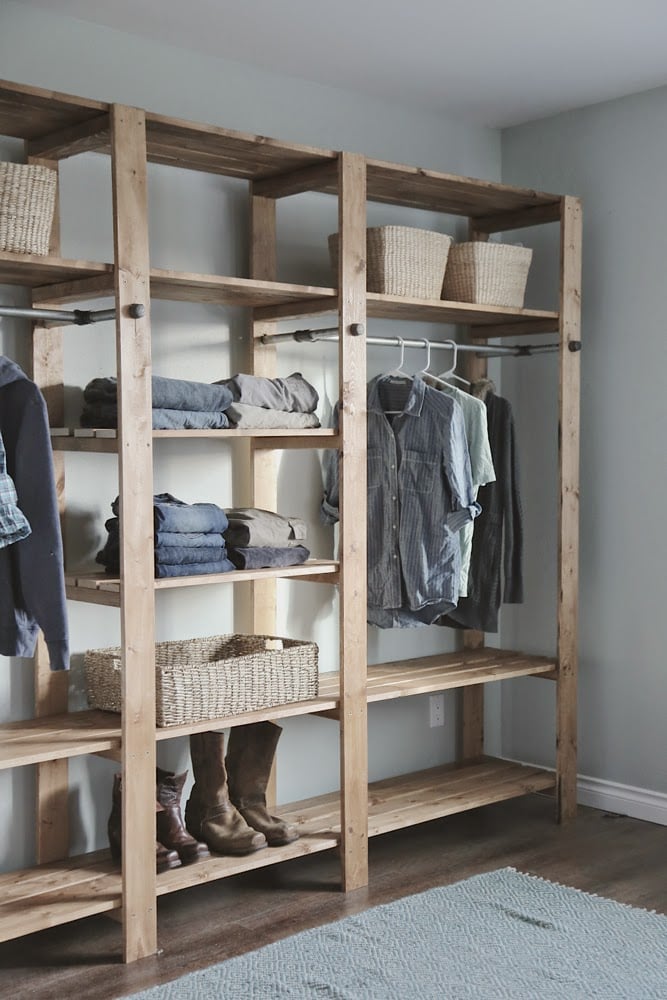 No closet, no problem.
Build an easy custom closet. This freestanding design will work in any room in the home where you can easily customize for your space. 
37. Beginner Farm Table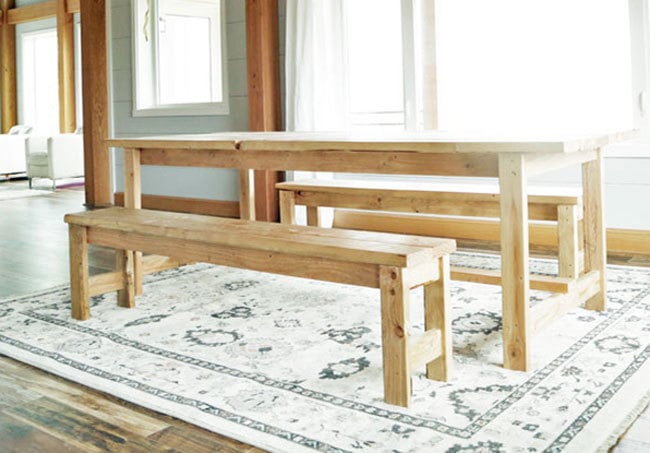 The Farm Table anybody can build!
This farmhouse table will work in any home. Easy to modify dimensions for your space. Using 2x lumber a drill and saw, create a table that will last. Paint or stain to your preference. We have the Beginner Farm Bench Plan available HERE
38. Farmhouse Counter Stools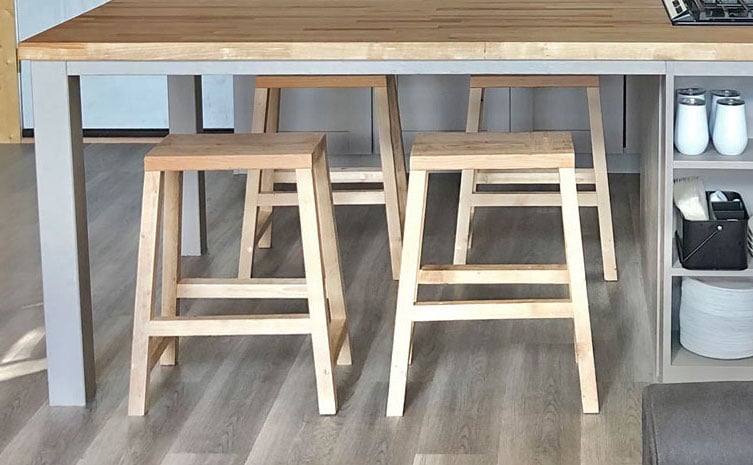 Perfect counter height stools.
Stools can be expensive, so when you need 4-8 of them, I created this inexpensive option that will look great at any counter for added seating!
39. Simple Panel Bed
Build a bed with only 2 tools!
Our Simple Panel Bed plan will work in any room, we have all sizes available. Paint or stain the color of your choice.
40. Just Add Legs DIY Bed Frame
The only hard part is deciding which legs to install on your new bed. 
Build the bed frame and add legs, it's that easy!
41. Essential Low Loft
Build a Low Loft to add tons of storage to a kids room.
This is a very simple build, no pocket holes required!  The bed is sturdy and solid, and you can add storage underneath.  We love it with totes for inexpensive, easy storage! Cost about $50 in lumber.  Plan includes step by step diagrams, build video, cut lists and shopping lists. Check out the Bunk Version HERE 
42. Easiest Hanging Daybed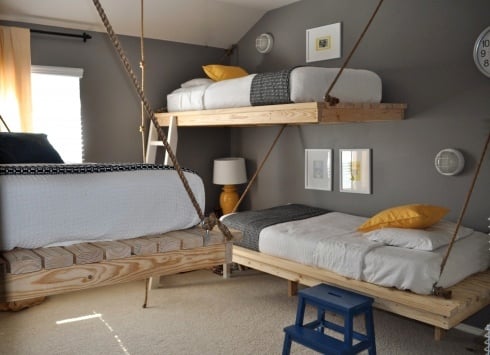 It's almost too easy to build this Hanging Daybed.
Hang them in a shared room at different heights to keep the room feeling open and larger. We also love it as an outdoor version, click the link to see what I mean! Built by a reader of the site.
43. Treehouse Bed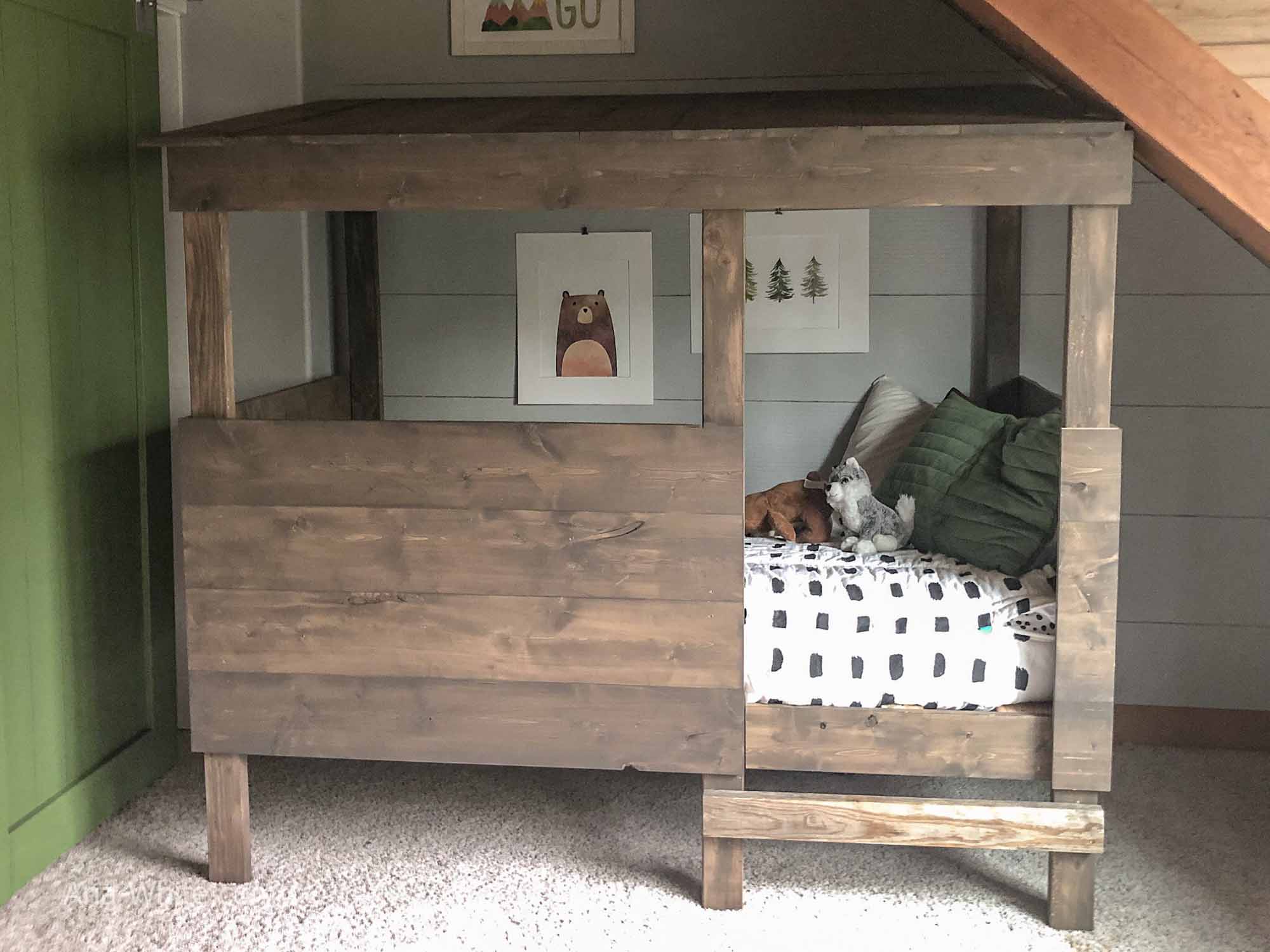 44. Stocking Stand
Build a stand to hang stockings.
This Stocking Stand is a great option to hang stockings if you're home doesn't have a place. Beginner friendly and inexpensive to build!
45. Firewood Box
Indoor firwewood storage.
Build a Firewood Box from one sheet of 3/4" plywood and some common boards. Holds about 1/4 of a cord of wood.  Very sturdy.  Put together with construction screws (no pocket holes).
Pin For Later!