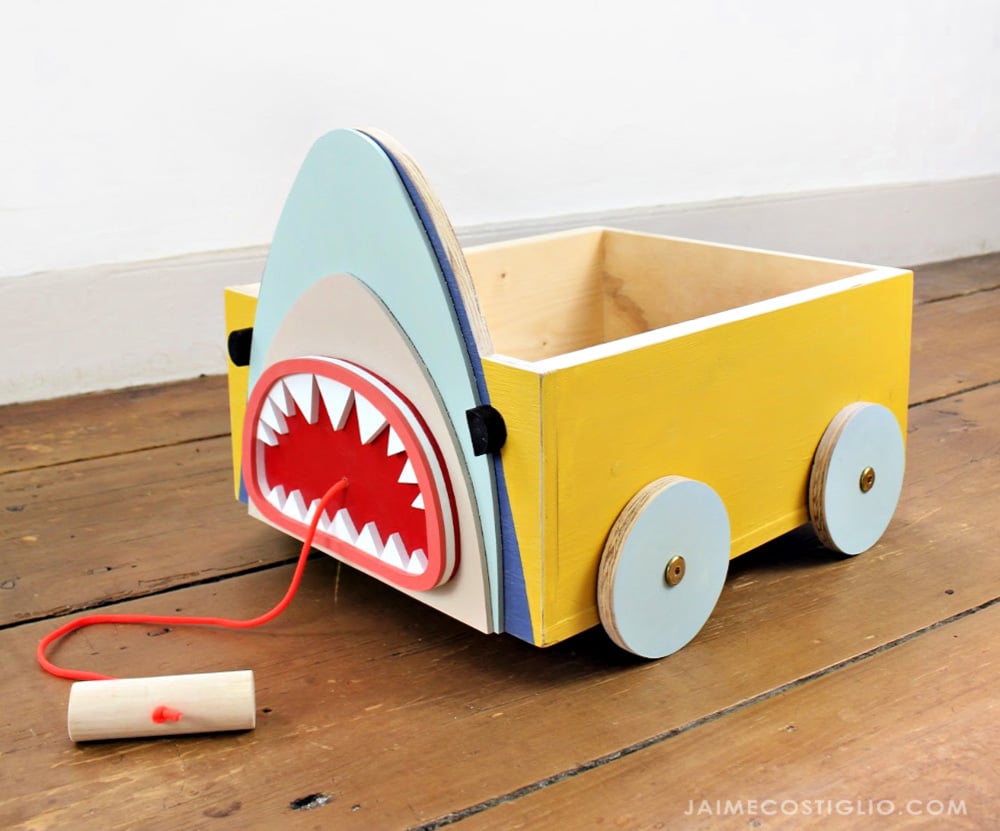 Free plans to build an animal book cart.  You can easily customize the front for any type of animal.  Easy to build with just a few tools and step by step diagrams and lots of photos.
Dimensions
Book cart dimensions shown in diagram
Preparation
Shopping List
1x6 - 28" of board needed
1/2" plywood - 12" x 36" 
4 - 2" bolts with nuts, washers for attaching wheels
Rope (about 2 feet) and dowel piece or scrap wood can be used
1-1/4" brad nails
Wood glue
Cut List
2 - 1x6 @ 13-1/2"
1 - 1/2" plywood @ 12" x 5-1/2"
1 - 1/2" plywood 12" x 14-1/2"
Cut front 12" wide by desired height of ears from 1/2" plywood
Cut wheels from scrap 1/2" plywood

Instructions
Step 1
Step 3
Cut wheels out about 4" diameter (can be larger but shouldn't be much smaller) with a jigsaw from leftover 1/2" plywood.
Drill holes in the center of the wheels slightly larger than your bolt shaft.
Drill holes in the 1x6 cart sides, about 1/2" up on the 1x6, and install wheels on the cart.
Jaime provides more details on what bolts she used and photos of this step here.
Add optional rope with handle to front by drilling out a hole in the front, and placing a knot on the back of the rope so it can't pull through the hole.
Comments - Click to Display Comments