Build a rustic coffee table from pine boards! Inspired by the Pottery Barn Benchwright Coffee Table, this step by step plan shows you how to build your own for a fraction of retail cost.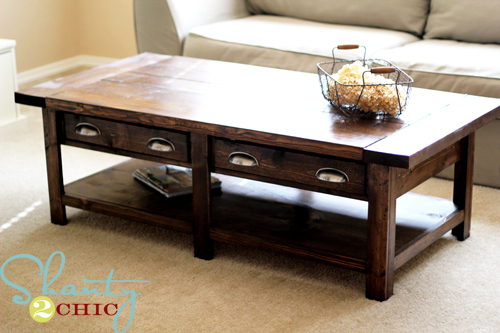 Dimensions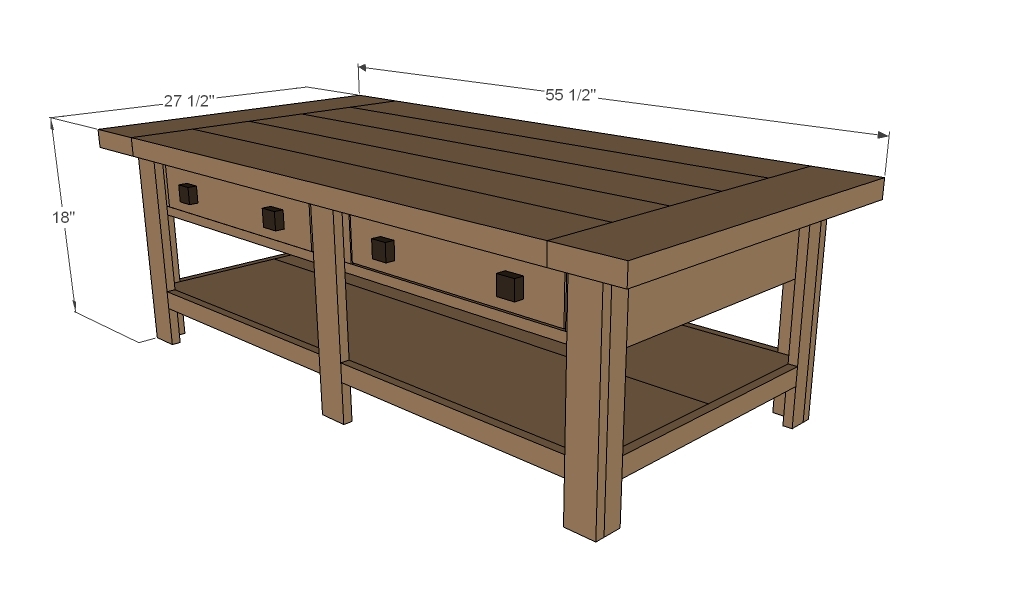 Dimensions are shown above.
Preparation
Shopping List
1 – 1x12 @ 8 feet long
1 – 1x6 @ 8 feet long
2 – 2x6 @ 8 feet or stud length
1 – 2x6 @ 10 feet long (cut breadboard ends from this board)
7 – 1x3 @ 8 feet long
2 – 1x2 @ 8 feet long
1 – 1x4 @ 4 feet long
1 – ¼" plywood, ¼ of a sheet
2 sets 16" euro side/bottom corner mount white drawer slides
4 knobs
1 ¼" finish nails
2" finish nails
1 ¼" pocket hole screws
2 ½" pocket hole screws
Cut List
2 – 1x12 @ 4 feet long
4 – 1x3 @ 22 ½" long
4 – 1x2 @ 16 ½" long
6 – 1x3 @ 16 ½" long
1 – 1x6 @ 48" long
2 – 1x6 @ 21 ¾" long
4 – 1x2 @ 21" long
2 – 1x2 @ 19 ½" long
4 – 1x3 @ 46 ½" long
8 – 1x3 @ 3 ¾" long
4 – 1x3 @ 16" long
4 – 1x3 @ 17" long
2 – 1x4 @ 19 ¼" long
2 – ¼" plywood @ 18 ½" x 16"
5 – 2x6 @ 44 ½"
2 – 2x6 @ 27 ½"
General Instructions
Please read through the entire plan and all comments before beginning this project. It is also advisable to review the Getting Started Section. Take all necessary precautions to build safely and smartly. Work on a clean level surface, free of imperfections or debris. Always use straight boards. Check for square after each step. Always predrill holes before attaching with screws. Use glue with finish nails for a stronger hold. Wipe excess glue off bare wood for stained projects, as dried glue will not take stain. Be safe, have fun, and ask for help if you need it. Good luck!
Instructions
Step 1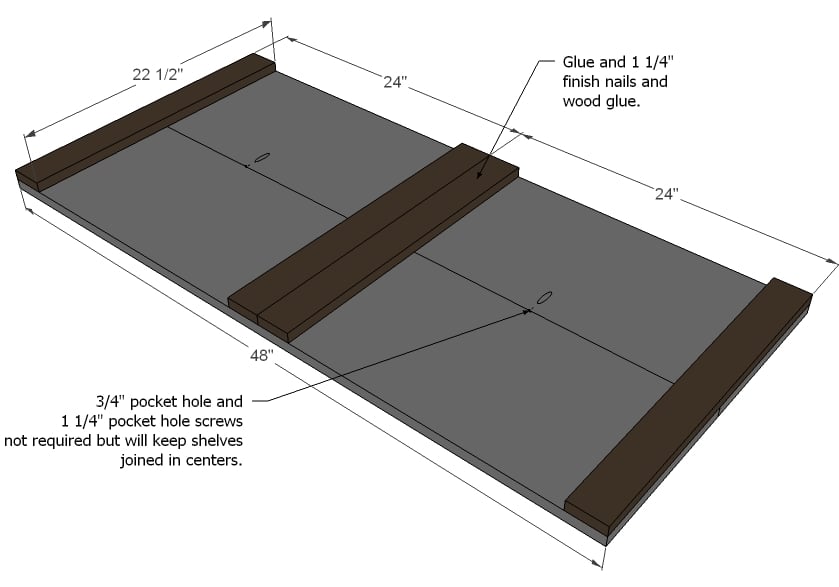 This plan assumes the following board sizes.  Make sure you boards are these widths or this plan will not work right.  If your boards are a different width, you will need to rip to the right size or adjust the plan to fit your board widths.
1x12 11 ¼" wide x ¾" thick
1x3 2 ½" wide x ¾" thick
1x2 1 ½" wide x ¾" thick
1x6 5 ½" wide x ¾" thick
2x6 5 ½" wide x 1 ½" thick
1x4 3 ½" wide x ¾" thick
This is definitely an advanced plan because of all the
pieces and the drawers, so make sure you read through entire plan before
starting.  Also, I would recommend
cutting as you go for the best fit on trim boards. 
Start by attaching 1x3s to bottom of the 1x12s to create the
bottom shelf.  Use glue and 1 ¼" finish
nails.  Adjust for square.
Step 2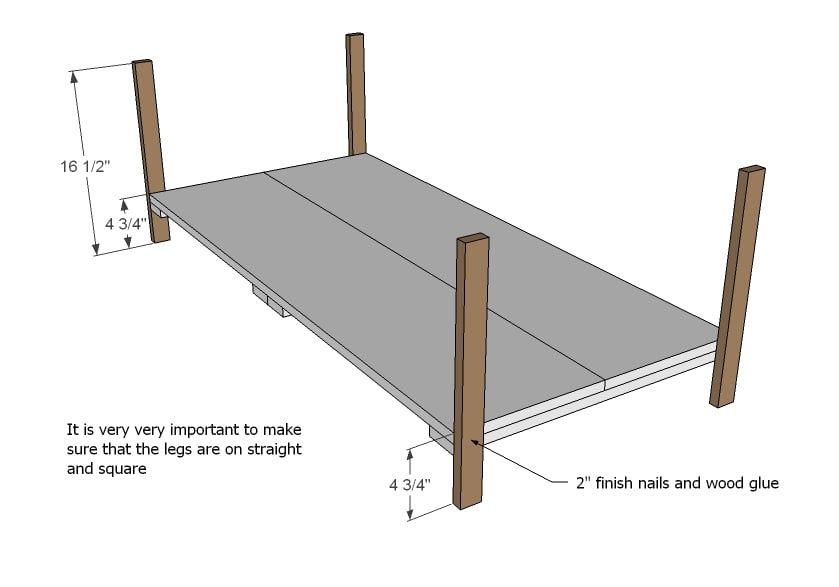 Mark all legs 4 ¾" from base and attach to the bottom shelf. Aternatively, the legs can be attached with pocket holes. Use glue and make sure the legs are attached square, with the distance between the legs equal all the way up.
Step 3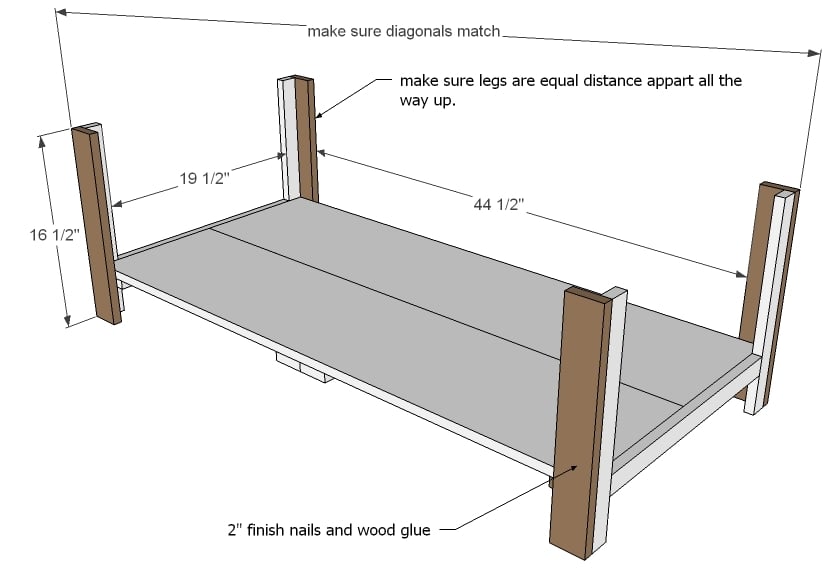 Once the 1x2 legs are on, add the 1x3 legs. Keep outside edges flush to make legs appear as one solid leg and check again for square. Also take a diagonal to ensure the table is square. This is very important because if your box is not square, your drawers will not slide correctly.
Step 4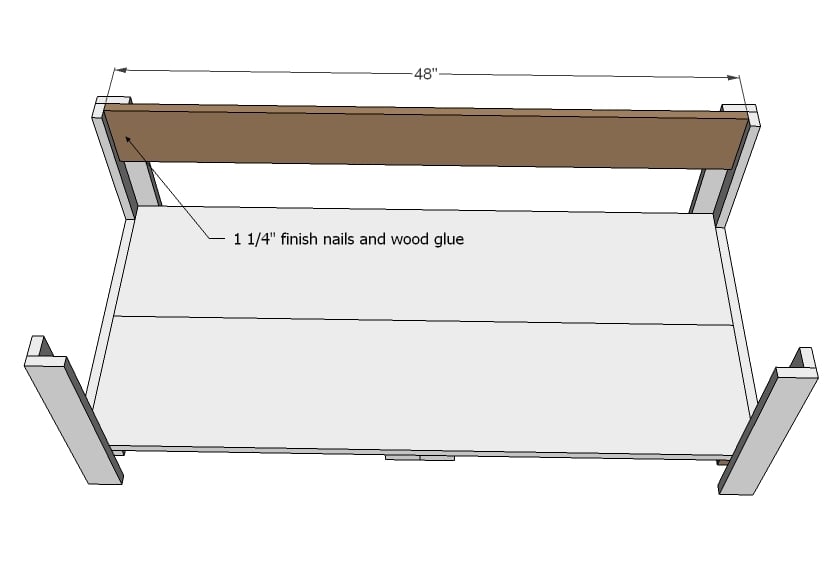 Attach back apron to top back side as shown above. Use glue and 1 ¼" finish nails. Also attach end 1x2s to the back apron with 2" finish nails.
Step 5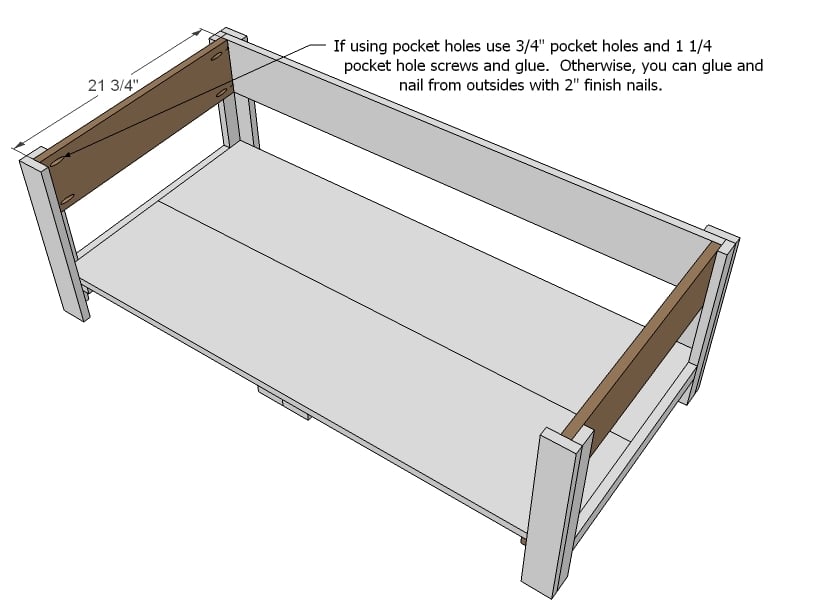 Step 6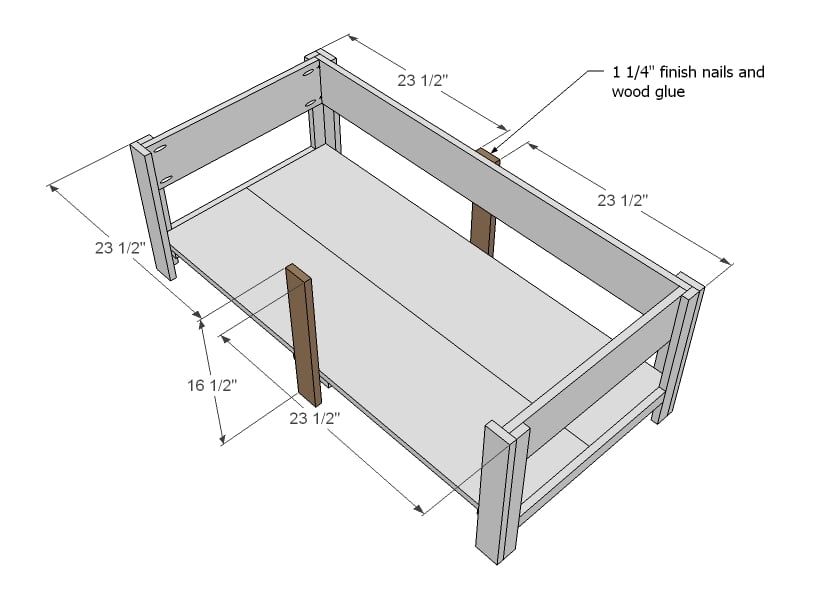 Measure and mark placement of center legs. Nail and glue to project, ensuring legs are placed square with bottom shelf and parallel to end legs with an equal distance between the front legs.
Step 7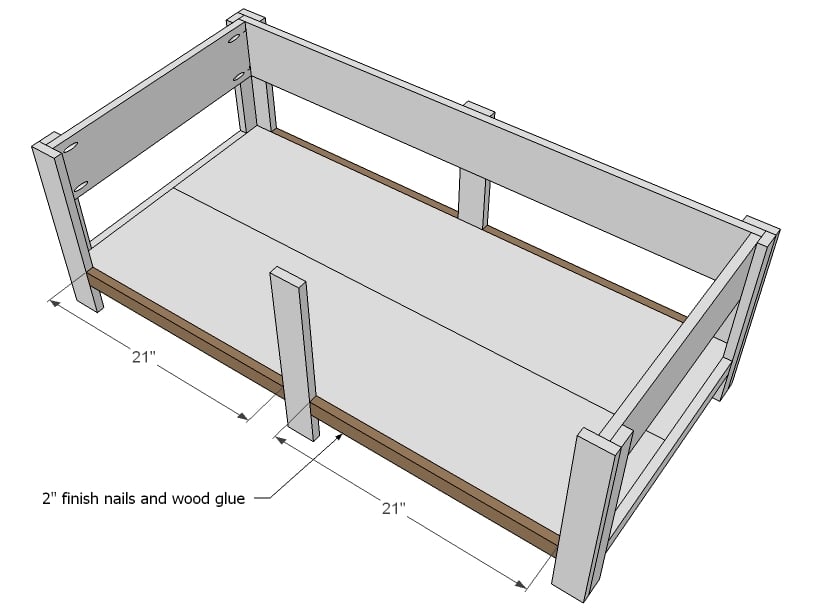 Bottom shelf trim is nailed on flush to top. TIP: Measure and cut to fit for best fit. Attach side trim as well.
Step 8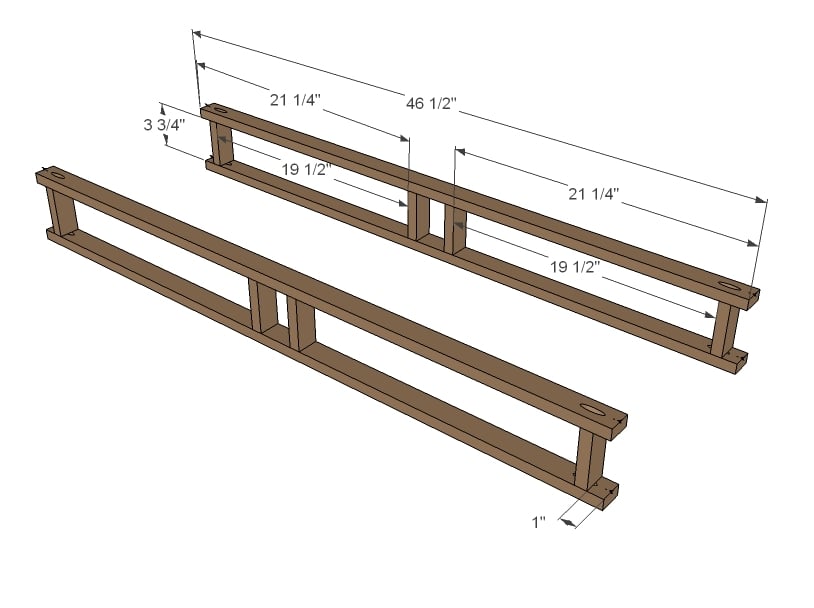 The drawer frames also work to trim out the front of the project, so test after building to make sure they fit correctly. These are made with 1x3 boards for extra strength – if using pocket holes, drill two pocket holes per end. These must be built exactly square and exactly the same for the drawers to slide correctly.
Step 9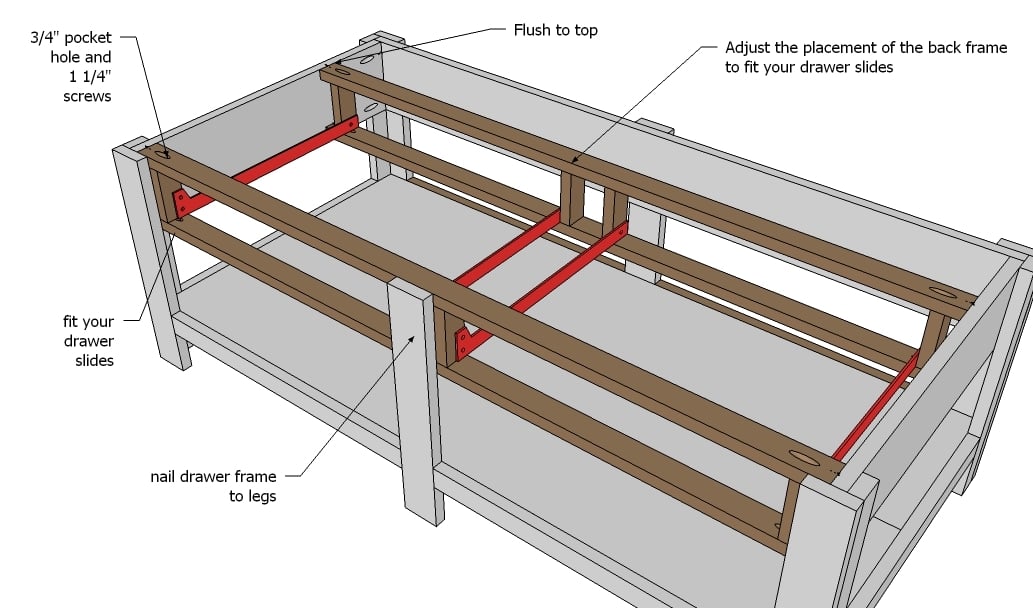 Install drawer frames in coffee table top, flush to the top as shown in diagram. Place back drawer frame to fit your drawer slides as shown in diagram. The slides need to sit ¾" inset from the front of the front frame to allow for the drawer face to hide the slides.
Step 10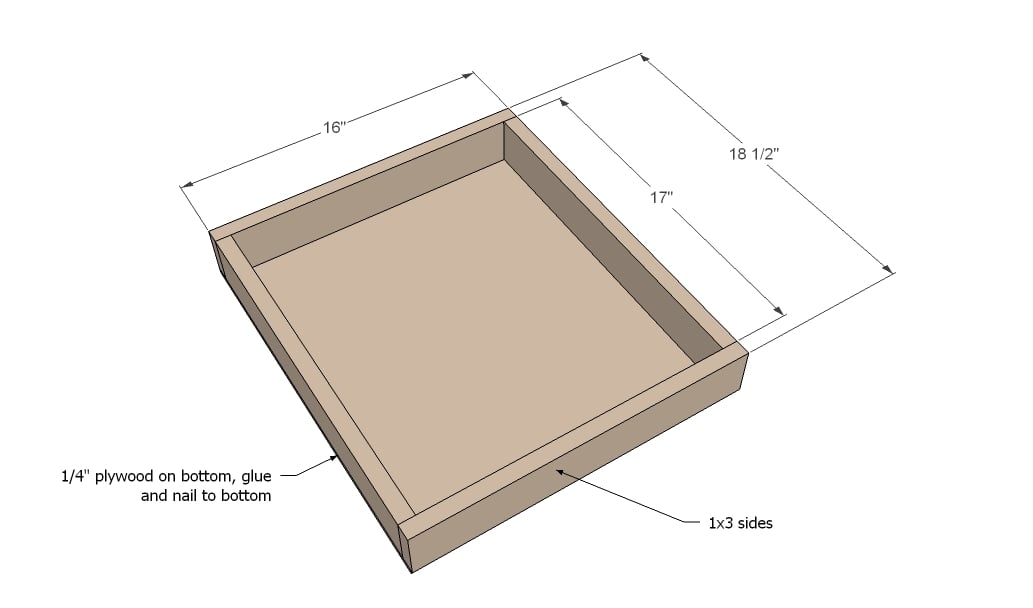 Drawers need to be built 1" less than the opening width to allow for drawer slides. Build drawers from 1x3 boards, and attach plywood to bottom. Attach drawer slide drawer members to bottom of drawers.
Step 11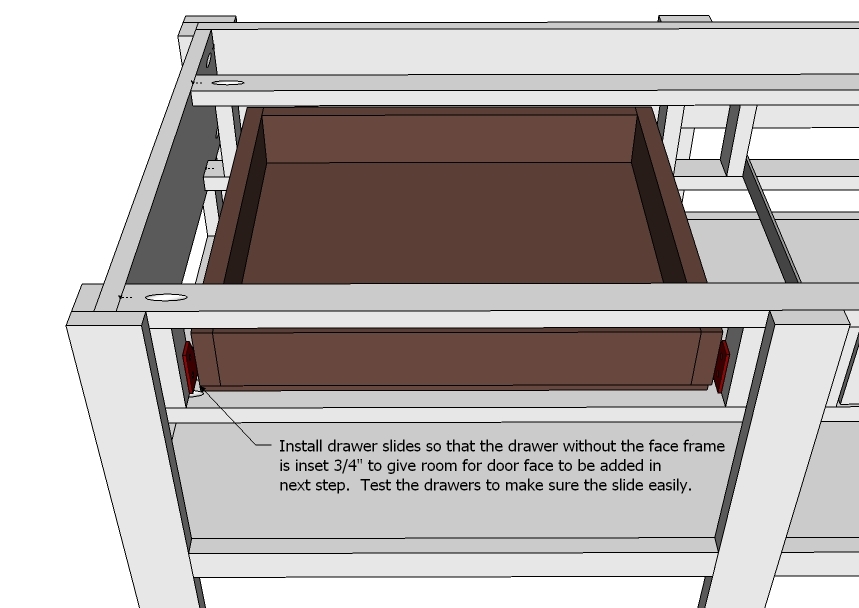 Fit drawers in cabinet, making sure they slide smoothly and easily. Remember the drawer face still needs to be installed.
Step 12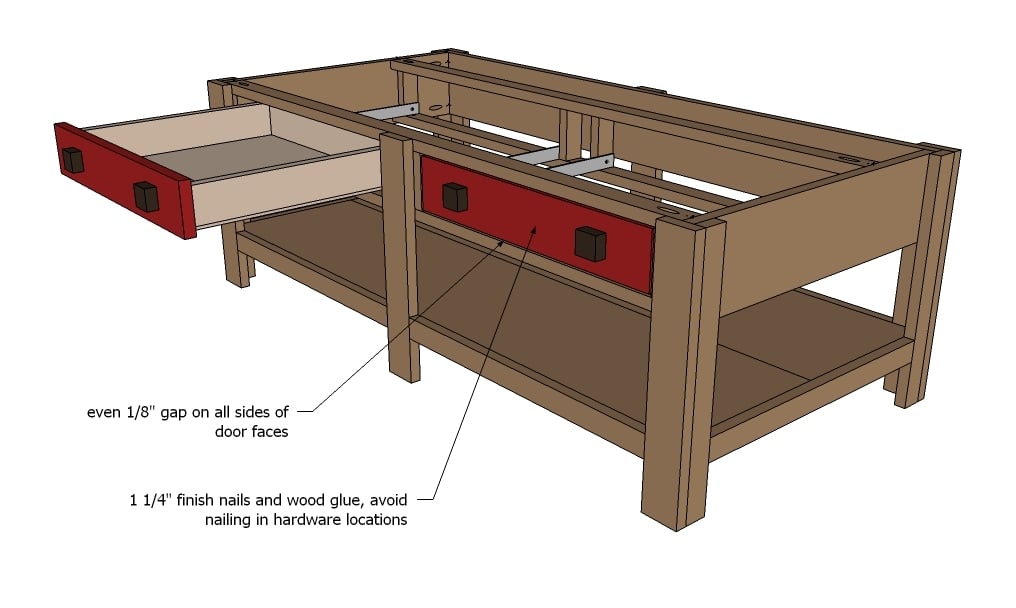 Drawer faces are nailed to drawer box with 1 ¼" finish nails and glue, with an even gap around all sides. Attach hardware – you may need to drill special holes to accommodate the drawer hardware with the double thick face by drilling through drawer box with larger bit sized for screw head, and drilling through face of drawer with bit sized for screw shaft.
Step 13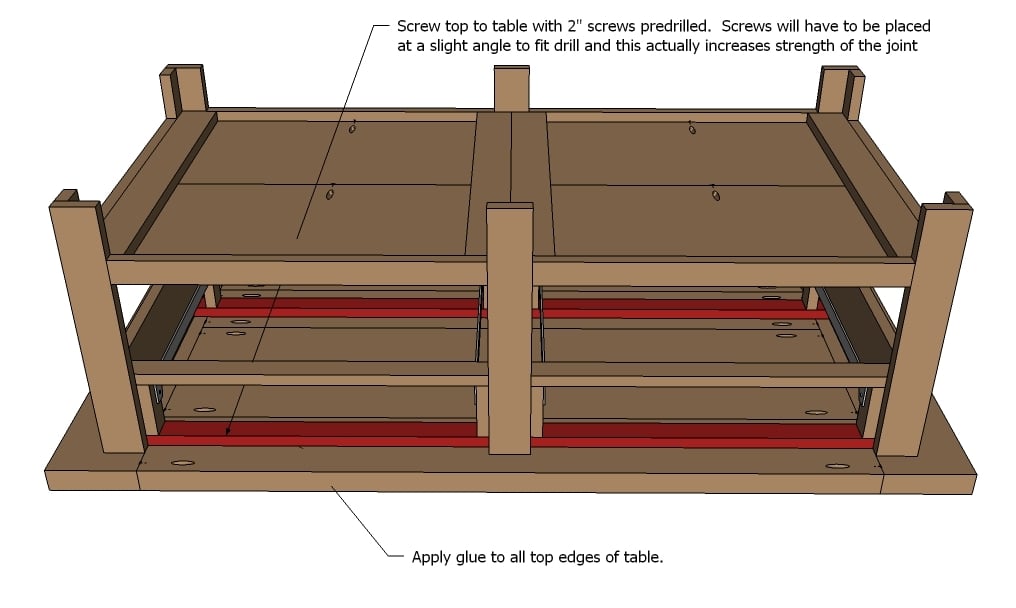 Remove drawers. Attach top to base as shown above with 2" screws and wood glue.
Step 14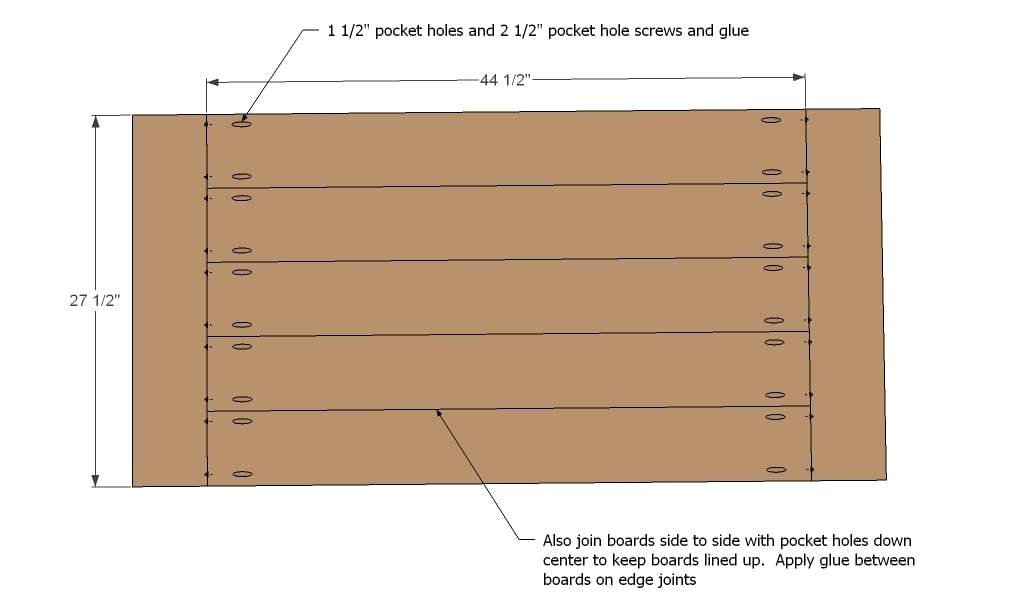 And here's the top diagram.
Preparation Instructions
Fill all holes with wood filler and let dry. Apply additional coats of wood filler as needed. When wood filler is completely dry, sand the project in the direction of the wood grain with 120 grit sandpaper. Vacuum sanded project to remove sanding residue. Remove all sanding residue on work surfaces as well. Wipe project clean with damp cloth.

It is always recommended to apply a test coat on a hidden area or scrap piece to ensure color evenness and adhesion. Use primer or wood conditioner as needed.
We apologize if there was an error in this plan. Please help us out and report any errors here.