You can build your own playhouse! This simple back wall is designed to come from a single sheet of plywood. Easy to build and very sturdy, yet inexpensive and well planned to integrate with the side walls and roof.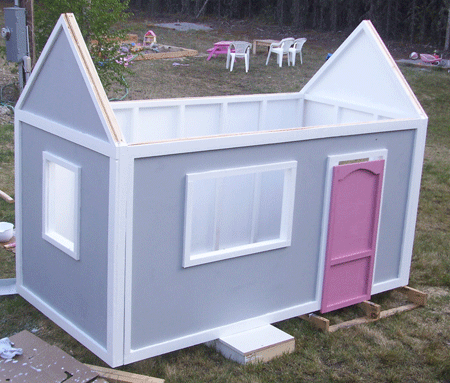 Dimensions
Fits the Playhouse Plans Collection
Preparation
Shopping List
Shopping List is for just the Back Wall
1 – 1/4″ Sheet of Plywood
6 – 2×2 Furring Strips 8 feet long
2 – 1×3 Furring Strips 8 feet long
1 – 1×2 Furring Strip 8 feet long
2 1/2″ Self Tapping Screws
1 1/4″ Nails Glue
Common Materials
120 grit sandpaper
primer
wood conditioner
paint
paint brush
Cut List
Cut List is just for the Back Wall
2 – 2×2 @ 90″ (Top and Bottom Plates for Walls)
7 – 2×2 @ 45″ (Wall Studs)
1 – 1/4″ Plywood @ 48″ x 90″ (Back Panel)
2 – 1×3 @ 90″ (Top and Bottom Trim)
2 – 1×2 @ 43″ (Side Trim)
General Instructions
Read all plans for the playhouse before buying any boards or beginning any building. Have a clear understanding of how the playhouse will be put together. Work on a clean level surface and predrill all your screws. Check for square and use glue on all joints. Be safe.
Instructions
Step 1
FRAME YOUR WALL
Well, I guess it did come in handy that I helped frame a few houses. Begin by marking on both the top and bottom plates where the joist will got (click diagram for a larger view). Then predrill all the holes in the top and bottom plates. Then begin fastening the studs to the top and bottom plates. Check for square when all boards have been fastened.
Step 2
SHEATHING
I was thinking about you (and me) when I designed this plan. Simply take a full sheet of plywood and trim 6″ off the end to get a piece 90″x48″. The reason you have to trim the 6″ off is because the overall dimensions need to be less than 96″ to fit on a standard 8′ 2×6 deck (again, to save you money and unnecessary cuts). Glue and fasten on with 1 1/4″ nails.
Step 3
TRIM
Cut your longer trim first and glue and nail down with 1 1/4″ nails. Then add the 1×2 trim to the ends, keeping outside edges flush.
Step 4
ASSEMBLY
When you go to assemble the playhouse, the wall will sit inside the gable end wall as shown above. You will need to screw with 3″ screws from this inside of the back wall into the gable end wall (the screw will need to be fastened at a slight angle).
Preparation Instructions
Fill nail holes with wood filler and let dry. Sand smooth. Apply a primer. First paint your trim (you can be a little messy when painting your trim). Then cut your base color in, being careful not to paint on the trim boards. Use an exterior house paint. I used three coats of trim paint, and two coats of base paint.