A swing set plan add on that extends from our playhouse! This swing set can also be used freestanding, without a playhouse.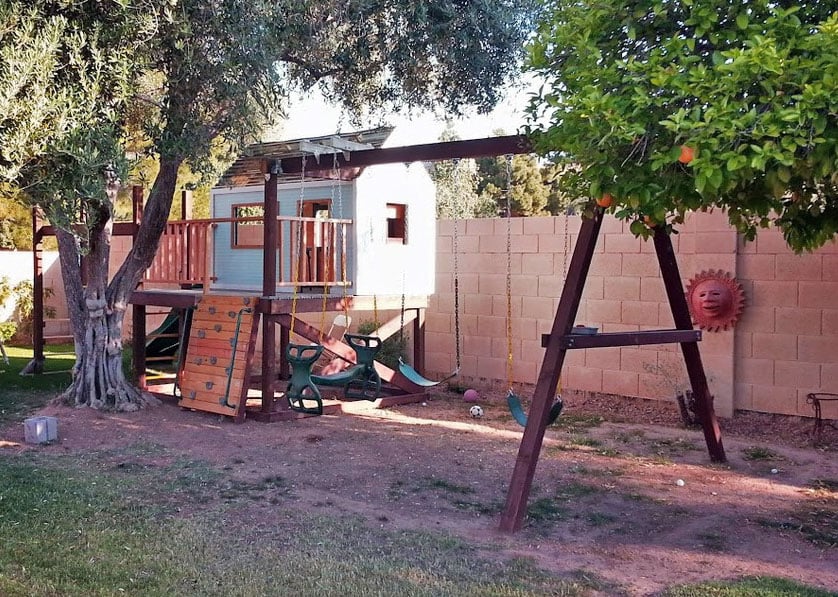 Dimensions
140 1/2" x 110 1/2" Approximate. Dimensions and composition are shown above. In addition, the truss legs are made of 4×4 posts. Composition is preferably an outdoor appropriate wood or wood painted with an exterior paint and properly maintained.
Preparation
Shopping List
2 – 12′ 4×4 Posts
1 – 12′ 4×6 Post
1 – 8′ 4×6 Post
2 – 8′ 2×4
16 7″ Bolts, washers and Nuts
1 – 4×6 rafter post hangers
2 – 4×4 post cap/bases
Eye bolts
Cut List
2 – 4×4 Posts @ 127 3/4″ (Legs)
2 – 2×4 @ 18″ (Top Supports)
2 – 2×4 @ 78″ (Bottom Supports)
1 – 4×6 Post @ 12′ (Swing Header)
1 – 4×6 Post @ 8′ (Porch Header)
General Instructions
You will need to find a large area that is level and flat. Make sure you predrill all bolt holes with a bit sized for the bolt. Tighten each bolt with a wrench and periodically check for tightness with use. Check for square and level with each step. Be safe and have fun.
Instructions
Step 1
LEGS Cut the 4×4 posts as shown above. Lay out on a flat and level surface.
Step 2
TOP SUPPORTS Use bolts to attach the top supports as shown above to the legs. You will need to drill a hole the size of the bolt shaft first and then insert your bolt.
Step 3
BOTTOM SUPPORTS Attach the bottom supports as shown above.
Step 4
ASSEMBLY Assemble the swing set as shown above. Use lag screws or bolts to attach the brackets. The swing set does not have to be mounted to the center of the front porch. Make sure the header is level and if needed, dig with the shovel under the legs until the swing set header is level.
Step 5
If you feel the swing set needs it, add cross bracing from the top board into the angled legs.