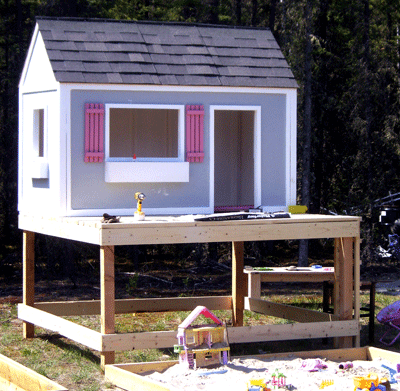 This playhouse deck uses standard 2x6 boards and minimizes scraps. Four feet off the ground, there is just enough clearance underneath to store toys under! Build a playhouse on top.
Pin For Later!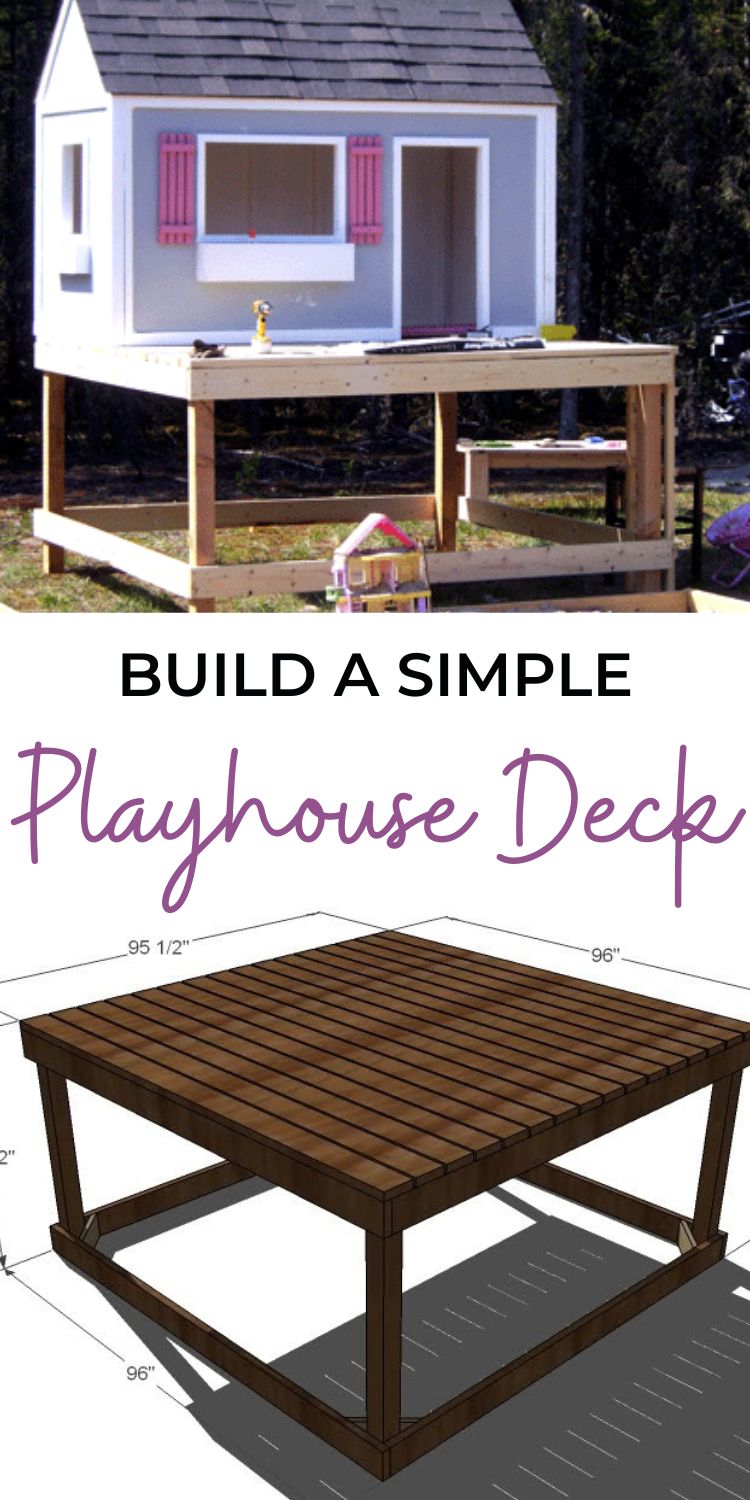 Dimensions
Overall Dimensions for the basic platform is shown above. To make the swingset arm, you will need to review the dimensions from the first drawing. Composition is wood boards, painted and sealed for outdoor use. If you are not using the base unit for a sandbox (would make great toy storage!) then I recommend using treated lumber for the 4×4 posts and what would have been the sandbox sides. I was just talking with my husband's uncle about using wood composite decking instead as it would last much longer, but is much more expensive. One of the factors is to consider the number of years the playhouse will be used, and then choose your lumber accordingly. Paint on boards properly maintained in a dry location could last your kids into college.
Preparation
Shopping List
2 – 4×4 Posts 8′ Long (3 if you are using the swingset option)
29 – 2×6 Boards, 8′ Long (8 of these can be stud length 92 5/8″ if stud length is cheaper)
4 - 2x4 @ 8 feet long (use for cross bracing)
2-1/2″ Exterior Self Tapping Deck Screws
2″ Exterior Self Tapping Deck Screws
Outdoor Paint or Stain
Cut List
4 – 4×4 Posts @ 47″ (OR 2 @ 47″ and 2 @ 96″ for the swingset option)
8 – 2×6 @ 92 1/2″ (Shorter Sides)
4 – 2×6 @ 96″ (Longer Sides)
8 – 2×6 @ 12″ (Diagonal Supports, both ends mitered down 45 degrees)
16 – 2×6 @ 96″ (Deck Boards)
General Instructions
Build at your own risk. Work on a clean level surface. Choose a location that is level and dry to avoid water damage. Check for level after each step. Check for square after each step. Predrill all screw holes. Use necessary safety equipment and precautions.
Instructions
Preparation Instructions
Prime and paint with an exterior appropriate paint or stain with sealant.