Cubby bookshelves are so popular because they enable you to further sort and organize your belongings. No longer do you need bookends and even baskets and bins become optional. This cubby bookshelf works with the craft table top to create a project table. It's the best of both worlds - ample workspace and easy storage. Build the cubby bookshelves alone or add the project tabletop for even more functionality.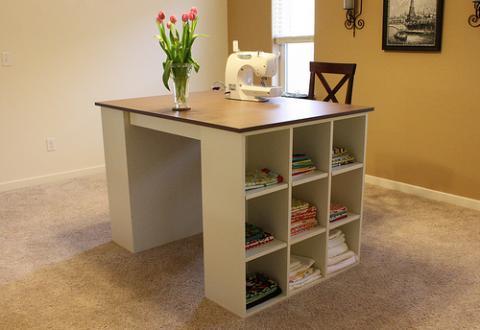 Dimensions
36" x 36" x 12"
Preparation
Shopping List
(This shopping list is for only one bookshelf) 
3 - 1x12(8') 
1 - 1/4" plywood (1/2 sheet) 
1 -1x2 (8')
Common Materials
2 inch screws
1 1/4 inch finish nails
1-1/4" Pocket Hole Screws
120 grit sandpaper
primer
wood conditioner
paint
paint brush
Cut List
2 – 1×12 @ 36″ (Top and Bottom) 
4 – 1×12 @ 34 1/2″ (Vertical Dividers) 
6 – 1×12 @ 11″ (Shelves) 
1 – 36″ x 36″ 1/4″ Plywood (Back) 
6 – 1×2 @ 11″ (Inside Supports)
General Instructions
Work on a clean level surface. Mark your joints and cuts before assembling. Dry fit your pieces before fastening. Check for square after each step. Always use glue and work safely.
Instructions
Step 1
Build the Box. Fasten the vertical dividers to the tops and bottoms as directed above. Screws will hold better, nails are easier. If you use screws, predrill and countersink your screw heads. Use 2″ fasteners and glue. Check for square.
Step 2
Back. Attach the back, making sure to fasten to the vertical dividers. Use the 1 1/4″ nails and glue. Check for square.
Step 3
Inside Supports. Fasten the inside supports through the tops and bottoms using glue and 2″ fasteners. Also fasten through the sides into the ends. These supports will keep everything square and give you something to fasten the project table top to.
Step 4
Shelves. Measure and add shelf pins where the shelves are marked above. Notice the first Pottery Barn photo – the shelves in this system are removable. Fit the shelves on the shelf pins.
We apologize if there was an error in this plan. Please help us out and report any errors here.