Pin For Later!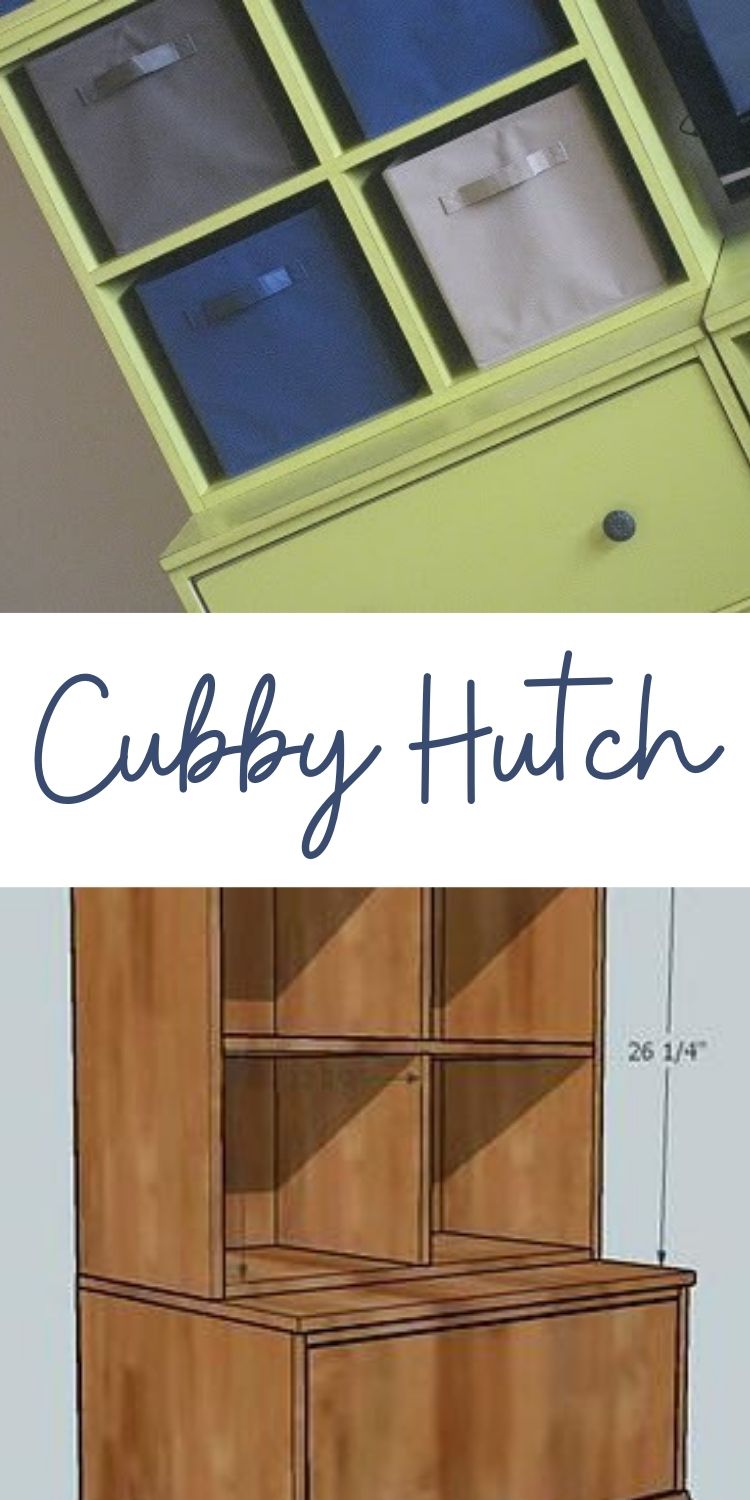 Dimensions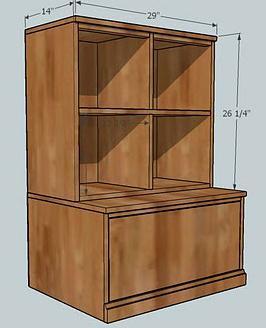 26 1/4" Tall x 29" Wide x 14" Deep
Preparation
Shopping List
If you are building multiple pieces in this collection, it is recommended that you create a cutting template of all the pieces on graph paper to conserve plywood. You will need 3/4" Plywood or MDF 1x2 1/4" Plywood (for the backs)
Common Materials
1 1/4 inch screws
2 inch screws
1 1/4 inch finish nails
1-1/4" Pocket Hole Screws
120 grit sandpaper
primer
wood conditioner
paint
paint brush
Cut List
A) 2 – 3/4″ Plywood or MDF @ 25 1/2″ x 14″ (Sides)
B) 2 – 3/4″ Plywood or MDF @ 27 1/2″ x 14″ (Shelves)
C) 1 – 3/4″ Plywood or MDF @ 29″ x 14 1/2″ (Top)
D) 2 – 3/4″ Plywood or MDF @ 12″ x 14″ (Vertical Dividers)
E) 2 – 1×2 @ 13 3/8″ (Top Trim)
F) 1 – 1/4″ Plywood @ 29″ x 26 1/4″ (Back)
General Instructions
Please review all the information available in the other pieces in the Cubby Storage Collection before begining this project. There is much important information available on types of wood, working with MDF, edge banding, and more here. If you are building this plan, you most likely have scraps leftover from building the open cubby base and the drawer. I recommend using your scraps if possible to maximize savings. Therefore, I will not be posting a plywood cutting layout. I recommend getting some Graph Paper before begining to build any of these pieces and draw up a cutting layout for all the pieces you are building. My trick is to group boards of the same width (for example, 14″ or 21″) and place these boards in progression. Then have Home Depot rip your plywood into that width. This will also help you get your squarest possible cuts. Cut all your boards as instructed above. Depending on your type of wood, use 2″ nails or screws, unless otherwise directed. ALWAYS use glue! Before fastening any boards, mark with a metal square where your board will be placed. This will save you time and you will build better furniture. Make sure your board cuts are square. Use a metal square or check out the HOW-TO section for a video. Work on a clean level surface. If you are using screws, predrill and countersink your screws.
Instructions
Preparation Instructions
Fill nail holes with wood putty and let dry. Sand and finish as desired. VERY IMPORTANT – SECURE THE HUTCH TO THE BASE OR WALL! If you are going up two levels, the second level must be secured to the first level, and to the wall.