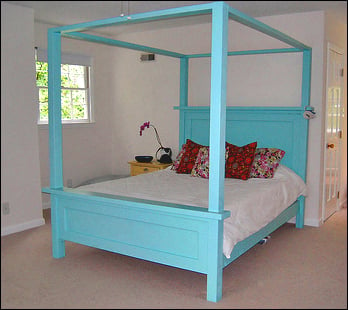 Dimensions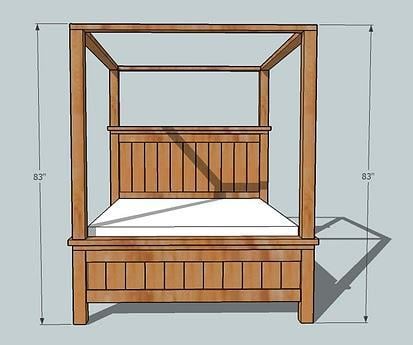 83" Tall, Width/Height depends on Bed Size
Preparation
Shopping List
2 – 4×4 Posts, 8′ Length 
4 – 2×4 Boards (stud or 8′ length) 
4 – Hanger Bolts, at least 5″ Long (see below) 
4 – Angle Brackets (see below) 
8 – 3″ wood screws Flat headed wood screws for the brackets, at least 1 1/2″ long 
wood glue 
Common Materials
120 grit sandpaper
primer
wood conditioner
paint
paint brush
Cut List
Measure your Headboard and Footboard heights.  Find the difference between the two heights (should be about 37-1/2")
Canopy Post, Headboard – 2 – 4×4 Posts @ 24″ 
Canopy Post, Footboard – 2 -4×4 Posts @ 24" + difference between height of headboard and footboard (should be about 57-1/2" cut)
Cutting Instructions
Post heights are shown to work with Farmhouse Beds from Ana-White.com. Canopy top boards need to be cut to the width of the bed/length of the bed. Please see instruction steps for more information.
General Instructions
Cut all your pieces, as described below. You will need 2 headboard posts, 2 footboard posts, 2 canopy sides and 2 canopy ends.
Instructions