This farmhouse bench is easy to build and is rustic and substantial.  It is designed to match our Farmhouse Table Plans.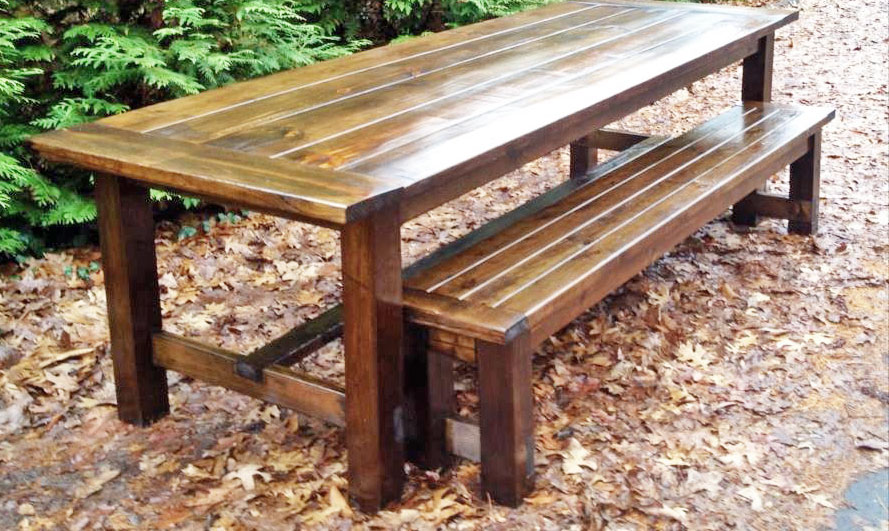 Dimensions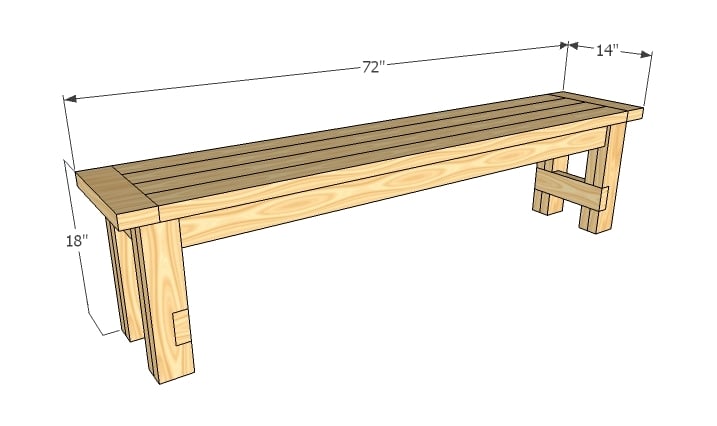 Dimensions are shown above
Preparation
Shopping List
4 – 2x4s, stud length or 8 foot length
2 – 1x4s, 8 foot length
1 – 1×2, 8 foot length
2 1/2″ screws
2″ screws 
Common Materials
120 grit sandpaper
primer
wood conditioner
paint
Cut List
8 – 2x4s @ 16 1/2″ (Legs)
2 – 1×4 @ 2 1/4″ (Spacers)
2 – 1×4 @ 6″ (End Aprons)
2 – 2×4 @ 12″ (Stretchers)
2 – 1×4 @ 61″ (Side Aprons)
2 – 1×4 @ 9 1/2″ (Inner Aprons)
5 – 1×2 @ 9 1/2″ (Supports)
4 – 2×4 @ 65″ (Bench Seat Boards)
2 – 1×4 @ 14″ (Breadboard Ends)
General Instructions
The Farmhouse Bench is designed to work with this Farmhouse Table, but there is no reason you could not modify the dimensions or use it as a coffee table or outdoor bench. If you plan to build the Farmhouse Table, starting with the bench will give you a chance to test out your skills on a smaller version. For those of you who have a pocket hole system, you can use the pocket holes to build your bench seat separate. You can also fasten your aprons directly to the legs without spacers.
Instructions
Step 1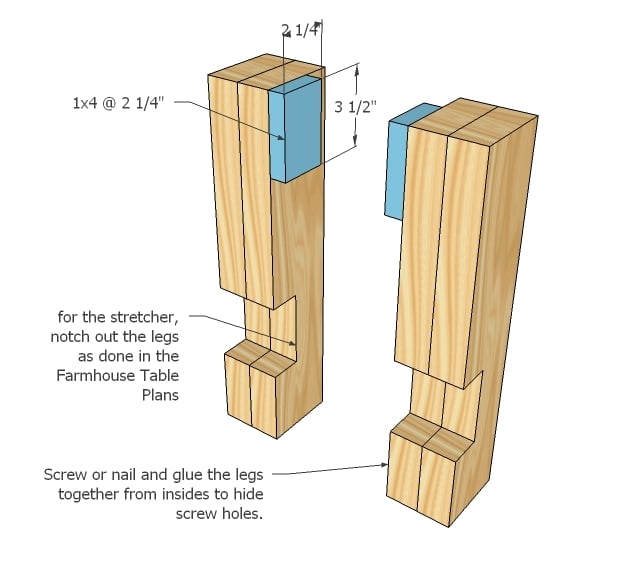 Legs The notches and stretchers on the legs is optional. Notch out your legs (for full instructions see the Farmhouse Table post) and laminate your legs together in pairs of 2 with glue and 2 1/2″ screws. Then take note of the placement of the spacers and attach to the insides of the legs. This will differ depending on the leg. Attach with 2″ screws and glue.
Step 4
Step 6
Step 7
Step 8
Finishing If you are staining, be very careful to not let glue dry on the project, as these areas will not take stain. Fill holes with wood filler, sand and paint or stain as desired.
We apologize if there was an error in this plan. Please help us out and report any errors here.