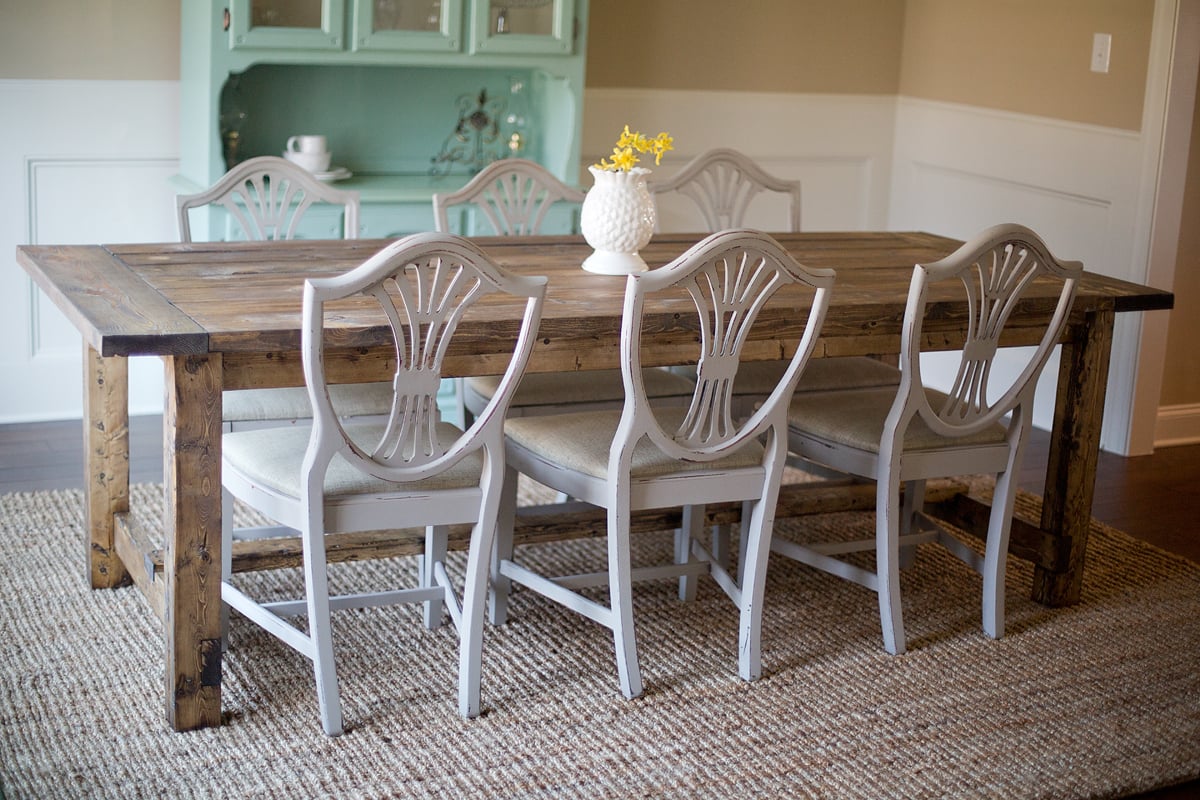 Do you want a farmhouse table, but don't want to spend thousands of dollars?  Have you thought about building your own?  Thousands of people have with minimal tools and woodworking experience using these very plans!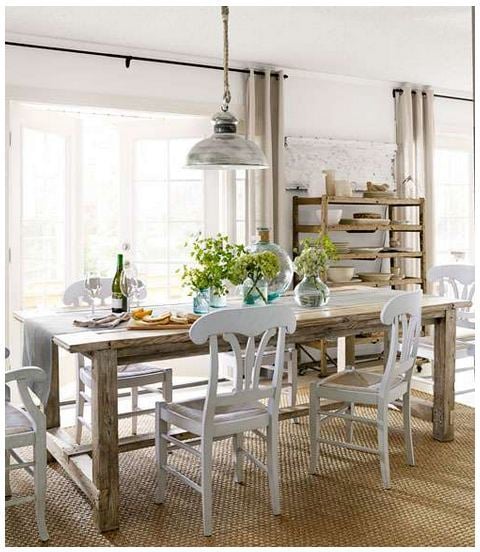 Dimensions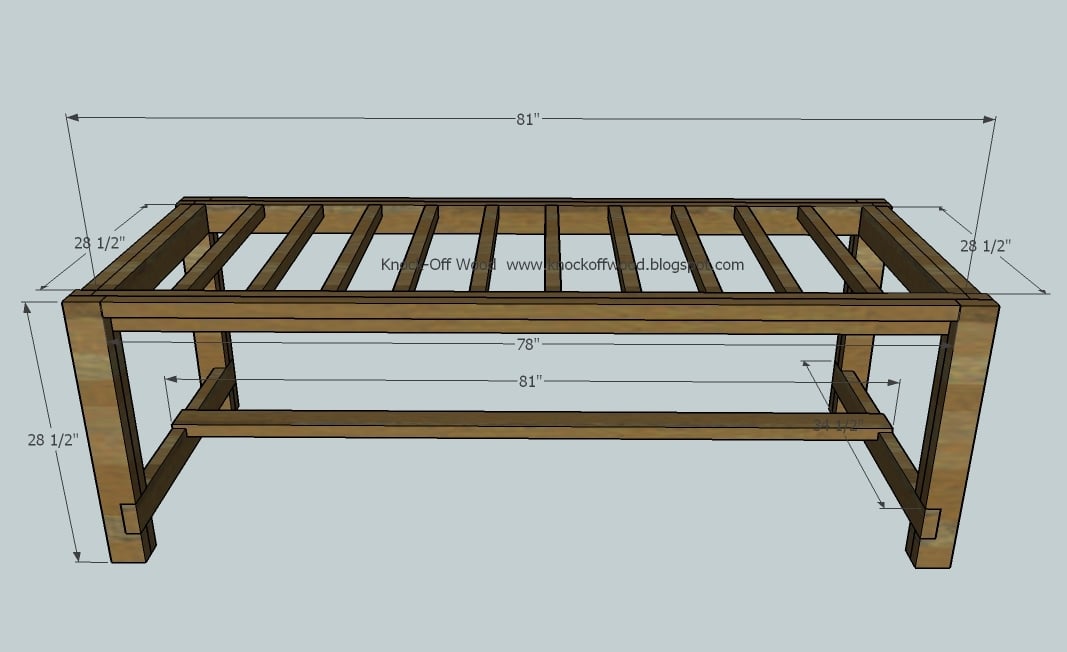 30″ High x 38 1/2″ Wide x 96″ Long
Preparation
Shopping List
8 – 2x4 8 feet long
6 – 2x2s  8 feet long
1 - 2×8  8 feet long
7 – 2x6s 8 feet long
2 3/4″ Self Tapping Wood Screws (About 100) (try spax brand or similar)
4″ Self tapping wood Screws (About 20)
Cut List
A) 4 - 2×4 @ 28 1/2″ (Outside Legs)
B) 4 – 2×4 @ 28 1/2″ (Inside Legs)
C) 2 -2×4 @ 34 1/2″ (Bottom End Supports for the Stretcher)
D) 1 – 2×4 @ 81″ (Stretcher)
E) 2 – 2×4 @ 81″ (Side Aprons)
F) 2 – 2×4 @ 28 1/2″ (End Aprons)
G) 2 – 2×2 @ 28 1/2″ (Overhang Supports, Ends)
H) 2 – 2×2 @ 78″ (Overhang Supports, Sides)
I) 10 – 2×2 @ 28 1/2″ (Under Tabletop Supports)
J) 2 – 2×8 @ 38 1/2″ (Breadboard Ends)
K) 7 – 2×6 @ 81″ (Tabletop Pieces)
Cutting Instructions
Start by cutting all your boards.  The best way to cut is with a compound miter saw.  You can also use a circular saw with a guide - good square cuts are very important.

General Instructions
Always use glue. Use the longest possible screws, and predrill with a countersink bit to hide the screw heads.
Instructions
Step 1
Step 2
Step 4
Step 6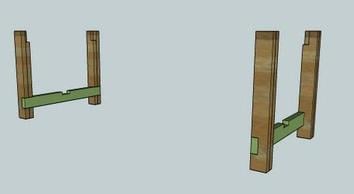 Screw the support, C, into the legs, as shown above. Make sure you use 2 screws on the inside leg and 2 screws on the outside legs per side of the end supports. NOTE: If you would like the support to be on the outside, rotate the legs, keeping the inside legs on the inside, and add 4″ to your stretcher, D. This will reduce your leg room for end chairs, but the notch out will be more visible, like my table and the Restoration Hardware table.
Step 8
Step 9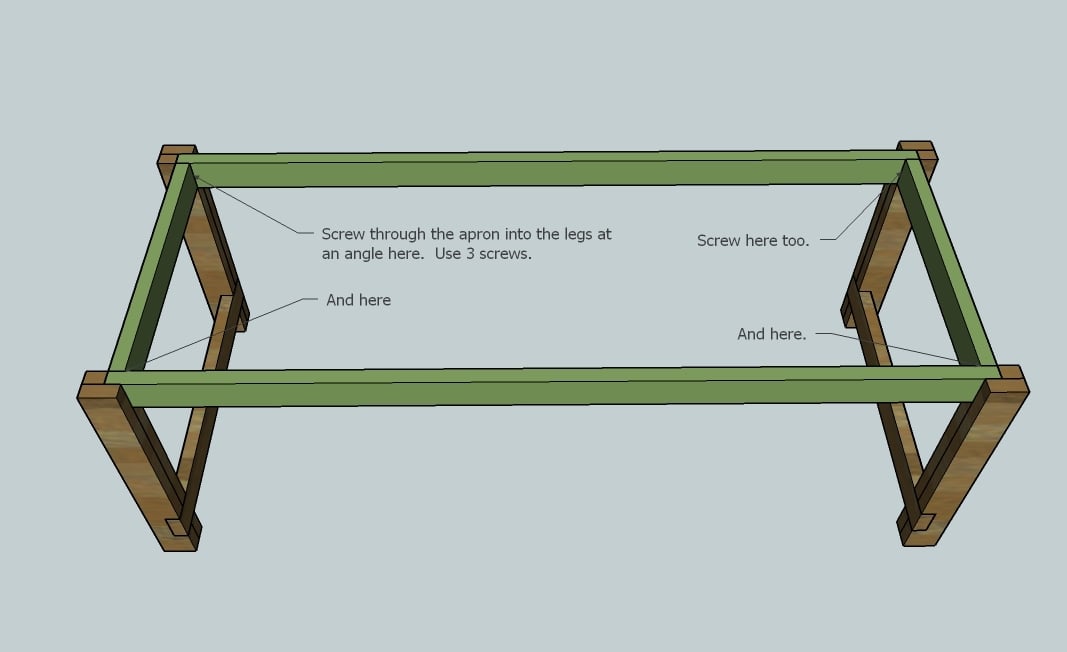 Fit the apron frame into the base of the table as shown above. Use the long screws to screw at an angle through the apron into the legs. Use 3 screws per leg on all legs. Lots of glue here. Now is a good time to check your table for square. Visit the HOW-TO section if you do not know how to check for square.
Step 10
Step 11
Step 13
Step 14
Step 15
Step 16
Add the next tabletop boards, K, as shown below. As you screw each board down, take special care to line up the edges with the existing boards. You do not want a gap between the boards on the tabletop. Remember to screw through the top on the ends and then screw through the bottom of the under supports to the underside of the tabletop boards.
After all the boards are screwed in place, then use the long screws to screw through the tabletop boards into the breadboard ends, as shown above.
Finish Used
Fill any wood screw holes with wood filler. Use stain matched wood filler for best stain hiding. For a painted finish, any wood filler works. Overfill the screw holes. Let dry.
Sand the entire table with 120 grit sandpaper, working in the direction of the wood grain.
Refill holes with wood filler if needed.
Sand table with 180 grit sandpaper.
Stain or paint. If the table feels rough between coats, lightly sand with 180 grit sandpaper.
A final coat of poly on the top can help keep the top easy to finish and wipe cleanable.