About Project
Simple hanging beds designed for outdoor . . . or indoor use. Sturdy and strong, made from 2x4s.
Photos from Marion at The Bumper Crop.
When the sun is shining and the birds are chirping, you'll probably find me digging or nailing or painting, and my family often jokes that they are going to duck tape me to the camp chair to get me to go camping.  But after designing this bed, I'm thinking relaxing in the sun sounds, well, quite relaxing!
HANGING BED
I love working with a twin sized mattress because they are easy to come by.  And you don't even need a special mattress, any mix matched sale mattress will do!  I would recommend using a waterproof mattress cover and then a twin sheet or daybed cover (or you can sew your own) as your bedding if your bed is not covered.
CLASSIC STYLING
I loved the style of the sold out Pottery Barn Chesapeake Hanging Lounger, looking a little more refined than a simple 2x4 structure (which of course you could just build a hanging 2x4 structure).  I also used a slatted design under the mattress so that if the bed did get wet, you don't have water pooling under the mattress and rotting plywood.  That is the one problem I did have with this design from Lowes, the plywood bottom doesn't let the mattress breathe.  But I highly recommend you reading this article from Lowes because there are lots of tips on hanging the daybed and it's always good to read more than one source!
I could nap on this, gently swaying in the breeze!  I also love this as a simple platform bed.  You could even add some legs to make a beautiful bed frame. 
Fits standard sized twin mattress.
Preparation
Shopping List
8 Eyebolts (4 for the bed and 4 for the ceiling)
Approximately 24′ of chain (for a standard 8′ ceiling)
3 – 2×6 boards (8′ or stud length)
2 - 2×4 boards (8′ or stud length)
12 – 1×2 Furring Strips, 8′ Length
6 – 1×3 Furring Strips, 8′ Length
2 1/2″ Screws*
1 1/4″ Nails*
Wood Glue
Finishing Supplies
Twin Mattress
*Choose exterior fasteners for exterior applications
Common Materials
120 grit sandpaper
primer
wood conditioner
paint
paint brush
Cut List
2 – 2×6 @ 76 1/2″ (Support Frame Sides)
2 – 2×6 @ 37 1/2″ (Support Frame Ends)
2 – 2×4 @ 73 1/2″ (Cleat Supports)
12 – 1×3@ 37 1/2″ (Slats)
8 – 1×2 @ 40 1/2″ (End Trim)
8 – 1×2 @ 78″ (Side Trim)
General Instructions
On this one, the easy part is going to be building it, and the tough part is going to be hanging it! But you would have to hang it even if you bought it for $1200. Make sure you work on a clean level surface and be safe. Predrill and countersink your screw holes. Check for square after each step. And use glue on any joints that you know are going to be permanent. Have fun!
Instructions
Step 1
SUPPORT FRAME
Use 2 1/2″ screws and glue to build your support frame. I would use 3 screws per corner. Check for square.
Step 2
CLEATS FOR SLATS
Attach your cleats 3/4″ from the top edge of the 2x6s with the 2 1/2″ screws and glue. By doubling up the 2×6 and the 2×4, we've created a super strong support system for the slats. Also use 2 1/2″ screws from the outside of the frame support ends into the end edges of the cleats.
Step 3
END TRIM
The frame is plenty strong enough without this step, but for just a couple of dollars, you can dress up the outsides of your lounger bed. You can use nails and glue to fasten in place as nails are easier to hide. You can also use a more expensive wood here (and keep the stud grade frame) to make the lounger bed even more refined looking. Bottom and end edges are flush, top will create a lip for you bed to keep it from sliding off the platform.
Step 4
SIDE TRIM
Add your side trim just like you did your end trim.
Step 5
Step 6
HANGING
Predrill and install the eye bolts in the corners as shown above. It is very important that the eye bolts are attached to the longer 2×6, as the weight of the bed will be transferred from the slats to to the cleats to the side 2x6s and then to the eye bolts.
Step 7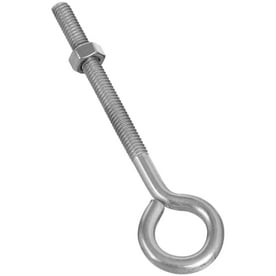 I like this eye bolt from Lowes.
Rest the bed on sawhorses or a table under where you want to hang it. You will also need to purchase eye bolts and attach the eye bolts to rafters in the ceiling and hang the bed with a chain. from all four corners. The type of bolt you should use will vary depending on your rafters.