Little crates made from scraps hung on the wall to create a little extra storage in tight bathroom spaces.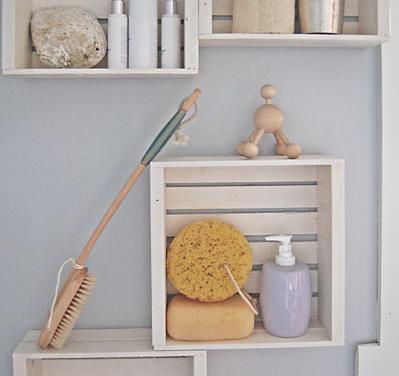 Yesterday was supposed to be a day off, but somehow, it ended up being such a productive one.
6AM: Heard the coffee grinder.  Can't resist fresh coffee
7AM: Submit interview to Blogher
8AM: Reply to emails and finish book proposal sample chapter
9AM: Grace gets up, Green Eggs and Ham (Scrambled Eggs with Spinach and Moose Hotlinks)
10AM: Building a Chair
11AM: Building a Chair
12AM: Emails and had to design something that I spotted in a magazine
1PM: Chair is done!
2PM: Errands in town
3PM: Clean the house before the Ram gets home
4PM: Dinner
5PM: Go help my mom
6PM: Help my mom
7PM: Close shop up for my mom
8PM: Make cookies with Grace and the Ram
9PM: Back in the garage working on projects
10PM: I'm writing my post
11PM: Hopefully I'll be in bed.
And that was my day off  :)
Oh, and I squeezed these little crates in somewhere
These are so easy to make.  I used up my bundle of lath and some scrap 1x4s to make these for pretty much free.
Dimensions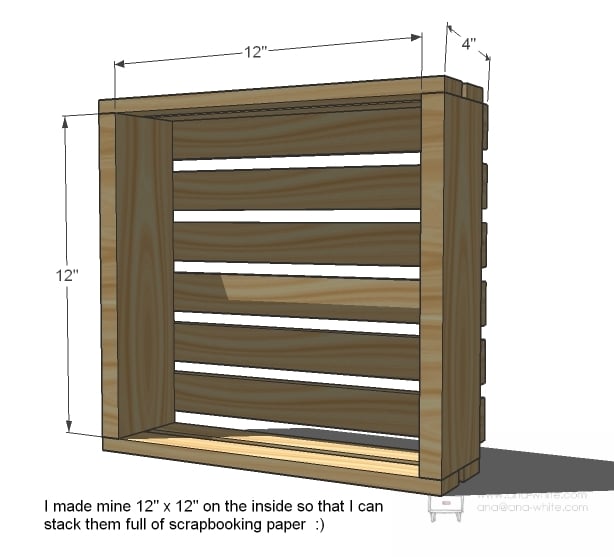 I choose to make my crates 12″ x 12″ on the inside so that I can stack them full of scrapbooking paper if I want to.
Preparation
Shopping List
1×4 scraps, 2 at least 12″ long
3 – 48″ long lath sticks
1 1/4 nails
wood glue
Cut List
2 – 1×4 @ 12″
10 – wood laths @ 13 1/2″