A toddler bed with canopy option for little ones. Special thanks to Barbara for sharing her photos.
Oh, it was so so so difficult to restrain myself from building this one.
This is pure torture.  Give me a second to reason with myself.
1.  Grace is outgrowing a toddler mattress
2.  Grace needs storage, not fancy.
3.  You have too many projects already going on.
This is STILL torture.
For those of you who have less space or a child that perhaps wants something a little more on the handsome side, don't despair.  This bed can be easily modified for any prince.  Check out what Restoration Hardware Baby & Child does with a fancy sleigh bed here. Just cut the legs at 22 1/2" and make the headboard symmetrical to the footboard.
Dimensions are shown above.  Make sure you measure your mattress (designed for a 28" x 52" crib mattress) and also, be aware of the height of the canopy.  You can make yours taller if you would like.
Dimensions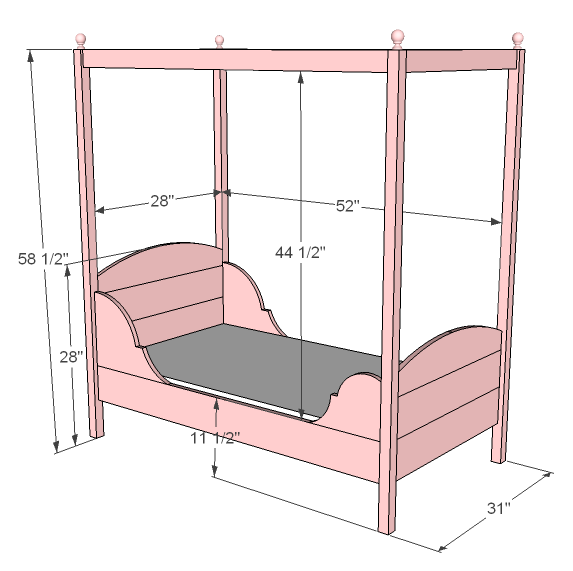 Dimensions are shown above. Make sure you measure your mattress (designed for a 28″ x 52″ crib mattress) and also, be aware of the height of the canopy. You can make yours taller if you would like.
Preparation
Shopping List
4 – 1×6 @ 8 feet long
1 – 1×12 @ 4 feet long
6 – 2×2 @ 8 feet long
2 – 1×3 @ 8 feet long
More 1x3s (4) or 1/2″ plywood for the mattress supports
1 1/4″ pocket hole screws
Cut List
7 – 1×6 @ 28″ (Headboard and Footboard Planks)
4 – 2×2 @ 58 1/2″ (Legs)
2 – 1×3 @ 28″ (Canopy Top/Bottom)
2 – 1×6 @ 52″ (Siderails)
2 – 1×3 @ 52″ (Canopy Sides)
2 – 2×2 @ 52″ (Cleats)
2 – 1×12 @ 15″ (Decorative Side, Top)
2 – 1×12 @ 8 1/2″ (Decorative Side, Bottom)
12 – 1×3 @ 28″ OR 1/2″ plywood 28″ x 52″ (Mattress Bottom)
General Instructions
It is highly recommended for this bed that you use a Kreg Jig™ to predrill all holes. This will make the bed stronger and easier to build, and keep your decorative sides in place. Mark and drill all pocket holes before beginning to build. Be safe, work smart, and have fun.
Instructions
Step 1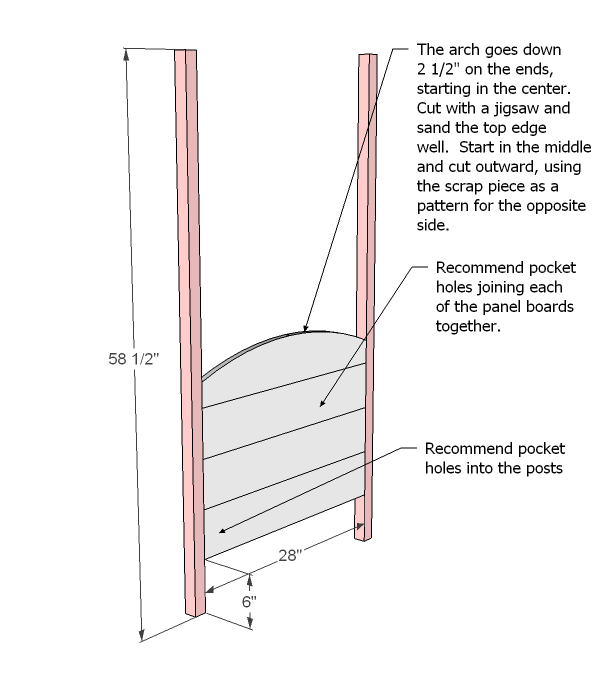 Headboard
Begin by attaching all the headboard boards together as shown above with pocket hole screws and glue. Make sure you rotate the grain of the wood (bark side out, bark side in and so on) so that the panel won't warp in one direction over time as you attach the planks. Cut the arch out of the top board. Then attach the planks to two of the legs as shown above.
Step 2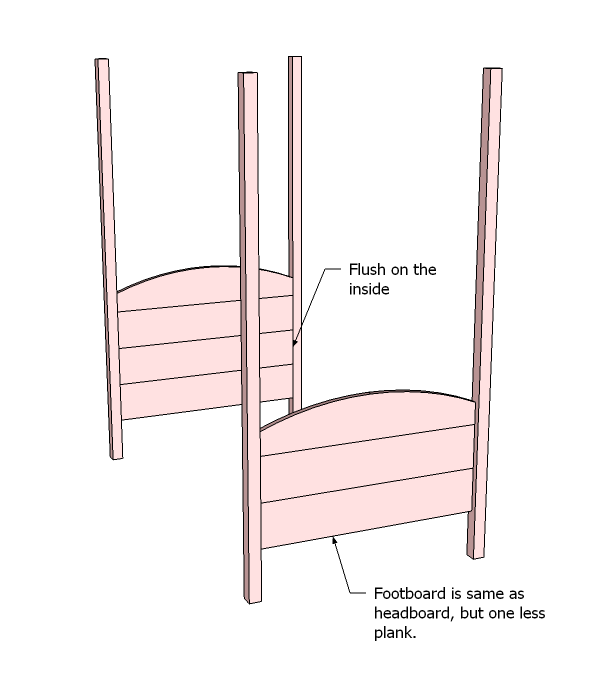 Footboard
Build the footboard as you did the footboard, but use one less plank.
Step 3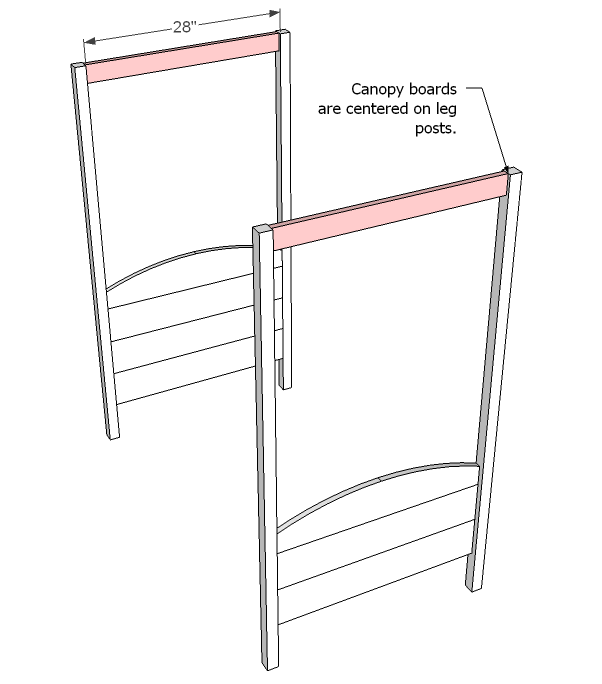 Canopy
Add the canopy tops with pocket holes and glue.
Step 4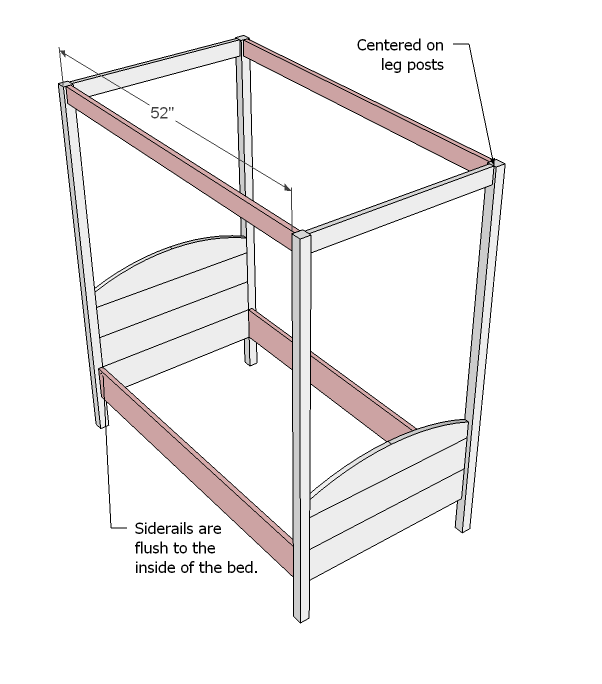 Joining Headboard/Footboard
You may wish to do this inside your room as the size of the bed is getting quite large at this stage. Pocket holes will do the trick, but you could also opt for metal brackets.
Step 5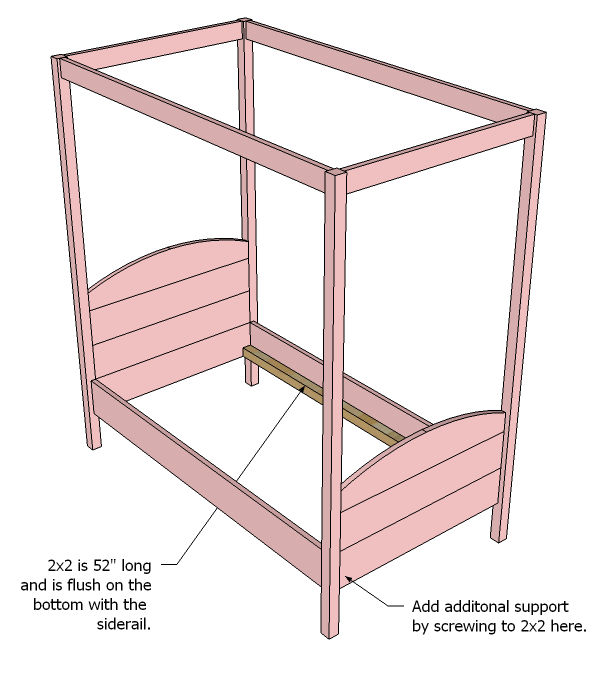 Step 6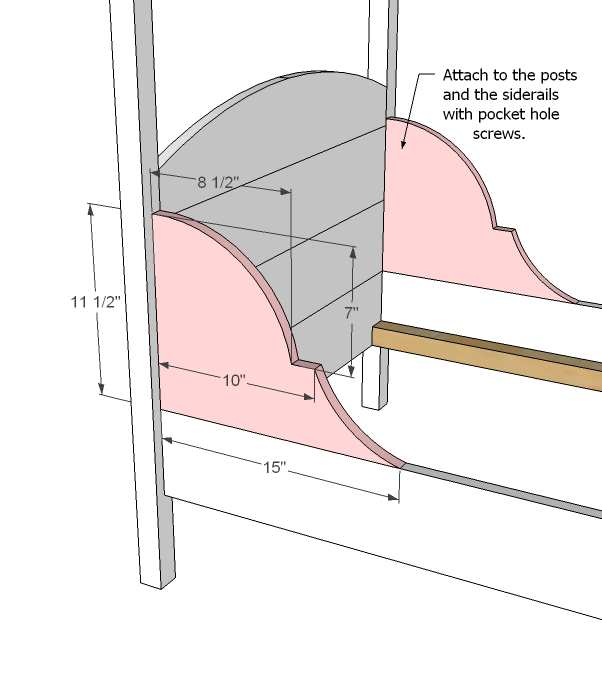 Top Side
Now take the longer 1×12 pieces and mark out a pattern as shown above, using the measurements in the diagram to guide you. Carefully cut out with the jigsaw. Once one is cut, use it as a pattern for the other. Sand your cut well. Attach the side to the headboard and siderail with pocket hole screws. Avoid glue on the headboard joint so that you can disassemble the bed if needed.
Step 7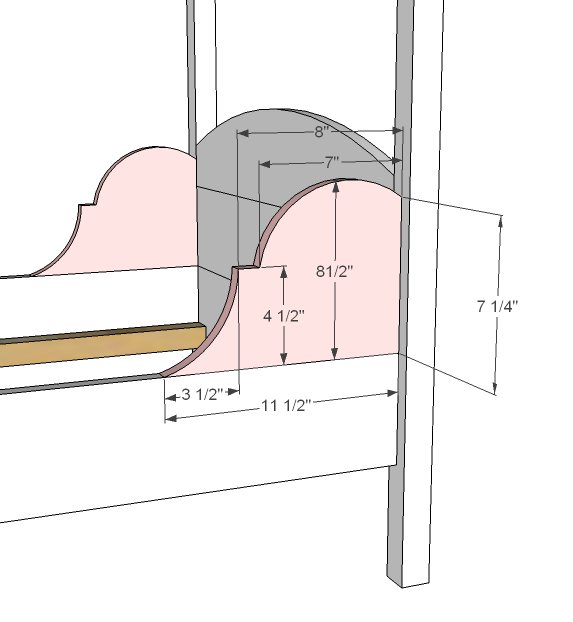 Bottom Sides
Same thing on the bottom as the top. Use the shorter 1x12s and measure and cut out. Sand well and attach to the siderails and the legs.
Step 8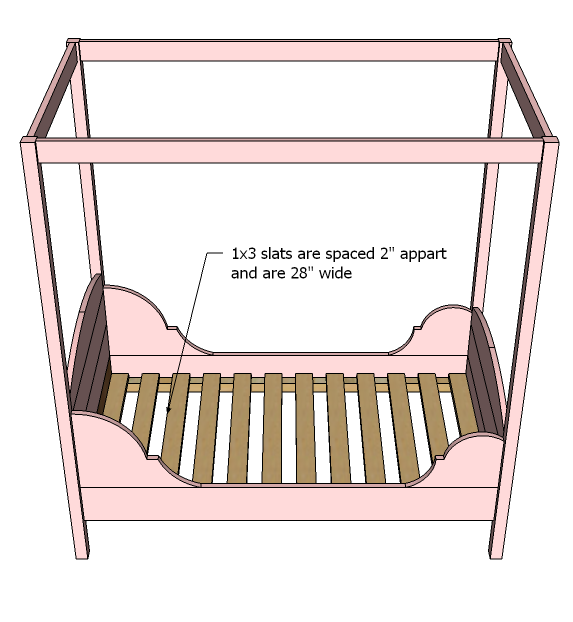 Slats
I'm so torn on this one. My daughter loves to jump, and the crib mattresses are so flimsy. But a full sheet of plywood instead of slats doesn't give much air movement for accidents. Do what works for your child and your mattress. You could use 1×3 slats as shown above or 1/2″ plywood over the cleats (use scrap 2x2s to build joists – you will have enough 2x2s in scraps for this).
Step 9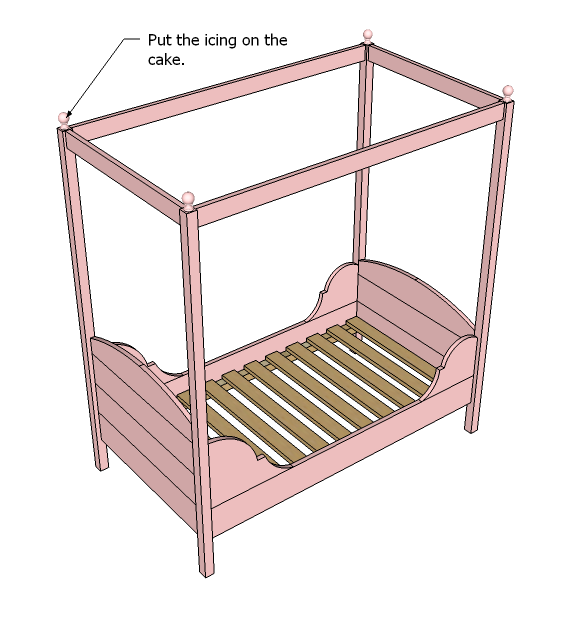 Icing
Doesn't need it, but would be cute! Look in the curtain aisle or the craft wood section for unfinished wood finials. They should be relatively cheap, and need to be less than 1 1/2″ diameter at the base.