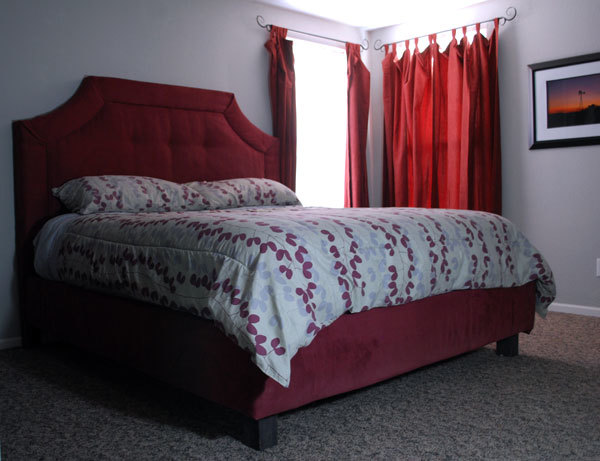 About Project
An upholstered bed that requires no sewing!
Meet my sister Lydia.
This is a sad, sad post for me.
Lydia moved away from Alaska a couple of years ago.
Over the years, Lydia and I have worked on so many projects together.  Most recently, when Lydia was visiting, we built the storage sofa together. Have you ever worked with someone who knows exactly what you are thinking?  Who is working on the next step without even having to discuss it?  That's my sister Lyds.  She's always a step ahead of me.
Or a few steps ahead of me.
This is Lydia's king size upholstered bed that she made in about 8 hours for a little over $100.  And the best part?  You too can make this upholstered bed with these plans without even having to sew!  That's right, no sewing required!
Lydia is sharing her plans with us today.
Dimensions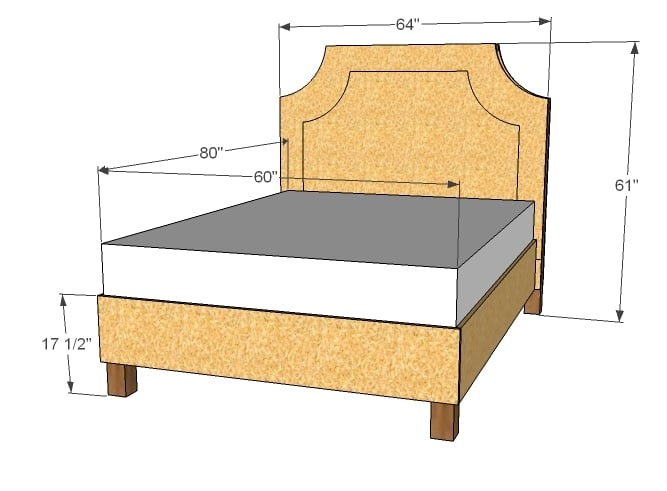 Dimensions shown for queen size bed.
Preparation
Shopping List
2 Sheets cheapo plywood, 1/2 – OSB is what Lyds used
2 – 1×12 @ 6 feet long
2 – 1×12 @ 6 feet long (instead of the 1x12s, you could purchase a third sheet of OSB and have it ripped into 11 1/2″ wide strips)
2 – 8′ 4×4 posts
1 – 1×4 @ 3 feet long
9 – 2×4 @ 8 feet or stud length (whatever is cheaper)
Approximately 6 yards of fabric, jute and batting (patterns NOT recommended)
1″ screws
2 1/2″ screws
3 1/2″ screws
staples
Cut List
2 – 1/2″ plywood or OSB @ 48″ wide x 64″ long (Headboard Panels)
3 – 2×4 @ 57″ (Headboard Joists)
2 – 4×4 @ 49″ (Headboard Legs)
1 – 2×4 @ 40″ (Headboard Top Joist)
2 – 2×4 @ 10 1/2″ (Headboard Top Spacers)
1 – 1×4 @ 28″ (Panel Cleat)
2 – 2×4 @ 60″ (Bed Frame Top/Bottom)
4 – 2×4 @ 77″ (Bed Frame Joists)
2 – 4×4 @ 13″ (Bottom Legs)
2 – 1×12 @ 80″ (Siderails)
1 – 1×12 @ 61 1/2″ (Footrail)
1×3 wood slats @ 60″ or plywood @ 60″ x 80″ or boxspring
Instructions
Step 1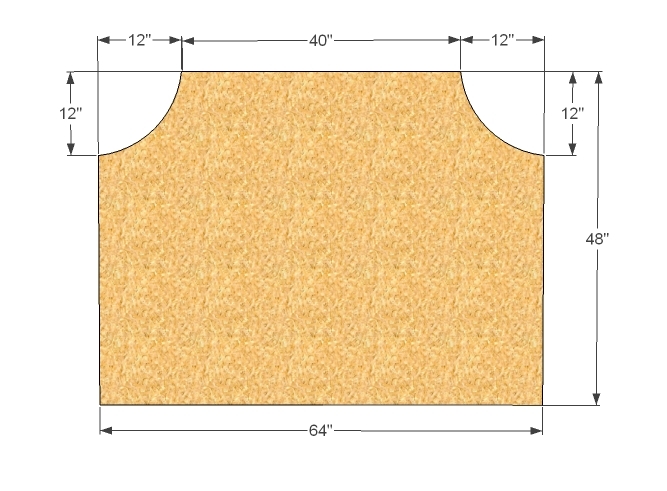 Cut Panels
From the OSB/Plywood pieces, cut two identical panels as shown above, or as desired for your headboard. TIP: Use the first corner piece that you cut off as a pattern for the other side and for step 2 (below). You will need to use a jigsaw for angled cuts.
Step 2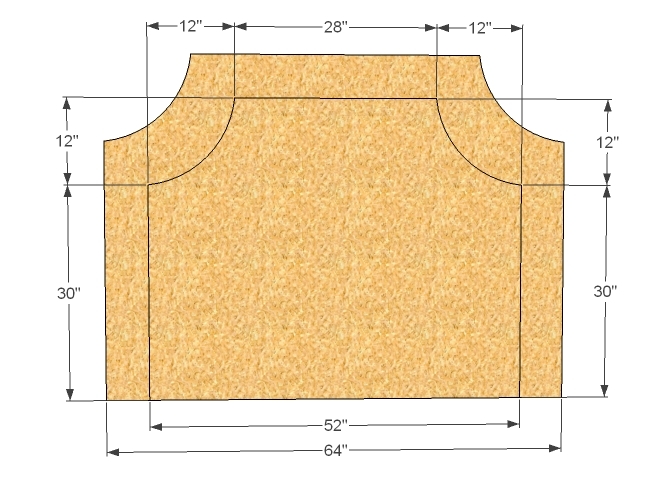 Front Panel
From one of the plywood or OSB panels, mark the center as shown above. Use the pattern from step 1 to mark the sides. Carefully cut out with a jigsaw. You will need to use both pieces, so only cut on the line shown above.
Step 3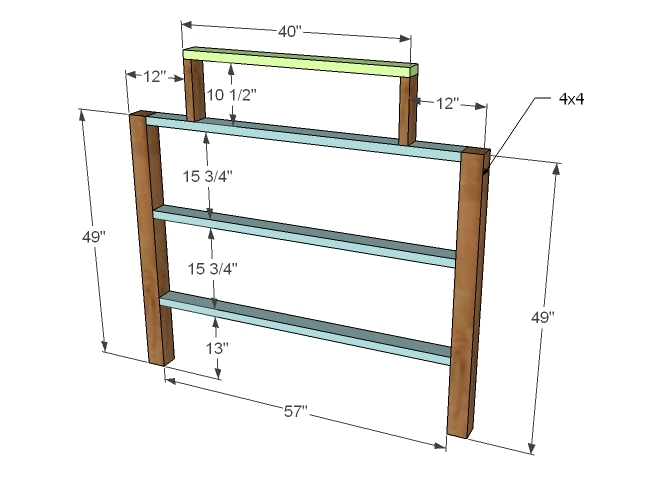 Headboard Frame
Build the headboard frame as shown above. You will need to predrill holes in the 4×4 posts 1/2 way through with a bit sized to the heads of your screws. Then predrill the remaining distance with a bit sized to the shaft of your screws. Use wood glue and 3 1/2″ screws for the 4×4 posts. If you have a Kreg Jig™, you can of course just attach the 2x4s to the inside of the 4x4s. Also, for those of you having trouble locating 4x4s – what you can do is build as shown above, but instead of a 4×4, screw a 2×4 to the joists (blue boards). Then add a second 2×4 to the outside of the first 2×4. This will change your leg dimensions slightly, so you will need to increase the length of your joists (blue boards) by 1″.
Step 4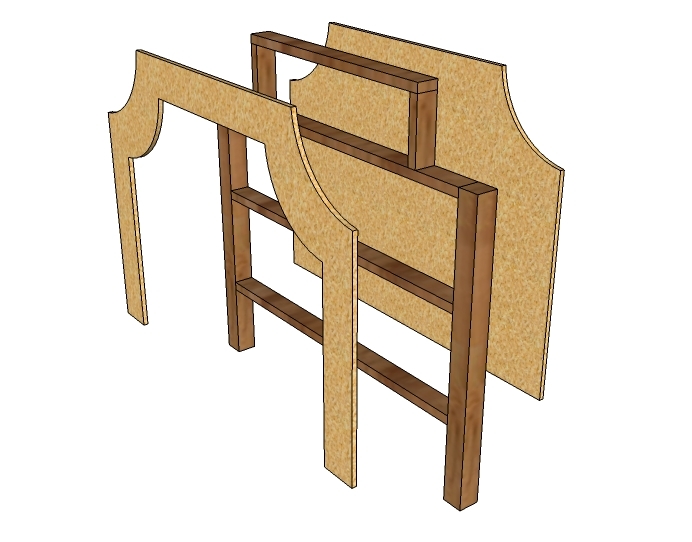 Plywood
After building the frame, attach the plywood pieces as shown above to the frame. Use 2″ screws and glue.
Step 5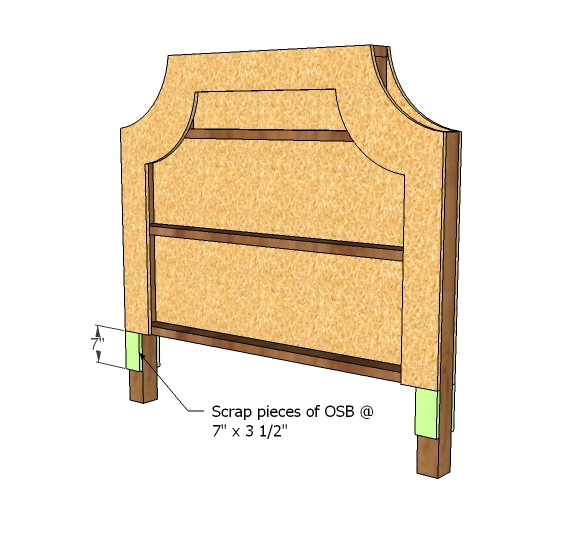 Step 6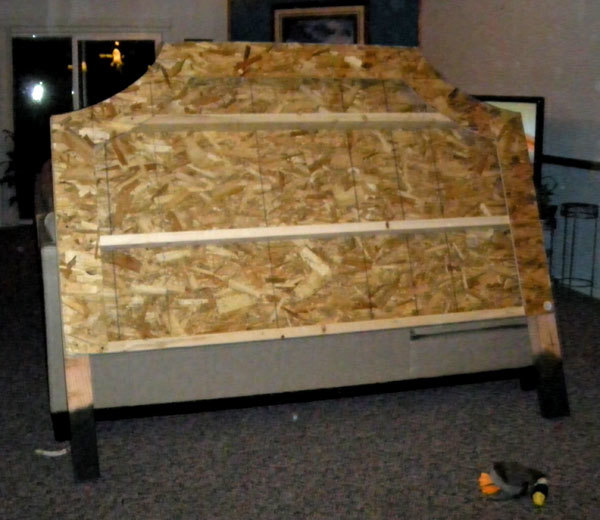 Here is Lydia's bed at this stage. You also might want to paint or stain your legs at this point.
Step 7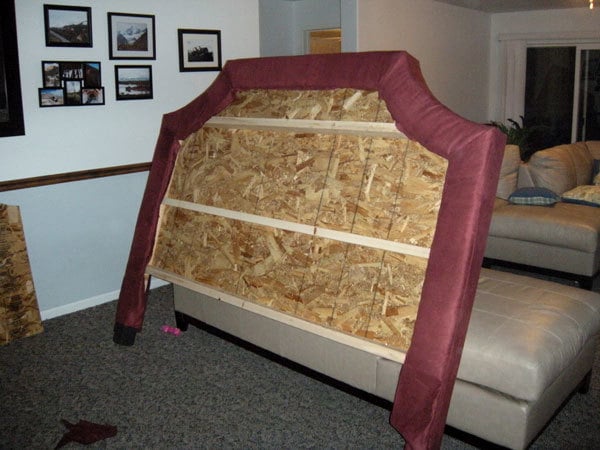 Upholstering Outside of Headboard Frame
Cut a piece of batting, a piece of burlap, and a piece of fabric 5 yards long by approximately 20″ wide (save the scraps for the siderails). The headboard shown above is the front side of the headboard. Staple the burlap snugly over the outside of the headboard, followed by batting, and then followed by the fabric. Take your time at corners, neatly folding the fabric around the corners for a tailored look. Staple to the inside and to the back of the headboard. Trim excess fabric. Make sure you upholster to the bottom of the plywood spacers on the legs.
Step 8
Center Panel
Start by covering the center panel in burlap, batting (I like to spray glue the batting on) and fabric. Staple to the back side. Then on the back side, attach a 1×4 cleat to the top as shown above. The cleat should overhang 1/2 way on the top (approximately 2″). Use 1″ screws from the back of the cleat so no screws show in your fabric. If you wish to add buttons, drill holes in the center panel as desired and thread a button through, tying the thread off to a staple in the back of the headboard.
Step 9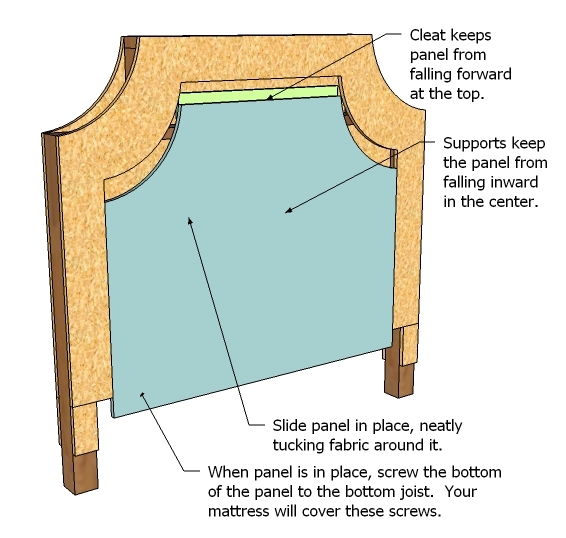 Inset Panel
Insert slide the upholstered panel into the upholstered headboard as shown above. Screw the bottom of the panel to the bottom joist in the headboard as shown above.
Step 10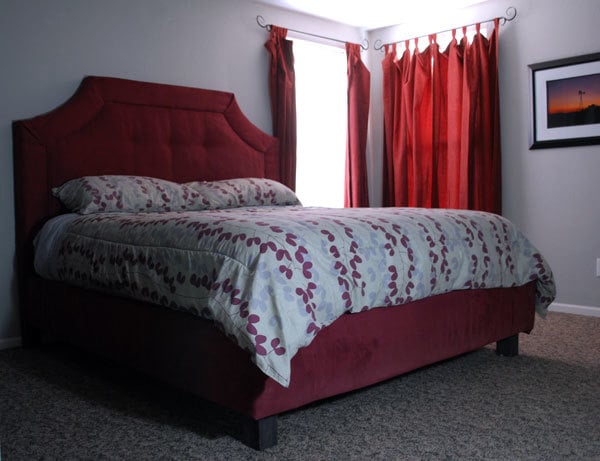 Your headboard should look like the above bed. Now it's time for the sideboards and footboard.
Step 11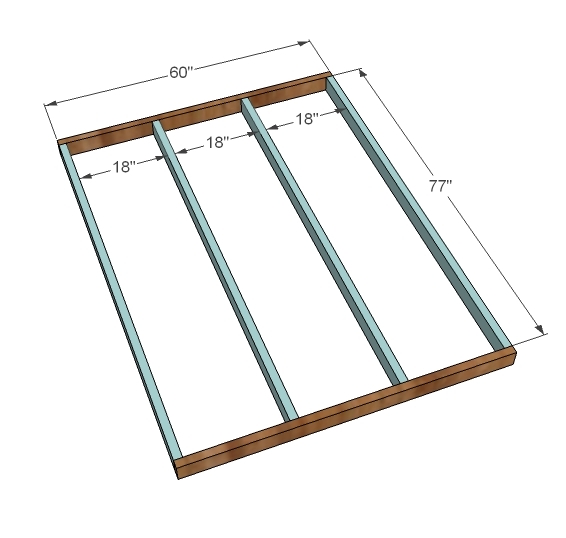 Bed Frame
Lydia often remarks that it's not just the bed that she would have had to buy, but also a box spring. And Lydia's entire bed costs about as much as a box spring alone would have been. Or a bed skirt. This bed does not require a box spring, but if you already have one, no worries. The box spring will just sit on top of the frame.
Step 12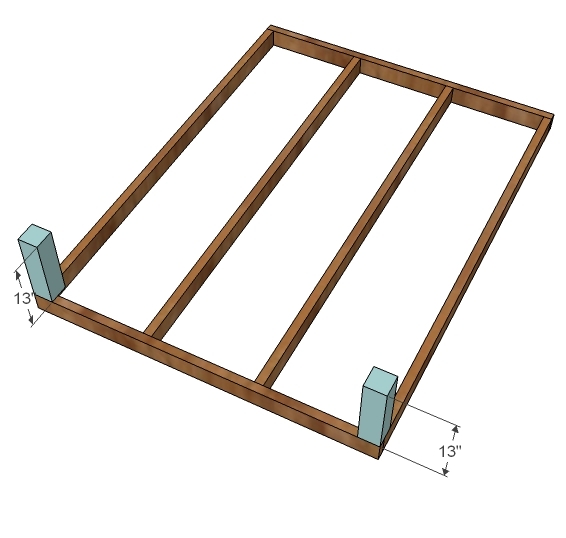 Bottom Legs
You will need to attach the bottom 4×4 legs to the bed frame. If you have a Kreg Jig, go that route. Otherwise toenail a few 3 1/2″ screws in (screwing at an angle from the leg into the frame) or use brackets like in this post.
Step 13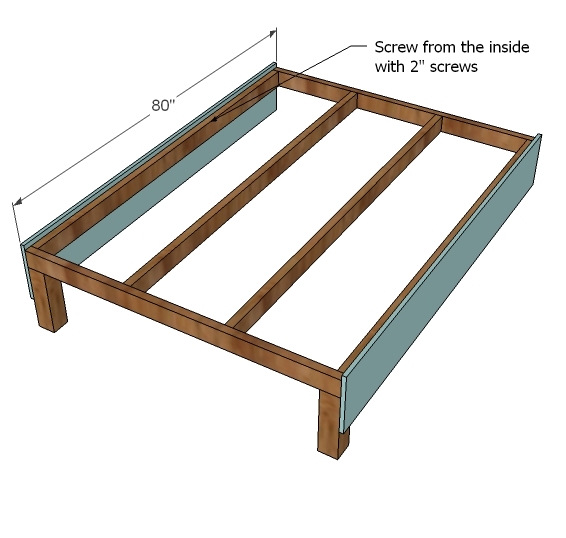 Sideboards
Wrap the sideboards in burlap, followed by batting and fabric and neatly staple to the inside of the sideboards. Then screw to the frame as shown above.
Step 14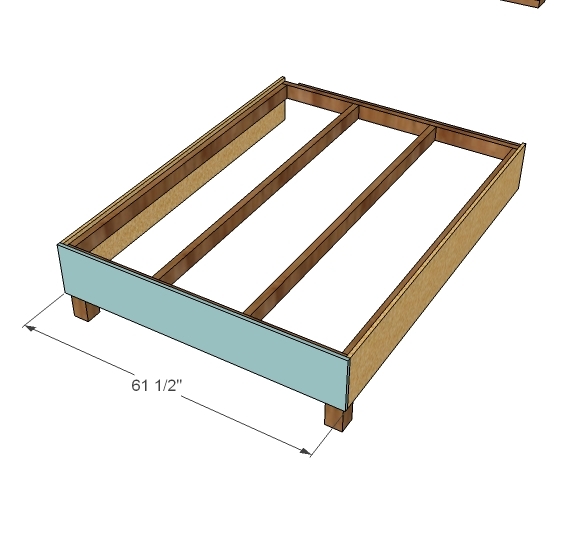 Footboard
Just as you did the siderails, wrap the footboard in burlap, batting and fabric, neatly stapling to the inside. Screw the frame to the end board.
Step 15
Assembly
The bed can be transported into the desired room in two pieces. To assemble, screw from the frame into the headboard as shown above.
Step 16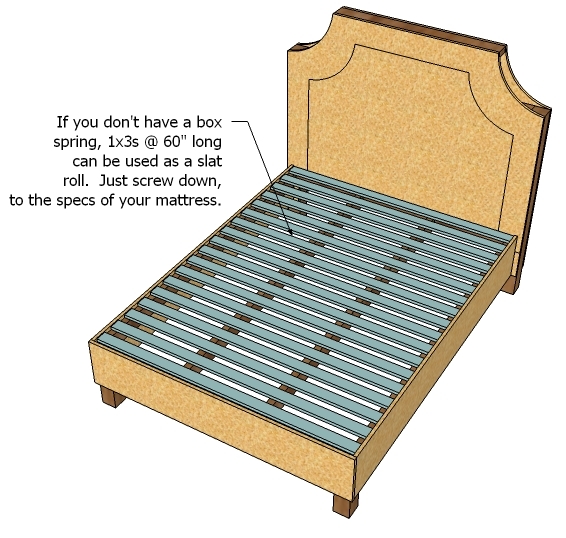 Slats
If you live in a humid environment, air circulation is important, so use slats as shown above or a box spring to support your mattress. You can also use plywood, but this is not recommended, as mildew can build up under your mattress. Make sure you screw the slats down.