Our preschool picnic table is one of the most popular plans. Due to the simple design, easy building instructions, and perfect sizing for preschoolers, thousands of these tables have been built! We love this table as a gift too!
We also have a bigger kids picnic table plan, and an adult sized one too!  Photo by Tinsel + Wheat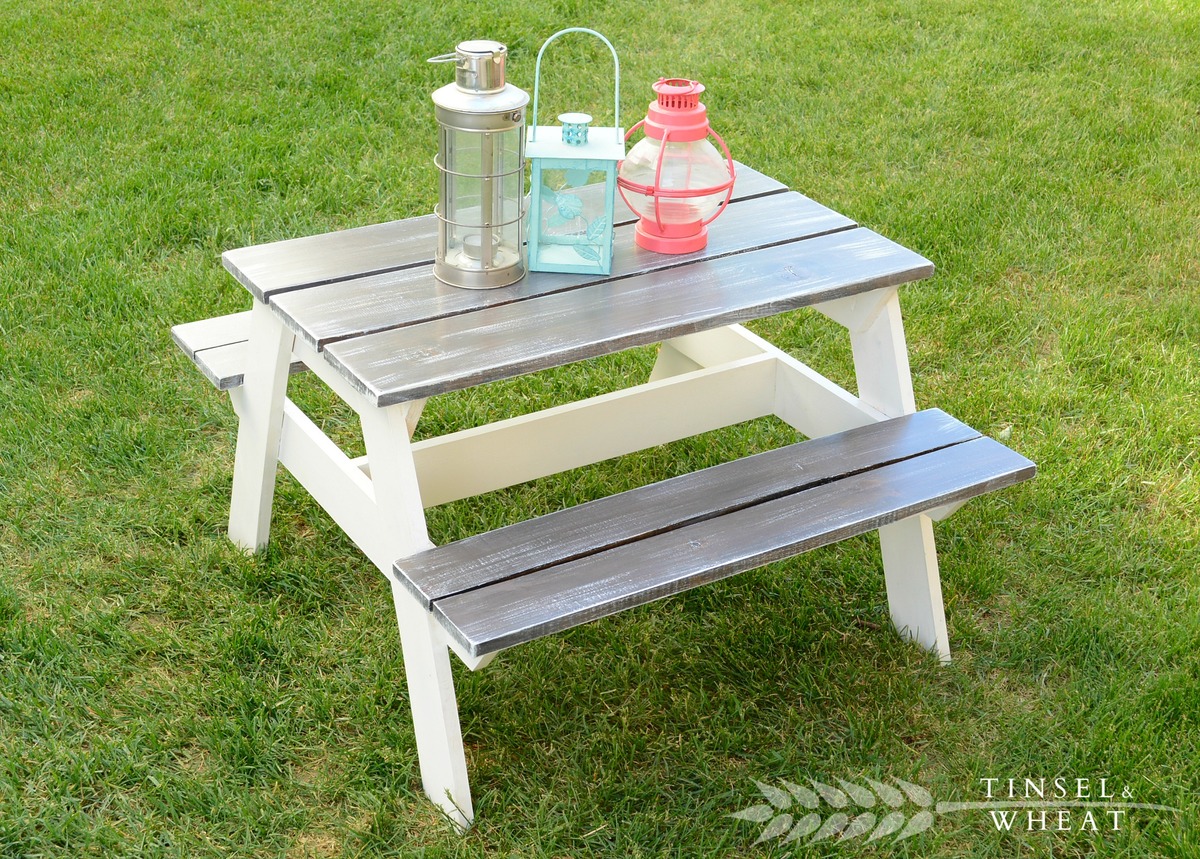 Dimensions
Overall Dimensions and Composition are shown above.
Preparation
Shopping List
1 – 1×6, 8′ Long (About $5.00 Each) 
4- 1×3, 8′ Long (About $1.50 Each) 
2″ Screws 
1 1/4″ Screws 
Glue 
Wood Filler 
Sandpaper 
Finishing Supplies
Common Materials
1-1/4" Pocket Hole Screws
primer
wood conditioner
paint
paint brush
Cut List
3 – 1×6 @ 31″ (Tabletop Pieces) 
2 – 1×3 @ 17 1/2″ (Longest Measurement, Ends cut at an angle back to 15 1/4″) 
2 – 1×3 @ 25 1/2″ (Center Supports) 
4 – 1×3 @ 22 7/16″ (Longest Measurement, Legs, ends cut at an angle) 
2 – 1×3 @ 33″ (Longest Measurement, Ends cut back at an angle to 30 1/2″) 
4 – 1×3 @ 31″ (Seat Boards)
General Instructions
General Instructions. Work on a clean level surface and use proper safety precautions. Check for square after each step. Predrill and countersink all screws.
Instructions
Step 1
Tabletop and Supports. Begin by cutting the support board ends off at an angle as shown above. Then fasten the top boards to the supports using 2″ screws and glue.
Step 2
Top Support. Attach the top support, centered on the end supports and the center tabletop board, as shown above. Use 2″ screws and glue. It is very important that you have checked for square before fastening.
Step 3
Legs. Cut your legs from 1×3 boards with a starting overall length of 22 7/16″. Use the above diagram to guide you.
Step 4
Legs to the Top. Fasten the legs to the top of the table, as shown above. Notice how the tip of the leg comes even with the outer tabletop boards? And the side of the leg meets up with the end of the support? Use 1 1/4″ Screws and glue to fasten in place. Notice the marks on the legs with a measurement of 12 3/4″? Make these marks on the legs, this is where the tops of the step 5 boards will be placed.
Step 5
Step 6
Bottom Support. As you did in step 2, fasten the remaining support board in place, using 2″ screws and glue. It is a good idea at this step to square up your project by taking a square of the bottoms of the legs.
Step 7
Seat Boards. Mark the seat boards 2″ from the ends. Position the outer seat board flush with the ends of the seat supports and fasten in place with 2″ screws and glue. Leave a 1/2″ gap and fasten the next seat board in place in the same manner.
Step 8
Finishing. Fill screw holes with wood filler, sand and finish as desired.
We apologize if there was an error in this plan. Please help us out and report any errors here.