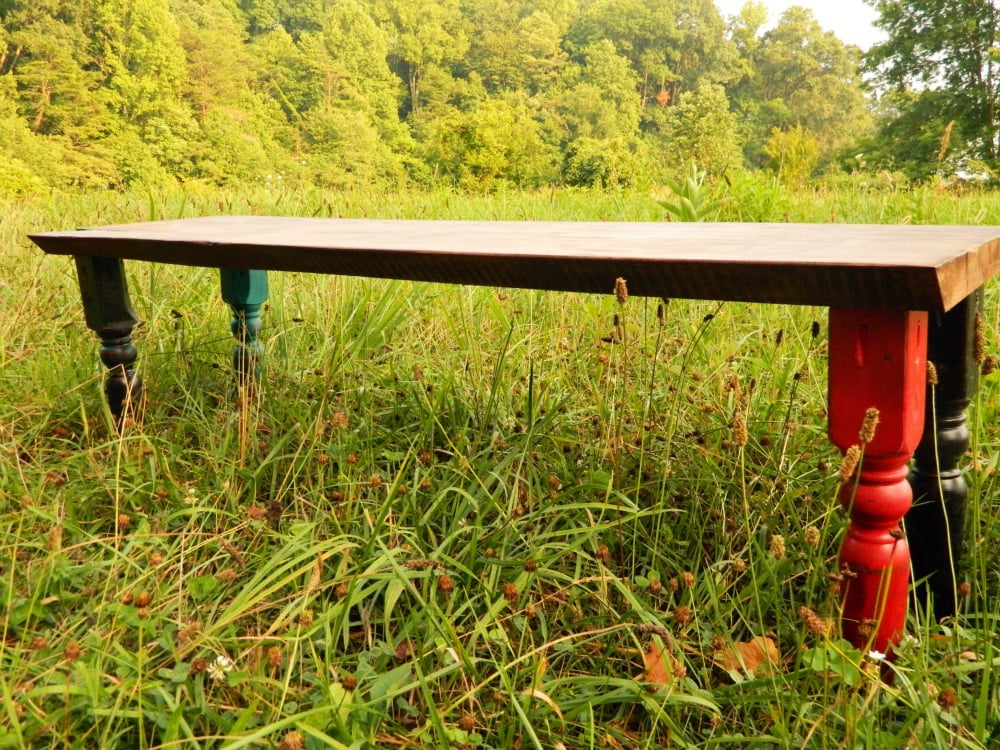 I recently lengthened the legs to an art table for my daughter. I decided to reuse the original legs in another capacity. While my wife was on pinterest she came across a large solid piece of wood with spindle legs attached to it to make a bench. I had recently picked up some large pieces of wood from the burn pile at a nearby sawmill. I cut one of the pieces in half after bringing it home and here is how to easily make a unique bench.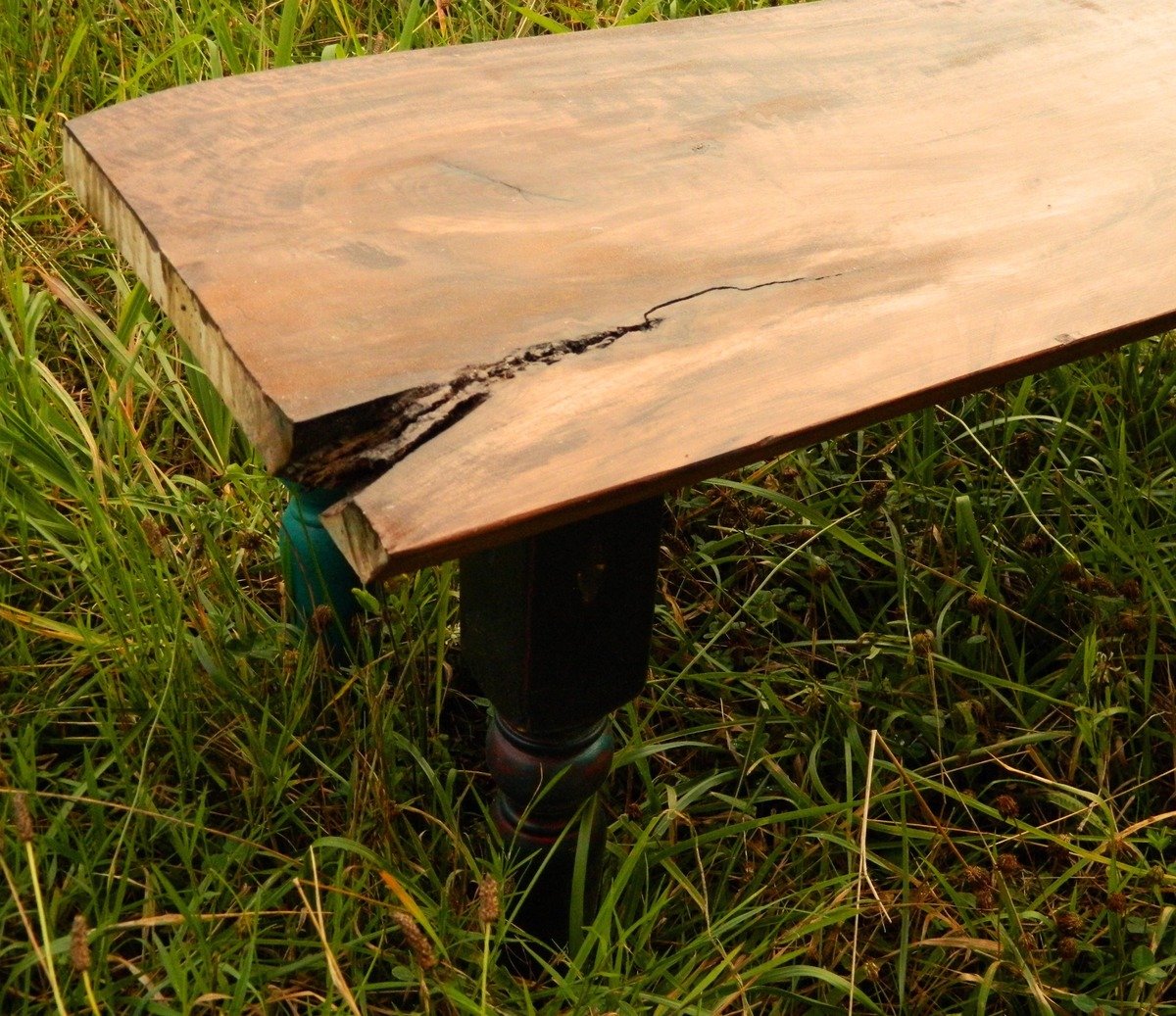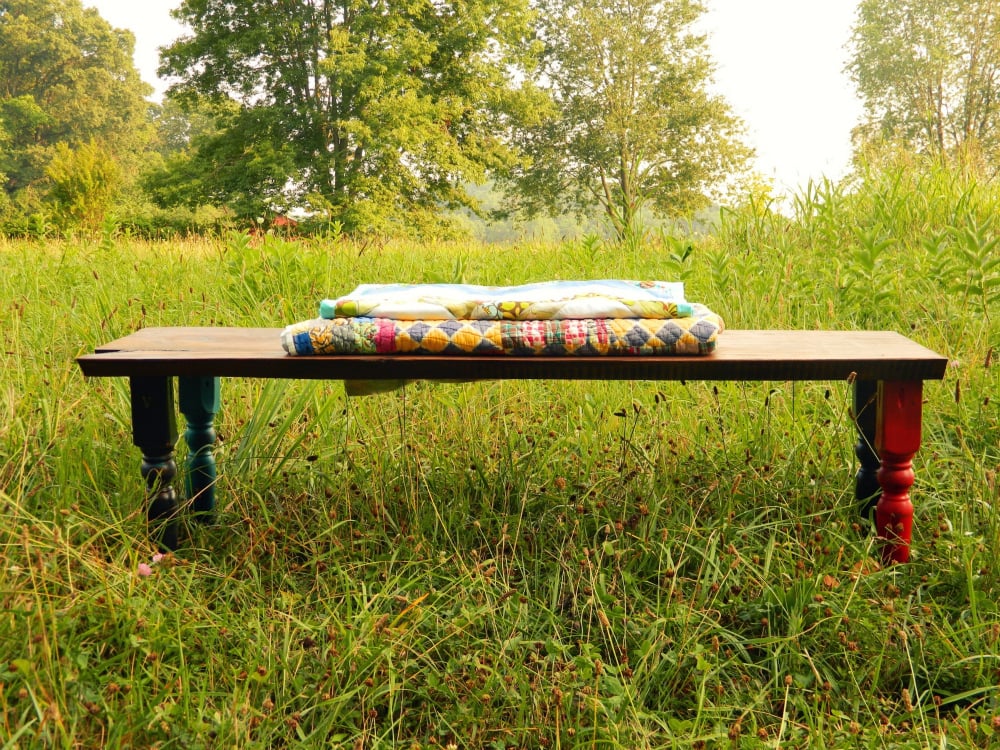 Local sawmills are a great resource. This piece was about 12 ft long and I literally climbed atop the burn pile to fish this out. I grabbed a few more that I will be using in some projects soon.
60 inches long, width varies due to wood 16-19 inches wide, 1 inch thick
Preparation
Shopping List
Spindle legs (thrift store or garage sale, or reuse from something you already own)
Wood Stain
Poly
Common Materials
1 1/2 inch screws
120 grit sandpaper
paint
paint brush
Cut List
Spindles- 17 in
Wood top- 60 in
Cutting Instructions
*Cut spindle legs to height desired. For my bench, I cut the legs to 17 inches each.
*Cut solid wood to length desired for table. I am making a 7ft table soon, so I wanted my bench about 1ft short on each end 84-24= 60 inches
Instructions
Step 1
Once pieces were cut, I first drilled my jig holes in the spindles. I used a clamp and my pocket Kreg jig to drill one hole on each side that I used to attach the legs to the bench top. You could always drill from the top as well and then fill with wood filler.
Step 2
Step 3
I used some 100 grit sandpaper to rough up the legs and antique them a bit.
Step 4
Attach the legs to the outside edges of the bench bottom using wood glue and screws.
Preparation Instructions
After glue has set, it's time to finish the wood. I already sanded my piece using a belt sander with 40, 80, then 120 grit. I bought Rustoleum wood stain and poly. Their products say that you only need one coat of stain and three coats of poly with no sanding in between coats. I was skeptical but gave it a try and I am very happy with my results.
Finish Used
Rustoleum Early American Wood Stain
Rustoleum poly