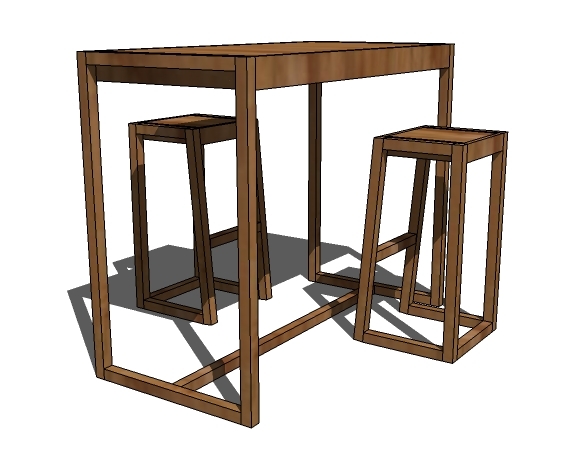 A modern style bar height table to match the modern bar stools.
Due to so many requests and so much interest, I'm so happy to debut plans for a simple, modern bar table.
I'm so thrilled with this table because I know it's one of those projects that you can finish in no time flat.  However, if you are going for that sleek rustic look, take the time to choose straight, good boards, and do an exceptional job lining up joints as you build, and do several coats of wood filler, sanding, wood filler, sanding (you know the drill, no pun intended) and finish with fine sandpaper.  Don't forget to vacuum and wipe clean all that sanding residue.  And for a smooth finish, you may wish to sand between coats.  I recommend lots of layer of a thin paint followed with a sprayed on clear coat.
Wouldn't this make a lovely crafting table by a window?
Dimensions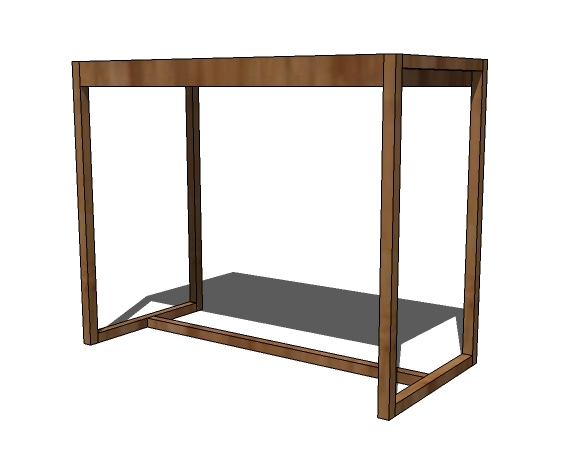 Preparation
Shopping List
1 – 24″ x 48″ Edge Glued Pine Project Board or 3/4″ Hardwood Plywood OR (for painting) MDF panel
4 – 2×2 Boards, 8′ Long
1 – 1×4 Board, 10′ Long
2″ Screws and 2 1/2″ Screws (OR 1 1/4″ and 2″ Pocket Hole Screws)
Wood Glue
Common Materials
120 grit sandpaper
primer
wood conditioner
paint
paint brush
Cut List
24″ x 48″ Project Panel (or plywood or MDF)
2 – 1×4 @ 24″ (End Aprons)
2 – 1×4 @ 49 1/2″ (Side Aprons)
4 – 2×2 @ 22 1/2″ (Leg Ends)
4 – 2×2 @ 42″ (Leg Sides)
1 – 2×2 @ 49 1/2″ (Bottom Support)
Instructions