Beautiful country style farmhouse bed plans that you can make, queen size.  Free DIY plans by Ana-White.com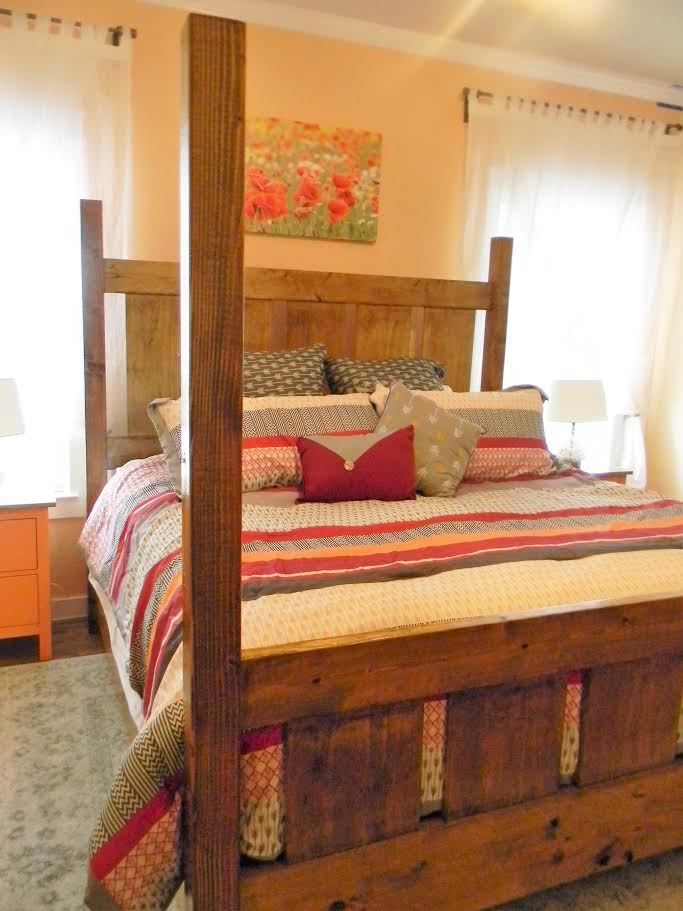 Dimensions
Fits 60" x 80" mattress, box spring optional or slatted mattress support system
Preparation
Shopping List
4 - 4x4 @ 72" long, not treated
3 - 2x6 @ stud length or 8 feet
2 - 1x12 @ 6 feet long
3 - 2x10 @ 8 feet long
2 - 2x4 @ 8 feet or stud length (for cleats)
Does not include lumber for slat system or additional center supports
Cut List
4 - 4x4 @ 72" long
3 - 2x6 @ 58" (headboard top and bottom and footboard top)
4 - 1x12 @ 23-3/4" (headboard slats)*
4 - 1x12 @ 12" (footboard slats)
1 - 2x10 @ 58" (footboard bottom)
2 - 2x10 @ 80" (siderails)
2 - 2x4 @ 80" (cleats - optional)
12 - 2x4 @ 60" (mattress slats - optional)
1 - 2x6 @ 81" (center support - optional)
1 - 2x6 @ 58" (headboard center support tie in - optional)
center leg pieces are cut to fit
*Adjusted this to 23-3/4" in the cut list to conserve wood, will not affect structural integrity of plans
Instructions
Step 1
Drill three 3/4" pocketholes on each end of all the 1x12 slatted boards.  This is all of the 3/4" pocket holes, so you can set your jig now for 1-1/2" stock.
Drill 1-1/2" pocket holes (two per end on 2x6s) on each end of the 2x6 headboard boards, three on the bottom footboard panel.
Attach the slats to the headboard top and bottom pieces with 1-1/4" pocket hole screws and wood glue, 3/8" reveal on either side of the 1x12 where it attaches to the 2x6.
Then attach headboard panel to legs.  Adjust bottom spacing to 28-1/4" up from bottom of legs if you cut your headboard panel boards to 23-3/4" as noted in cut list.
Step 2
Repeat steps to create the footboard.
Step 3
Use bed siderail attaching brackets or pocket holes to attach siderails to legs.
Step 4
Attach cleats to inside of legs using glue and 2-1/2" screws, screwing every 8" approximately.  
Step 5
Step 6
If additional support is required, the center of the bed can be supported as shown above.
We apologize if there was an error in this plan. Please help us out and report any errors here.