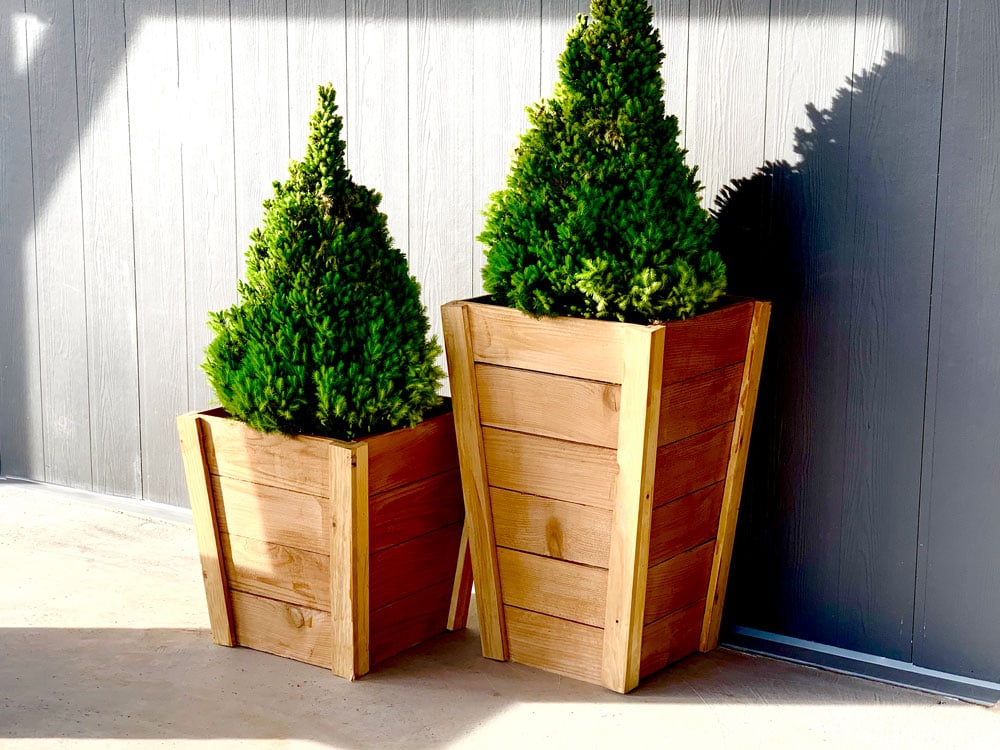 Build your own tall wood planters with our DIY plans!  This plan uses inexpensive cedar fence pickets and easy cutting to keep the cost and time investment down.  Cool, modern design with tapered sides to add style to your outdoor space.
Pin For Later! 
Dimensions
Dimensions for different height planters shown in diagram
Preparation
Shopping List
1 - 5-1/2" wide, six feet long, cedar fence picket (not dogeared) per row (for example, for the largest tall wood planter, you would need 7 cedar fence pickets) per planter
For the planters three and four rows high: 1 - 1x2x8 and 1 - 1x3x8
For the planters four, five and six rows high: 2 - 1x2x8 and 2 - 1x3x8
1" and 1-1/4" brad nails
Recommend 1-1/4" self tapping screws (get the ones with star bits appropriate for exterior use)
Scrap wood may be needed to add a "bottom" to the planters, depending on how much soil or if you are using a plastic liner pot inside the planter
Cut List
4 - 1x2 @ width of all your cedar fence pickets added together (for example, 7 cedar fence pickets was 38-1/2")
4 - 1x3 @ width of all your cedar fence pickets added together (for example, 7 cedar fence pickets was 38-1/2")
Instructions
Step 1
It is very important to watch the video to understand how this planter is made.  The diagram above shows the dimensions for the tallest planter - you will need to modify your layout for smaller planters as detailed below in the bullet list.
Lay out your fence pickets, up to seven high, on a flat level surface, with fence pickets as lined up as possible to each other.
Begin by drawing a line at a 5 degree angle off square and nailing a 1x2 to the top of all the fence pickets with 1" brad nails - two nails per overlap of 1x2 and each fence picket.
Then measure over according to the list below for your size the outside measurement, and make draw a 5 degree line, tapering inward from your first line.  The side of the planter will be between the lines you just drew (shown in orange in the diagram.  Attach another 1x2.
Repeat these steps until you have attached all four 1x2s to the fence pickets and drawn the last line.
7 Pickets High: 20" outside measurement, 19" inside measurement
6 Pickets High: 19" outside measurement, 18" inside measurement
5 Pickets High: 18" outside measurement, 17" inside measurement
4 Pickets High: 17" outside measurement, 16" inside measurement
3 Pickets High: 16" outside measurement, 15" inside measurement
Cut along the dotted lines shown in the diagram with a circular saw with the blade set to 1-1/2" deep.  
Save the larger cut pieces to make up the free sides of the planters (see step 3)
Step 2
Preparation Instructions
Lightly with medium grit sandpaper
Finish Used
Behr Penetrating Stain and Sealer in Clear