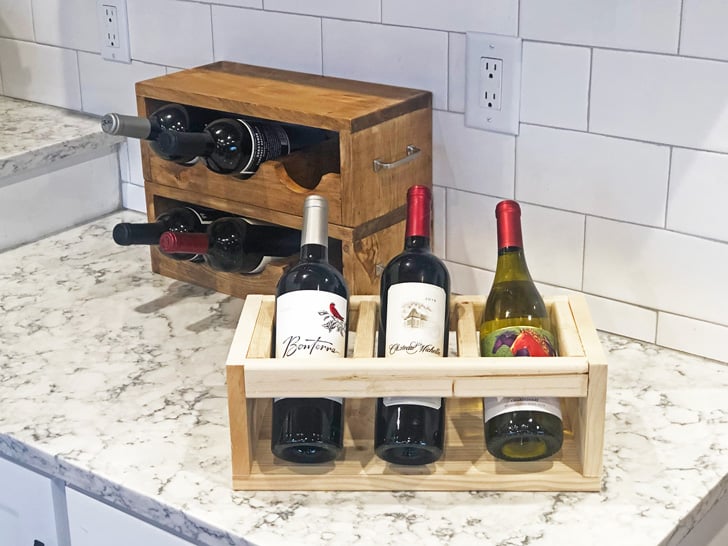 This little wood wine holder stacks, stores, and you can use the top to serve!  It works as a gift box too for the wine lover.  Quick and easy DIY project that you can build with off the shelf pine boards and nail together.  Step by step plans from Ana-White.com
Dimensions
Suitable for wine bottles less than 3-1/2" diameter - Wood wine holder dimensions shown in diagram
Preparation
Shopping List
25 inches (a little more than 2 feet) of 1x8 board (can be in smaller pieces if using up scrap wood)
50 inches (a little more than 4 feet) of 1x3 board (also can be smaller piece if using up scrap wood)*
1 - 1/4" brad nails
wood glue
scroll blade for jigsaw recommended
*Can substitute for 1x2s and not cut out the arches for the wine bottles
Cut List
2 - 1x8 @ 5"
1 - 1x8 @ 15"
2 - 1x3 @ 13-1/2"
4 - 1x3 @ 5-3/4"
Cutting Instructions
Cut boards with a compound miter saw (preferred) or a circular saw.  
General Instructions
NOTE: This wood wine holder should not be moved when in the stacking mode (open bottom) as there is a possibility the wine could fall out the bottom of the wine holder.  If you wish to transport this way, make sure you add a bottom on to the wine holder.
For permanent stacking or stacking more than two high, we recommend screwing or nailing the wine holders together for added security.
Instructions
Finish Used
I sanded my wine holders and applied one coat of Varathane Golden Oak.
For the top to serve food off of, also add a coat of varnish.
If you are planning on cutting on the top, do not stain - just use butcher block or other food grade oil to seal.