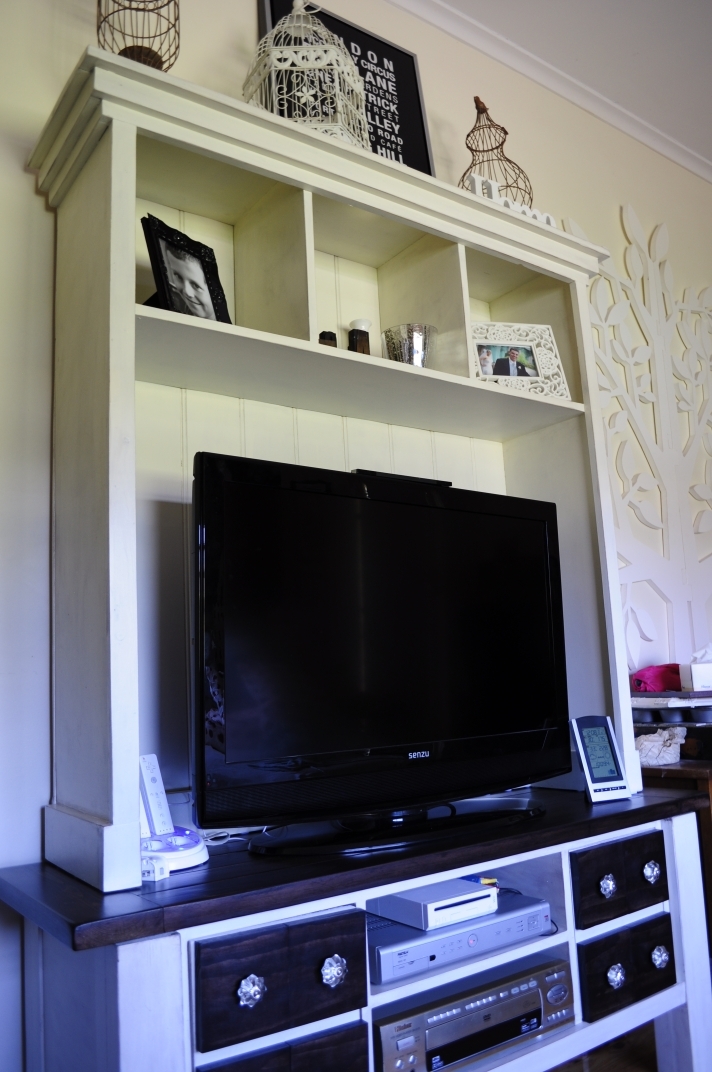 This was the second part of my Tryde media center build. You can read about the console build here.
This part of the project was very quick to put together, I spent a lot of time reading the brag board and looking at pictures of what others produced.  I really appreciate when people upload high res pictures of their builds so you can really look at the details - I've tried to do the same on my blog post about this project in case you needed further information (see link below).
I made the plan as per Ana's original, with some modifications.  These were:
added a back kickboard at the base for stability
added trim around the back and sides at the base to stop it toppling over
added felt to the feet to avoid scratching my console underneath (worked so hard on that one!)
added 'L' shaped brackets to join the two pieces together, for added stability (check my previous post for more details on this)
changed the orientation of the beadboard on the back to be vertical and not horizontal (I just preferred it this way)
after seeing Perchik's build of the Tryde media center I shamelessly copied his idea to extend out the trim around the top.  It looks much better wrapped around than jutting out the front, a little less severe I think
I hope you would give this project a go, as a hutch it is very simple to put together for a beginner and quite satisfying.  To get more information about my build please read my blog post where I go in to a lot more detail (and leave a comment too, I'd love to know what you think!)
Happy building!
Estimated Cost
Approx $100AUD (not incl hardware, paint)
Estimated Time Investment
Weekend Project (10-20 Hours)
Type of Wood
Radiata Pine
Finish Used
Taubman's Endure interior paint (satin) in 'Milk Paint'
Custom 'glaze' (see blog posting for details)
Cabot's wood putty in 'Radiata Pine'
Recommended Skill Level
Starter Project