An Adirondack Chair for 18" Dolls.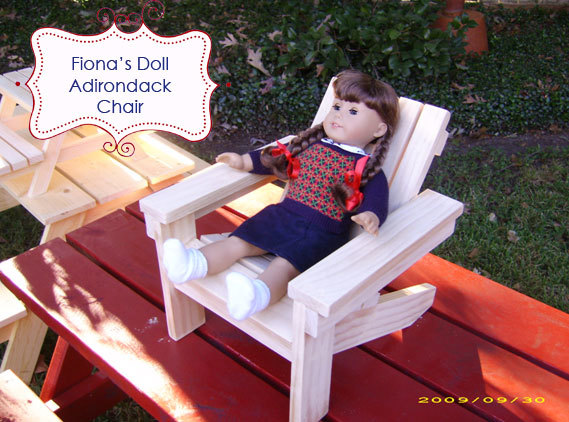 It's been an especially busy time for me of late, as I am sure it is for most of you, with the Holidays in full swing.  We also have Grace's birthday right before Christmas. It's always an extra effort to try and not let the Holidays overshadow Grace's special day.
So when Fiona emailed me her cut list a few weeks ago for a doll Adirondack chair, I could not have been more thankful that she would give her plans to you - and give me a little bit of a break during these busy weeks before the Holidays.  But I wanted to get some of the larger projects blogged to give you time to build before Christmas, so this one's been promised for a few weeks, and I'm so happy to finally be able to blog this plan!  I'll be posting lots more smaller projects between now and the Holidays, things you can whip out in no time flat.
I'm itching to get back to some media walls and storage beds and bigger plans, and have big big plans for the new year.  It's going to be an exciting new year!   . . . But let's get back to small things for now.
Isn't Fiona's doll chair just adorable?  Building doll furniture is perhaps the most "fun" I've ever had building.  You don't have to be perfect, the finished project is so cute, doesn't take long, and it's usually quite inexpensive to build.  But the best part is the joy of giving these gifts to children.  Last night, I had a conversation with a friend who grew up on a farm with a mom that was like many of us, handy because she had to be.  And my friend told me about when she was a little girl, her mother made her doll cradles and a cupboard to use as a kitchen.  She's since moved thousands of miles from her mother, but has plans to find those wooden toys her mother built her, and give them to her own children.  The story really struck me as special, and I can only imagine what your children are going to think of these pieces you are building for them.
Dimensions
Dimensions are shown above.
Preparation
Shopping List
1 – 1×3, 8 feet long (whitewood or furring strips should be about $1.50)
2 – 1×2, 8 feet long (whitewood or furring strips should be about $1.00 each)
1 1/4″ screws or nails
wood glue
finishing supplies
Cut List
2 – 1×3 @ 13 1/2″ (Stringers, one end cut in step 1)
1 – 1×3 @ 10″ (Front Apron)
4 – 1×2 @ 10″ (Seat Slats)
5 – 1×2 @ 14″ (Back Slats)
3 – 1×2 @ 8 1/2″ (Back Supports)
2 – 1×3 @ 9″ (Front Legs)
2 – 1×2 @ 9 1/2″ (Arm Supports)
2 – 1×2 @ 9 1/2″ (Arms)
Instructions
We apologize if there was an error in this plan. Please help us out and report any errors here.