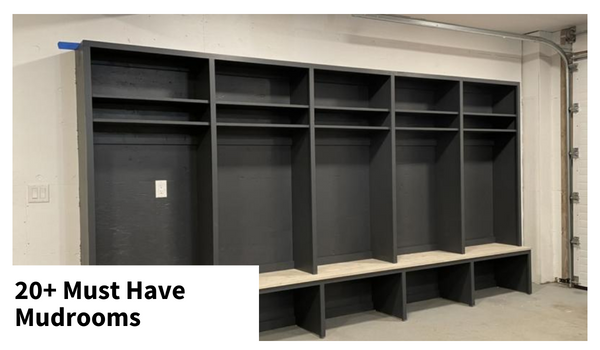 Good entryway or mudroom organization can be a game changer for keeping the rest of the house clutter free and organized.  But creating the perfect mudroom can be challenging, since every space is custom, and every family is different.  Throw in different budgets and styles .. well, that's why I'm here to help!
We are sharing our top mudroom solutions that can be easily mixed and matched, built as an entire unit, and we've even added a free, easy to use design tool to help you design it from start to finish using our shelf configurator tool.
Planning Your Mudroom
Before getting started on building a mudroom solution, here are some questions to ask yourself.
How much space do I have?  Can I get creative and add more space in adjacent halls, wall space, garages?
Are there any nooks or awkward spaces I can take advantage of?
Who are the main users? Do they each need dedicated storage systems?
Do I need a drop zone (tabletop surface) for keys, coffee cups, mail etc
Is the mudroom visible from other rooms?  Does it need to look tidy all the time?  
Am I building a permanent, high end solution, or just a quick, inexpensive solution (for renters or between stages?)
What type of organization is needed? Hanging storage, hooks, hidden storage, basket, bins, drawers?
What tools and skill level is needed to take on the project?
What style matches the rest of my house? Farmhouse, modern, rustic...
Shop your home for existing pieces and accessories you can use to keep your budget low.
Once you have given some thought to the mudroom, here's how to tackle it:
1. Tackle the biggest project first
Start with the biggest project first, usually on the biggest wall or main focal point of the mudroom.  Like building the bed or dining table first, this sets the overall structure for the room.
2. Fill in with smaller projects as needed
After you have completed the biggest project, step back and take a look.  Where can I add more storage?  Who needs more storage?  What items haven't found a home?
3. Accessorize with FUNCTIONAL Decor
Mudrooms are usually small, so all decor should be functional - baskets, bins, throw rugs, clocks, wall shelves and organizers, mirrors and calendars.  Also consider a full mudroom will look cluttered, so keep busy decor to an absolute minimal - choose simple baskets and bins, I recommend neutrel colors, choosing texture over pattern.
A small plant or family picture is fine, just be careful to not give up functional space that could be used to keep backpacks off the floor.
Example Mudroom Makeover
Here's a recent mudroom makeover I tackled using this method.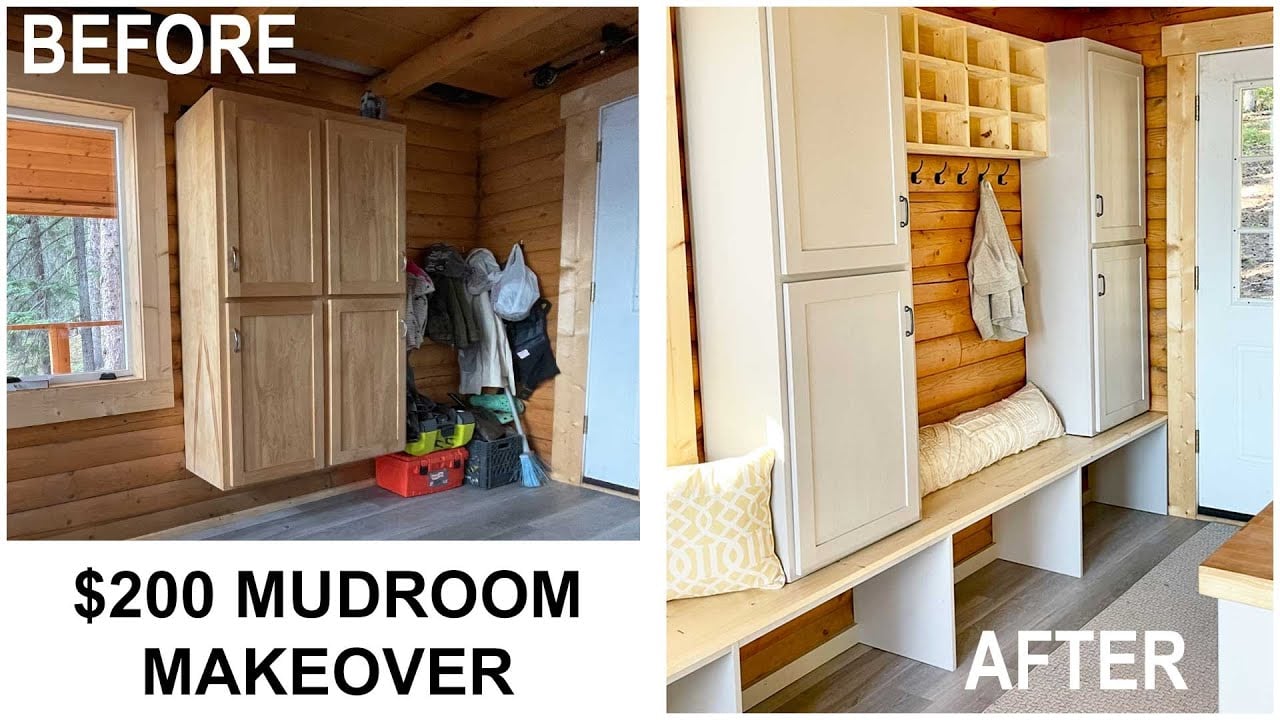 1. I tackled the biggest project first, the 14' long mudroom bench.
2. Then I added the smaller accessory organizer and repainted the wall cabinets.
3. For decor I added pillow cases stuffed with out of season gear and throw rugs to catch the dirt.
You can watch this mudroom makeover and get these plans here.
Let us help you increase the functionality of your home! Just email us at anawhitesite@gmail.com if you need help finding plans, need suggestions or just have basic questions!