This simple changing table features is basically a bookcase with a removeable topper, enabling you to convert back to a changing table. Features two large shelves and a divided topper, perfect for a changing pad and keeping baby necessities at hand.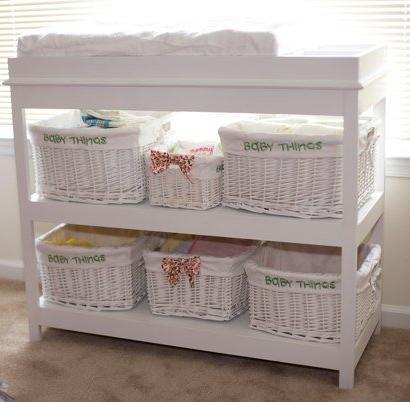 Today, when I checked the mail, there were two baby shower invites.  Two.  Time for some changing table plans.  Simple ones.
Like this one from Pottery Barn Kids.
That fits a standard changing pad and has a little space on top for those items that you must grab when you don't have a free hand.  I remember when Grace was a baby, we lived in the garage, slept on a mattress on the concrete floor, and an old card table served as a changing table.  And the changing table kept me sane.  I'm so glad that you might be able to have something better for your baby.
Dimensions
Dimensions shown above. Make sure your changing pad matches the topper dimensions.
Preparation
Shopping List
2 – 1×2 Boards, 8′ Long
1 – Sheet of 3/4″ MDF or Plywood, cut into 15 1/2″ wide and 8′ long strips (these strips will be referred to as 1×16 boards)
1 – 10′ 1×4 Board
4 – 1×3, 8′ Long
12′ of edge beading, 3/4″ thick
2″ Screws
1 1/4″ Screws
1 1/4″ Nails
Wood Glue
Wood Filler
Sand Paper
Common Materials
primer
wood conditioner
paint
Cut List
4 – 1×2 @ 34″ (Legs)
2 – 1×4 @ 15 1/2″ (Top Trim, Ends)
4 – 1×3 @ 15 1/2″ (Shelf Trim, Ends)
4 – 1×16 @ 40″ (Shelves)
4 – 1×3 @ 38 1/2″ (Shelf Trim, Sides)
2 – 1×4 @ 38 1/2″ (Top Trim, Sides)
2 – 1×3 @ 15 1/2″ (Topper Trim)
2 – 1×3 @ 41 1/2″ (Topper Trim)
1 – 1×2 @ 7 1/4″ (Topper Partition)
1 – 1×2 @ 15 1/2″ (Topper Partition)
General Instructions
Work on a clean level surface. Measure out all joints and mark before fastening. Be safe and use glue. Have fun! And predrill all screw holes before fastening.
Instructions
Step 1
ENDS
Build your ends as shown above. Use 2″ screws and glue unless you have a Kreg Jig™ and you can fasten the end trim from the insides.
Step 2
SHELVES
Fasten the shelves to the end trim pieces as shown above. Again, 2″ screws and glue or use the Kreg Jig™ from the underside of the shelves. Keep the top edge flush on the shelves.
Step 3
SHELF SIDE TRIM
Trim out the shelf sides as shown above, use 2″ screws and glue. Fasten the trim to the legs to for extra support on the shelves from the outside of the leg or use a Kreg Jig™.
Step 4
Edge Trim
Use 1 1/4″ nails and glue to fasten edge trim around the top of the table, as shown above. Miter your corners at 45 degrees for a neat edge. Cut the edge trim to fit, as dimensions are not shown in the above diagram.
Step 5
Step 6
TOPPER SIDES
Attach the side trim to the topper as shown above. Also attach to the end trim from step 5. Use glue and 2″ nails or screws.
Step 7
PARTITIONS
Attach the partitions to the bottom of the topper, and to the side and end trim pieces as shown above. Use glue.
Step 8
ASSEMBLY
From the underside of the changing table, attach the topper with 1 1/4″ screws. Omit the glue if you wish to remove the topper at a future date.
Preparation Instructions
Fill all holes with wood filler. Let dry. Sand with coarse sandpaper. Refill with wood filler. Let dry and sand with medium grit sandpaper. Follow up with fine sandpaper. Vacuum with a soft bristled brush. Wipe clean with a damp cloth. Then prime and paint as desired.
We apologize if there was an error in this plan. Please help us out and report any errors here.