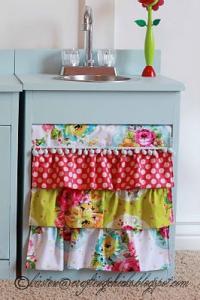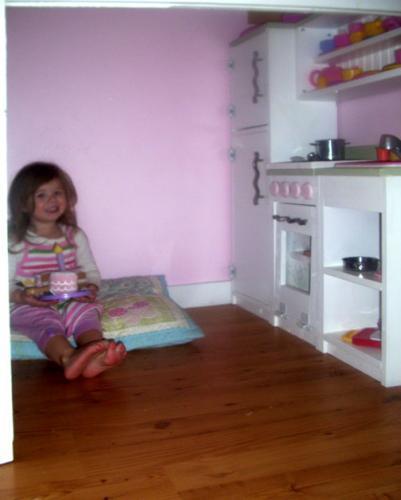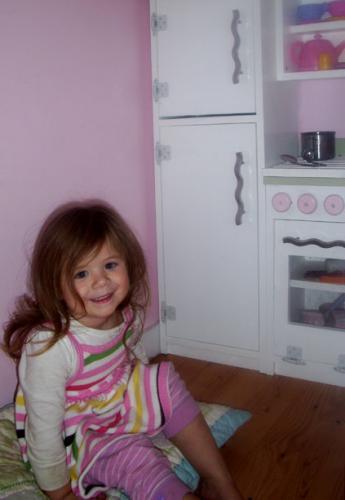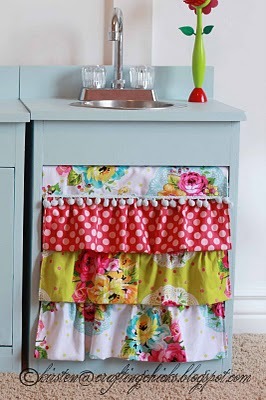 About Project
Wood play kitchen furniture can be so expensive. Yet these minature cuties are so easy and fun to build. We have an entire collection of plans available online for play kitchens. This one was built by The Crafting Chicks. To see Grace's original Playhouse Kitchen sink, scroll down.
20" high x 16" wide x 12" deep
Preparation
Shopping List
1 - 1x12 @ 8' 
1 - 1x2 @ 8' (look around for a scrap piece, or save the leftovers for the stove and fridge) 
1 - 1x4 @ 8' (again, you only need a little bit, so save the leftovers for the stove and fridge) 
1 – scrap piece of plywood (I use beadboard) 12x20. You could omit this if needed.
Metal pan or dish to use as the sink (I used a sink from a plastic kitchen handed down from my niece
Common Materials
120 grit sandpaper
primer
paint
paint brush
Cut List
(2) 1x12 @ 20" Sides 
(1) 1x2 @ 14 1/2" Toekick 
(2) 1x12@ 14 1/2" Shelves 
(1) 1x12@ 16 1/2" Countertop 
(1) 1x4 @ 16 1/2" Backsplash 
(1) 1x4 @ 14 1/2" Front of Sink 
(1) 16x20 piece of plywood for the back
Cutting Instructions
You will need to use a jigsaw to cut out the sink hole.
General Instructions
In addition to general safety and building instructions, please note, you can build with either screws or glue on this one.
Instructions
Step 1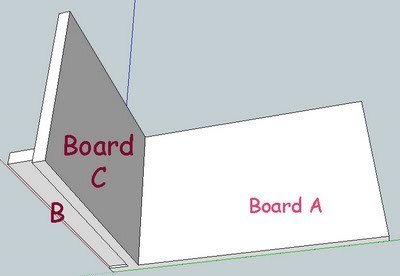 1. Begin Building the Box. Begin by attatching A to C as shown. The bottom of C will rest 1 1/2" from the bottom of C, leaving the exact amount of space for B, the toekick.
Step 2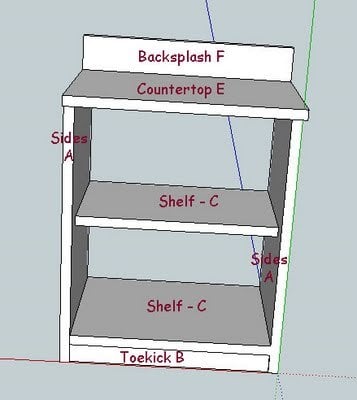 2. Finish the box. Finish attatching the boards as shown, leaving 1/4 inch overhand on the sides of the countertop.
Step 3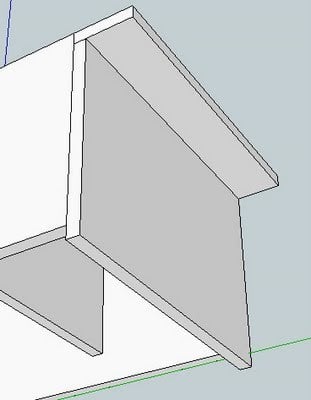 3. Counter-Top. I recommend attaching the backslash to the counter-top first, then attaching the entire counter-top/backslash unit to the sink base as one. This will leave a 3/4 inch overhand on the front.
Step 4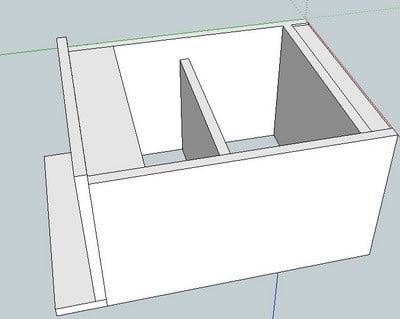 Here are some additional views. Note the front of sink is put in.
Step 5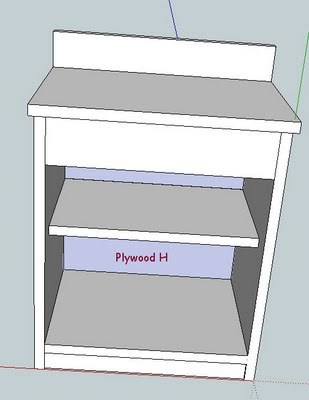 Step 6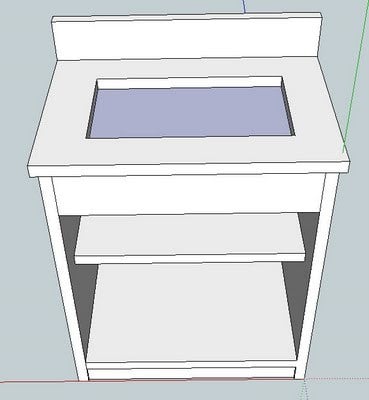 Sink. Decide what you will be using for a sink. Then cut the hole to fit the sink. I used a sink I took off a junk hand-me-down kitchen from my niece. You could also use a metal pan or even a plastic tupperware. Just make sure there is a lip to keep the sink in place. You could even just add a third shelf to box in the sink.
Step 7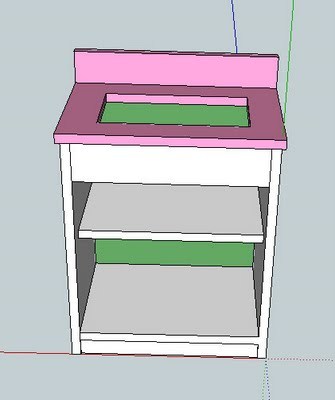 Preparation Instructions
Fill any exposed holes with wood filler and let dry. Apply a second coat if necessary. Sand with medium grit sandpaper. Clean project and work surface. Prime and paint as desired.
Finish Used
Finishing. Fill any nail holes with wood filler and sand, paint, and enjoy! Oh, don't forget to put your sink in (glue not recommended, Grace's is glued in, and it would be nice to be able to take the sink out and clean it).