Reminiscent of an old workbench, this rustic console table can be used as a bar or console table. Matching hutch plans also available.
Image from Amanda.  I totally got outbuilt  :)
I'm only showing you this first
So you don't get mad at me for showing you this.  (Grace found the Caribou Antler on our last camping trip.  We've got piles of antler sheds, but this one is my favorite because Grace found it and it's almost like an organic sculpture).
I built this workbench and hutch for a contribution to HGTV, so you will have to wait a bit for the hutch plans.  But I kept the workbench console plans just for you.
I am always amazed at the simple beauty of regular old boards.  Shown here is stud grade 2x6s with Minwax Early American Stain.
And I forgot to pick up a towel bar last time I was in the big city, so yes, that is our TP holder  :)  Don't laugh at me, when you live in rural Alaska, you just gotta make do with what you have.
I held off on delivering these plans because I couldn't figure out how to make building these legs easy to do.  And I was seconds from pulling out the bandsaw (which I'm not joking when I say we do use it to cut steaks with) when it occured to me that my mitersaw would do the trick.  Can't wait to show you in the plans just how.
Oh, and yes, this is an easy to build project.  I built it entirely with my Kreg jig, drill and mitersaw, and spent about 3 hours total on it.  Including the stain.
Dimensions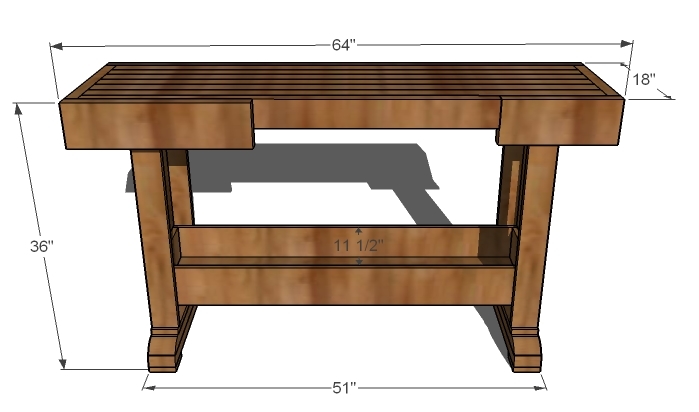 Dimensions are shown above. Composition is pine boards
Preparation
Shopping List
6 – 2×4, 8 feet long
1 – 1×6, 8 feet long
1 – 1×12, 4 feet long
2 – 1×3, 8 feet long
2 – 1×4, 8 feet long
1 – 2×2, 4 feet long
1 – 2×6, 8 feet or stud length
2 1/2″ Wood Screws
2″ Pocket Hole Screws
1 1/4″ Pocket Hole Screws
2″ Finish Nails
2″ Wood Screws
Wood Glue
Finishing Supplies
Towel Bar
Cut List
2 – 2×4 @ 19 1/2″ (Top, Feet)
2 – 2×4 @ 21 1/2″ (Bottom, Feet)
4 – 1×4 @ 3 1/2″ (Feet "soles" )
4 – 1×4 @ 30 3/4″ (Leg Fronts and Backs)
4 – 1×3 @ 30 3/4″ (Leg Sides)
2 – 2×2 @ 13″ (Top of Legs Support)
2 – 1×4 @ 15 1/2″ (Bottom of Legs)
1 – 1×12 @ 48″ (Bottom of Shelf)
2 – 1×6 @ 11 1/2″ (Shelf Ends)
2 – 1×6 @ 49 1/2″ (Shelf Sides)
5 – 2×4 @ 61″ (Tabletop Boards)
1 – 2×4 @48 1/2″ (Tabletop Trim)
1 -2×4 @19″ (Tabletop Trim)
1 – 2×4 @64″ (Tabletop Trim)
1 – 2×4 @13″ (Tabletop Trim)
1 – 2×6 @ 4″ (Tabletop Trim)
1 – 2×6 @14″ (Tabletop Trim)

Instructions