So, here I am, in the Philippines without a workbench. After finally renting out our condo, we decided we would move to a location better for the school & better for me to have peace of mind. You don't get that 22 floors up where you can't even hear the rain coming down :-/
So after 2 years, I finally had a place to build again. I started buying all new tools as using a 110-220 converter is a pain. I went and got my sliding compound mitre saw, table saw, bandsaw, tool chest, angle grinder, welder...etc etc. The one thing that never crossed my mind....was a workbench!! The biggest tool you'll ever need, and the most crucial..nonetheless, the most forgettable.
So, I went looking around, and the closest thing I could find was a blank front door. Granted, it would have been better than the concrete step in which has served as my makeshift workbench, but it just seemed...I don't know, too easy :D
I decided to build a 2x5 workbench out of nothing more than 2x4's, 3/4" plywood, and 1/2" plywood. I couldn't remember where I had originally stumbled across the plans, but I wrote the dimensions down at the time. I believe they are all accurately depicted to the plans I had originally found. Nonetheless, they're all the exact cuts I used for the bench. I was able to find a biscuit joiner over here, but no biscuits, so I went another route as you'll see in the photo. The one thing you will learn about the Philippines is that you will never find the matching opposite to go with what you need when it comes to tools! I'm still in search of dowel rods & it's been months!!
**Start from the ground up. Wherever I read this, it said to start from the top. If you want this level, I'd suggest going from ground up :D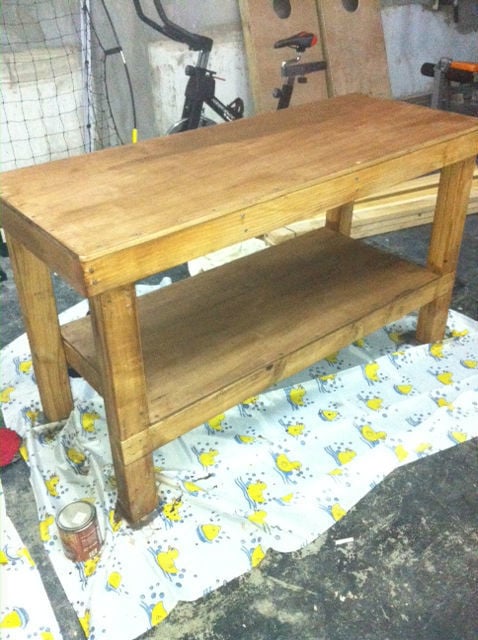 Always measure your wood & remember, a 2x4 is not actually 2" x 4". Especially, where I live :)
Dimensions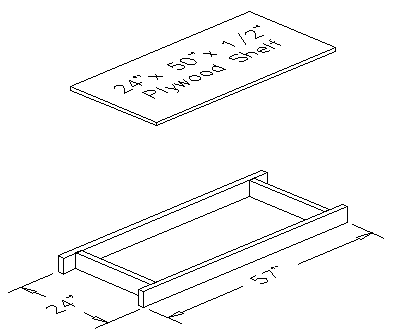 Preparation
Shopping List
7-2'x4's
1-2'x5' 3/4" plywood
1-2'x5 '1/2" plywood
Common Materials
1 1/2 inch screws
3 inch screws
120 grit sandpaper
Cut List
1 60" 33"
2 60" 33"
3 57" 33"
4 57" 33"
5 17.5" 17.5" 17.5" 17.5" 17.5"
6 21" 21" 21" 21" 8.5"
17 21" 21" 21" 8.5" 8.5" 8.5"
Cutting Instructions
Remember when cutting, take into account the width of the circular saw, table saw, or mitre saw in which you are using.
General Instructions
Please read through the entire plan and all comments before beginning this project. It is also advisable to review the Getting Started Section. Take all necessary precautions to build safely and smartly. Work on a clean level surface, free of imperfections or debris. Always use straight boards. Check for square after each step. Always predrill holes before attaching with screws. Use glue with finish nails for a stronger hold. Wipe excess glue off bare wood for stained projects, as dried glue will not take stain. Be safe, have fun, and ask for help if you need it. Good luck!
Instructions
Step 1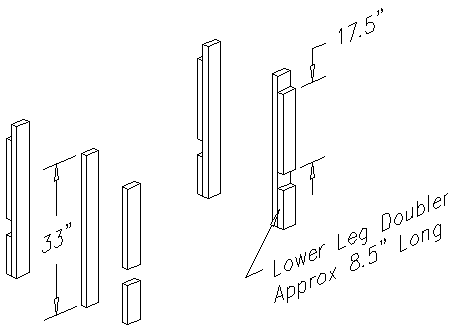 Step 2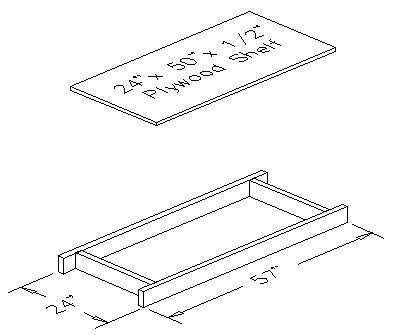 Assemble your shelf frame & cut the plywood to fit. Measure once, measure twice
Step 3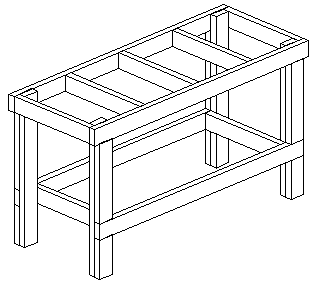 Before making your top frame for the workspace., clamp everything up & make sure it fits. Width, length, and vertical measurements are a good way of thinking. I actually spaced all under supports evenly, except, I made it to where one of the under, end 2x4's were closer to one side than the other. I have a lot of table-top tools & some of them are quite heavy. By doing this, not only do you get a little extra support underneath, but it gives you a nice stud to mount your table-top tools for permanent stay.
Step 4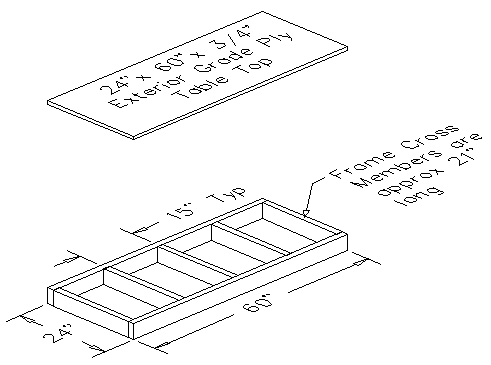 Assemble the top. I used 1 1/2" construction screws for the top plywood sheet. I countersunk the top screws because I didn't want to catch myself on them while working. You can then fill them with wood filler. I didn't, however, because it's a WORKBENCH :D
Step 5
Preparation Instructions
Fill all holes with wood filler and let dry. Apply additional coats of wood filler as needed. When wood filler is completely dry, sand the project in the direction of the wood grain with 120 grit sandpaper. Vacuum sanded project to remove sanding residue. Remove all sanding residue on work surfaces as well. Wipe project clean with damp cloth.

It is always recommended to apply a test coat on a hidden area or scrap piece to ensure color evenness and adhesion. Use primer or wood conditioner as needed.