Stackable economical lightweight children's chairs.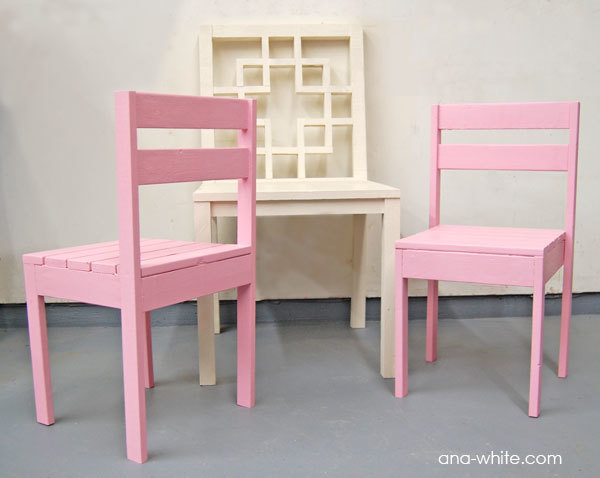 Now that I've designed quite a few adult chairs (for example, this squared chair, plans here), thought I would take some time to work on a childrens design.  Specifically, one that met these requirements:
1.  Under $5 a chair
2. Stackable
3.  Super easy to build
4. Lightweight enough for my 18 month old niece to carry
5. But still sturdy enough for me to sit on.
And after a couple of prototypes and some redesigning in the garage, I think we've found our winner.
And yes, they do stack.  Not sure exactly at what point the chairs would tip forward, but at least four high would work.
And because we went with a slatted seat, this chair would also work well outdoors if finished appropriately.
Dimensions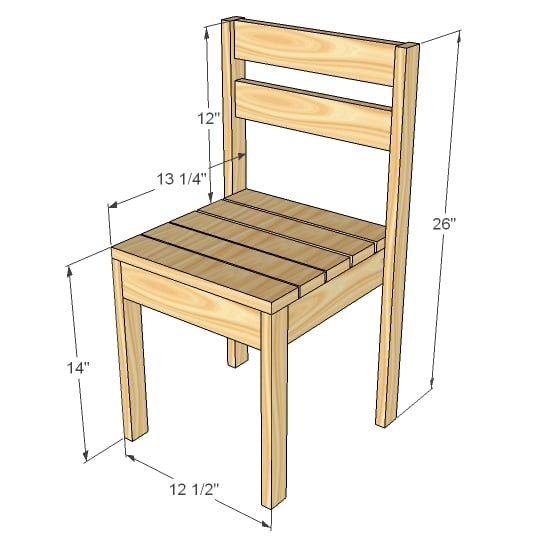 Dimensions are shown above.
Preparation
Shopping List
2 – 1x3s, 8′ long (Furring strips were used for my chair, about $1.50 each)
1 – 1×2, 8′ long (furring strips again, $1 a stick)
1 1/4″ screws
2″ screws OR 1 1/4″ pocket hole screws for pocket holes
wood glue
finishing supplies
Cut List
3 – 1×3 @ 11″ (Front and Side Aprons)
2 – 1×3 @ 11 3/4″ (Side Supports)
2 – 1×2 @ 13 1/4″ (Front Legs)
8 – 1×3 @ 12 1/2″ (Seat Slats and Back Slats)
2 – 1×2 @ 26″ (Back Legs)
Instructions
We apologize if there was an error in this plan. Please help us out and report any errors here.