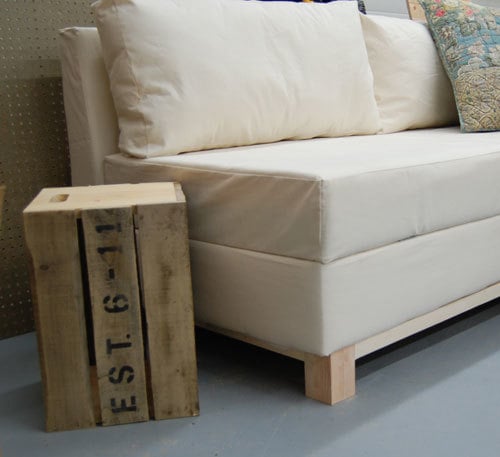 A sofa that you can build with a fold out seat perfect for storing extra pillows and blankets. Based off a sleeping pad foam cushion, so seating surface doubles as a guest bed.
If you would have asked me even a few months ago about building your own sofa, I would have said, it's not worth it.  Considering the high cost of foam (upwards of $50 a yard) and the cost of fabric (at least $10 a yard for an upholstery weight) I just couldn't see the economics of building your own sofa.
But then I walked past a pile of foam camping pads at a store we have in Alaska called Fred Meyer (owned by Kroger and is kind of a superstore) that were 30" wide, 72" long, and 3 1/2" deep.  And the foam came in soft, medium and firm weights . . . for just $20!  Instantly, the wheels were turning in my head.
Then when my sister Esther mentioned that she didn't have a sofa, and she couldn't find one that was inexpensive, square, and with storage, I was drawing up plans within minutes.  My sister Lydia (we've reupholstered quite a few sofa's together, but never actually built one from scratch) was visiting, and she was just as excited as me.  So we got to work.
And you all know how much I love using paint drop cloths for fabric.  So with some 2x4s, 2x6s, some 2x10s, some 1/4" plywood and alot of worn out pillows and stuffed animals, my sister Lydia and I built a couch in less than 24 hours for about $120.
And by the time we were done, both Lydia and I were making plans to build our own sofas.  Also pictured reclaimed wood carts.
And I just might . . .
Nice clean square design that is so popular right now.  Notice the 2x4 feet.  Please don't notice my messy garage, I was afraid to bring this one inside . . . my sister might not every get her sofa back!  Also, the deep cushions are perfect for sleeping on.
It is after all made from a standard camping pad.  And did anyone notice the little hinges on the front seams?
Big enough to sleep on and with built in storage for the bedding too!  This is my favorite part of this sofa.  You could build it for your office and use it as a reading sofa, then when guests are over, flip open the seat and get your bedding out.  Not shown here, but I did add straps to keep the seat from hinging all the way open and also straps that tuck in the seam behind the seat for easily pulling the seat up.  Just used an old dog leash.
Ready to build your own?  You can do this.
Dimensions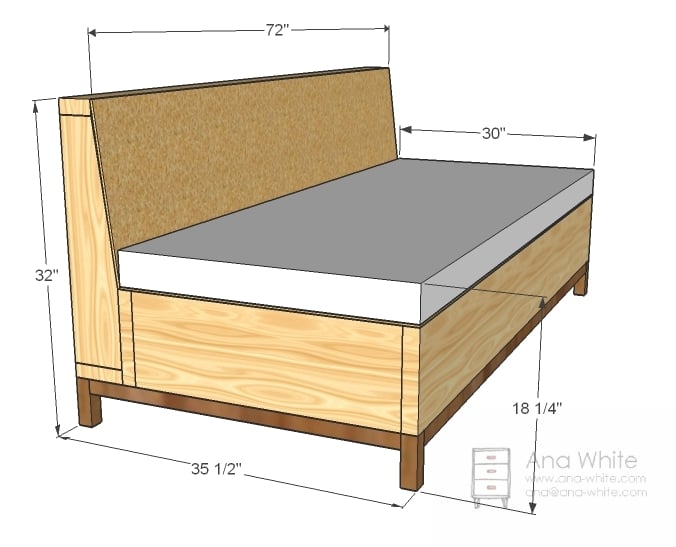 I did a little tweaking on the design to decrease the cost to build (my sister wanted double cushions for the look) and also to increase the storage compartment. The legs above are shown as 2x2s, which you could do but a center fifth leg is recommended. You could also use store bought sofa feet. This sofa is designed around a camping pad measuring 72″ long, 30″ wide and 3 1/2″ deep. You can easily adjust measurements to use a different sized foam cushion, advisably 24″ wide and 72″ long and 3″ or 4″ deep.
Preparation
Shopping List
1 – 30″ x 72″ x 3 1/2″ Foam Camping Pad or Cushion
1 – 9×12 Paint Drop Cloth
6 yards upholstery batting
2 20 oz bags of pillow stuffing
2 1/2 yards of burlap
staples
3″ screws or 2″ pocket hole screws
1 1/4″ screws
wood glue
spray adhesive
2 – 2×4
2 – 2×6
2 – 2×2
4×4 (You only need about 2 feet for the sofa legs)
1 – 12′ AND 1-8′ 2×10
2 – sheets of 1/4″ plywood
Cut List
1 – 2×4 @ 72″
1 – 2×6 @ 72″
4 – 2×6 @ 24″ (Tapered as shown in step 1)
3 – 2×4 @ 22″
1 – 1/4″ Plywood @ 17 5/8″ x 72″
2 – 1/4″ Plywood @ 72″ x 30″ (Top and Bottom of Seat)
2 – 2×10 @ 72″
3 – 2×10 @ 27″
2 – 2×2 @ 65″
2 – 2×2 @ 28 1/2″
4 – 4×4 @ 5″ (Sofa Feet)
Instructions
Step 1
Step 3
Step 4
Step 6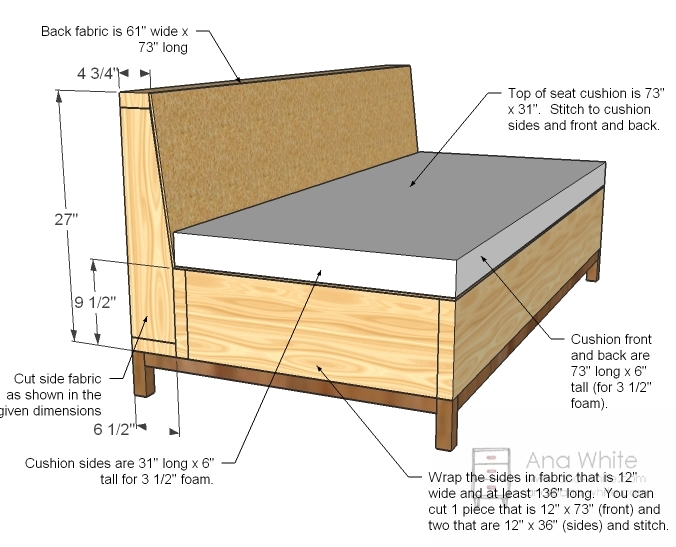 Slipcover
Use the spray adhesive to attach the foam pad to the remaining piece of plywood. Then use the spray adhesive to attach batting to the foam on the top, front and sides. Cut a piece of fabric 73″ long x 31″ wide. Cut two pieces 31″ long x 6″ wide, and two at 73″ long and 6″ wide. Sew together to create a box cushion (see this post for details on sewing). Place the cushion slipcover over top of the foam and staple the slip cover raw edges to the underside of the plywood, hiding edges. This is shown below.
Step 7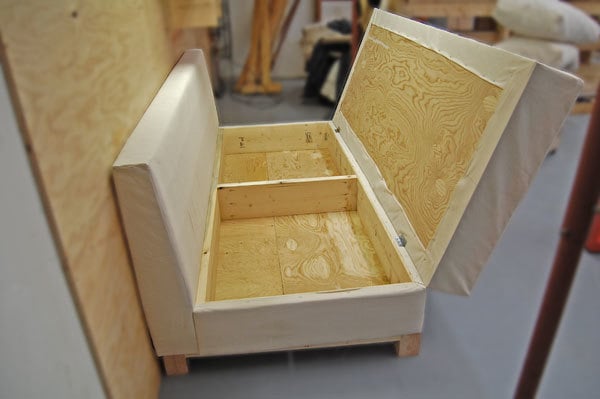 That one should be easy. Now cut strips of fabric as shown in the diagram above (step 6) and sew together and staple in place around the sides and front of the sofa. Should be easy to do. Turn edges under to hide raw seams.
Now the back was the most difficult part – certainly not impossible, but I thought was the most difficult part of sewing. To make this part easier, you could simply not put a taper in the back side of the sofa, and all your cuts are square. Anyway, cut out the side and back pieces and stitch together, and fit over the back. Turn under and staple to the underside of the legs. Reference the diagram in step 6 for exact measurements.
Step 8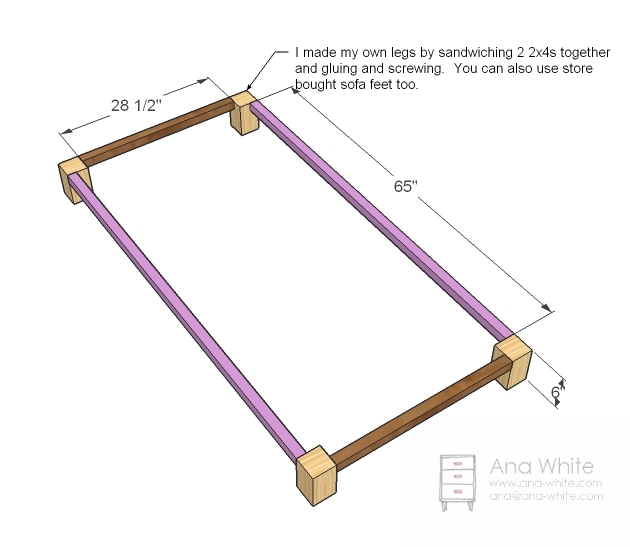 Base
Build the base as shown above. Don't worry about the 2x2s not being strong enough – their is no support required here (it's all in the 2x10s). The 2×2 aprons are to keep the fabric tucked under and to give you something to screw your feet too. Paint or stain your base. If you choose to use 2x4s for the legs, remember, this does change the dimensions of the legs, and adjust the 2×2 cuts accordingly.
Step 9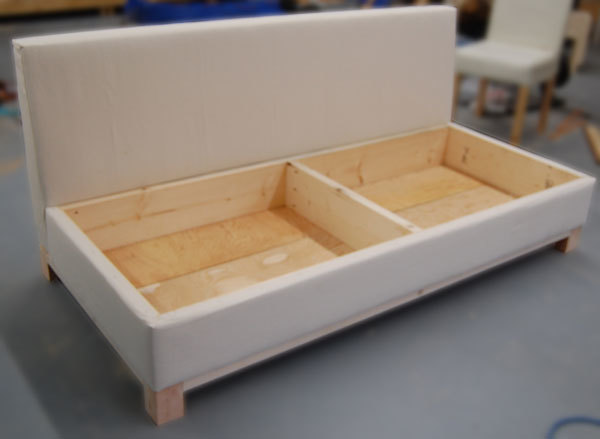 Assembly
Assembly will be easy. Start by screwing the storage box to the back, through the 2×10 back boards into the supports in the back of the sofa. Use the 3″ screws. Then flip over and screw the base to the sofa underside with 3″ screws. Flip it back over and attach the cushion with hinges. Support the hinges with a strap to keep the cushion from collapsing all the way forward.
Step 10
Pillows
The pillows I sewed for this sofa are square box cushions measuring 36″ wide x 4″ deep x 18″ tall. Cut four pieces of fabric 37″ wide x 19″, four pieces 19″ x 5″ and four pieces 37″ x 5″. Stitch with right sides together, creating a box, but leaving an opening to insert foam. Stuff with loose stuffing. Hand stitch open seam closed.