This bar ensemble for our family room was made mostly from reclaimed materials. Inspired by Ana's plans, and modified to fit spaces and materials available. The 36" tall bar and 30" tall fridge cabinet are made from frames of 2x4, with the tops/shelves/outsides covered in ¼" plywood, and outside edges covered with corner moulding. The bar and fridge cabinet tops are edged in lattice. The frames for the counter height bench and stool are from 2x4. The padded seat for the bench is the back from another bench, re-purposed. The foam for the bar stool is scraps pieced together. Reclaimed materials used (mostly from a room we disassembled): 2x4 – formerly studs ¼" Plywood – painted plywood was formerly used as wall paneling Lattice –was used as trim to cover the wall paneling "seams" Bar stool seat – ¾" plywood from the closet, foam scraps pieced together Bar bench seat – foam and vinyl covered plywood (re-purposed back from another bench)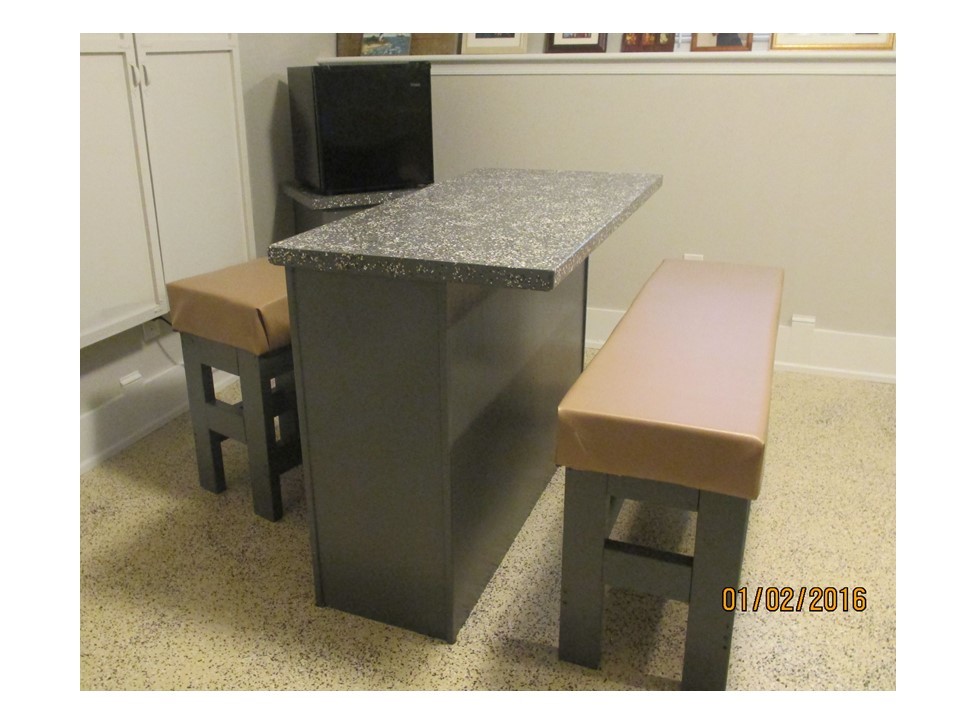 Estimated Cost
Cost: The total ensemble was super inexpensive (only about $50 in total) since most of it is reclaimed materials. The corner moulding, 1 quart gloss gray paint, a box of screws, and vinyl for the stool were the only things purchased for this build. The first partial quart of gray paint was left over from another project. The paint flakes were left over from the floor project and the poly was left over from my holiday gift builds. Glue, filler, sandpaper and other fasteners were already on hand.
Estimated Time Investment
Weekend Project (10-20 Hours)
Type of Wood
Pine studs, plywood and lattice trim
Finish Used
All pieces received 2 coats of Clark & Kensington paint + primer in Smooth Slate, gloss. The tops for the bar and fridge cabinet then received a coat of gloss polycrylic, and a sprinkling of some Behr paint flakes (brown mix) over the wet poly. After drying, the tops received 3 additional coats of gloss poly. The bar and cabinet corners and stool legs have some scraps of self-adhesive felt applied to the bottoms to protect the floor.
Recommended Skill Level
Beginner