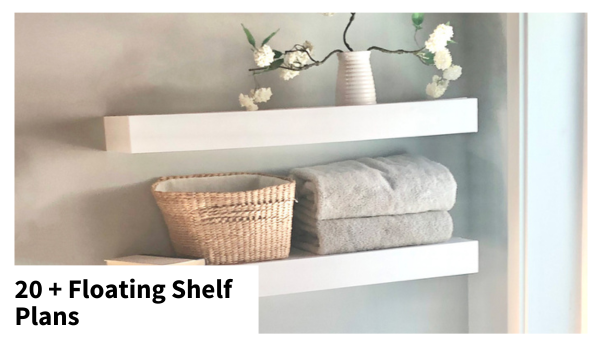 Love Floating Shelves?  We are sharing the 20 most popular floating shelf plans on the internet so you can build your own floating shelves.
Why are floating shelves so popular?
Floating Shelves add a beautiful decor element to an empty wall: Floating shelves have a sleek and minimalist design that adds a modern touch to any room. They create the illusion of shelves floating on the wall without visible brackets or supports, resulting in a clean and uncluttered look.
Floating Shelves can be a Space-Saving Solution: Floating shelves maximize space utilization by utilizing vertical wall space. They don't take up floor space, making them ideal for small rooms or areas where space is limited.
Floating Shelves are Versatile: Floating shelves can be used in various settings and for different purposes. They work well in living rooms, bedrooms, kitchens, offices, and even bathrooms. They can serve as decorative displays, storage for books or collectibles, or as a practical solution for organizing everyday items.
Floating Shelves are DIY-Friendly: DIY floating shelves have become popular due to their relatively simple construction and installation process. Many people enjoy the satisfaction of creating something themselves and customizing the shelves to fit their specific needs and style.
Ready to build your own floating shelves, but don't know where to start or what tutorial to choose?
That's where we come in! We've put all the best floating shelf plans all in one place!