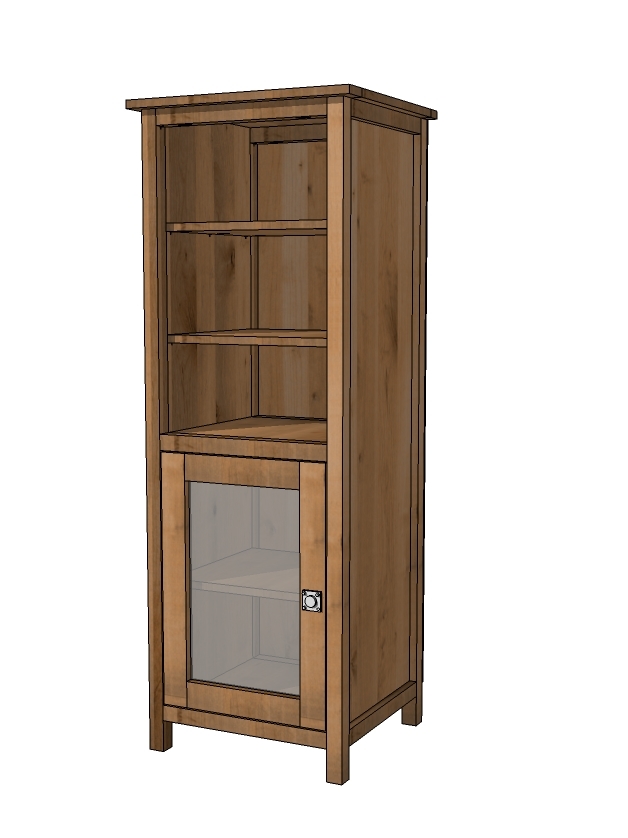 Dimensions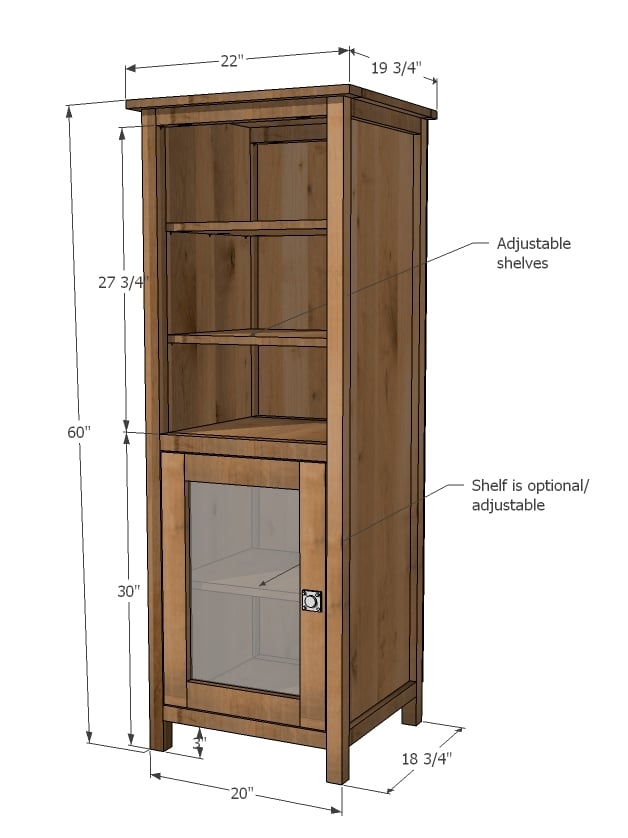 Dimensions are shown above.
Preparation
Shopping List
1 - Sheet 3/4" Plywood cut into strips 15 3/4" wide, 8 feet long, referred to as 1x16 boards throughtout this plan. Plan shows PureBond Rustic Alder Plywood 
1 - Sheet 1/4" Plywood or other backing (for the back - if you are building two towers, you will not need an extra sheet for the second back)
5 - 2x2 @ 8 feet long
1 - 1x2 @ 8 feet long
1 - 1x3 @ 8 feet long
1 - knob
1 - sheet 1/4" acrylic glass, at least 15" x 22" (buy a 30" x 24" sheet if you are building two towers)
Common Materials
3/4 inch screws
2 inch screws
1 1/4 inch finish nails
120 grit sandpaper
Cut List
2 - 1x16 @ 56 1/4" (Sides)
4 - 1x2 @ 15 3/4" (Side Trim)
4 - 2x2 @ 59 1/4" (Legs)
6 - 2x2 @ 17" (Front/Back Trim)
5 - 1x16 @ 17" (Shelves)
1 - 1x16 @ 22" (Top)
1 - 1x3 @ 22" (Top)
1 - 1x2 @ 22" (Top)
1 - 1/4" plywood @ 20" x 55 1/4" (Back)
2 - 1x3 @ 11 3/4" (Door)
2 - 1x3 @ 23 3/4" (Door)
Cutting Instructions
Have your hardware store cut the 3/4" plywood into 15 3/4" wide strips, 8 feet long. Ask to run the plywood through horizontally so the widths are exactly the same - that's the most important thing!
If your hardware store says no, either use a table saw or a circular saw to cut your plywood into 1x16 boards. If you are using a circular saw, clamp a board to the top of your plywood and use it as a guide when cutting - will help you cut straighter.
General Instructions
Please read through the entire plan and all comments before beginning this project. It is also advisable to review the Getting Started Section. Take all necessary precautions to build safely and smartly. Work on a clean level surface, free of imperfections or debris. Always use straight boards. Check for square after each step. Always predrill holes before attaching with screws. Use glue with finish nails for a stronger hold. Wipe excess glue off bare wood for stained projects, as dried glue will not take stain. Be safe, have fun, and ask for help if you need it. Good luck!
Instructions
Step 1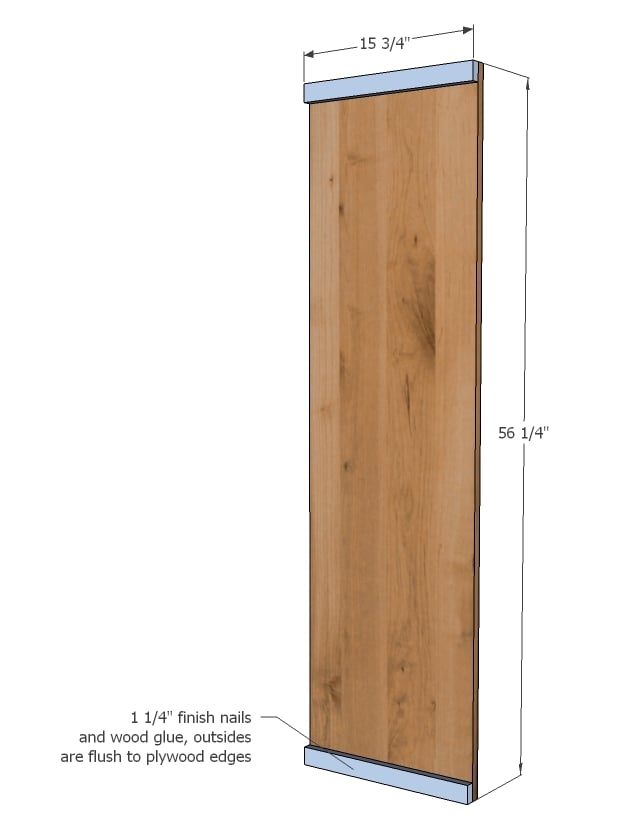 Before any assembly, go through the plan and diagrams and mark and drill all pocket holes.
On each side, on the outsides where no pocket holes are drilled, attach side trim to top and bottom with 1 1/4" finish nails and wood glue. Outside edges are flush.
You will need to build two.
Step 2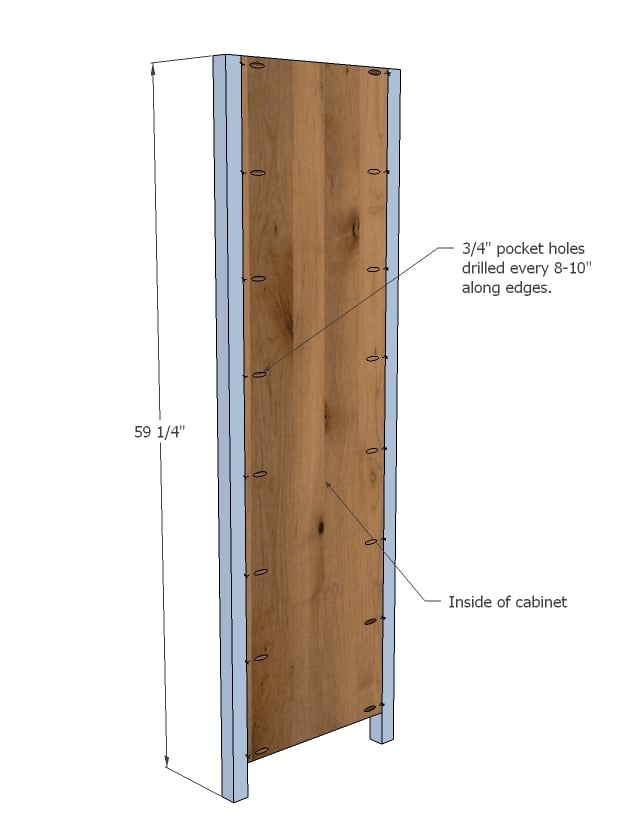 With top edges flush, attach legs using 1 1/4" pocket hole screws and glue. Do this on both sides.
Step 3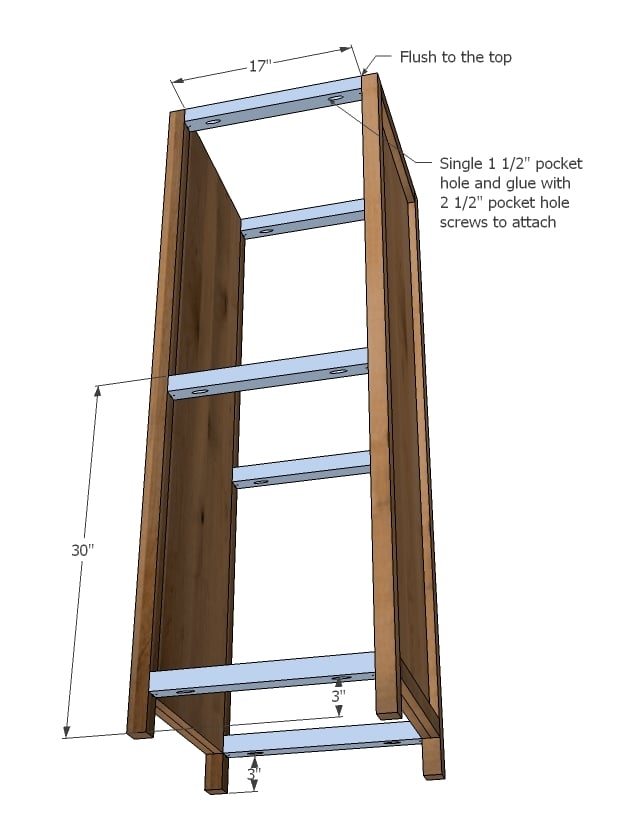 Measure and mark the placement of front/back trim boards as shown in diagram. Then attach with 2 1/2" pocket hole screws and wood glue.
Step 4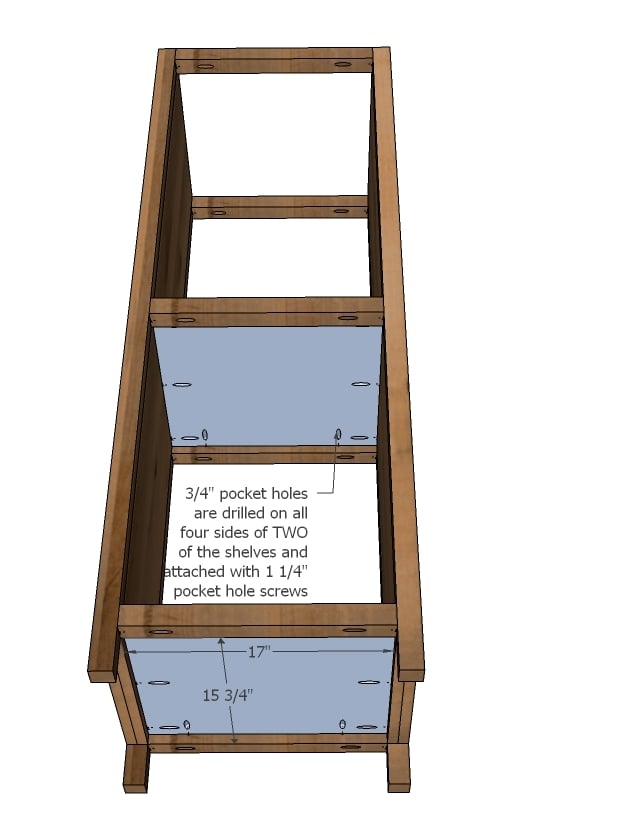 For the fixed shelves, drill 3/4" pocket holes on all sides. Place inside trim and sides and attach with 1 1/4" pocket holes and glue. Tops are flush.
Step 5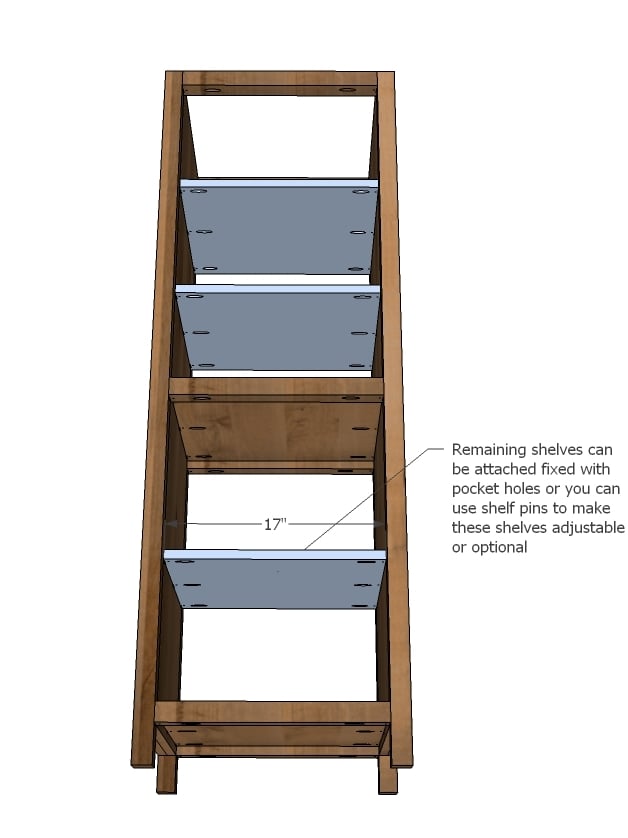 Step 6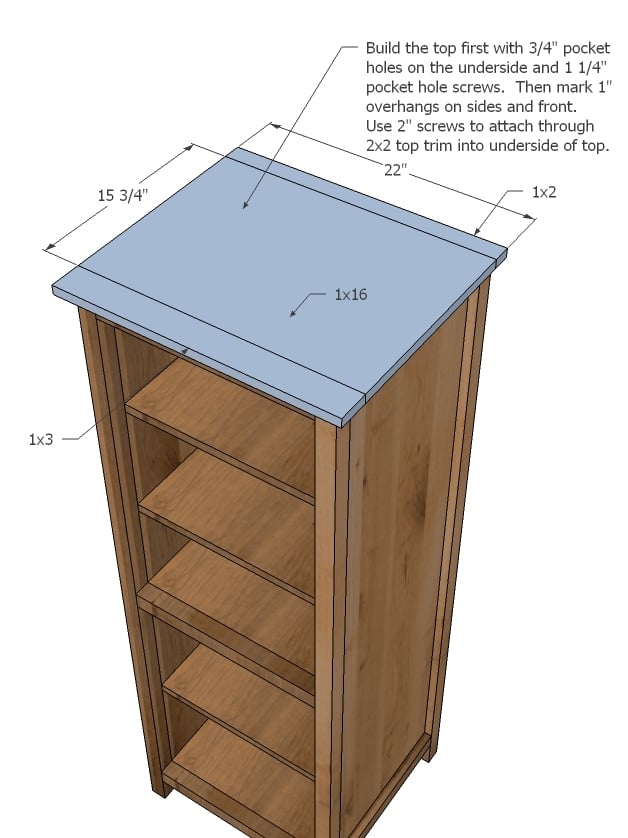 Build the top first with 3/4" pocket holes and 1 1/4" pocket hole screws. Then screw on from the underside with 2" screws and glue.
Step 7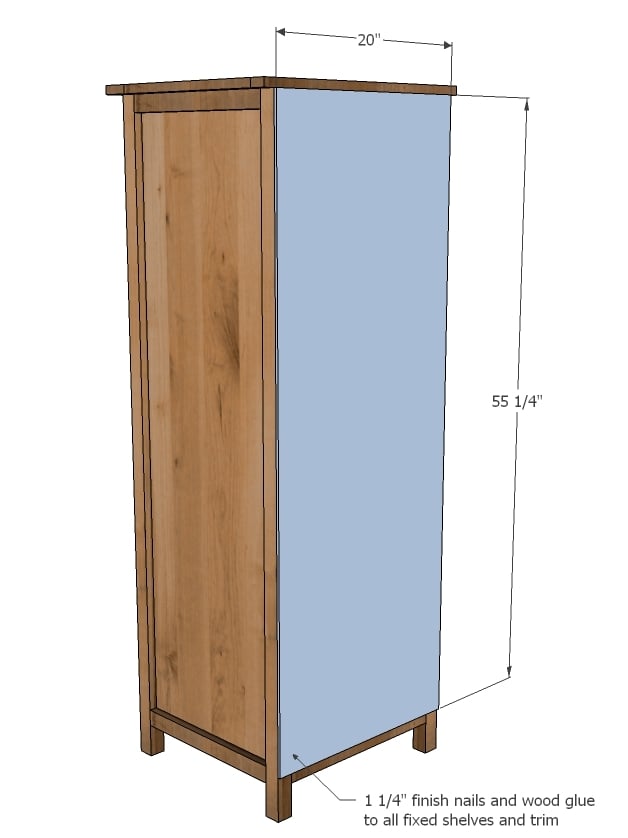 Back is easy step - cut your plywood and attach with glue and 1 1/4" finish nails. Just make sure you hit all fixed shelves.
It would be a good idea to cut holes for cords at this stage.
Step 8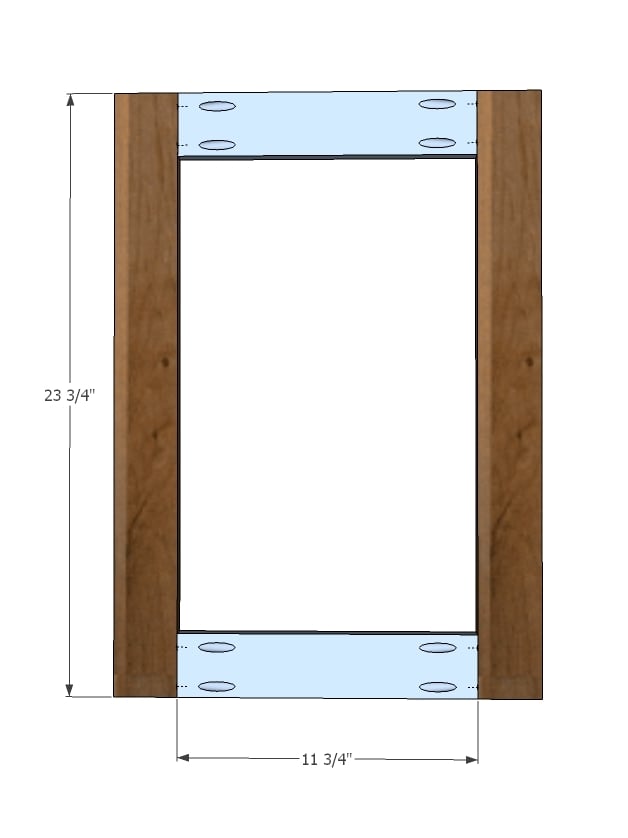 Drill 3/4" pocket holes on each end of the shorter door pieces and build your doors with glue and 1 1/4" pocket hole screws.
Step 9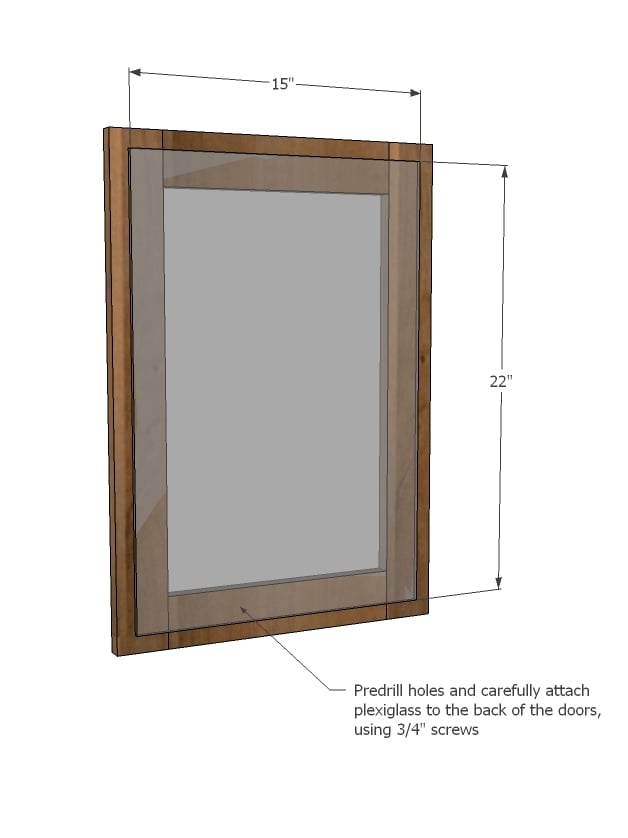 Predrill holes in the acrylic glass and attach to back side of door frames. This acrylic glass should significantly strengthen your door.
NOTE: You may wish to mark the location of your hinges (next step) and notch out a spot for the hinges so you have a nice flat spot to attach hinges - or you could just cut your acrylic glass shorter on the hinge side. This will depend on what type of hinge you use.
Step 10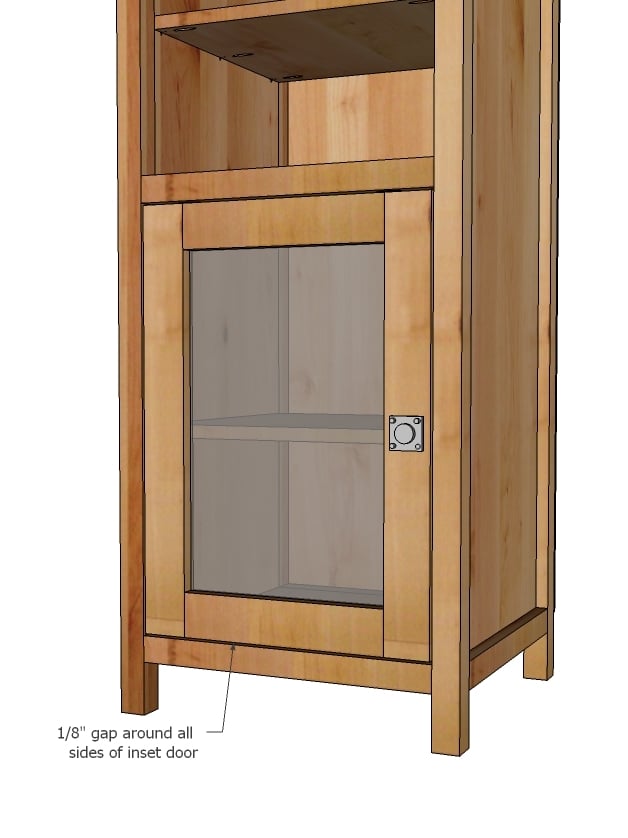 The hinge I recommend are these ones:
Seriously sweet hinges!  But they do require more clearance, so do some fitting.
Leave an 1/8" gap on all sides of your doors to enable your door to open and close smoothly.  
Preparation Instructions
Fill all holes with wood filler and let dry. Apply additional coats of wood filler as needed. When wood filler is completely dry, sand the project in the direction of the wood grain with 120 grit sandpaper. Vacuum sanded project to remove sanding residue. Remove all sanding residue on work surfaces as well. Wipe project clean with damp cloth.

It is always recommended to apply a test coat on a hidden area or scrap piece to ensure color evenness and adhesion. Use primer or wood conditioner as needed.
We apologize if there was an error in this plan. Please help us out and report any errors here.