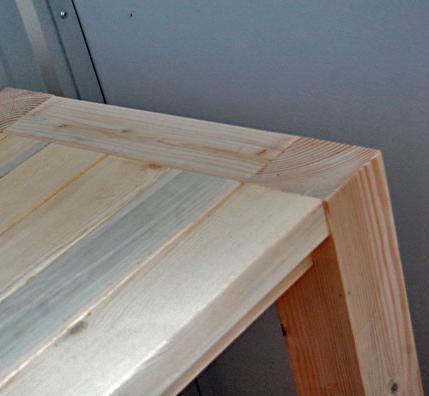 A substantial leg modern version of the Farmhouse Table.
Today I had a photo shoot for Fresh Home Magazine (make sure you get signed up for your free issue so you'll get to read the article when it publishes) and the set just needed something . . . more than a honeysuckle pink bench . . . . it needed a farm table.  And you know me, if I get a chance to build a farm table, I'm building it! It just so happens that I was in The Home Depot last week and spotted these gorgeous 4x4 posts, just $12 for a 10' long post.  Some quick math 30" x 4 legs = 10 feet, and I was tracking down an orange apron and begging the associate to cut the post down into exactly 29 7/8" pieces (saw blade takes up the other 1/8").  The associate looked at me like, of course, lady, we do this every day, and made perfect cuts for me. So I need a farm table, had 4 - 29 7/8" long 4x4 posts . . . you take a guess.  What Farm Table should we build? Many of our readers have been requesting plans for a table inspired by Crate and Barrel's Big Sur Collection. This is what they would call a win-win-win situation.
Me especially wins  :)  I'm having a hard time NOT moving this table into my teeny dining space or moving my computer and other office mess on top of it.
We had scrap 2x4s leftover (yes, can you believe these are the scrap pieces?) so I used them as a tabletop - thus the breadboard on the end.  Aren't those 4x4s beautiful?  I just sanded the whole table and haven't decided on a finish yet.  For the photo shoot, au natural was best.  What do you suggest? The plans here will show you how to build a 65" x 35" x 30" dining table, but I'll also give measurements for the bench in this post.  I can't show you more of the table just yet because it's part of the photo shoot, but you get the idea.
The beauty of this table is highly dependent on your access to high quality 4x4 posts.  If you can't find beautiful 4x4 posts at Lowes or Home Depot or Menards, try a specialty hardwood dealer.  Also, for those of you excited about spring being just around the corner, you could use cedar 4x4s and make this an outdoor table.  For water drainage, I suggest spacing the tabletop boards about 1/4" apart, and also cedar boards for the tabletop and supports.
Dimensions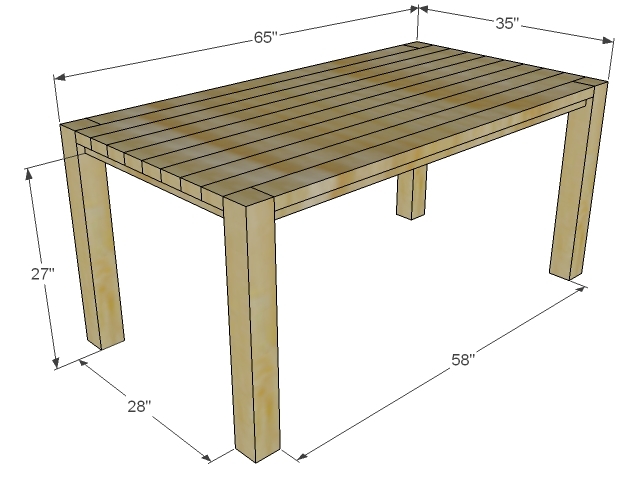 Dimensions are shown above.
Preparation
Shopping List
1- 10′ long 4×4 Post, cut into 29 7/8″ pieces 10 – 2×4, 8 foot or stud length 4 – 2×2 @ 8 foot long 1 – 2×3 @ 6 foot long 2 1/2″ Screws 3″ Screws Wood Glue and Finishing Supplies
Cut List
4 – 4×4 Post @ 29 7/8″ (Legs) 6 – 2×2 @ 30″ (Joists) 8 – 2×4 @ 65″ (Tabletop Boards) 2 – 2×4 @ 58″ (Tabletop Side Boards) 2 – 2×3 @ 28″ (End Joists – you could use 2x2s here if you cannot find 2x3s) 2 – 2×2 @ 58″ (Side Aprons)
Instructions